Home > Desserts > Waffles & Pancakes & Crêpes
Classic French Crêpes
These simple crêpes are ideal for breakfast, brunch of dessert and every time they are a special treat. Serving ideas are endless, from whipped cream and some fresh fruits, Nuttella and hazelnuts, lemon curd or white chocolate ganache. You can just sprinkle them with some freshly grated lemon zest and you have amazing delicious dessert.

Try also our recipe for the pumpkin crêpes, so flavourful and beautiful


Classic French crêpes are so easy to make
Classic French crêpes are one of the most easiest dessert to make. For them you basically need just a few simple ingredients, which once combined result in delicious sweets that can be turned into amazing dessert with various toppings.


French crêpes serving ideas:
your favourite jam (try Good Good jams made with natural sweeteners)
orange juice + crumbled Flake chocolate
Nutella spread + toasted hazelnuts
homemade lemon curd
white chocolate ganache
a scoop of vanilla ice-cream.


Ingredients you'll need for the crêpes
The basic ingredients for crêpes are eggs, milk and flour but you can add some other ingredients to make them better. 
There is also melted butter which gives moistureness to the crêpes. We added also some ground cardamom, but feel free to add any spices you fancy - nutmeg, cinnamon, allspice...


How to make classic French crêpes
These little crêpes are cooked on non-stick frying pan with a few drops of vegetable oil. Heat the pan on a medium heat, then lower the heat, and drop 2 tablespoons of batter to the pan. Fry for 50-60 seconds on one side, then flip to other side and fry for another  minutes. When pancakes are brown and puffed a bit they are ready. Serve them immediately.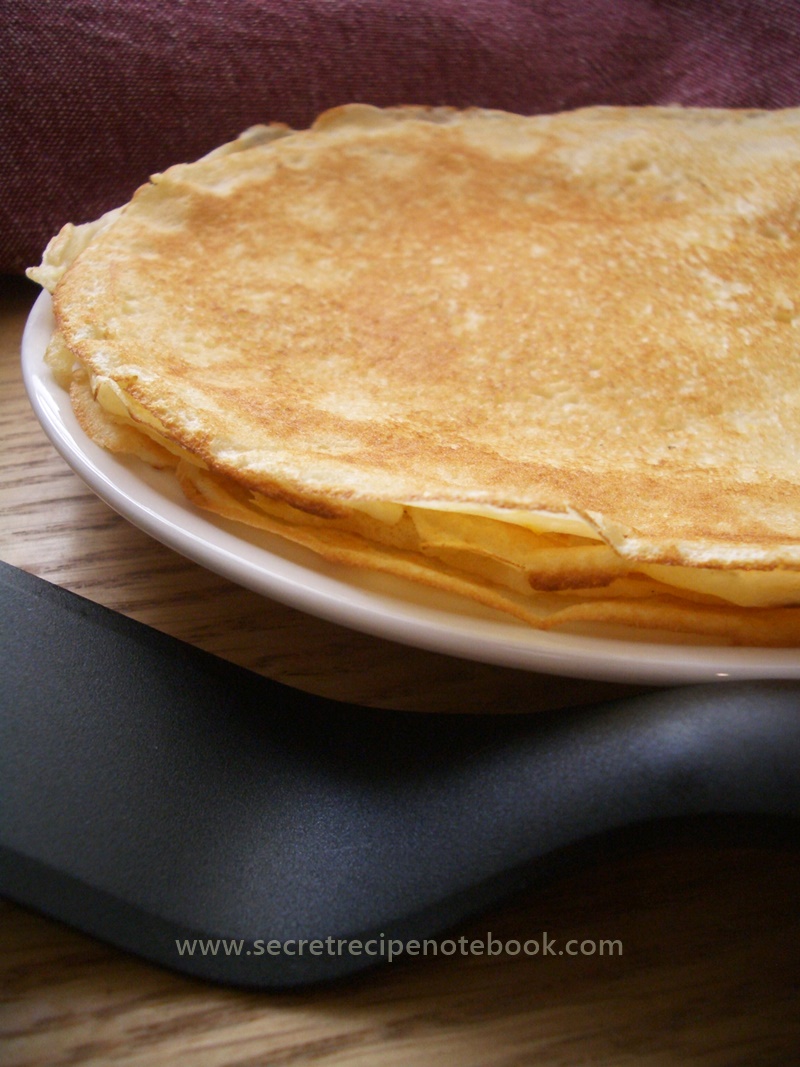 Top tips for making perfect crêpes
Don't overwork the batter as the crêpes can turned out rubery. Also leave the batter to rest for about 20 - 30 minutes which helps gluten to rest and crepes to be soft.


The crêpes are cooked on a skillet over medium heat, allowing them to be cooked in just over a minute. This way crêpes would be soft and will not dry out.


Cook crêpes on a non-stick skillet / pan and make sure that the pan is buttered so that the crepes don't stick.


A few of our popular easy sweets:
Classic French 
Crêpes
MAKES: 10 medium crepes
COOKS IN: 40 minutes
LEVEL: Easy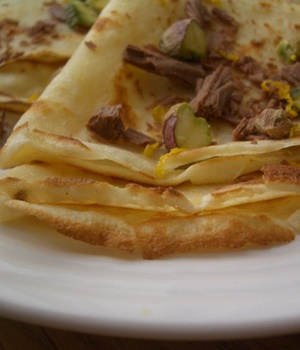 Ingredients
1 egg, at room temperature
180ml milk (3/4 cup)
42g butter (3 tablespoons), melted
1 pinch of salt
1 tablespoon grated orange zest
90g plain flour (3/4 cup)
KITCHEN ESSENTIALS:
Method
Whisk the egg and milk together in a medium bowl, then add melted butter, salt and grated orange zest and whisk again until combined.


Start adding the flour, whisking constantly until the batter is smooth and all the dry ingredients have been incorporated. Set the batter aside to rest for 25-30 minutes.


Heat a non-stick frying pan and brush with a little melted butter using a heatproof brush or a folded wad of kitchen paper.


Using a ladle, pour roughly 3-4 tablespoons of batter into the pan and swirl it around so the bottom of the pan is evenly coated. Cook the crêpe for about 50-60 seconds, then loosen gently with a palette knife and flip over to cook the other side for another 15-20 seconds. 


Transfer the the crêpes to a warm plate and either serve immediately or cover with another plate to keep them warm. Continue until all the batter is used up.


Spoon a little of lemon curd onto pancakes. Fold in half, then fold in half again, forming a triangle. Serve!


Oil slightly non-stick frying pan and place on medium heat. Once heated, reduce the heat to low and place one tablespoon of mixture on the frying pan. Cook for about 1-2 minutes or until the pancake is golden underneath, then flip and cook on the other side until golden - for another 2 minutes. Repeat with remaining batter. Serve with toasted nuts and maple syrup.
Looking for more recipes?

We are a participant in the Amazon Services LLC Associates Program, an affiliate advertising program designed to provide a means for us to earn fees by linking to Amazon.com and affiliated sites.

© Secret Recipe Notebook owns the copyright on all images and text and does not allow for its original recipes and pictures to be reproduced anywhere other than at this site unless authorization is given.