This webpage contains affiliate links. Please read our disclosure policy.

HOME > DESSERTS > PASTRIES & TARTS
Puff Pastry Tarts
with Lemon Cream
Made with a flaky puff pastry dough and silky lemon cream and sprinkled with toasted almond flakes, these simple tarts are so pretty and beyond delicious.

For this recipe you will need puff pasty dough which is always a good thing to have in the freezer (for making yummy savoury and sweet recipes), lemon curd (homemade or store-bought, mascarpone and almond flakes).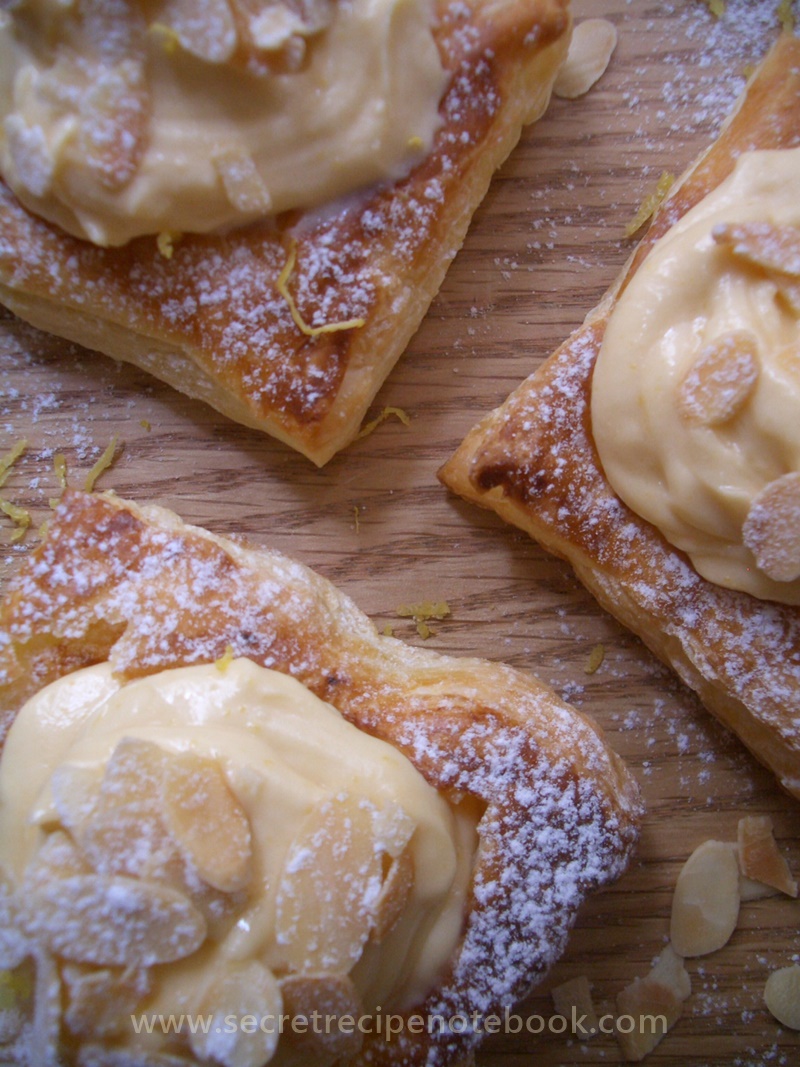 Making the lemon cream
These delicious tarts are topped with silky lemon cream made from lemon curd and mascarpone cheese. Making homemade lemon curd is fairly easy, with a few simple ingredients.


INGREDIENTS YOU'LL NEED:
LEMONS: You will need 3-4 medium lemons, just be sure to use organic ones. First finely grate the lemon zest (you will need 2 full tablespoons of lemon zest) then squeeze the juice from them.


EGGS: In this recipe we use 1 whole egg and 2 egg yolks to get gelatinous lemon curd so when mixed with mascarpone with have a firm cream. 


CORNSTARCH: This recipe features cornstarch which helps the curd to thickens quickly and the curd is done easily. Some other recipes don't use it.


BUTTER: Cut the butter into smaller pieces so it melts quickly. It add creaminess to the curd.


MASCARPONE CHEESE: This recipe uses mascarpone cheese which is creamy and has mild sweet buttery flavour. It has smooth creamy texture and is less tangy than ricotta or regular cream cheese.


More tasty desserts
you'll want to try:
1st step: Making the lemon curd
First pour lemon juice in a heavy-bottomed saucepan, then add finely grated lemon zest.


Next, using a balloon whisk, whisk egg, egg yolks, sugar and cornstarch in a bowl then pour into the saucepan.


Cook on a low heat, stirring with a silicon spatula, until it start to thickens, add butter and cook until melted. You should get a gelatinous texture. Strain the curd through the fine sieve to get rid of any egg lumps and lemon zest bits and set aside.
2nd step: Stirring the lemon curd and mascarpone
Once you have lemon curd ready, place mascarpone in a bowl and beat with electric mixer for a few minutes. Add lemon curd and beat again until incorporated. You have the cream ready. Be sure to keep it in the fridge until ready to serve.


Baking the puff pastries
For the tarts you will need puff pastry, either homemade or store-bought. We used a block of frozen puff pastry. Take the puff pastry dough and roll out on a lightly floured surface into large rectangle.

Cut out rectangles then cut smaller rectangle inside each one. Place them on the baking sheet, brush with beaten egg and bake until they are golden brown, 18-20 minutes. Edges will be dark, this is fine. 


Assembling the tarts
From here, the rest is simple and straight forward as can be. Just before serving divide the lemon cream between each tart and sprinkle with toasted almond flakes and dust with some icing sugar for decoration. Serve on decorative dessert plates!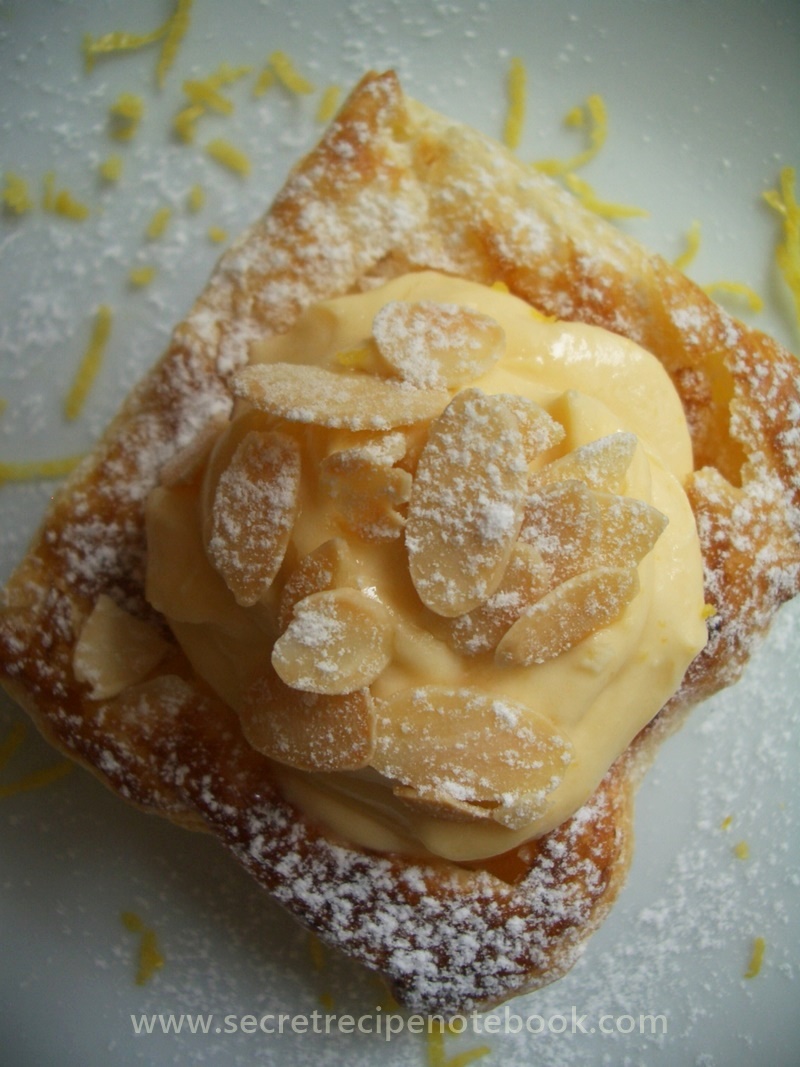 Toasting the almond flakes
Toasting almond flakes is so easy. Just preheat the oven to 160 C and place almond flakes on a baking sheet in a single layer. Bake for about 7-8 minutes or until golden brown and fragrant. Stir them once while baking.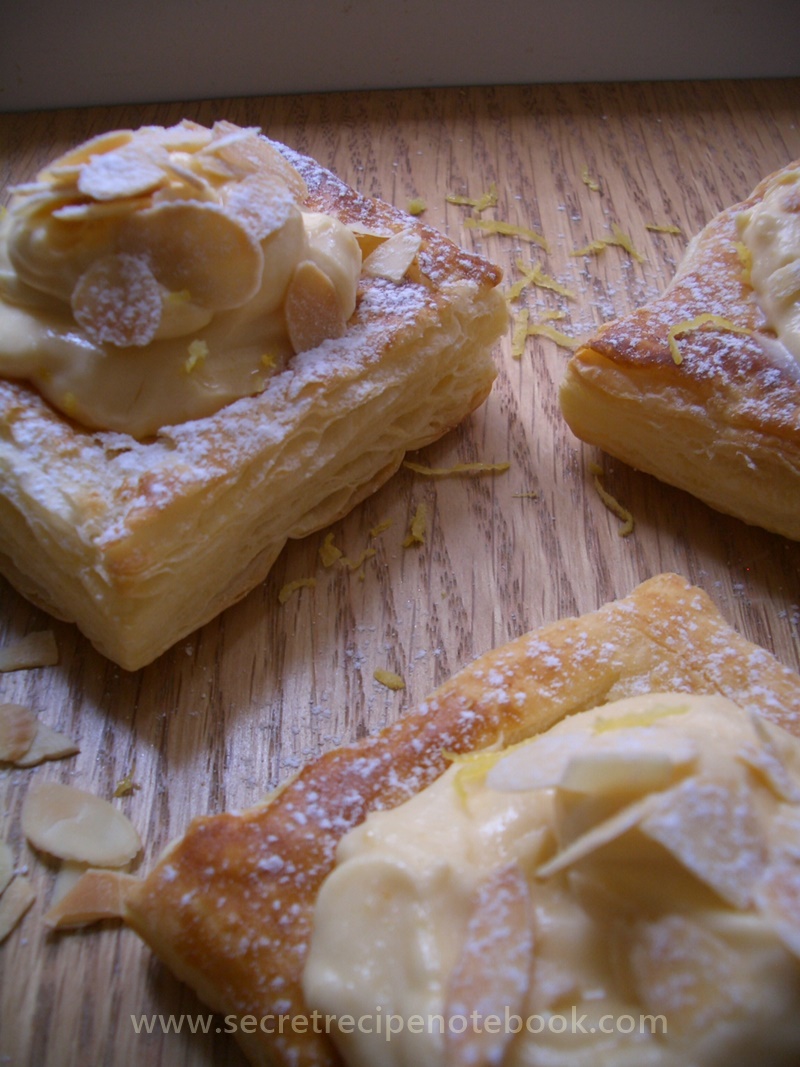 A few of our popular lemon recipes:
Puff Pastry Tarts with Lemon Cream
SERVES: 6 mini tarts
COOKS IN: 40 minutes
LEVEL: Easy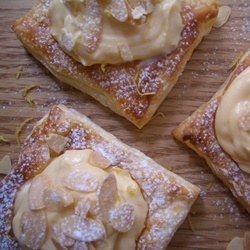 INGREDIENTS
For the lemon cream
100g (1/2 cup) granulated sugar
1 tablespoon cornstarch
1 egg, at room temperature
2 egg yolks, at room temperature
160ml (2/3 cup) lemon juice, freshly squeezed
56g (4 tablespoons) butter, cutted into small pieces
2 tablespoons grated lemon zest
80g mascarpone cheese
For the pastries
frozen puff pastry (250g) 
1 egg, lightly beaten
For the garnish
METHOD
FOR LEMON CURD, place the lemon juice and lemon zest in a heavy-based saucepan then pour egg mixture into this.


Whisk egg, egg yolks, sugar and cornstarch in a medium bowl.


Cook on a low heat stirring constantly with silicon spatula until it thickens, 2 to 3 minutes.


Add butter and cook for another minute until it's melted and incorporated. The curd should be gelatinous and thick enough to coat the back of the spoon.


Strain the lemon curd through the sieve to get rid of any egg lumps and lemon zest and leave to cool.
 
Preheat oven to 190°C/374°F. Line the baking sheet with baking paper.


Thaw 1 sheet of frozen puff pastry dough. Cut into 6 rectangles, approximately 10x6cm each.


Place rectangles on prepared baking sheet. Cut each pastry with a sharp knife about 1cm from the outer edge, making a rectangles inside the rectangle. Prick the center or each pastry with a fork. Brush the edges of each pastry with egg wash.


Bake them for 18-20 minutes or until they are puffed and golden brown. Remove the sheet from the oven and leave the pastries to cool. Press the center of each pastry lightly to create an indentation.


Add mascarpone cheese to the lemon curd and beat for 1 to 2 minutes until silky cream forms.


Top each pastry with lemon cream then sprinkle with toasted almond flakes. Dust with icing sugar and serve.


CATEGORIES: Pastries & Tarts, Lemon
Looking for more recipes?

We are a participant in the Amazon Services LLC Associates Program, an affiliate advertising program designed to provide a means for us to earn fees by linking to Amazon.com and affiliated sites.