HOME > DESSERTS > CAKES & BROWNIES & BARS
Lemon Almond Cheesecake
If you love refreshing summer desserts, you are going to adore these simple cheesecake made with almond crust and zesty lemon filling.

This cheesecake amazingly well combine zesty lemon flavour with nuttiness of almonds. Almond praline sprinkled on the top adds some crunch to the velvety cream.


This webpage contains affiliate links. Please read our disclosure policy.

This cheesecake is so easy to make, the recipe require only 30 minutes. Plus, no water bath needed! The hardest thing would be to wait the cheesecake to cool in the fridge. But once served, you will adore these amazing lemony cheesecake.
If you love light desserts, why not to try our no-bake cheesecake bars topped with toasted peanuts.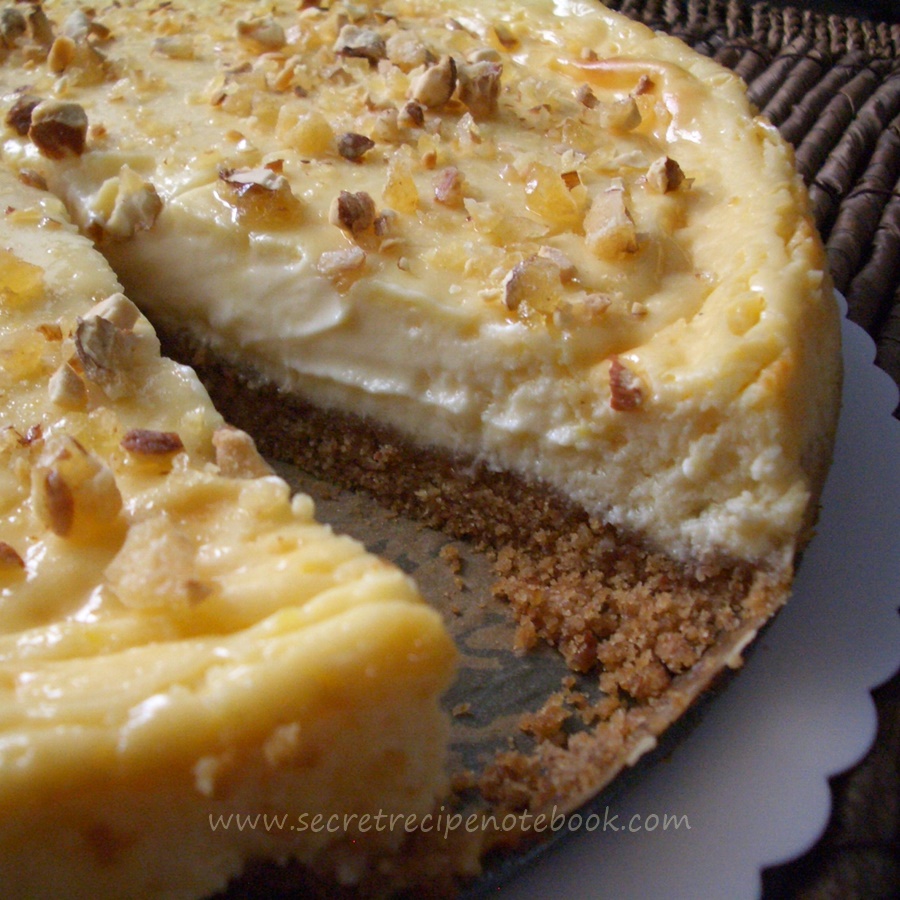 More summery sweets
you'll want to try:
How to make lemon almond cheesecake
This cheesecake consists of simple crust following by creamy lemony filling and topped with crunchy almond praline. Follow our detailed instructions in the recipe to make easily this amazing cheesecake.


Making the cheesecake crust
The cheesecake crust is made of only 4 ingredients: DIGESTIVE COOKIES, GROUND TOASTED ALMONDS, SUGAR (white or brown) and MELTED BUTTER.

So, first toast almonds and grind them finely. Blitz digestive cookies in the food processor until you get a fine crumbs. In the case you don't have food processor, place the cookies in a plastic bag and crush with a rolling pin - this also works fine.

To make the crust combine all of these together with melted butter until you get moist crumbs and press into springform tin (we used 23cm/9in one). Bake for only 6-7 minutes or until the crust is start to become golden and crispy.


Making the filling for the cheesecake
The filling is the simplest as possible. Just follow the steps below:
Using an electric hand mixer beat the cream cheese and Greek yogurt (both should be at room temperature) for a few minutes then gradually beat in sugar.


Add one egg at a time, beating in between addition. Be sure not to overbeat the filling, as this will cause it to rise too much and then deflate which is not good thing. 


Quickly stir in lemon juice, lemon zest and Amaretto. Pour the filling on the prepared crust and bake in the oven for about 60 minutes.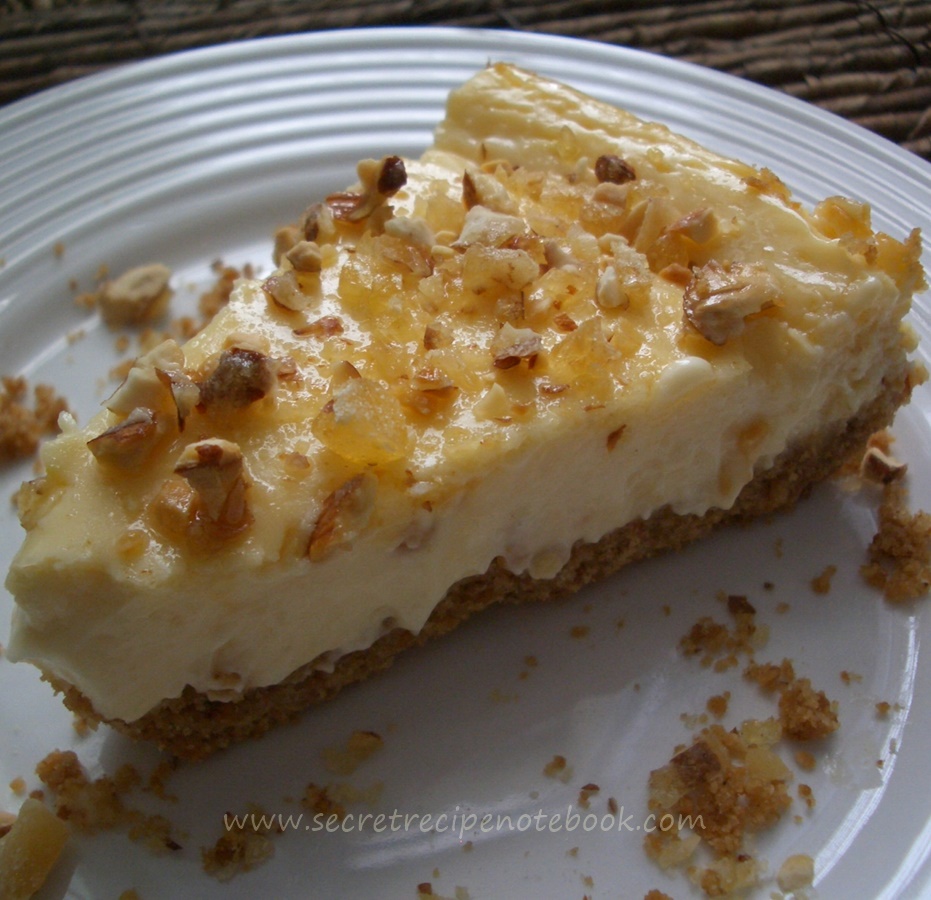 What are almond praline?
Praline are sweets made from nuts and caramelized sugar. They can be made with any kind of nuts but the classic one are those with almonds. Once praline are done, they have look of hard shiny candy.


Praline are sweets made from nuts and caramelized sugar. They can be made with any kind of nuts but the classic one are those with almonds. Once praline are done, they have look of hard shiny candy.

Homemade praline are ideal food gift or they can be added to any creamy dessert such as mousses, puddings, ice-creams and others. Either way their flavour is amazing!
To make perfect almond praline, follow our guidelines from the recipe below. If you don't have a time for making praline top the cheesecake with toasted flaked almonds - it' so attractive and delicious.

Storing lemon almond cheesecake
This lemon almond cheesecake can be stored in the fridge for up to 4-5 days. You may also freeze them for up to 2 months.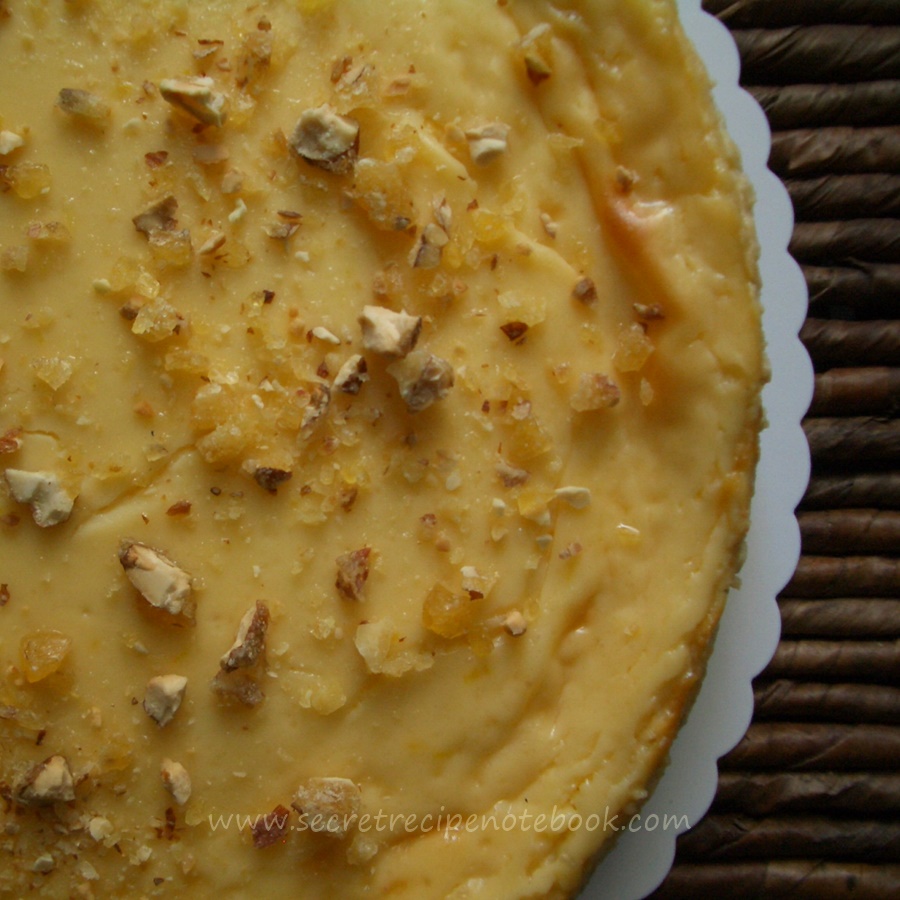 A few of our favourite lemony recipes:
Lemon Almond Cheesecake

SERVES: 12
COOKS IN: 1 hour plus cooling time
LEVEL: Easy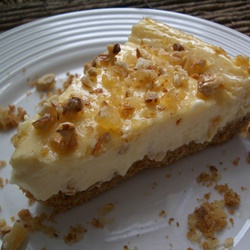 HANDY KITCHEN PRODUCTS:
INGREDIENTS
For the base
250g digestive cookies
50g (1/3 cup) almonds, toasted and ground

1 tablesp

oon brown sugar
100g (7 tbsp) butter, melted
For the topping
750g (3 1/8 cup) full-fat cream cheese,
softened
75g (1/3 cup) caster (fine) sugar
160g (2/3 cup) Greek yogurt, at room temperature
3 eggs, at room temperature
60ml (1/4 cup) lemon juice, freshly squeezed
2 tablespoons finely grated lemon zest
30ml (2 tablespoons) Amaretto liqueur
For almond praline (caramelised almonds)
75g (1/3 cup) caster (fine) sugar
40g (1/4 cup) almonds, toasted and coarsely chopped

30ml (2 tbsp) water
METHOD
Preheat the oven to 180°C/356°F. Line the base of 23cm/9in spring form pan with baking paper and grease the sides of the pan.


TO MAKE THE CRUST, broke digestive cookies into smaller pieces and process in a food processor until mixture resembles fine crumbs. Add ground toasted almonds, brown sugar and butter and stir well to combine. Press the mixture into prepared springform pan.


Bake the crust until it is set and beginning to brown, about 6-7 minutes. Remove and leave to cool. Decrease the oven temperature to 160 C.


TO MAKE THE FILLING, place the cream cheese and Greek yogurt in a large mixing bowl and beat with electric hand mixer (on medium-high speed) until smooth. Gradually add granulated sugar and continue to beat for another few minutes. Add eggs, one at a time, beating (on medium speed) just until blended after each addition.


Quickly stir in the lemon juice and zest and Amaretto, mixing just until it's incorporated in the batter. Pour filling into prepared crust and spread the top smooth.


Place the pan on the baking sheet and bake in the oven for about 40-50 minutes or until set. Edges should be set but the center should be still jiggly. Don't over-bake or the texture will not be creamy as it should be. Remove from the oven, cool in the pan to room temperature. Transfer to the refrigerator and chill at least 6 hours before serving.


Turn off oven, open the oven door slightly or halfway to let in cold air, and leave the cake in the oven for 30 minutes. This will help prevent the cake from cracking and the cake will remain creamy.


Remove the cake from the oven, run the knife gently around the edges of cake. Place cake to a wire rack and allow it to cool to room temperature. Cover the cake with aluminium foil and refrigerate for at least 2-3 hours or overnight.


TO MAKE ALMOND PRALINE, place sugar and water in a heavy-based saucepan and heat over low heat, stirring for 5 minutes until the sugar dissolves. Increase heat to medium-high and cook without stirring until sugar is deep amber. Add chopped almonds and mix quickly with a wooden spoon so the almonds are coated into caramel.


Pour quickly the mixture over buttered plate or small tray and let it cool. Break into pieces or crush it using a rolling pin.


When you want to serve cheesecake, remove it from the fridge 20 minutes before serving. Sweep a palette knife between the cake and sides of the pan, then unclip the springform. Transfer the cheesecake to a serving plate. Decorate the top with crushed almond praline then cut into wedges and serve on the dessert plates.


CATEGORIES: Cakes & Brownies & Bars, Spring & Summer
Lemon, Almond, Cream Cheese
We are a participant in the Amazon Services LLC Associates Program, an affiliate advertising program designed to provide a means for us to earn fees by linking to Amazon.com and affiliated sites.