HOME > DESSERTS > CAKES & BROWNIES & BARS
No-Bake Cheesecake Bars
You are going to love this simple no-bake cheesecake bars ideal as a light dessert. Simple cookie crust topped with light filling enriched with white chocolate and all sprinkled with toasted peanuts.

For another summer cheesecake idea, see our recipe for lemon and almond cheesecake.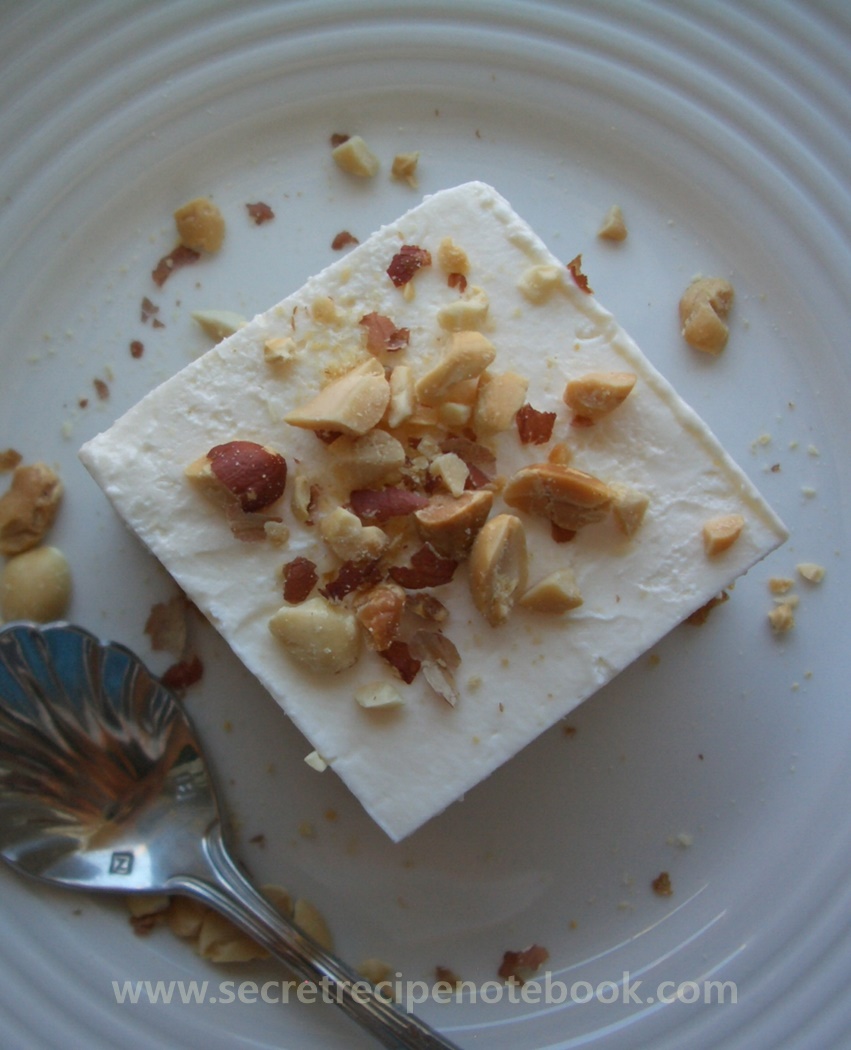 This webpage contains affiliate links. Please read our disclosure policy.

Making the cheesecake crust
For the crust you will need only COOKIES CRUMBS (we used Grancereale classic cookies), SUGAR (we used coarse brown sugar) and MELTED BUTTER. Just blitz cookies in a food processor until you get a fine crumbs and stir with sugar and melted butter.

Press this mixture into 23x23cm square cake pan lined with baking paper. We love to bake crust for 3-4 minutes to make it crunchy - later on it's the crust is not soggy and it's easier to cut.
This way the crust will be firmed and will not crumbled when you slice cheesecake. You can skip this step.

USEFUL TIP! This is no-bake cheesecake, but still we love to bake the crust briefly to make it crunchy so later on it's easier to cut (it doesn't fall apart). Also it's not soggy once filling is on the top.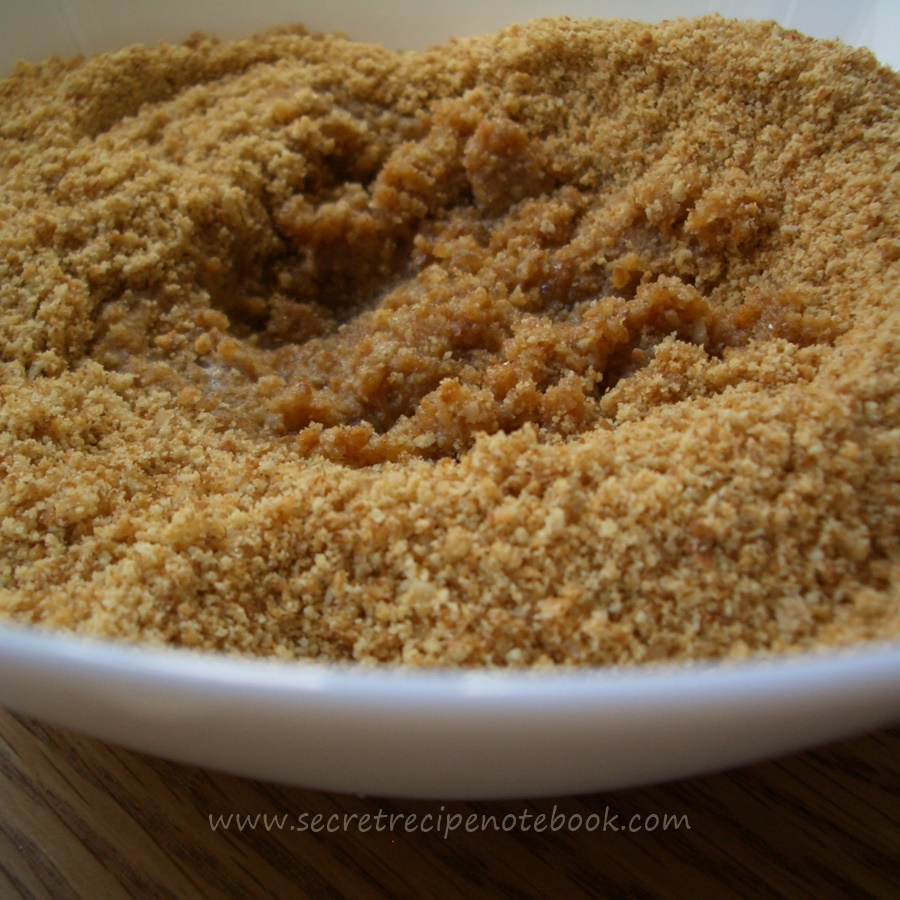 More dessert recipes
you'll want to try:
Making the filling for the cheesecake
Making the cheesecake mixture is quite simple and quick. For the filling you will need only 4 ingredients: 

WHITE CHOCOLATE: broke into smaller pieces and melt in a double boiler until creamy.

CREAM CHEESE: use quality full-fat cream cheese and take it from the fridge well in advance to get to the room temperature. Using an electric hand mixer beat the cream cheese until completely smooth (scrape down the sides of the bowl as needed). Pour white chocolate into this and beat for another minute to combine.

WHIPPING CREAM: Whip the cream until soft peaks form and fold into the cream cheese mixture.
You cheesecake filling is ready! Now pour it over the crust and smooth with silicon spatula. This cheesecake bars needs to cool in the fridge for 3 - 4 hours, so plan ahead when you make them.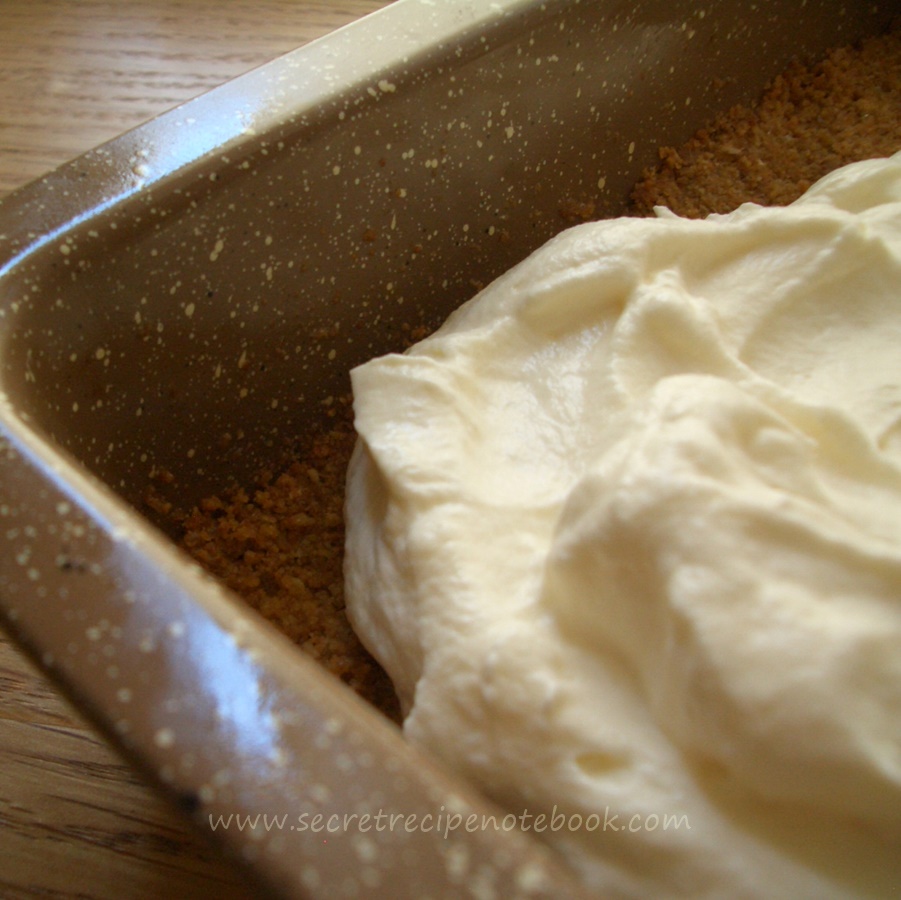 How to toast peanuts?
Toasted peanuts are a great addition to this creamy cheesecake bars to add some crunch as well as nice nutty flavour.

To toast the peanuts, warm the oven to 160 C, lay raw peanuts in a single layer on a baking sheet. Toast them for 5-6 minutes, stirring once or twice, until the peanuts are lightly golden and the skins become loose.

Watch carefully as peanuts burn easily. Take from the oven and chop and blitz in the food processor to the coarse texture (you can do this on the cutting board using a sharp knife).


Storing no-bake cheesecake bars with crunchy peanuts
These light summer cheesecake bars will store in the fridge for up to 4 days. And if you like, you can also freeze a few slices and save them for later.


A few of our easy dessert recipes:
No-Bake Cheesecake Bars

SERVES: 9 servings
COOKS IN: 30 minutes plus cooling time
LEVEL: Easy
Handy equipment:
INGREDIENTS
For the crust
200g Grancereale classic cookies or digestive cookies
25g granulated or brown sugar (1/8 cup)
84g butter (6 tbsp), melted
For the filling
510g full-fat cream cheese (2 1/8 cup)
160ml whipping cream (2/3 cup), from the fridge
100g white chocolate (3.5 ounces)
1 teaspoon vanilla extract
For the topping
60g peanuts (1/2 cup), toasted and coarsely chopped
METHOD
TO MAKE THE CRUST, broke cookies into smaller pieces and process in a food processor until mixture resembles fine crumbs. You can do this also by placing broken cookies in a freezer bag and crush with rolling pin until you get fine crumbs.


Combine crumbs with brown sugar, pour melted butter and stir well to combine. Press the mixture evenly over base of 23x23cm square pan and bake in the preheated oven at 180 C for 5-6 minutes. Take out from the oven and leave to completely cool.


TO MAKE FILLING, broke the white chocolate into pieces and place in a bowl set over a saucepan of simmering water. Stir with silicon spatula until completely melted. Set aside to cool slightly.



Beat whipping cream in a small bowl using electric

mixer until soft peaks form.


Using electric hand mixer, beat cream cheese on medium speed until smooth and creamy. Scrape down the sides and up the bottom of the bowl with a rubber spatula as needed. Add white chocolate and beat for another minute.


Fold slowly the whipping cream into the mixture.


Pour the mixture onto baked crust and use the back of a spoon to smooth the tops so they are flat. Cover with aluminium foil or plastic wrap and refrigerate for 3-4 hours or until set. Keep refrigerated until ready to serve. Before serving sprinkle with toasted chopped peanuts.


CATEGORIES: Cakes & Brownies & Bars, No-Bake Desserts, Spring & Summer,
Cream Cheese, White Chocolate
We are a participant in the Amazon Services LLC Associates Program, an affiliate advertising program designed to provide a means for us to earn fees by linking to Amazon.com and affiliated sites.