HOME > DESSERTS > PASTRIES & TARTS
Raspberry White Chocolate
Mousse Tarts
If looking for a simple summer desserts, these individual tarts should be your choice. Made with a crumbly dough enriched with toasted almonds and white chocolate mousse with fresh raspberries on the top, these tarts are so delicious.

For something more chocolatey, try our mini chocolate tarts or enjoy amazing citrusy aromas in our lemon hazelnut tarts.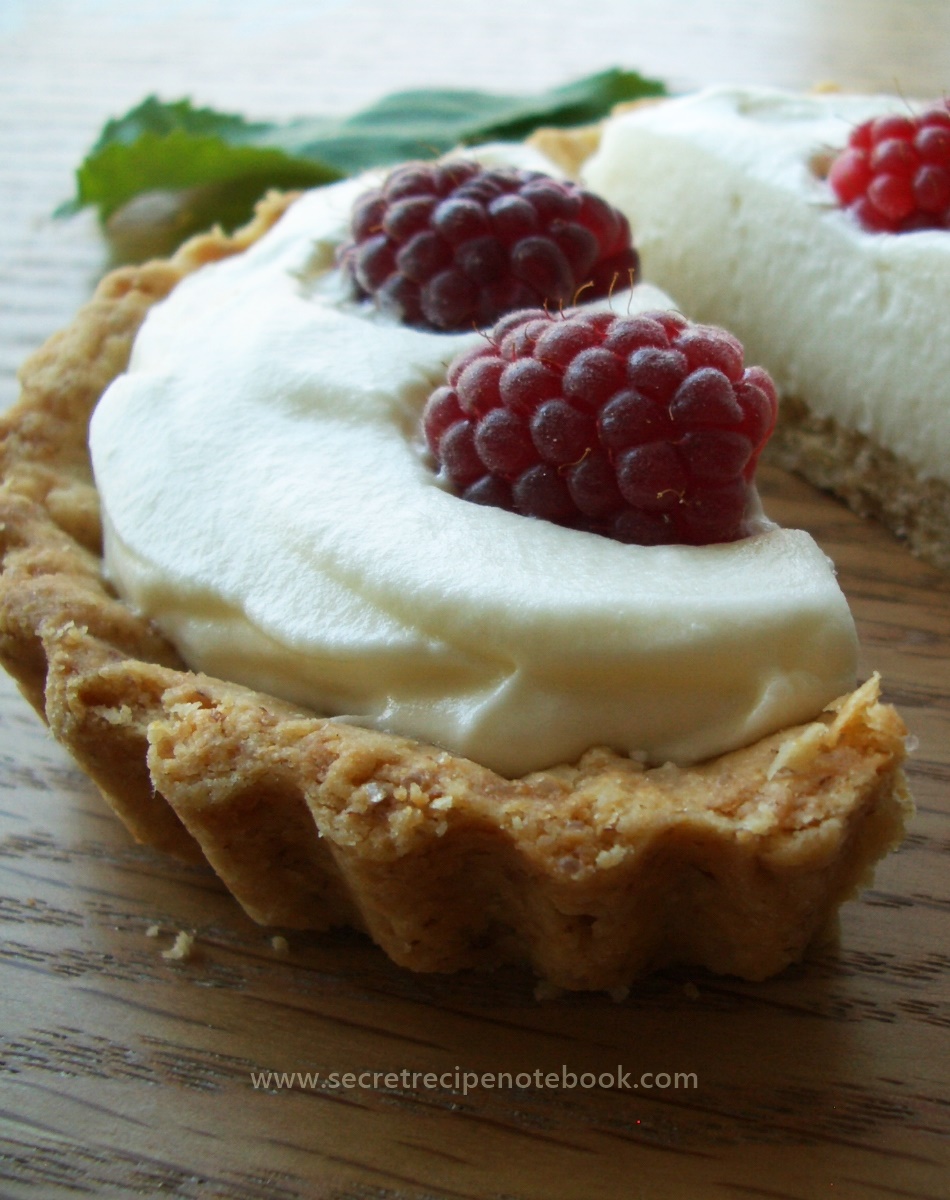 This webpage contains affiliate links. Please read our disclosure policy.

More dessert recipes
you'll want to try:
How to make the tart crust
Crust for these little tarts is so easy to make. You will need ALMONDS, PLAIN FLOUR, BROWN SUGAR, SALT, BUTTER, EGG YOLK and GRATED LEMON ZEST.

First toast almonds in the oven to enchance the flavour and grind them finely. Continue with placing flour, sugar, salt and almonds in the medium bowl, then rub cold butter, add grated lemon zest and in the end egg yolk. Knead until the dough comes together.

Wrap in cling film and let it cool in the fridge for 30 minutes.


Which tart tins to use for baking
These mini tarts are baked in mini tart tins. We love to use these 10cm/4 inch individual tart tins with removable bottoms and non-stick surface so you don't need to grease them.

These are ideal as they allow simple baking, easy removal of tarts and easy cleaning. They are made of high quality carbon steel which is durable and ideal for even and quickly tart baking.

Check out below in the recipe how to easily line tart tins with the dough.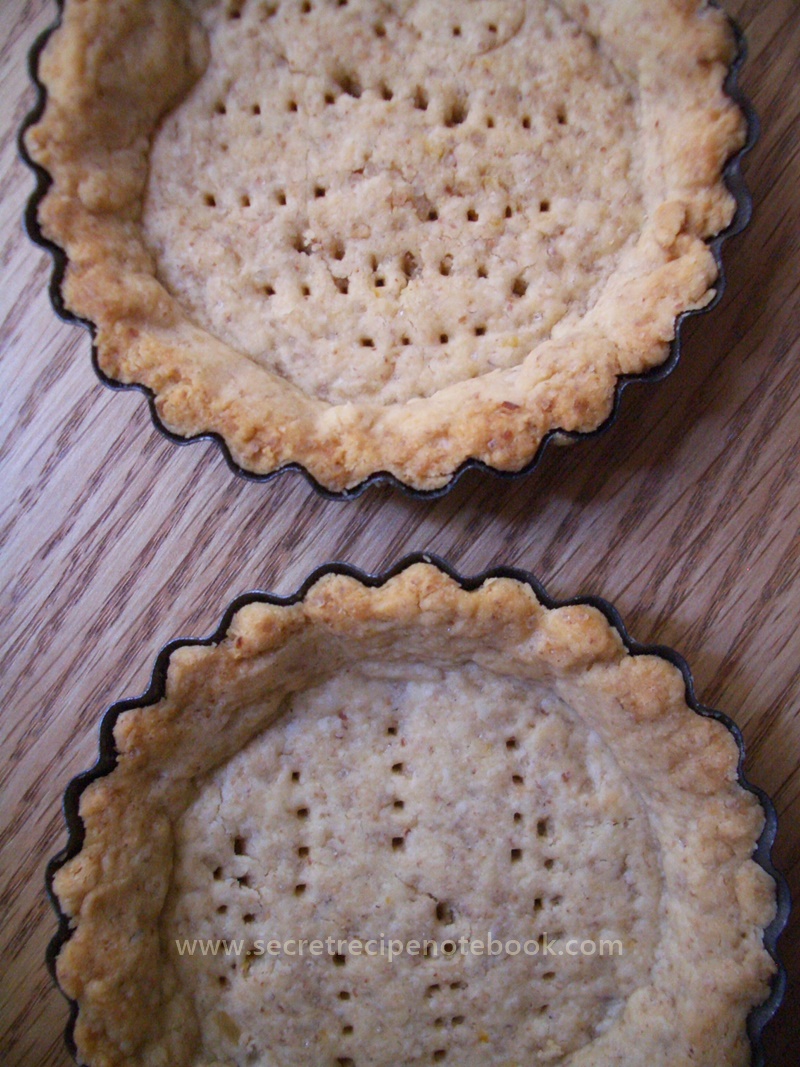 White chocolate mousse + fresh raspberries
These little tarts are filled with light mousse made with white chocolate and whipping cream. Plus, a few tablespoons of fresh lemon juice. Making the filling for these tarts couldn't be easier.

First, broke white chocolate bar and melt with some cream in the double boiler, leave to cool.


Using an electric hand mixer, beat the remaining whipping cream until soft peaks form.


Fold the whipping cream into the melted white chocolate using a silicon spatula (don't forget to add lemon juice). Leave to cool in the fridge for about 30 minutes.


Assembling the tarts
Now, when we have ready pastry cases and white chocolate mousse, it's time for assembling the tarts. Just spoon the mousse on the top of pastries, then place a few fresh raspberries on the top.
Swap raspberries for any other berries you love or have on hand, strawberries, blackberries...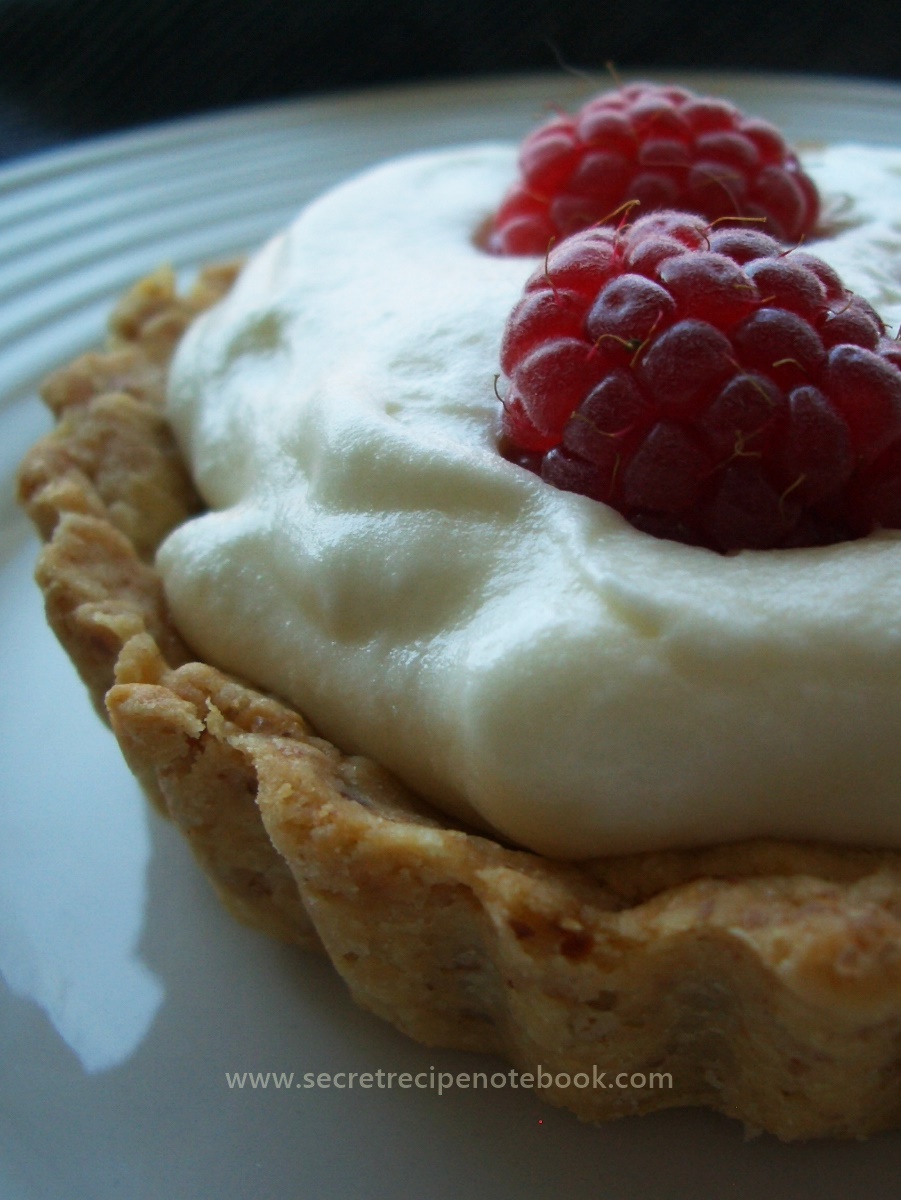 Storing raspberry white chocolate mousse tarts
Store these tarts in the fridge covered with aluminium foil for up to 3 days.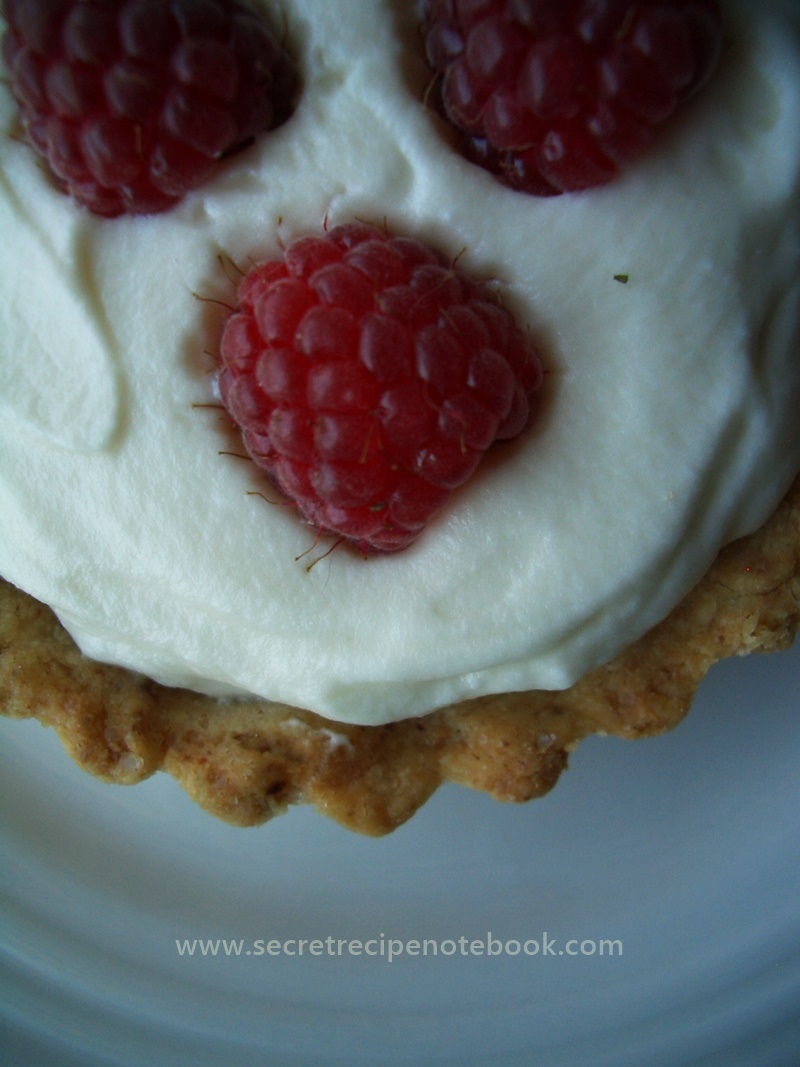 A few of our popular dessert recipes:
Raspberry White Chocolate Mousse Tarts
SERVES: 6 mini tarts
COOKS IN: 1 hour plus cooling time
LEVEL: Moderate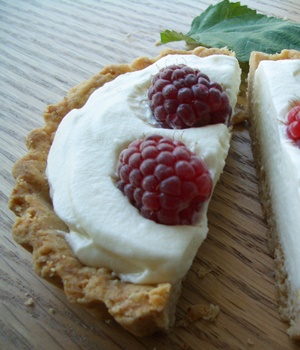 Handy equipment:
INGREDIENTS
For the pastry
50g whole almonds (1/3 cup)
160g

plain flour 

(1 1/3 cup)
50g demerara sugar (1/4 cup)
1/4 teaspoon 

salt

126g

butter 

(9 tbsp), cold and cubed
1 

egg yolk

, at room temperature
1 tablespoon of grated lemon zest
For the white chocolate mousse
200g white chocolate (7 ounces), coarsely chopped

300ml heavy whip

ping cream (1 1/4 cup)
30-45ml lemon juice (2-3 tablespoons), freshly squeezed
170g fresh raspberries (6 ounces)
METHOD
FOR THE PASTRY, first prepare the almonds by toasting them in the oven. Preheat the oven to 160°C/300°F. Arrange the almonds in a single layer on baking tray and toast for about 7-8 minutes, stirring them every 2-3 minutes. They are done when they are fragrant and their skin cracked.


Remove from the oven and, cool completely and blitz them in a food processor until coarsely ground.



Combine flour, demerara sugar, ground al

monds and salt in a large bowl. Add the cubes of cold butter and rub into dry ingredients with your fingers until you get a coarse crumbs. 


Add an egg yolk to the flour/almond mixture and knead with your hands a compact dough. If the dough is to dry, add 1-2 tablespoons iced water. Wrap in cling film and cool in the fridge for at least 30 minutes.


Preheat the oven to 180°C/356°F. Prepare 6 loose-bottomed tart tins with diameter of 10cm/4 inch.


Take the dough from the fridge, leave for a few minutes to soften slightly and divide into 6 even pieces.


Roll each piece into rounds (around 2-3mm thick) large enough to line tart tins. Lift the pastry into each tin and press into sides. Trim the edges and prick the dough with a fork all over the surface. Place tart tins into the freezer for 10 minutes.


Place tart tins in the oven rack and bake for 12-14 minutes, until the edges are golden brown. Transfer to a wire rack to cool completely.


TO MAKE THE MOUSSE FILLING, combine the white chocolate and 100ml whipping cream in a heatproof bowl set over a pan of gently simmering water. Stir until the chocolate is smooth and melted. Remove from the heat, stir in lemon juice and cool.



Whip up the remaining cream (200ml) until soft peaks form. Fold a spoonful of the cream into the cooled white chocolate mixture, the

n fold the remaining cream. Cool in the fridge for 15-20 minutes.


Spread white chocolate mousse over pastry cases and arrange the raspberries over the mousse. Cool the tarts in the fridge for about 1-2 hours or until the chocolate mousse has set. 


CATEGORIES: Pastries & Tarts, Spring & Summer,
Raspberry, White Chocolate
We are a participant in the Amazon Services LLC Associates Program, an affiliate advertising program designed to provide a means for us to earn fees by linking to Amazon.com and affiliated sites.