Combination of soft and fluffy doughnuts and silky vanilla scented pastry cream makes these fried sweets so irresistible. Ideal treat for everyone!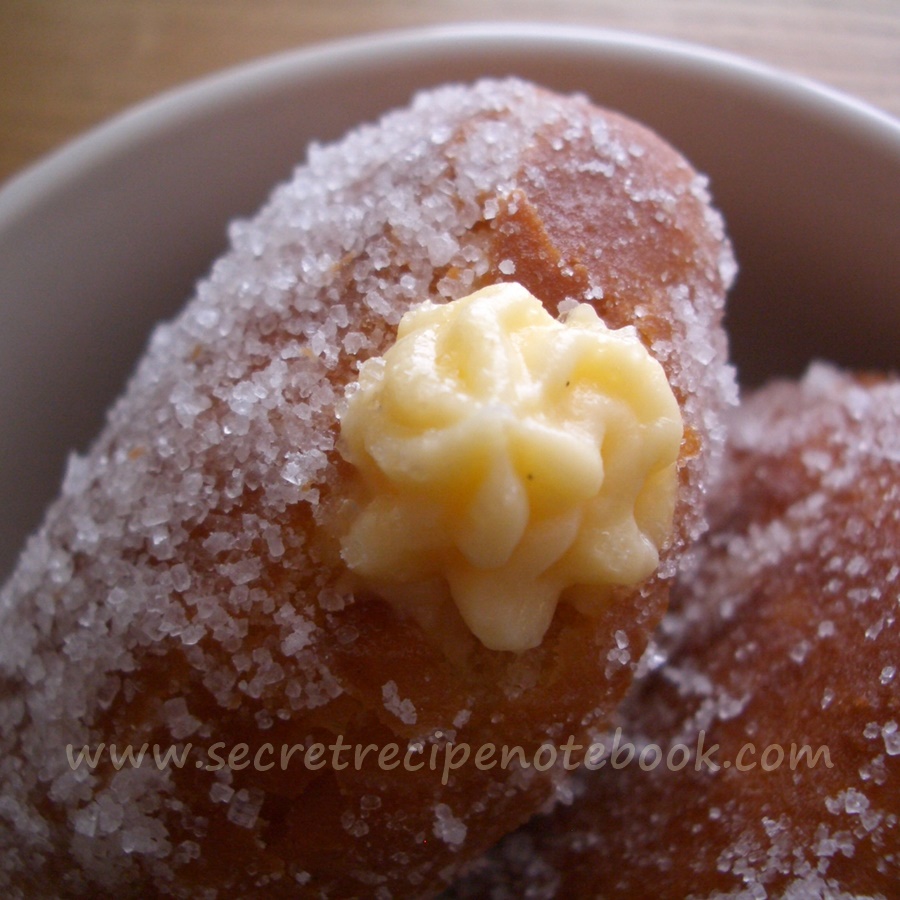 These vanilla cream filled doughnuts are what you need for your coffee break. They are soft and fluffy and filled with a super-easy pastry scented with vanilla and fresh lemon. The dough is whipped up quickly - just leave some extra time for dough and doughnut rising. 
For doughnut lovers, we have a recipe for simple doughnuts and dark mini doughnuts filled with lemon curd.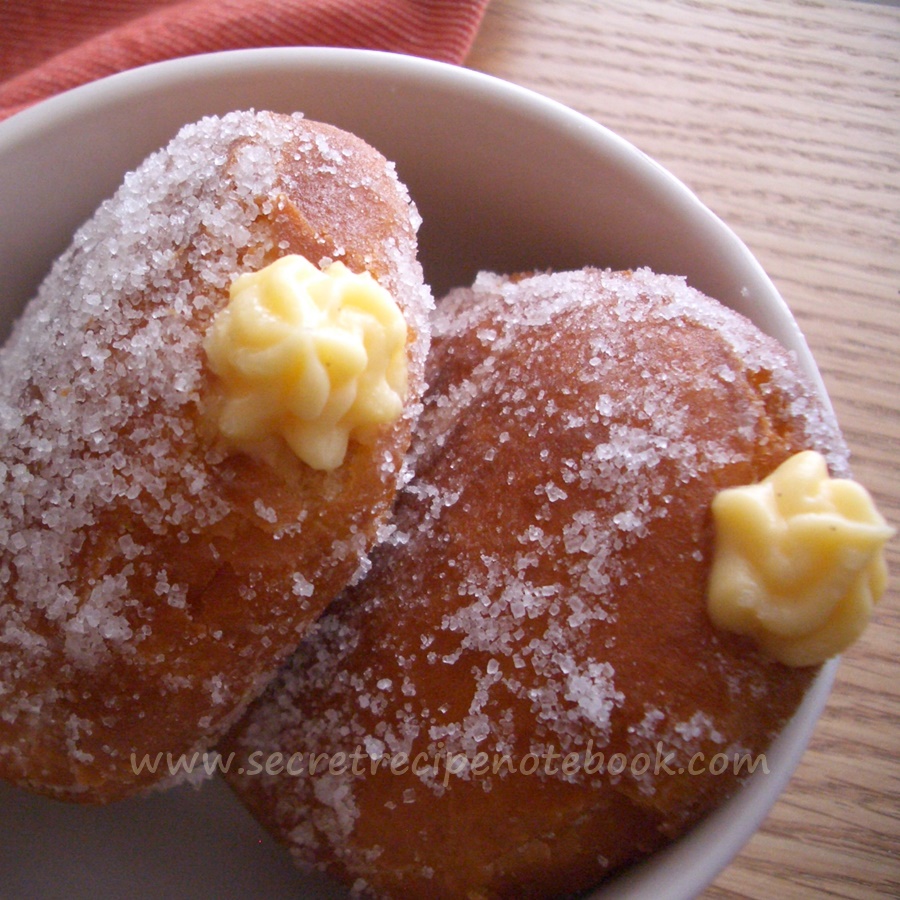 try also these tasty recipes:
making vanilla cream doughnuts
Making these delicious fried sweets start with the pastry cream then kneading the dough which is both easy and quick. After that, we rise the dough, cut doughnuts, rise them again, fry them and finally fill with pastry cream. 


making pastry cream
Our vanilla pastry cream is made in only 15 minutes and for making it you will need milk, whipping cream, eggs, sugar and cornstarch.

This is classic pastry cream where we first warm milk/cream then combine with the rest of ingredients whisked in separate bowl. Cook for 2 - 3 minutes on a low heat until it thickens. Keep in the fridge until doughnuts are ready to be filled.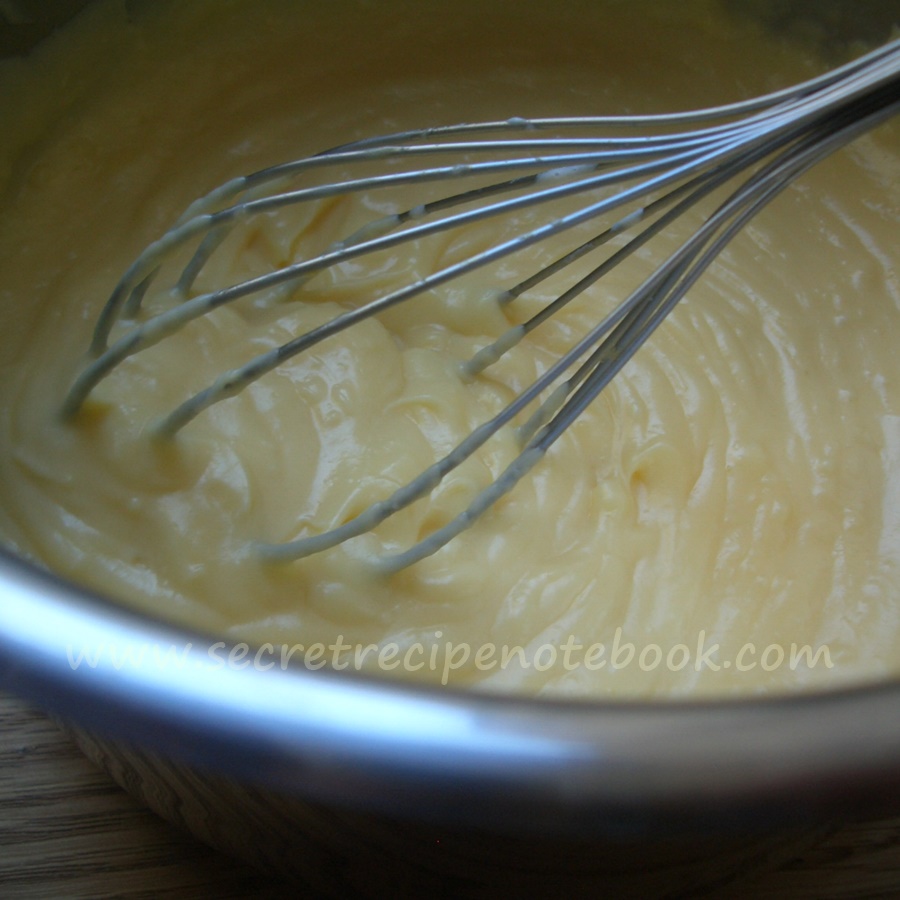 making the dough
For this recipe we used fresh yeast which results in fluffy and soft doughnuts. You need to prove the yeast in the way that you crumble the yeast and stir with some milk, sugar and flour. 

In one bowl combine sifted flour then make a well in the middle and add the rest of ingredients, including proven yeast. Stir with a fork first until most of the ingredients combined, then tip on the work surface and knead a soft pliable dough.

The dough needs to rise for at least 1 hour on a warm place. If your home is heated leave the dough at room temperature, if not place the dough in a slightly warm, but turned off oven. The dough should double in size.


shaping doughnuts
Once the dough is ready, turn it onto floured work surface and gently roll using a rolling pin to 1.5 cm thickness. Cut doughnuts with round cutter of your choice - we used 7cm round cutter and got 18 regular-sized doughnuts ideal for filling with cream. Once doughnuts are cutted, place them on a lightly floured baking tray and leave to rise for around 30 minutes or until they are puffed.


useful frying tips
Doughnuts should be fried in deep oil at 180°C (356°F). If you don't have a thermometer you can check if the oil is good by dropping one small piece of dough in the oil. If it rises immediately to the surface and brown slowly - the oil is ready for frying. If it stays on the bottom, the oil is still not ready. 


Fry 2 - 3 doughnuts at a time, 60 - 90 seconds on one side and about 30 seconds on the other side.


Be careful when handling the oil as it is very hot. Use slotted spoon to drop doughnuts to the oil and remove them to the plate.


If your doughnuts are "oily", then the oil was not hot enough, it they're raw in the middle but done on the outside, then your oil was too hot.


Once doughnuts are fried, place them on a plate lined with kitchen paper to drain them.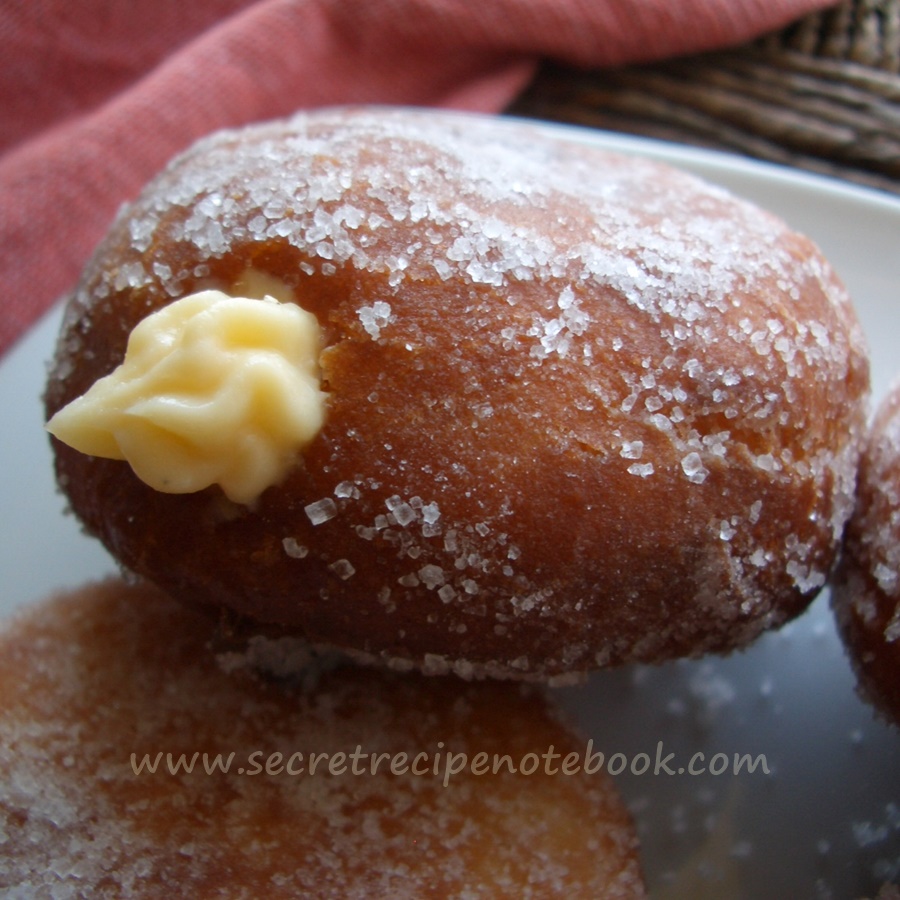 how to fill doughnuts
Once doughnuts are cool, take the pastry cream from the fridge and stir in vanilla bean paste. Make a indent in each doughnut with a back of the teaspoon to make more room for the pastry cream. Roll each doughnut in caster sugar. Now, easily spoon piping bag with vanilla cream and pipe as much as possible.

Grab a cup of coffee and enjoy one of these delicious cream-filled doughnuts!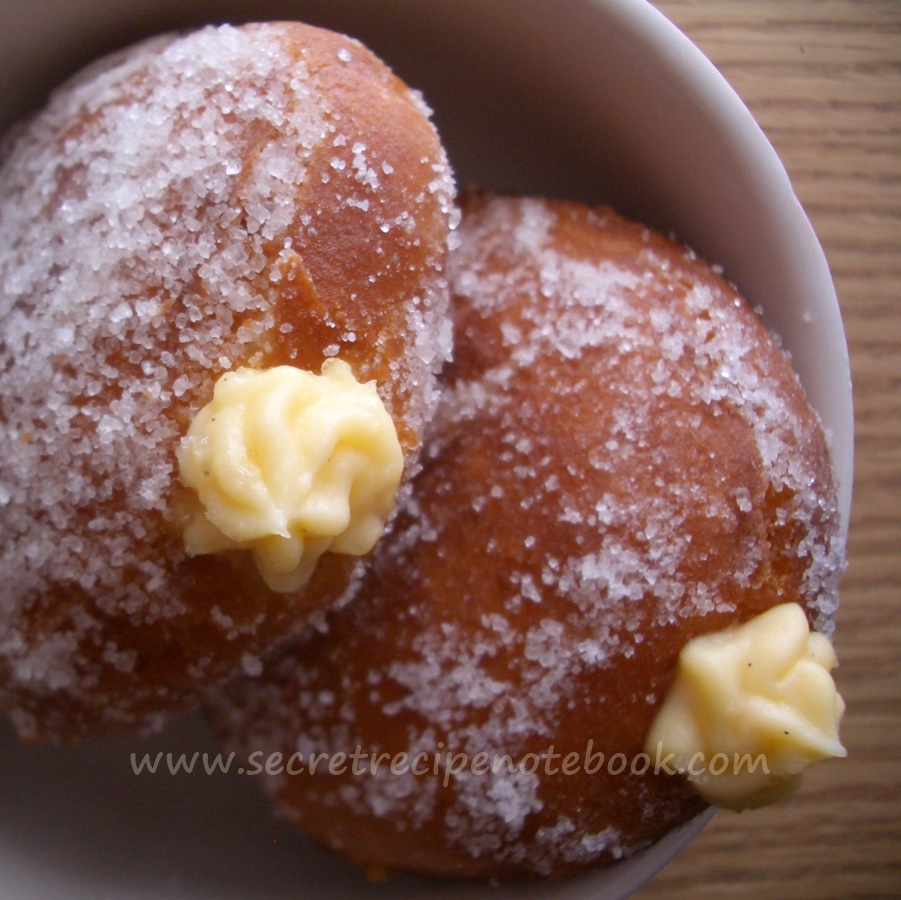 storing vanilla cream doughnuts
These doughnuts are best eaten on the same day they're made. If there are any leftovers, since the filling is dairy-based, they should be kept in the fridge.


looking for more delicious desserts?
shop kitchen essentials for this recipe
Kitchen Scale | Heavy-Bottom Saucepan | Glass Bowl | Hand Wire Whisk | Mixing Bowl | Small Bowl | Small Saucepan | Rolling Pin | Round Cutters | Baking Tray | Baking Paper Sheet | Deep Saucepan | Slotted Spoon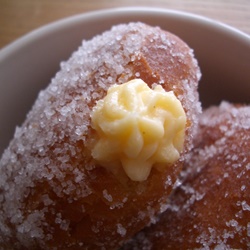 vanilla cream doughnuts
MAKES: 18 regular-sized doughnuts
COOKS IN: 1hour plus rising time
LEVEL: Moderate
INGREDIENTS
For the vanilla cream
4 large egg yolks, from the fridge
55g (1/4 cup) caster (fine) sugar
30g (1/4 cup) cornstarch
400ml (1 2/3 cup) whole milk
120ml (1/2 cup) whipping cream (33 - 36% milk fat)
2 teaspoons vanilla bean paste
1 tablespoon grated lemon zest
For the doughnuts
20g

fresh yeast

or 2 tablespoon fast-action dry yeast
510g

(4 1/4 cups) plain flour

1/4 teaspoon

salt

2

eggs

, at room temperature
2 egg yolks, at room temperature
25g (1/8 cup) demerara sugar (or any other sugar)
1 tablespoon grated lemon zest
1 tablespoon rum or Amaretto

180ml (3/4 cup) milk, warm (40 - 50 C)

100g butter, diced
sunflower oil for frying
METHOD
Place the milk in a heavy-bottomed saucepan, bring to gentle simmer.



In a heatproof bowl, whisk together egg yolks, sugar and corn starch until you get smooth texture. 


Slowly pour half of the hot milk onto the egg mixture, whisking all the time, then pour the egg mixture back to the saucepan with remaining milk. 


Place saucepan over low heat and continue to stir until the mixture begin to thicken (2 - 3 minutes). Add vanilla extract to the cream and stir to combine. Pour the cream into a clean bowl and leave to cool at room temperature for about 10 minutes. Place in the fridge for 10 minutes. 


FOR THE DOUGHNUTS, crumble the fresh yeast and combine together with 2 tablespoon of flour and 1 teaspoon sugar in a small bowl. Pour 50ml warm milk and stir until everything combined. Place in the warm place until it becomes frothy.


Place the rest of the milk (150ml) with butter cutted into smaller pieces in a small saucepan and heat on a low heat until most the butter is melted. 


Combine flour and salt in a large bowl. Make a well in the middle, then add eggs, egg yolks, grated lemon zest, Amaretto and yeast mixture.
Start stirring with a fork to combine, then pour milk/butter mixture and continue to stir incorporating flour slowly.
Once roughly dough is formed, tip it onto dusted work surface and knead using your hands to make a soft compact dough - 5 - 6 minutes.


Transfer the dough back to the dusted bowl and cover with clean kitchen towel. Set aside to rise in a warm place until it doubled in size - about 1 hour.


When you are ready to make doughnuts, dust work surface and roll out the dough to approximately 1.5 cm. Using 7cm round cutter cut rounds and place them on a baking tray dusted with some flour. Cover with clean kitchen towel and keep on a warm place until they puff up.


Fill deep heavy-bottomed saucepan with sunflower oil and heat over a medium heat until the oil is heated to 180 - 190 C.


Using a slotted spoon, drop doughnuts in the batches of 2 - 3 in the oil. Cook for approximately for 2 minutes until golden brown then flip on the other side and cook for another 1 minute.


Remove them to a plate lined with kitchen paper to drain.