Simple Nutella Doughnuts
Our mini Nutella-filled doughnuts are perfect for afternoon tea or even as a breakfast. Ready in 35 minutes with the dough that don't need to prove, sprinkled with icing sugar and filled with Nutella, these doughnut are a true crowd pleasers.

Another mini doughnuts we love are those filled with lemon curd - try those next.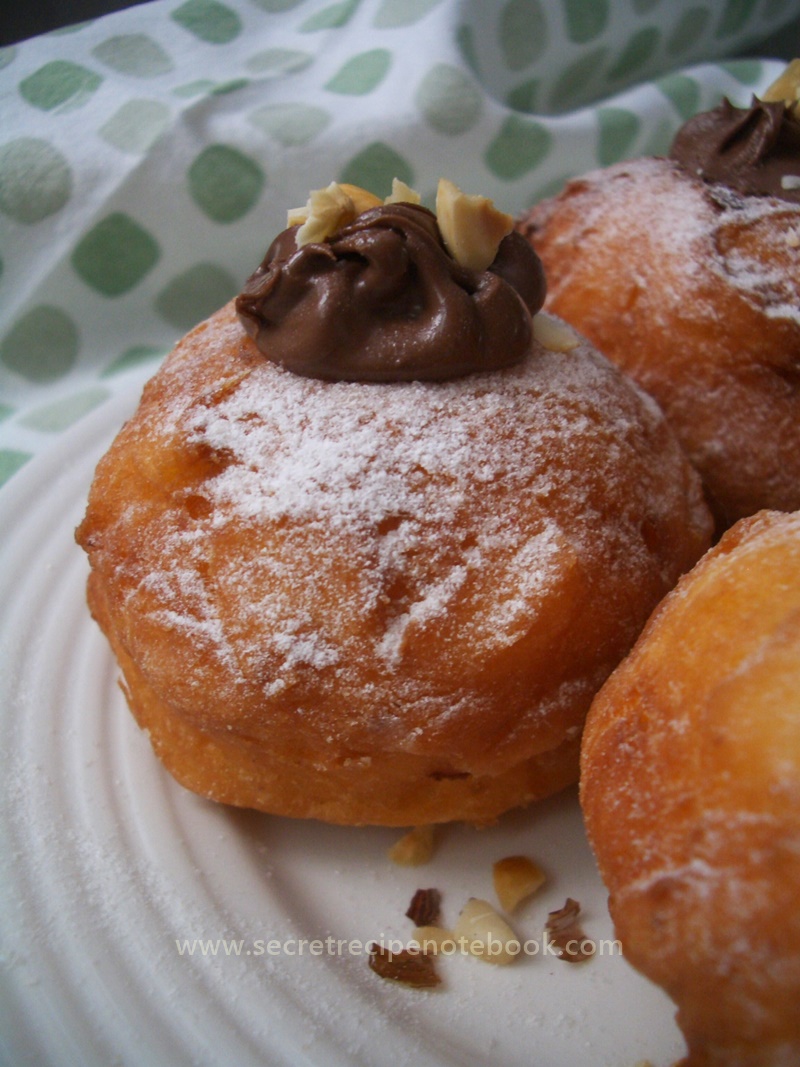 This webpage contains affiliate links. Please read our disclosure policy.

Quick overview: How to make the dough
Making the dough for these mini doughnuts is just a breeze. You will need for this 7-8 minutes. Start with measuring all the ingredients (plus melting butter and zesting the lemon) which are pretty basic and you've already have them at home.

For the dough you'll need: plain flour, a few teaspoons of baking powder (as rising agent, we don't use any yeast), eggs and Greek yogurt (these should be brought to room temperature) and a few tablespoons of butter (melted). Freshly grated lemon zest is always a great addition to any dough, so don't skip adding it here also.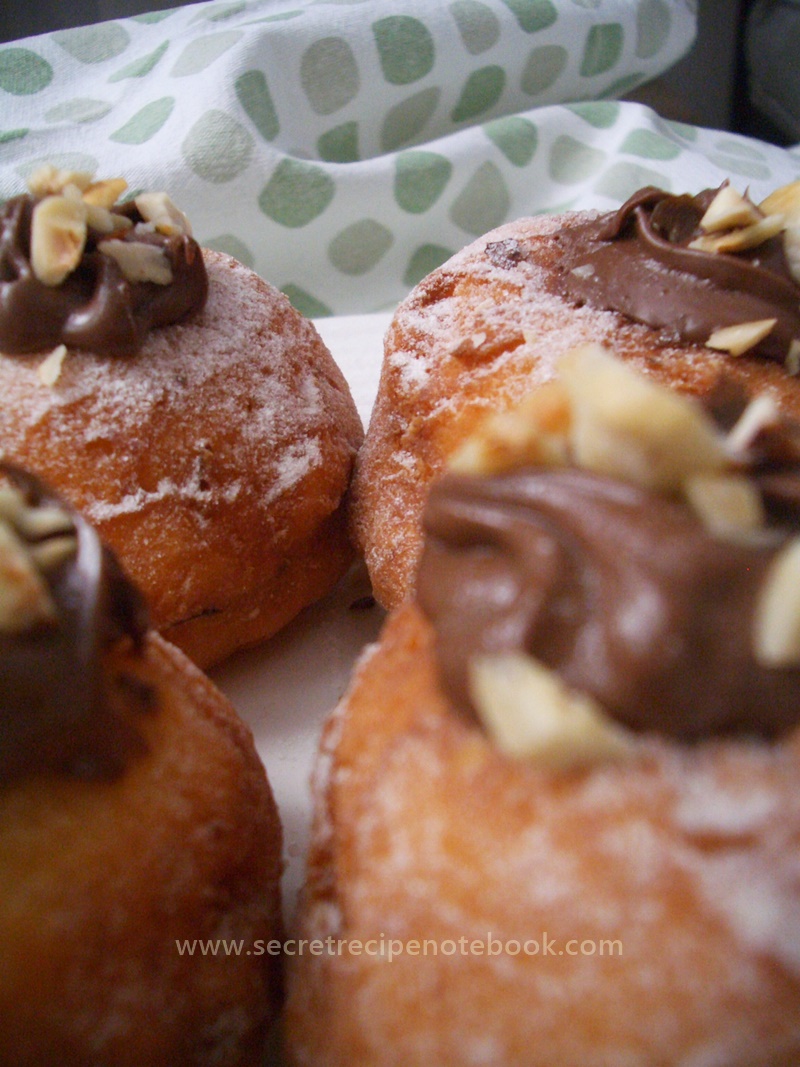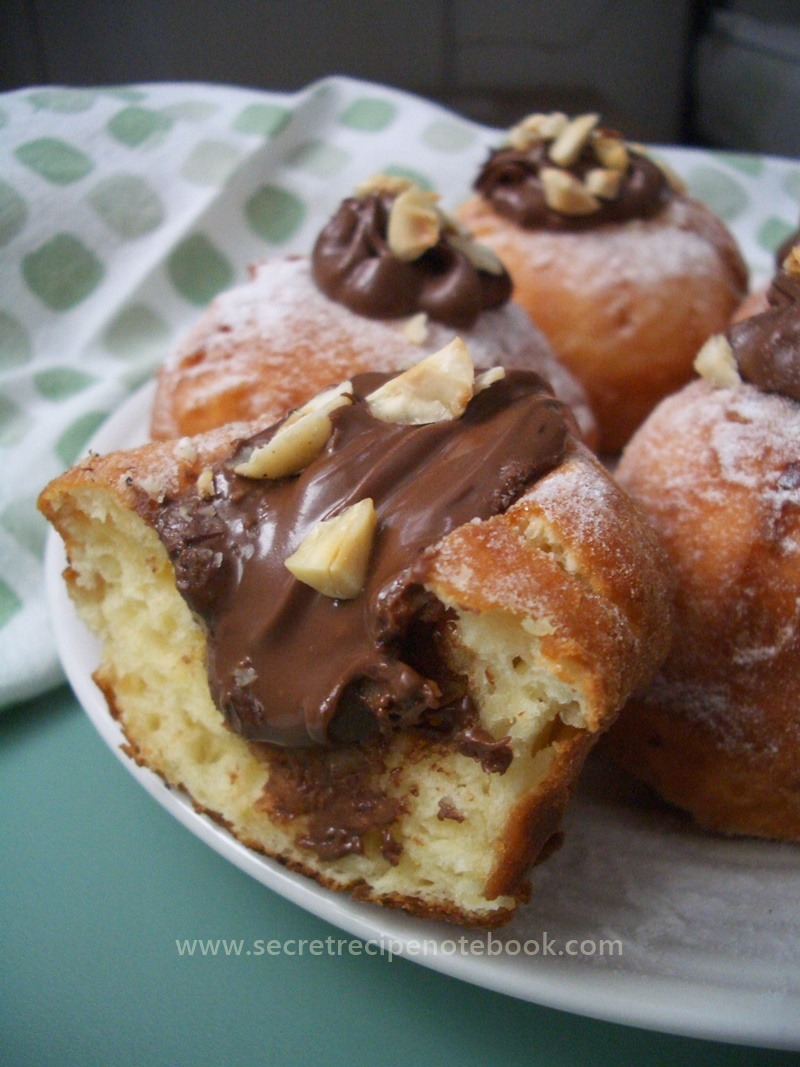 3 easy steps for making the dough:
COMBINE DRY INGREDIENTS: Just stir together plain flour, baking powder and salt. in one bowl. This is best done in a large mixing bowl like this stainless steel bowl.


WHISK WET INGREDIENTS: Place egg, sugar, melted butter and Greek yogurt together with grated lemon zest in a bowl then whisk using a wire whisk (this sturdy whisk with wooden handle is a great tool to have in the kitchen).


GET TOGETHER THESE TWO: Make a well in the flour, then pour wet ingredients into it, stirring with a spoon so everything is combined. You'll get soft and slightly sticky but workable dough, which is fine, as this results into soft doughnuts later on.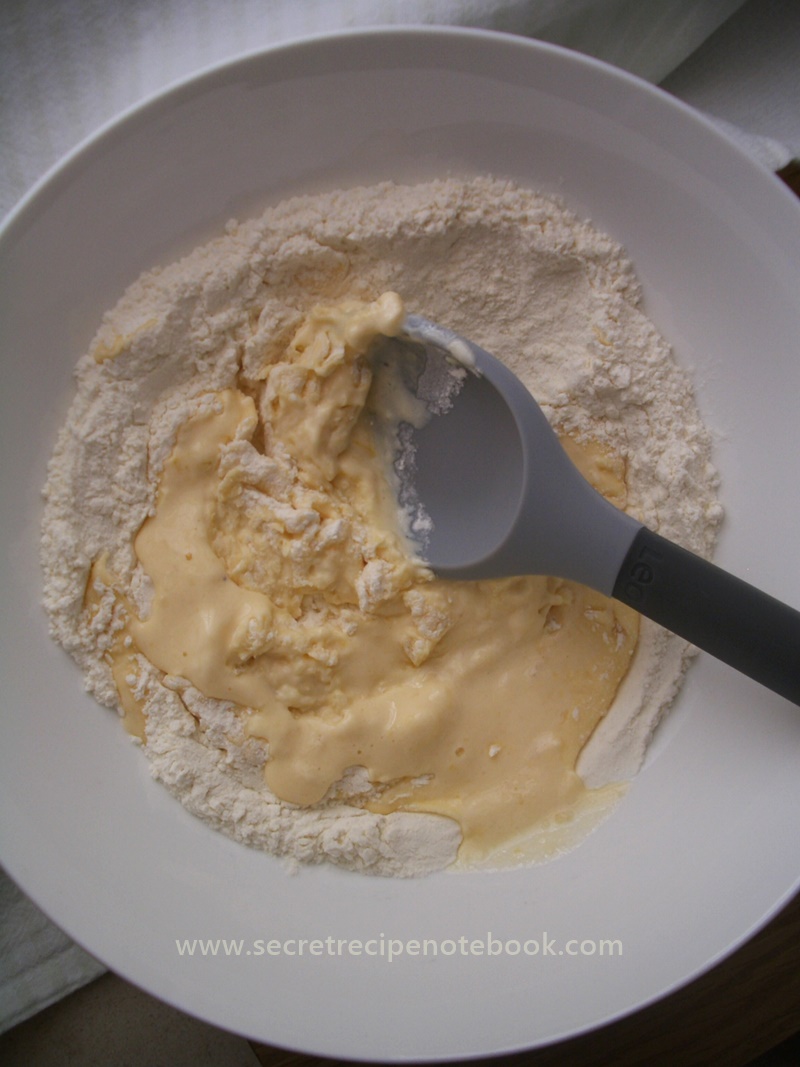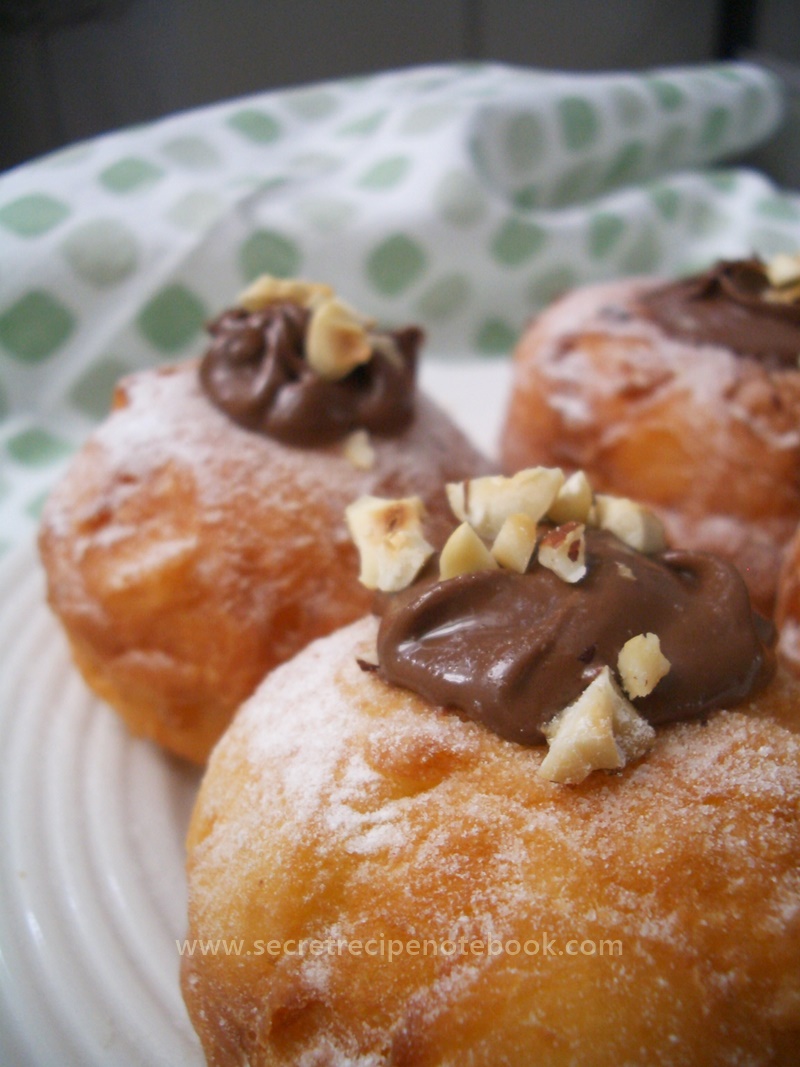 Cutting out the doughnuts
The dough you get is soft and sticky, so be sure to floured the surface you are working on. The ideal thickness would be 1.5cm, as these will puff up once fried and you will get 3cm thick doughnuts. 

Use doughnut cutter or large round cookie cutter and cut out as much as rounds as possible from the dough. Don't forget to dust the cutter so it doesn't stick to the dough.
Re-roll the rest of the dough, and cut more doughnuts. You should end up with about 16 doughnuts. Make a double batch if you are serving bigger crowd!


Knead the dough 2-3 times on a floured surface, just to bring the dough together into a ball. Roll it out to 1cm thickness, then use your donut cutter to cut out the donuts.


A few useful frying tips
Medium-sized saucepan will do a great job here as it easily holds around 1 liter of oil with room for 3 to 4 doughnuts to fry at a time. The doughnuts are best fried in some neutral oil, like sunflower...


The right temperature will help you to cook doughnuts through on the inside without burning on the outside. We found 180°C/356°F to be the sweet spot. The kitchen thermometer would be handy here - they are pretty cheap and can be bought online. Or just drop a pinch of dough in the oil and if it start to sizzle and brown - the oil is ready.


Fry doughnuts in the batches of  3-4 until they are golden brown, 1-2 minutes on both sides. Be sure to have a large plate lined with paper towels to transfer the doughnuts once fried.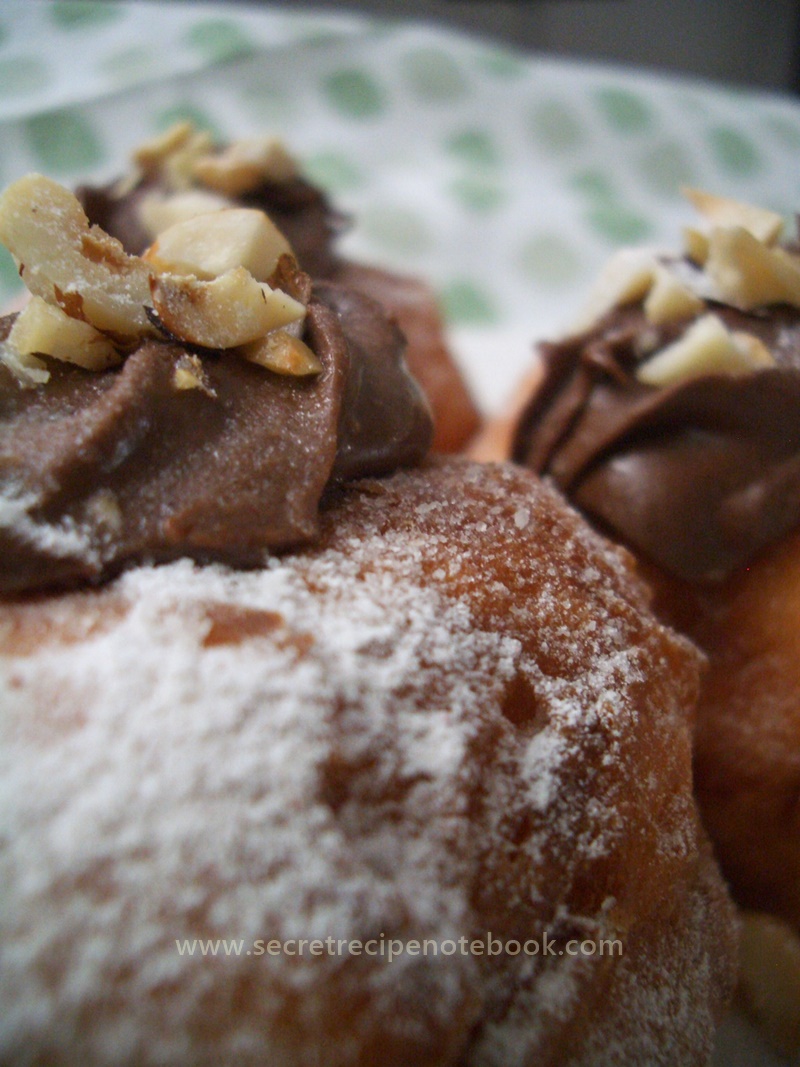 Final step: Filling with creamy Nutella
Finally, the best part! Filling doughnuts and enjoying them! Just spoon Nutella spread into a disposable piping bag (fitted with star tip) and fill each doughnut!

If you don't have piping bag, just make a horizontal cut in each doughnut, grab a teaspoon of Nutella and fill. As easy as that!

For those who are more into healthy stuff, we recommend Good Good chocolate hazelnut spread, a delicious alternative to Nutella with no added sugar and delicious hazelnut aroma. Or swap the chocolate spread for fruity jam or homemade lemon curd.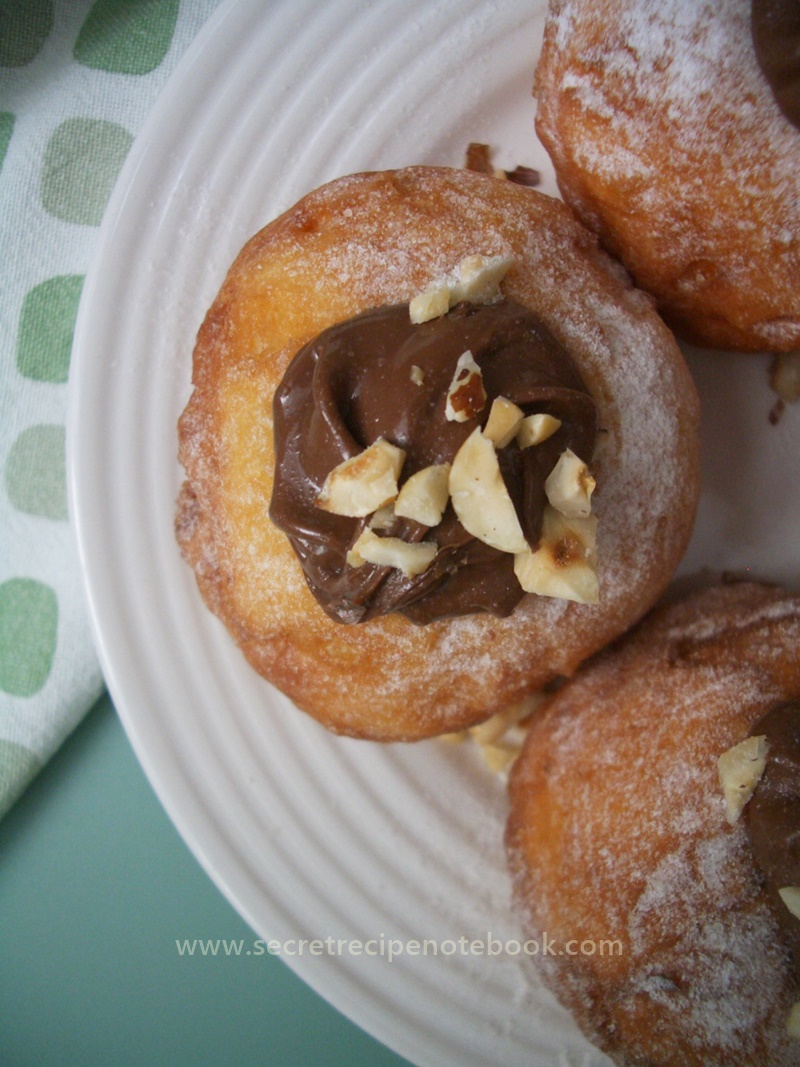 Storing baked doughnuts
Like most homemade donuts, these are best the same day they are made. But, if you have some leftovers, we recommend storing them in a bakery-style cardboard box or paper bag (like the one for sandwiches). This will keep them fresher for longer.


A few of our favourite fried desserts:
Simple Nutella Doughnuts
MAKES: 16 medium doughnuts
COOKS IN: 30 minutes plus rising time
LEVEL: Easy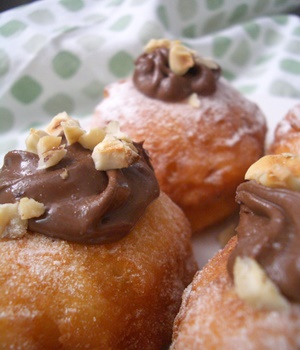 HANDY KITCHEN PRODUCTS:
INGREDIENTS
For doughnuts
320g plain flour (2 2/3 cups)
2 teaspoons baking powder
1 pinch of salt
2 eggs, at room temperature
240g Greek yogurt (1 cup), at room temperature
50g granulated sugar (1/4 cup)
30g butter (2 tbsp), melted
1 tablespoons grated  lemon zest
1 litre sunflower oil, for frying
For the filling & decoration
METHOD
In a large bowl, combine plain flour, baking powder and salt.


In a medium bowl, whisk together eggs, granulated sugar, melted butter, Greek yogurt and grated lemon zest until combined.


Make a well in the centre of flour and pour wet ingredients stirring with a spoon until it just come together into a dough. The dough should be soft and sticky.


Now, tip the dough onto lightly floured surface and flatten to 1.5cm thickness. You can do this using your hands or a rolling pin. Cut out rounds from the dough, using 6cm round cutter (be sure to keep the cutter dusted). Use remaining scraps of dough to roll it out again, repeating the process until you are done with the dough.


Fill medium-sized saucepan with oil and heat over a medium-high heat until it reaches 180°C. Using a slotted spoon slip 3-4 doughnuts into the oil. Fry for 1-2 minutes on each side, or until doughnuts are nicely brown all over. Transfer to a large plate lined with paper towels. Leave them to cool for a minute, then dust with icing sugar.


Spoon the Nutella into disposable piping bag, then pipe into the centre of each doughnut. Sprinkle some chopped toasted hazelnuts on the filling.


CATEGORIES: PASTRIES & TARTS, FRIED DESSERTS, QUICK & EASY
We are a participant in the Amazon Services LLC Associates Program, an affiliate advertising program designed to provide a means for us to earn fees by linking to Amazon.com and affiliated sites.