HOME > DESSERTS > PASTRIES & TARTS
Simple Homemade Doughnuts
What is more comforting than warm homemade doughnuts filled with your favourite jam or just sprinkled with a touch of icing sugar.
We have a simple recipe for these fried sweets you will love and will make again and again. What is good that for these doughnuts you need only everyday ingredients you already have in your fridge and pantry.

This recipe uses instant dry yeast, so it's simple and easy. Let's see how to whip up homemade doughnuts you can enjoy for breakfast, as a mid-days snack or just a yummy dessert throughout the day.

For another doughnut recipes, give it a try to our vanilla cream doughnuts and simple Nutella doughnuts, both amazingly delicious.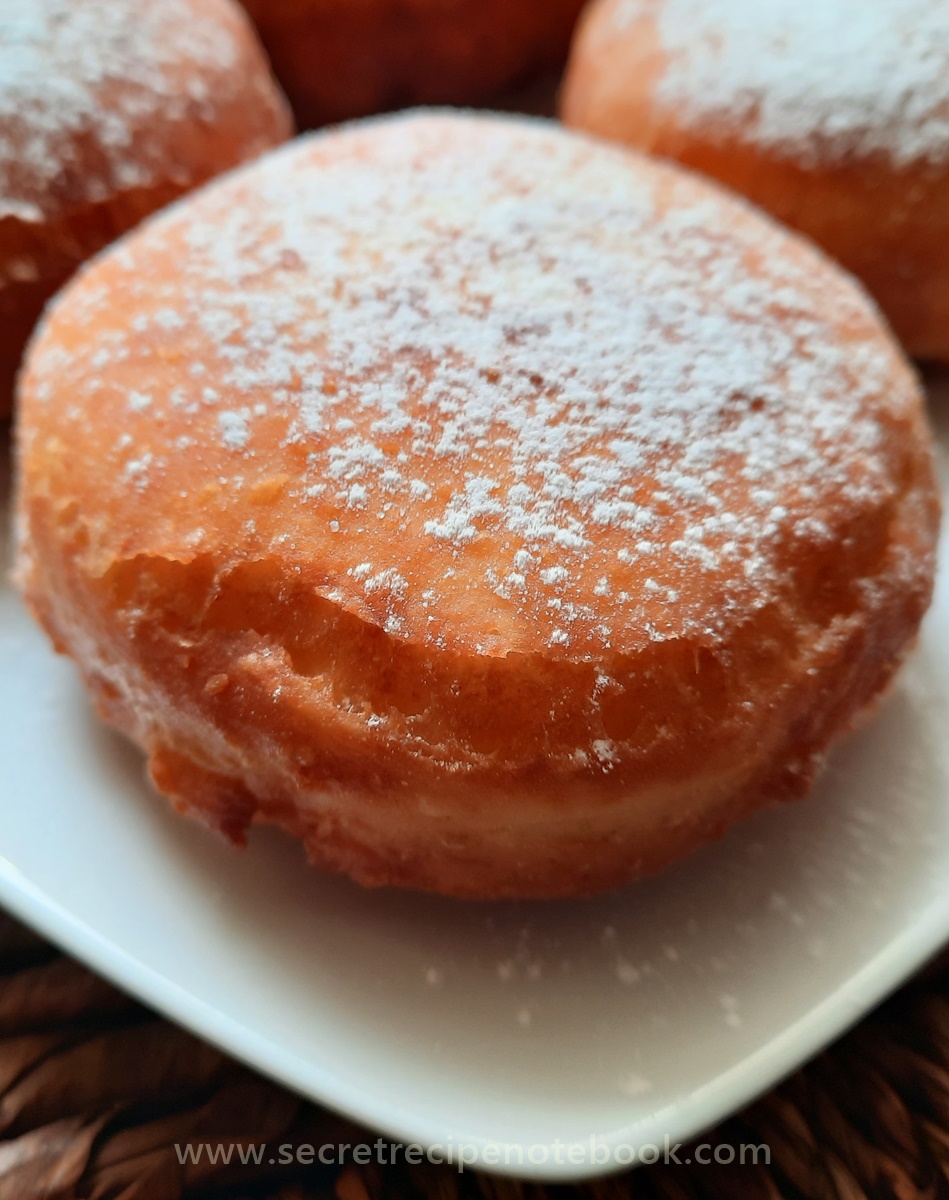 This webpage contains affiliate links. Please read our disclosure policy.

How to make simple homemade doughnuts
Making these simple doughnuts is easy. Just follow the steps below:

For this recipe we use instant dry yeast, which you need to combine with flour in one bowl.


Make a well in the middle of flour then add egg, egg yolks, warm milk, melted butter and stir with a fork until the flour incorporate into dry ingredients. Now beat using a wooden spoon for about 3-4 minutes. Tip the dough onto floured work surface and knead for 4-5 minutes. The dough will be quite sticky and use some extra flour when kneading the dough. 


Leave the dough to rise on a warm place. TIP! Heat the oven slightly then turn off and let the dough rise inside. If your room is warm just leave at the room temperature.


Now its' time to shape the doughnuts. You can do this in two ways: you can roll out the dough and cut the shapes with round cutter or simply divide the dough into 12 pieces and flatten them with hands.


For frying doughnuts, fill heavy-based saucepan over a medium heat. The oil should heat to 180 C. Add 2-3 doughnuts at a time and cook for 1-2 minutes on each side. Once brown, remove doughnuts using a slotted spoon to a plate lined with kitchen paper. Repeat with remaining doughnuts.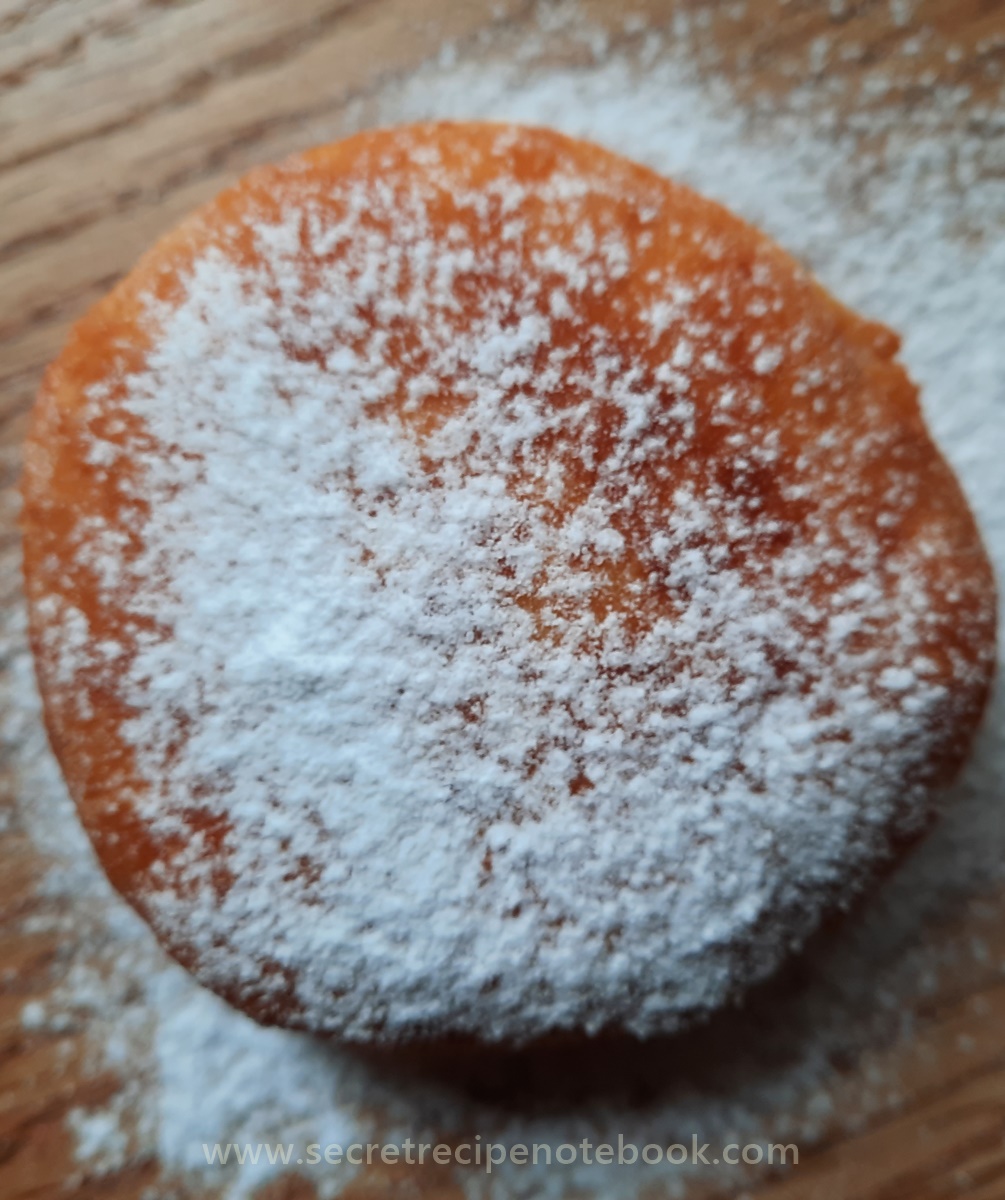 More tasty recipes
you'll want to try:
Useful tips for frying doughnuts
Fill

a

deep saucepan

with sunflower oil and heat until it's 180°C (356°F). If you don't have a

thermometer

just drop small piece of the dough in the oil and if it rises immediately to the surfac

e, the oil is ready. If the dough begin to brown too quickly, the oil is too hot. Adjust the heat to the right temperature.



Transfer 2-3 doughnuts at the same time in the oil and fry for about 1-2 minutes, then turn on the other side and fry until golden. Transfer to the plate lined with kitchen paper. From this dough we made 12 classic doughnuts - 8cm in diameter.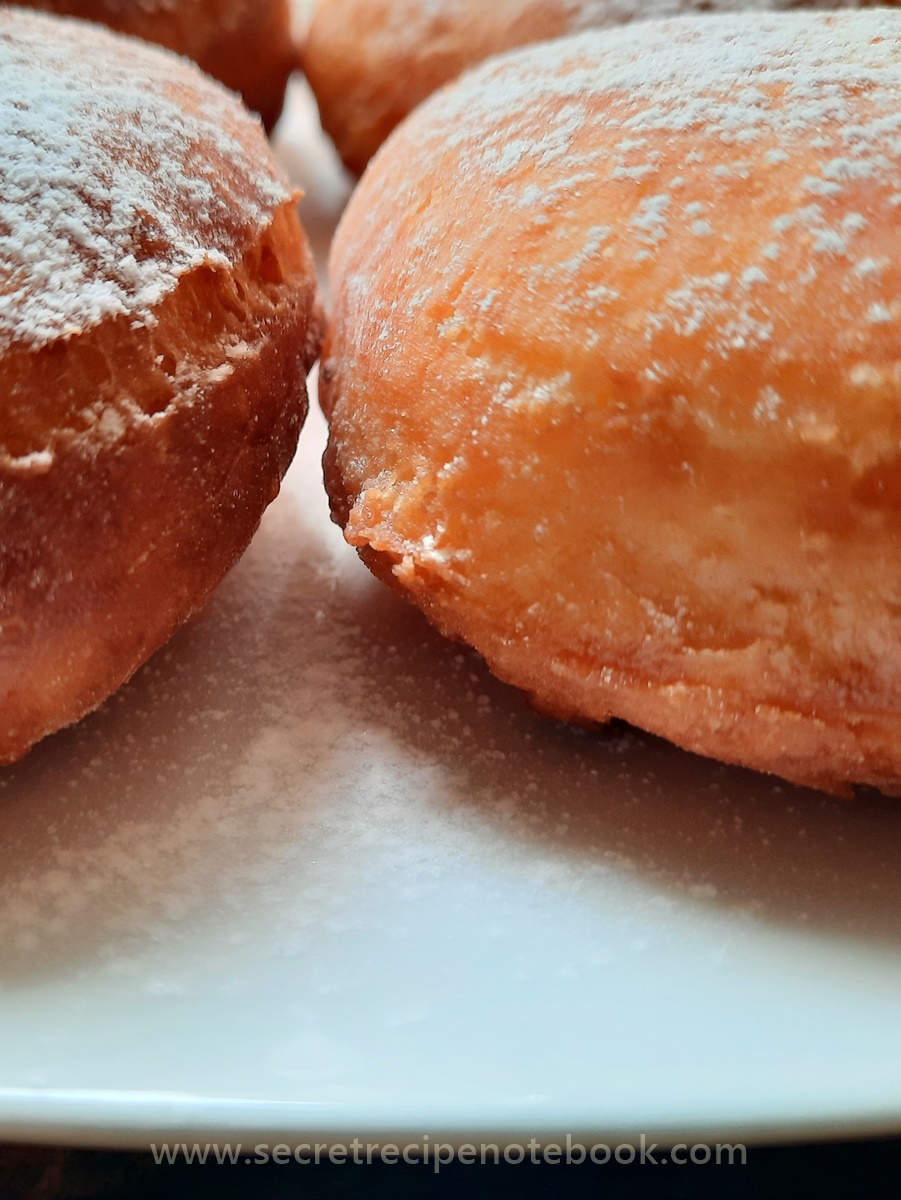 Top tips for making simple homemade doughnuts
In this recipe we use instant dry yeast, meaning it doesn't need to be stirred with some liquid to activate.





Raise your dough in a warm area of your home. If you home is heated, then leave the dough at room temperature. If not, place the dough in a slightly warm, but turned off, oven.





Milk used in the recipe should be between 40°C (104°F)-45°C (113°F). If the liquid is too hot it will kill the yeast cells.




You'll get about 12 doughnuts from this recipe, but this will vary depending on the size of cutter you use. The classic doughnuts has diameter of 8cm.




Us

e

piping bag

to fill the doughn

uts with filling. First with your finger make a hole in the side of each doughnut.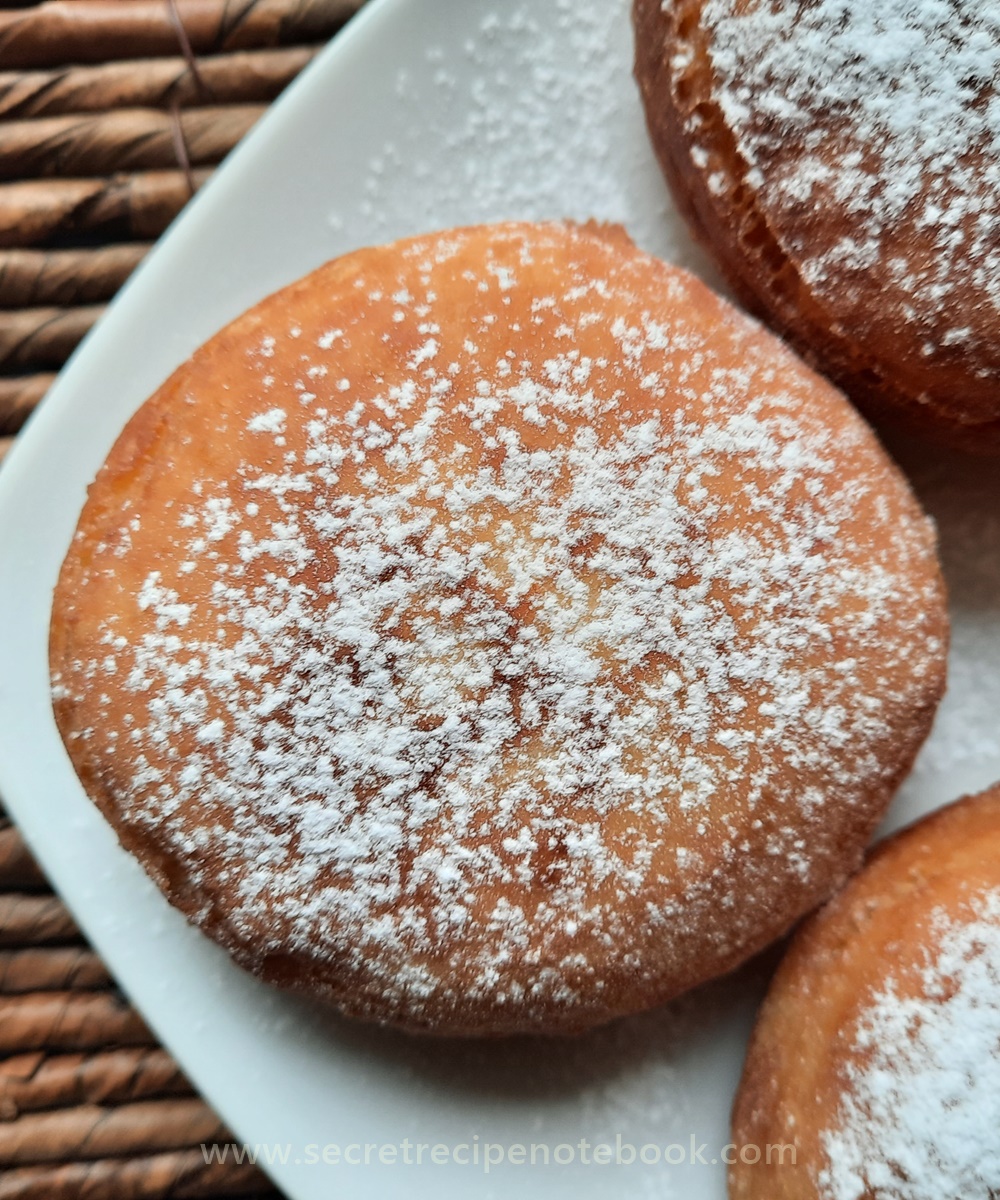 Serving ideas for simple homemade doughnuts
Our homemade doughnuts are great just dusted with some icing sugar or you can fill them with your favourite jam (try one of low-calorie jams from Good Good jam selection) or chocolate spread like Nutella.

You can bring them to the next level by glazing them with melted dark or white chocolate and sprinkling with chopped nuts. The choice is yours!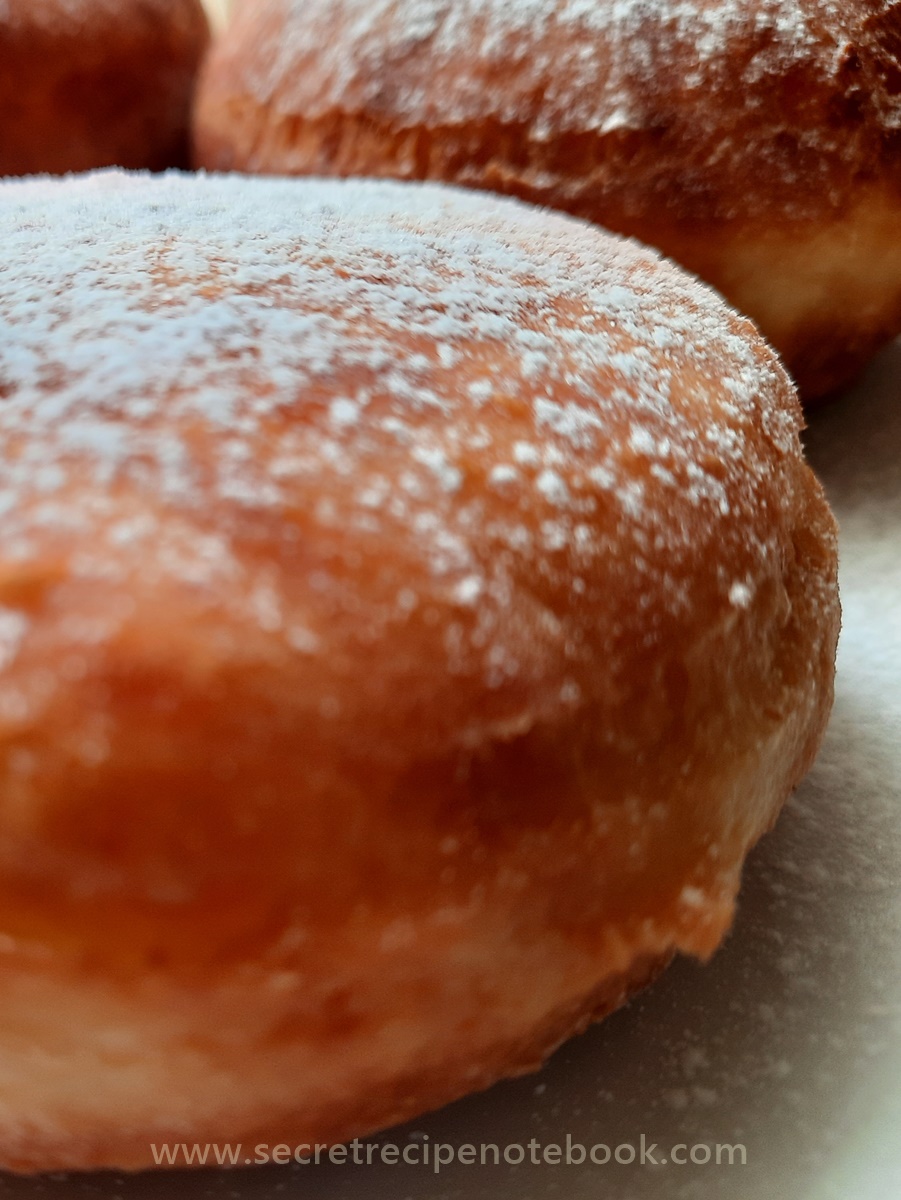 Looking for more fried dessert recipes? Check these out:
Simple Homemade Doughnuts

MAKES: 12 doughnuts
COOKS IN: 30 minutes plus rising time
LEVEL: Moderate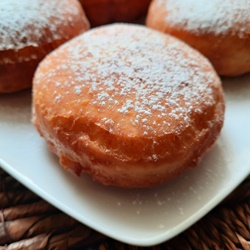 KITCHEN ESSENTIALS:
INGREDIENTS
510g plain flour (4 1/4 cups)
7g instant dry yeast (2 1/4 teaspoon) or 15g fresh yeast
1/4 teaspoon salt
240ml milk (1 cup), at room temperature
3 egg yolks, at room temperature
55g caster (fine) sugar (1/4 cup)
56g butter (4 tablespoons), melted
1 tablespoon of rum
1 tablespoon freshly grated lemon zest
METHOD
For the dough, combine sifted flour and instant dry yeast in a medium bowl.


Cut butter into small pieces and melt in a small saucepan on a low heat. Once melted pour milk into it and heat for another minute.


Make a well in the centre of flour, add egg yolks, sugar and salt and stir using a fork. 


Now slowly pour milk/butter mixture into the centre and start stirring until all the flour is incorporated. Beat with a wooden spoon for about 3-4 minutes. You can do this also with electric hand mixer or stand mixer fitted with a dough hook.


Turn out the dough onto a lightly floured work surface, and knead for another 4-5 minutes, until the dough is smooth and elastic. Grease a large bowl and transfer the dough into it, cover with clean kitchen towel and leave to rise for about 40-45 minutes, or until doubled in size.


When the dough is ready, turn it out onto a lightly floured work surface. Punch it down to release the air. Using a rolling pin, gently roll the dough out until it is 1.5cm thick. Using a 8cm round cutter, cut out 10 circles. Re-roll the scraps and cut more. Transfer doughnuts to the very lightly floured baking sheet, cover with kitchen towel and let it sit in a warm place until doughnuts are slightly puffed.


Fill a deep heavy-based saucepan with sunflower oil and place over a medium heat until it reaches 175°C (338°F). Using a metal spatula transfer 2-3 doughnuts carefully into the oil and cook on each side for about 2 minutes, until golden-brown.


Using a slotted spoon remove the doughnuts from the oil  and set aside to drain on a plate lined with kitchen paper. Now, either using a piping bag, fill each doughnut with your favourite jam, pastry cream or any other filling of your wish, or just dust with some icing sugar and enjoy while still warm.


CATEGORIES: PASTRIES & TARTS, FRIED DESSERTS
We are a participant in the Amazon Services LLC Associates Program, an affiliate advertising program designed to provide a means for us to earn fees by linking to Amazon.com and affiliated sites.