These homemade chocolate truffles are a breeze to make and need only a handful of quality ingredients. These decadent sweets makes ideal food gift.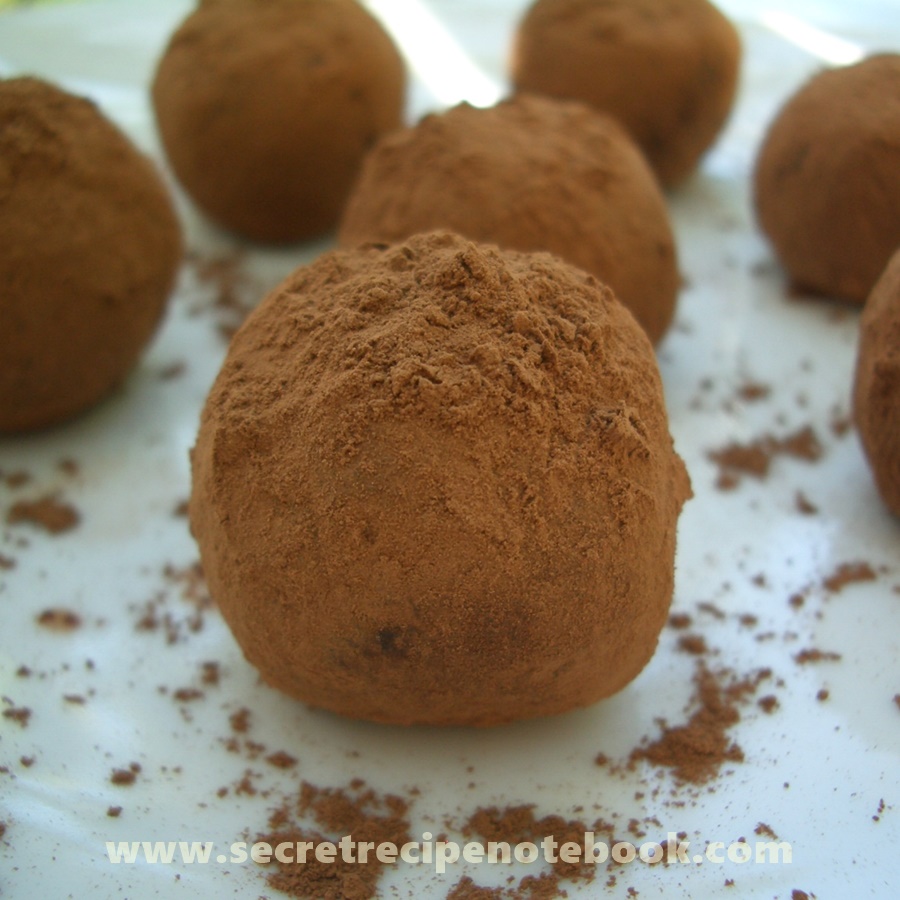 Who can resist rich dark chocolate truffles and their amazing chocolate flavour and smooth texture? Our chocolate truffles scented with Amaretto will satisfy even the most demanding chocolate lovers.
The best part is, they are so easy to make and you will need a handful of quality ingredients for making them. These truffles makes a great food gift - just wrap them in some celofan paper and tide with some ribbon.

If you are chocolate truffles lover be sure to try our recipes for chocolate pistachio truffles, almond cheesecake truffles and refreshing lemon truffles.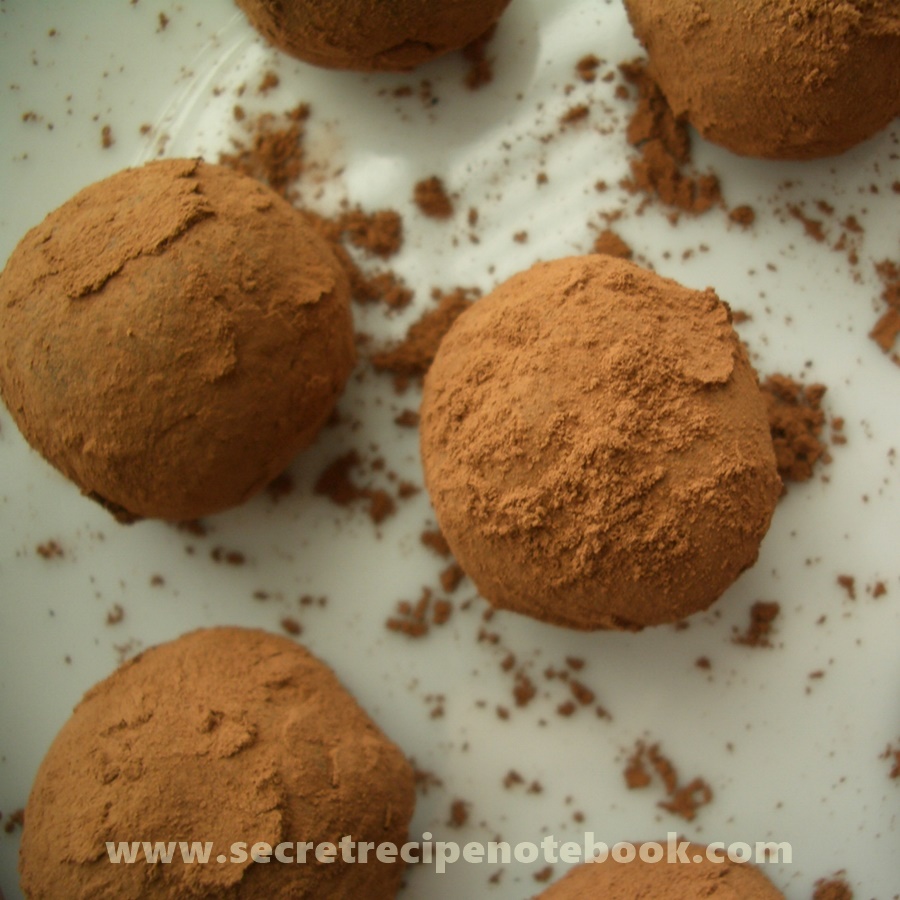 try also these tasty recipes:
Ingredients you'll need for dark chocolate Amaretto truffles
For these homemade truffles you'll need a few basic ingredients - DARK CHOCOLATE, HEAVY WHIPPING CREAM, BUTTER, AMARETTO LIQUEUR and COCOA POWDER.
The most important thing for making good chocolate truffles is to use quality dark chocolate with a high percentage of cocoa solids (55% - 70% cocoa). In this recipe we used a combination of Nestle Dessert Noir chocolate bar with 52% cocoa and Lindt 70% chocolate bar but feel free to use any other kind of quality dark chocolate (Baker's chocolate, Lindt, Ghirardelli, Guittard, Valrhona) you have on hand.
We don't recommend using milk chocolate as it is sweet and you will not get rich chocolate truffles. Both heavy whipping cream or whipping cream will work well in this recipe - just be sure that it has at least 33% milk fat.

Don't forget to add butter as it makes the truffles super creamy. Instead of Amaretto, you can use your favourite liqueur (Kahlua, Grand Marnier, Frangelico or Rum) or a tablespoon of vanilla extract or leave it out altogether.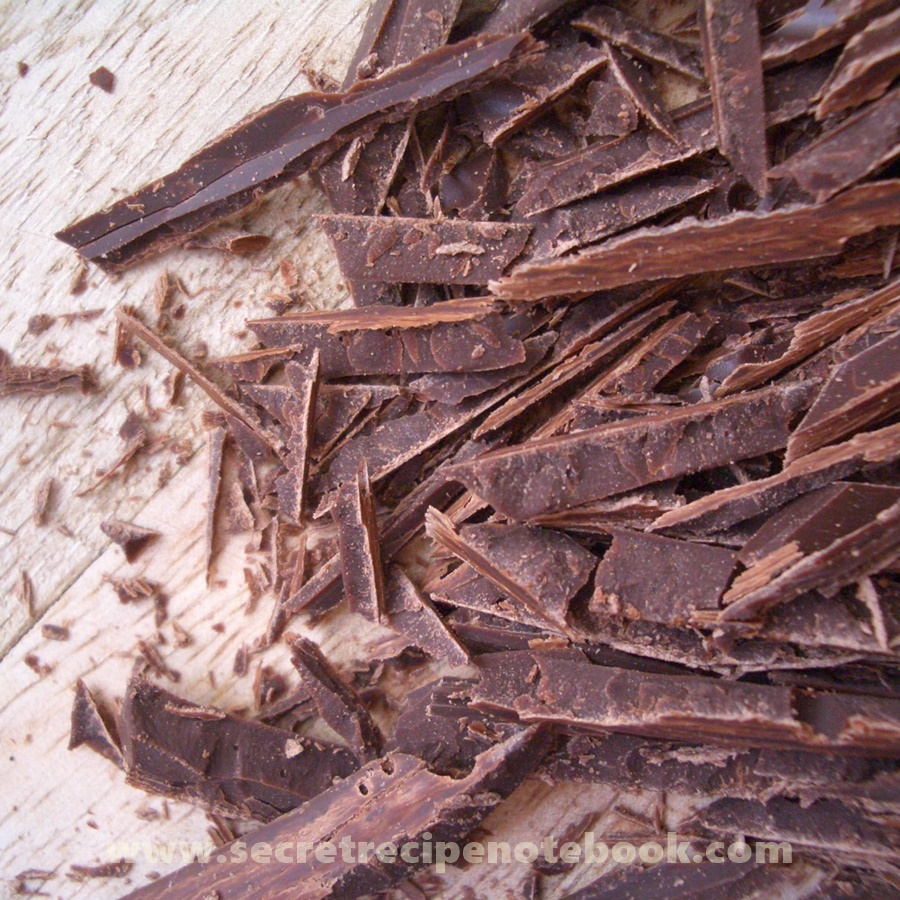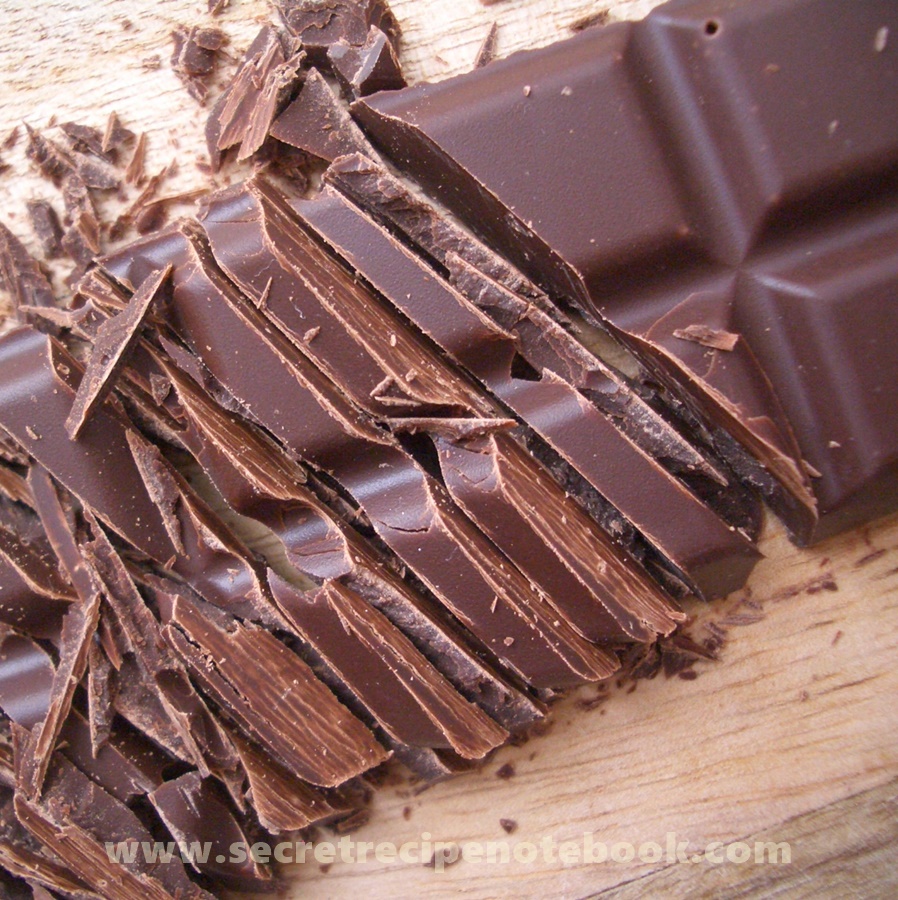 How to make Dark chocolate Amaretto truffles
Making these chocolate truffles is super easy once you have the ingredients ready. First prepare DARK CHOCOLATE BAR by chopping it on a wooden board using a kitchen knife then place it in a heatproof bowl (we love this Pyrex glass bowl).

HEAVY WHIPPING CREAM should be warmed to the boiling point then poured over the chocolate. Leave this for a few minutes then stir until chocolate is completely melted. Finally add BUTTER and a few tablespoons of AMARETTO and stir to combine. You should get rich chocolate ganache which will later turn into delicious chocolate truffles. Keep the ganache in the fridge for at least 2 hours - it should harden enough to be scooped.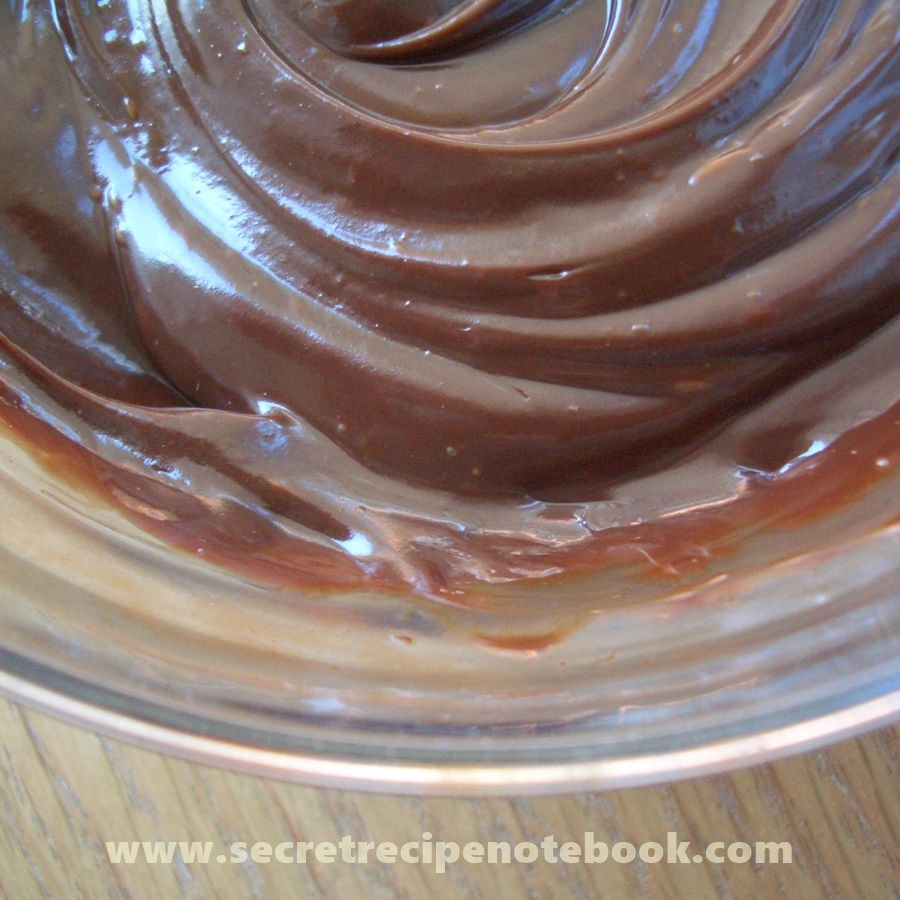 Shaping the truffles
We wanted to make this recipe quick and easy, so we rolled the truffles into cocoa powder. The best choice for this recipe is unsweetened cocoa powder as bitter cocoa provides a contrast to the sweetness of the ganache.

Add a few tablespoon of cocoa powder into a small bowl.
Using a teaspoon scoop the chocolate ganache, roll into balls and coat into cocoa powder. Place them on a small tray lined with aluminium foil then keep in the fridge until ready to serve.
When rolling the truffles they may become sticky from the heat of your hands. To avoid this dust your hands with cocoa powder or just use rubber gloves. Otherwise, once the mixture become soft, place it in the fridge for 5 minutes and then continue making the truffles.

Take the truffles from the fridge 30 minutes before serving for the best texture and taste.


Best selling kitchen tools & Gadgets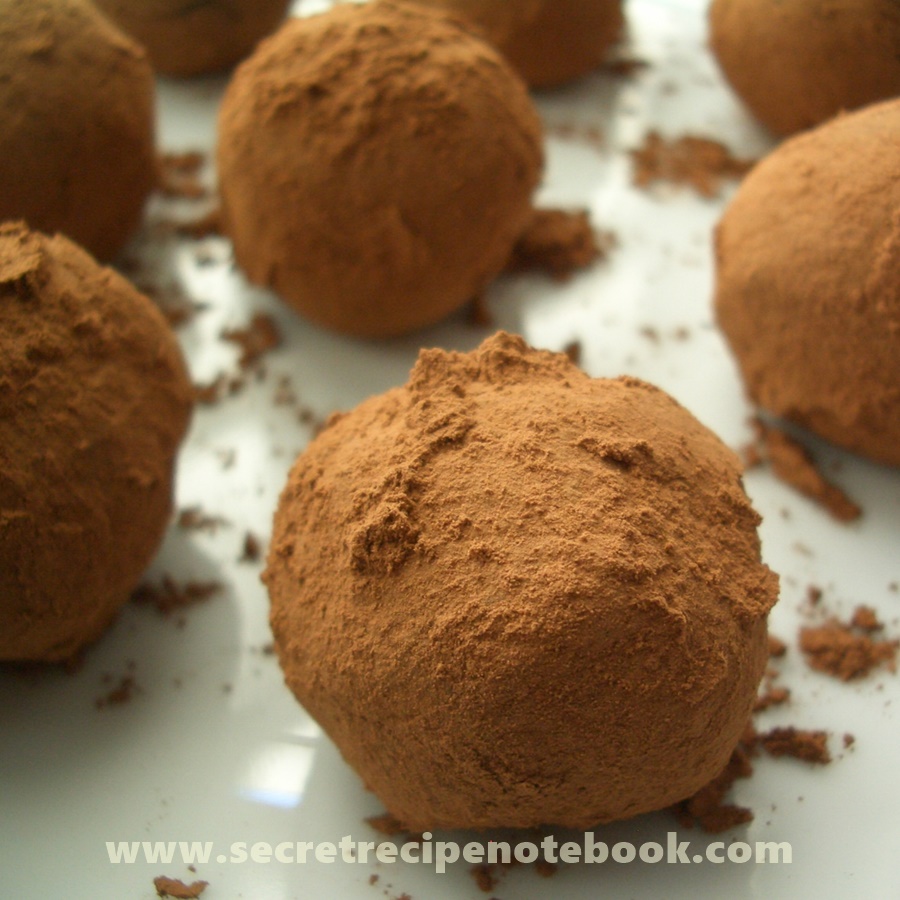 top tips for making perfect chocolate truffles
Finely chop chocolate on a cutting board using a sharp kitchen knife. Chopping chocolate is necessary so it melts faster, more evenly and will not overheat. Choose a sharp heavy kitchen knife and press down firmly on the chocolate beginning with the corners and angling the knife slightly outward. 


If the chocolate haven't melted completely, just place the bowl over a saucepan of gently simmering water and stir - it will melt quickly.


Place the mixture into the fridge for about 1 - 2 hours to firm up. If the truffle mixture is too soft, pour it into a shallow dish so it thickens quicker and keep it in the fridge until thickened.


Use a small cookie scoop or a tablespoon to get balls of the same size.


If the chocolate mixture starts getting too soft to roll, just place the mixture in the fridge for 4 - 5 minutes and continue making truffles.


You can wear rubber gloves if you want to keep your hands clean while rolling the truffles.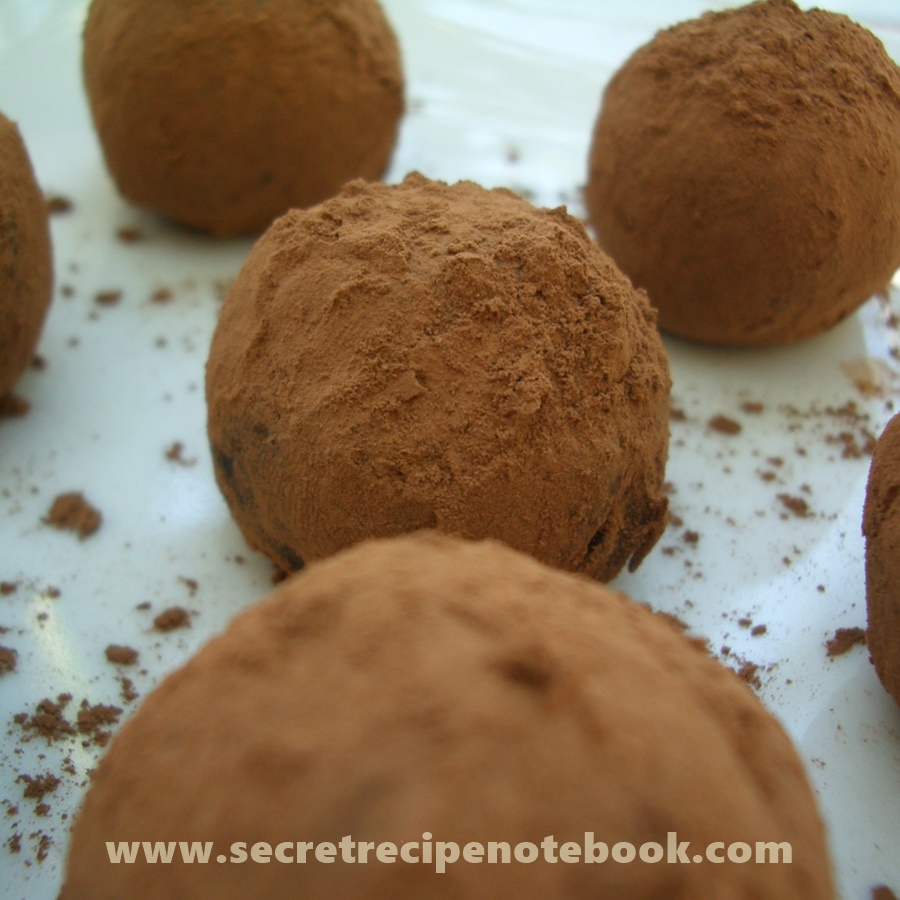 Serving and storing Dark chocolate Amaretto truffles
Chocolate truffles should be stored in the fridge. Place them in a airtight container and separate with sheets of baking paper and store in the fridge for about 1 week. For the best texture and flavour take out from the fridge 30 minutes before serving. Freeze for up to 2 months, then defrost overnight in the fridge.
Don't leave your truffles out at room temperature for more than a few hours. Refrigerate truffles for up to one week in an airtight container. Use a plastic container with a snapping lid or even better, a glass container that can be sealed properly to keep smells and flavours from inside the refrigerator from getting into your truffles.


Looking for More chocolate recipes? Check out these:
For more chocolate inspiration, take a look at our collection of chocolate recipes. Also check out our selection of other tempting desserts, too.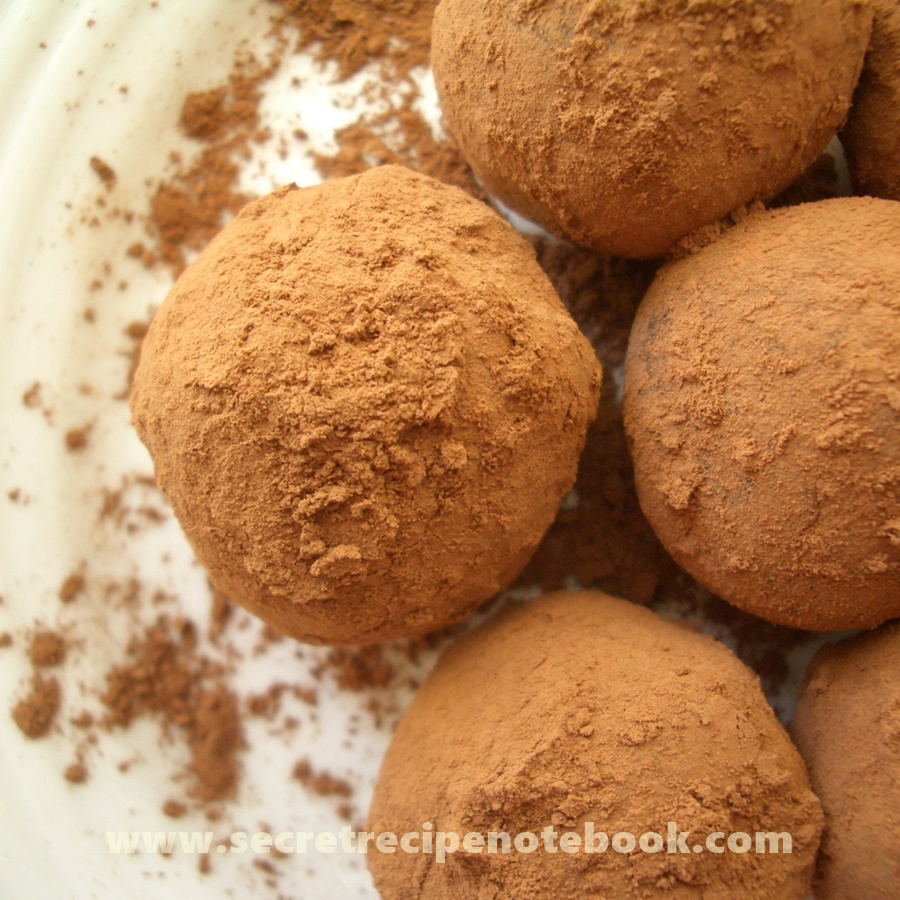 For making truffles you will need:
Dark chocolate Amaretto truffles

MAKES: 18 truffles
COOKS IN: 30 minutes plus cooling time
LEVEL: Super easy
INGREDIENTS
200g (7 ounces) dark chocolate (55 - 70% cocoa), finely chopped
120ml (1/2 cup) heavy whipping cream (36% milk fat)

28g (2 tbsp) butter
2 tablespoons Amaretto
20g (1/4 cup) cocoa powder (unsweetened), for coating
METHOD
Place finely chopped dark chocolate into a medium heatproof bowl.


Place the heavy whipping cream in a small saucepan and heat until it just starts to simmer.


Pour the cream over the chocolate and leave for a few minutes. Start stirring or whisking gently until you get a smooth texture. 


Add butter and Amaretto and stir again until butter is melted and everything is combined. Leave to cool for a few minutes then cover with cling film over the top and place in the fridge for about 2 - 2.5 hours. The mixture should be firmed so you can scoop it.


Add the cocoa powder into a small bowl.


Using a teaspoon, scoop the chocolate ganache, roll into balls then roll into cocoa powder until evenly covered. Place truffles on a small tray or plate lined with aluminium foil and place in a fridge for 30 minutes to set. Keep them in the fridge until ready to serve.