HOME > DESSERTS > TRUFFLES & CANDY
Raspberry White ChocolateTruffles
This webpage contains affiliate links. Please read our disclosure policy.

These simple homemade truffles are so simple and so pretty. White chocolate truffles is full of chopped dried raspberries and coated into hazelnut croquants, for adding some crunch. The tartness of raspberries amazingly balance the sweetness of white chocolate, all rounded by nutty hazelnut croquants.

Love white chocolate truffles? Try our recipe for easy lemony truffles. You'll be amazed. Or for something different, we suggest our dark chocolate amaretto truffles.


What are these white chocolate truffles made of?
These simple homemade truffles are breeze to make and yet they are so delicious and pretty. For making them you will need only 5 ingredients, so be sure to use the quality one.


White chocolate is the base...
To make these truffles, you need to start out with pure white chocolate. Do not use chocolate chips in this recipe. We love to use Nestle baking white chocolate, but you can use any other quality brand you have on hand. Find them in the baking aisle of the grocery shop or order online.

As written in the recipe below, you need 200g of white chocolate for these truffles. Chop the chocolate bar it into small pieces - this will help the chocolate melt down easier and quicker. The best way to do this is using a sturdy kitchen knife on a cutting board.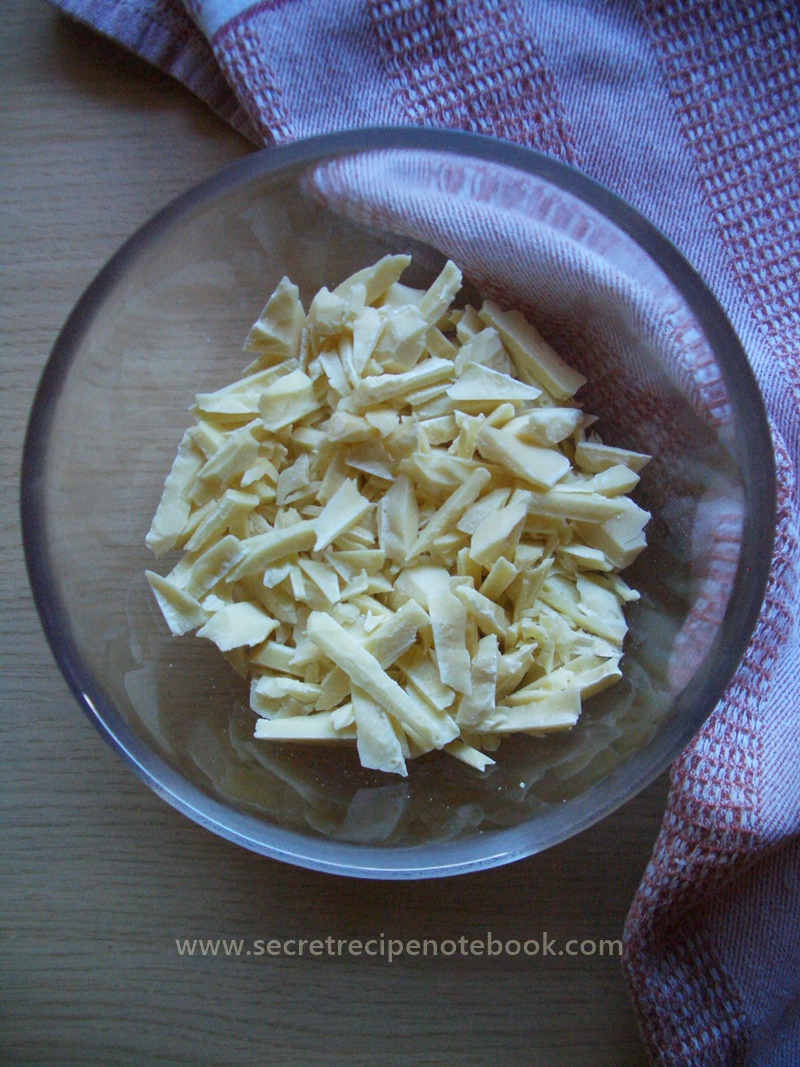 Heavy whipping cream + butter
For making the white chocolate ganache, you'll also need a few tablespoons of whipping cream (heavy cream or double cream are also fine, as long as the milk fat is 32% or more). Don't swap this for milk.

Also, a few tablespoons of butter is added in the end to make these truffles super creamy. Just be sure to cut it into smaller pieces so it blends easily into the ganache.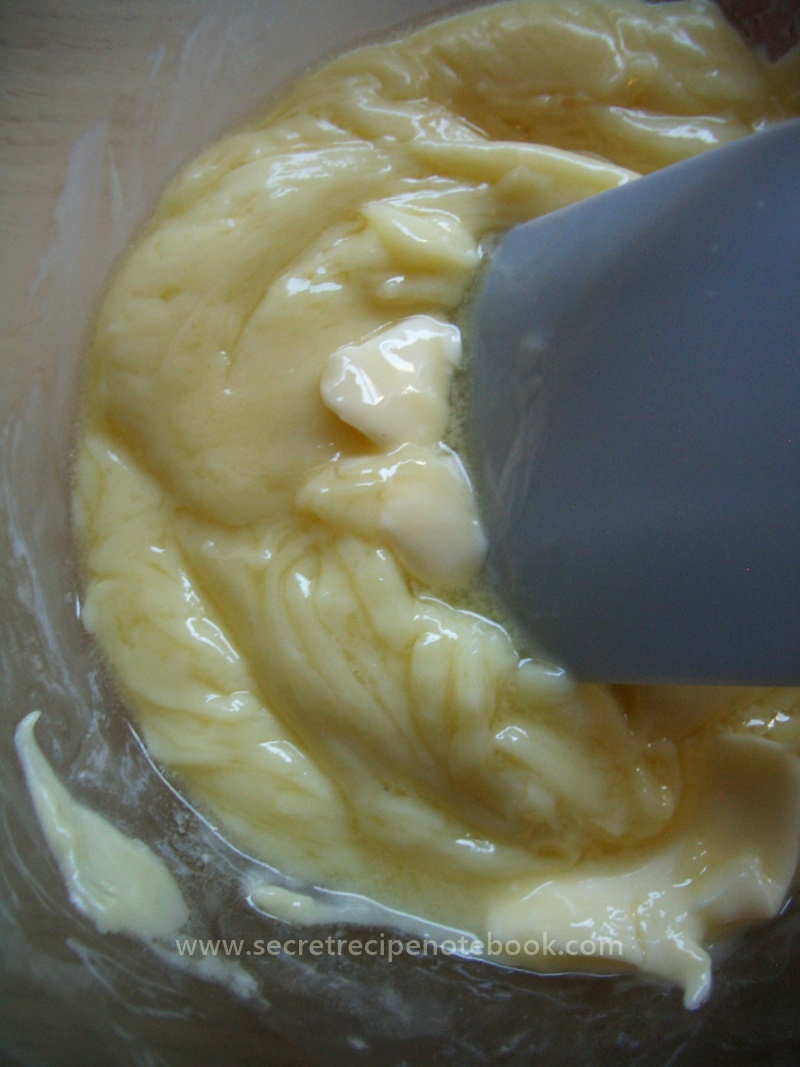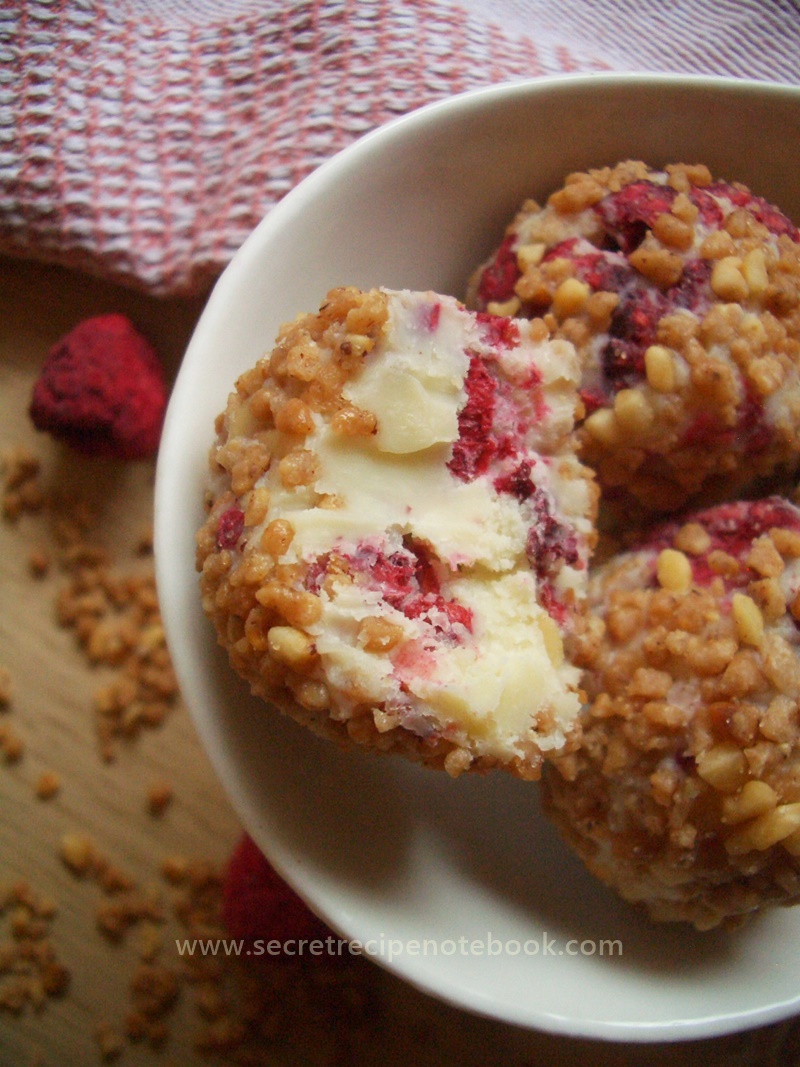 About freeze-dried raspberries...
These truffles are super special thanks to the freeze-dried raspberries, whose tartness complements amazingly well with sweetness of white chocolate. Plus, their bright red colour gives nice contrast to the yellow white chocolate.
Freeze-dried raspberries are dehydrated raspberries, which has the same flavour as the fresh one. But these are crisp and ideal for adding to desserts as well as decorating them. 
These raspberries are available any time of the year and have an intense raspberry flavour. Get freeze-dried raspberries from your local health food store (they are sold into 25g or 35g packets) or order them online here. Once the package is open, keep them tightly seeled as they easily become soft. These are great for adding to your pudding or yogurt!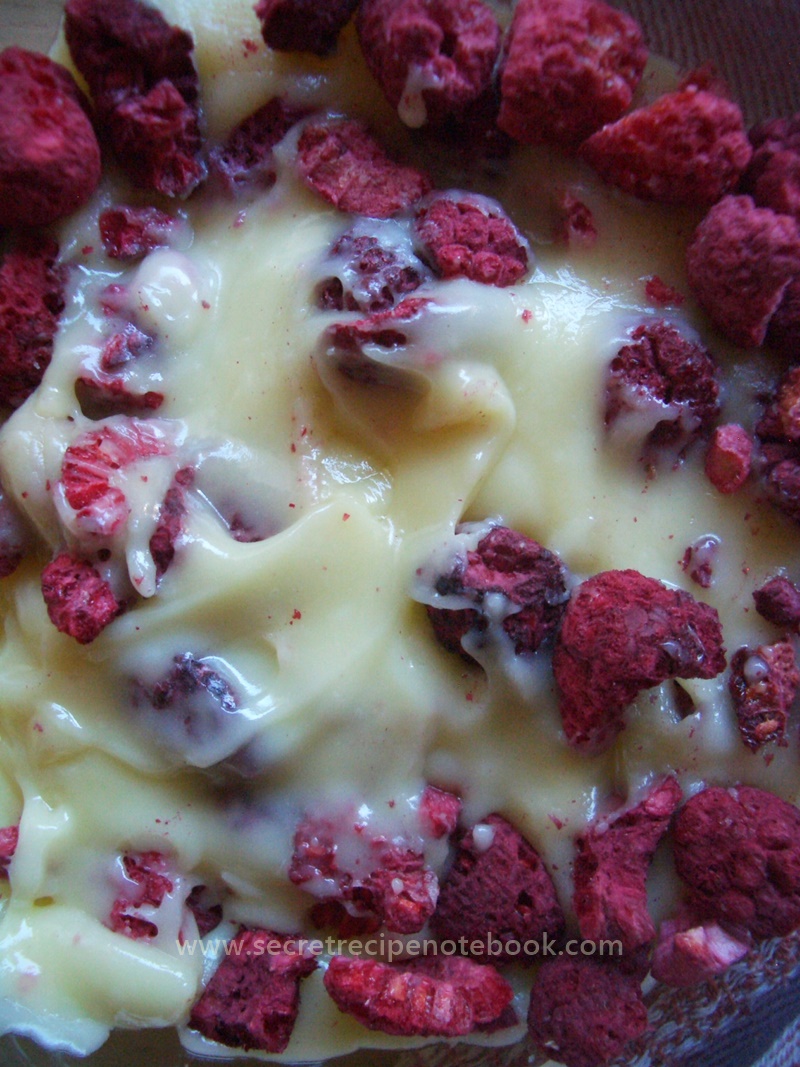 How to make these pretty truffles
These truffles are incredibly quick and easy to make:
Place chopped white chocolate and whipping cream in a heatproof bowl (we love these glass bowls which are ideal for melting chocolate). Place over a saucepan of simmering water and stir with silicon spatula. Use gentle circular motions, in one direction until you get a smooth ganache.


Remove from the heat, then add butter and stir until combined.


Add chopped freeze-dried raspberries and stir so they are evenly distributed.


Leave the mixture in the fridge, covered with clingfilm for about 1 hour. The ganache should be firm but still scoopable.


When the ganache is set, scoop with a teaspoon (the size of small walnut) and roll between your palms into balls. Roll each truffle into hazelnut croquants. Place them on a plate and keep in the fridge until serving.

If you have some leftover truffles (we doubt it), store them in an airtight container in the fridge (for up to 1 week),
For the best taste and texture, serve the truffles at room temperature. If stored in an airtight container in the fridge, these white chocolate truffles can last for up to 2 weeks.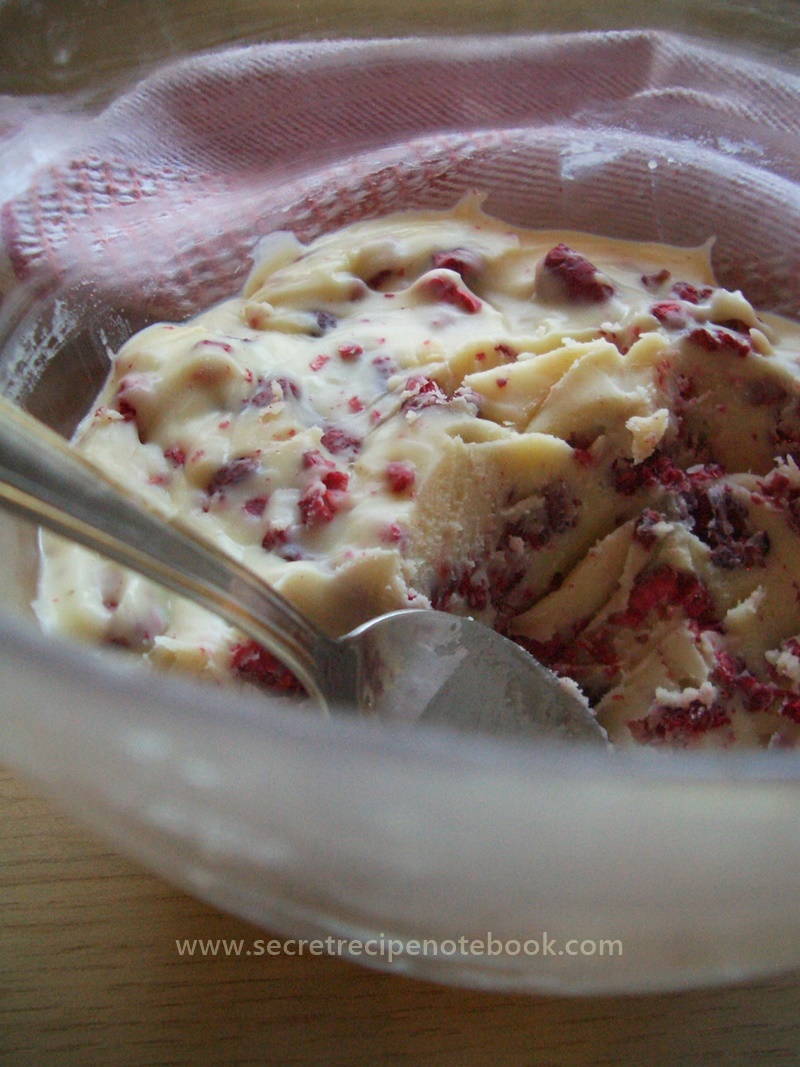 Useful tip!
These truffles look and taste great rolled into hazelnut croquant (finely chopped hazelnuts that are toasted and caramelised with sugar), but you can use other stuff for rolling. Choose from white chocolate or dark chocolate shavings, chopped toasted hazelnuts of pistachios, melted white chocolate, icing sugar, colourful sprinkles... Anything will work well here!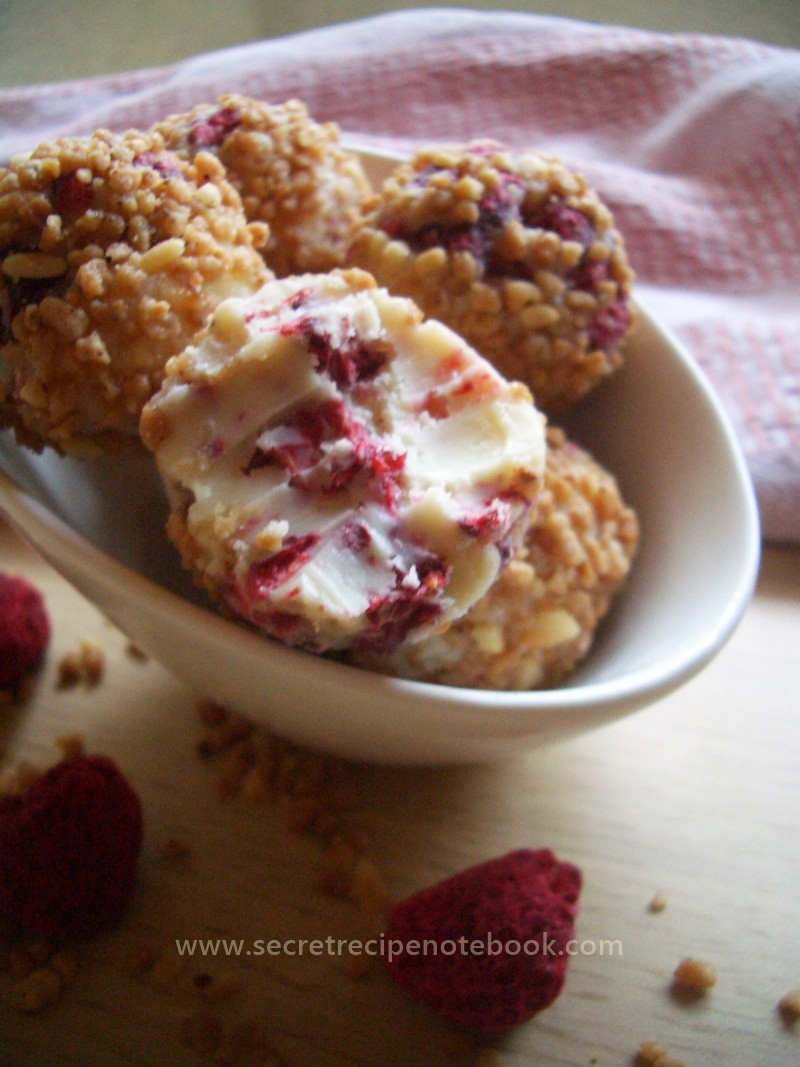 A few of our popular white chocolate recipes:
Raspberry White Chocolate Truffles
MAKES: 12 truffles
COOKS IN: 30 minutes plus cooling time
LEVEL: Super easy
INGREDIENTS
For the truffles
200g white chocolate (7 ounces), finely chopped
60ml whipping cream (1/4 cup)
30g butter (2 tablespoons), cut into smaller pieces
20g freeze-dried raspberries
For the coating
100g hazelnut croquant (praline grains)
METHOD
FOR THE TRUFFLES, place chopped white chocolate and heavy whipping cream in a medium heatproof bowl. Place the bowl over a saucepan of gently simmering water and stir until the chocolate is completely melted.


Remove from the heat, then add butter and stir until incorporated.


Add freeze-dried raspberries and stir until combined.


Place cling film over the top of the mixture and keep in the fridge for about 1 hour until firm enough to scoop (but not to firm).


Place hazelnut crouquant into a small bowl.


Using a teaspoon, scoop the ganache and roll into small balls. Roll each ball into hazelnut croquant until evenly coated. Place truffles onto a plate, cover with clingfilm or aluminium foil and keep in the fridge until ready to serve.


CATEGORIES: Truffles & Candy, Raspberry, White Chocolate, No-Bake Desserts
Looking for more recipes?

We are a participant in the Amazon Services LLC Associates Program, an affiliate advertising program designed to provide a means for us to earn fees by linking to Amazon.com and affiliated sites.