Pastries & Tarts | White Chocolate Recipes
Coconut cream puffs
What not to love about these coconut cream puffs - they have sweet coconut taste, creamy center and are so decorative!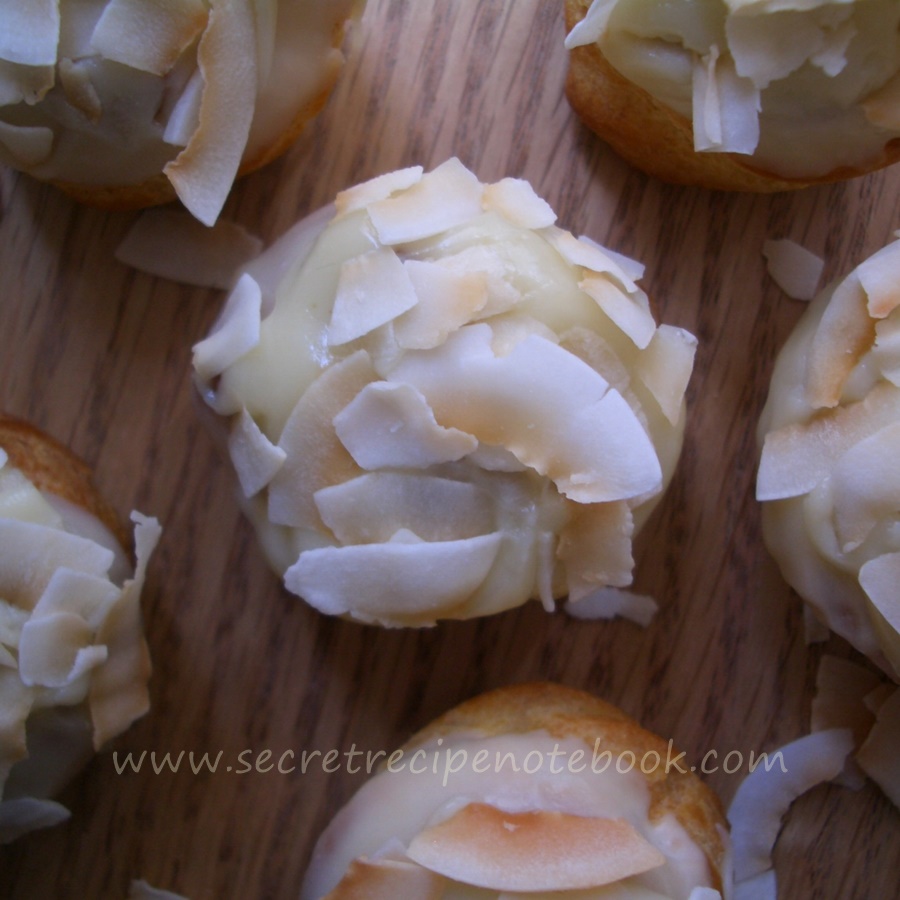 The rich coconut cream turn these puffs from classic to something extra delicious. We have double dose of coconut in these puffs: full fat coconut milk and coconut flakes on the top. These dessert takes times but once made you will be rewarded with amazingly delicious creamy puffs with delicate coconut flavour.

And if you're looking for something different, try our recipe for classic cream puffs, also delicious and creamy. Coconut lovers can choose from our recipes for simple coconut pudding, creamy coconut tarts or coconut cookies.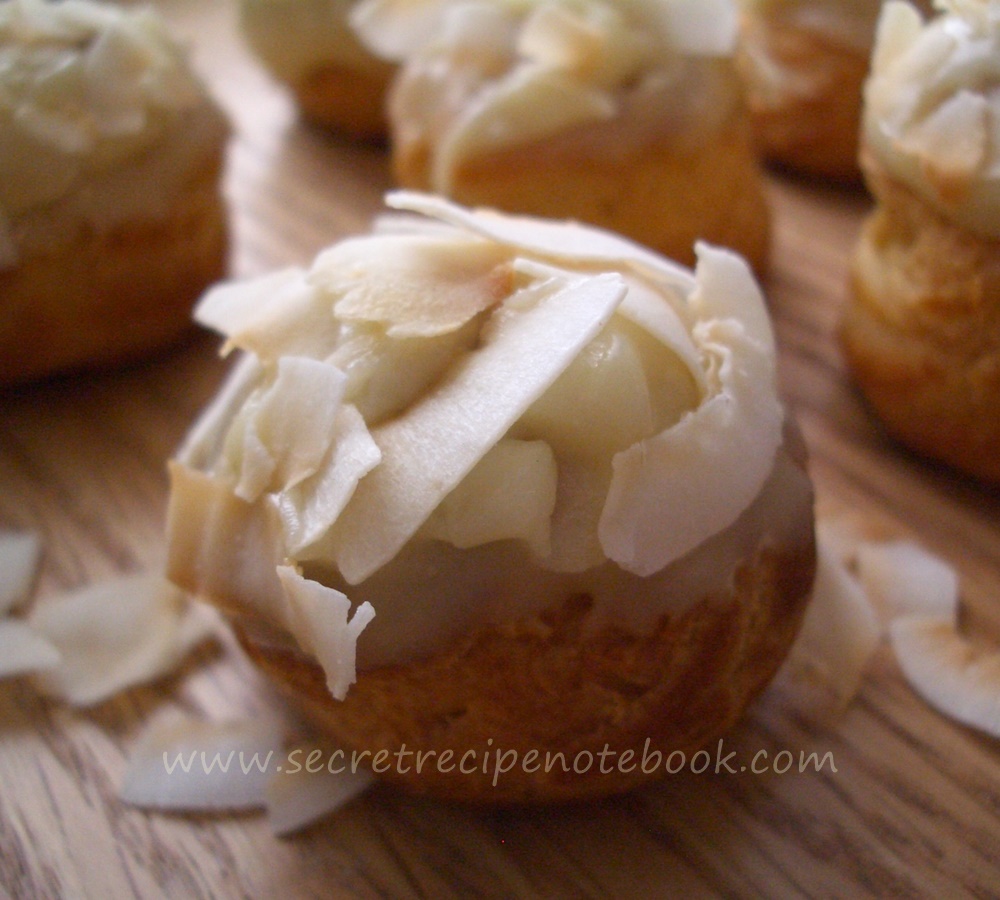 Making coconut cream
Our coconut cream used for filling the puffs is in fact classic pastry cream. We just swap some of the regular milk with coconut milk to get delicate coconut flavour.

Be sure to use full fat coconut milk with (with 9 - 15% fat) which is a great substitute for heavy cream in many recipes, as it's high fat content gives rich texture to sauces, puddings, curries, ice-creams and more.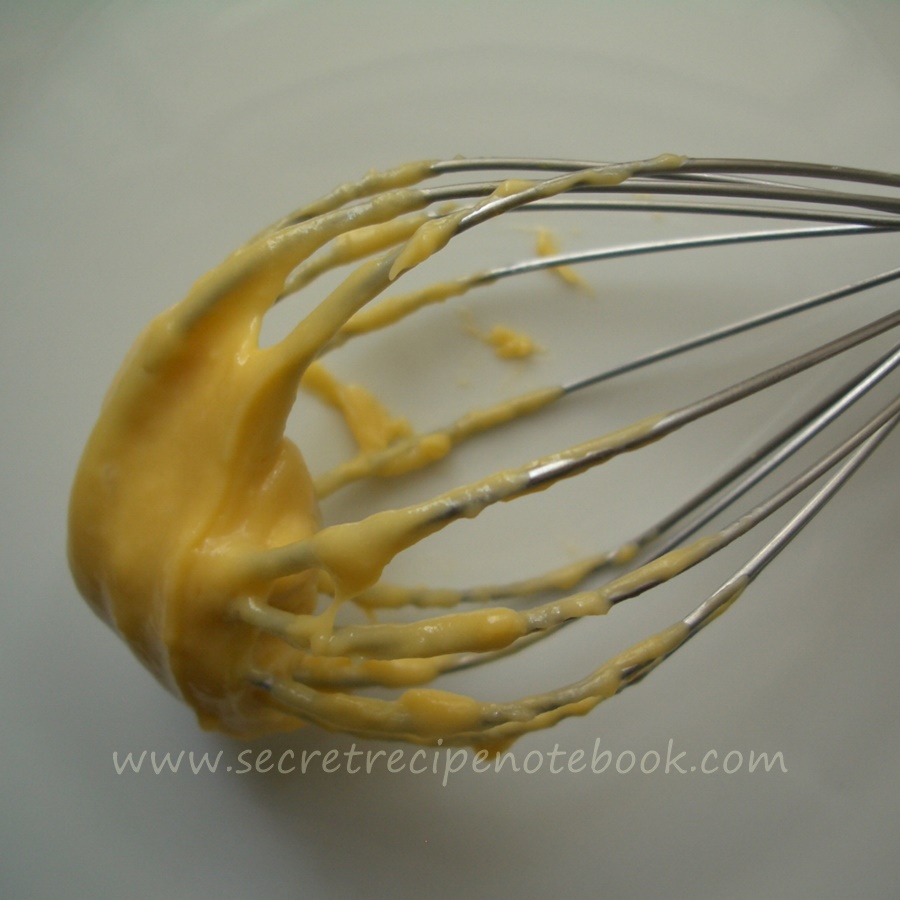 To start making the cream, place WHOLE MILK and COCONUT MILK in a saucepan and heat just to the boil. In the meantime, whisk egg yolks, sugar and cornstarch in a heatproof bowl, then pour slowly liquids into this whisking continuously - this is necessary to temper the eggs.

Transfer everything back to the saucepan and cook until you get thick pudding like cream. Your coconut cream is ready, just strain it and keep in the fridge until ready to use.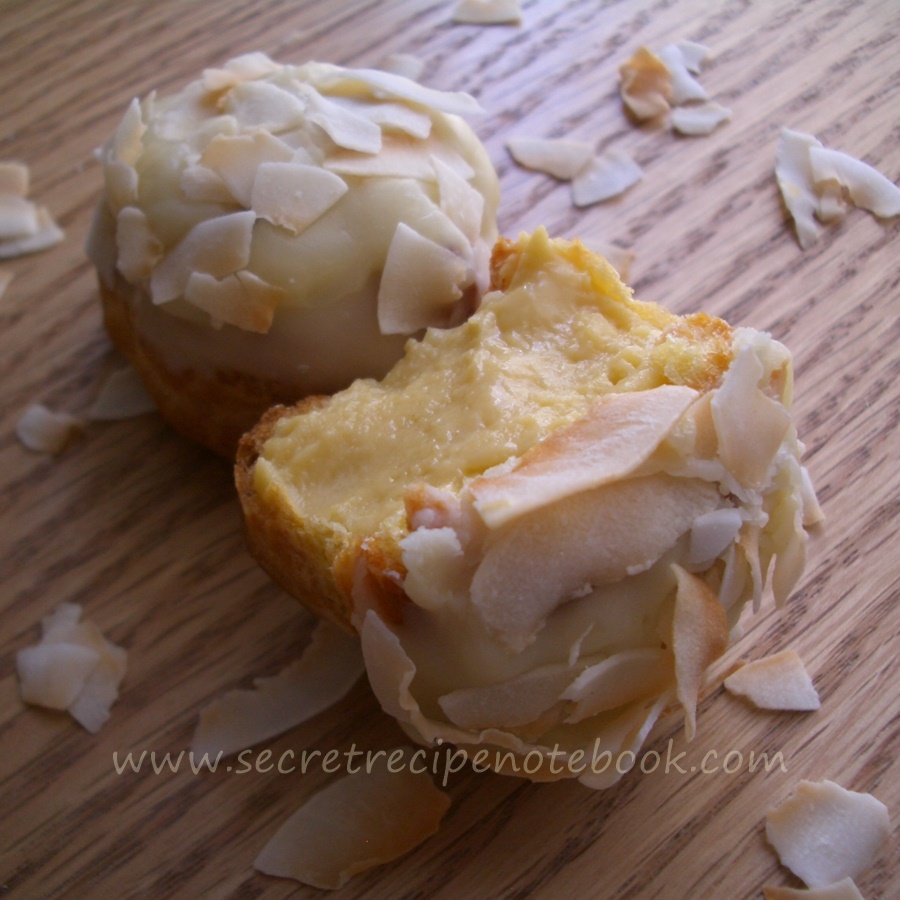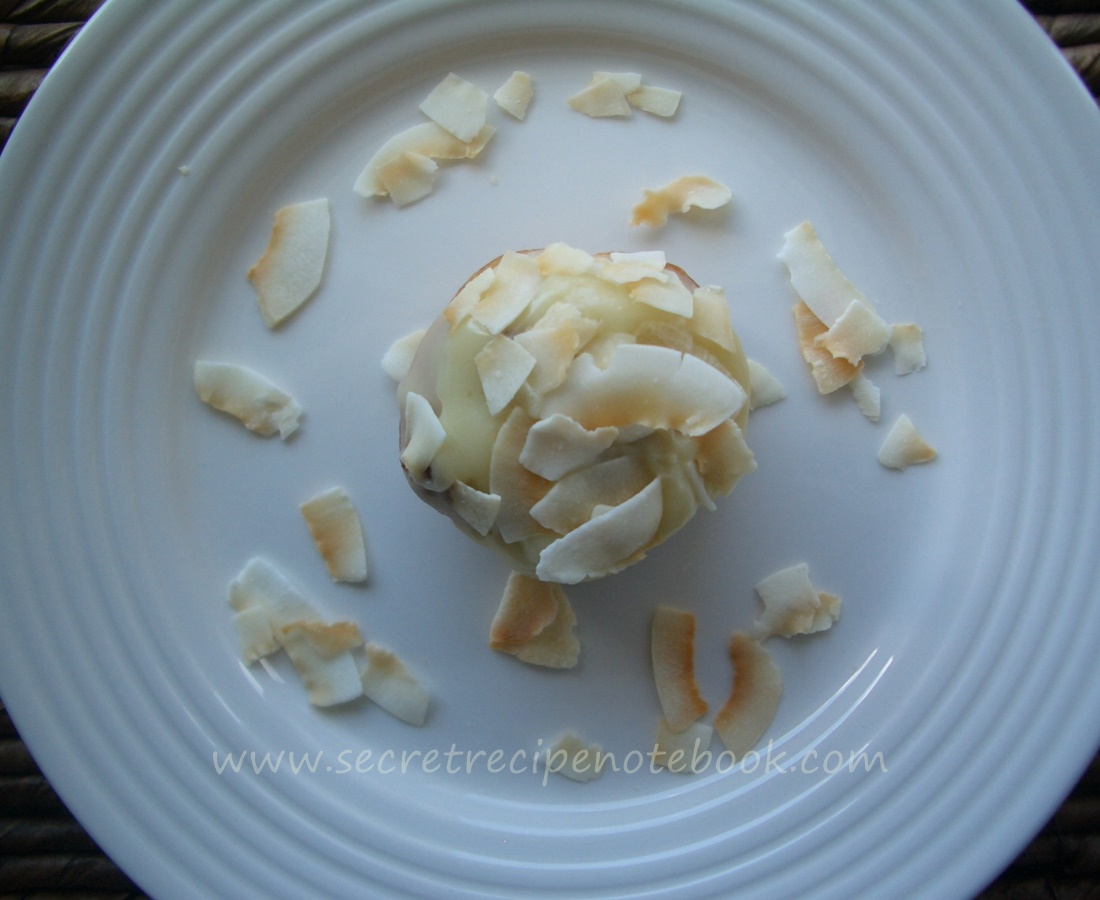 Making choux pastry
The base of these creamy dessert are choux pastry shells which are ideal for filling with any kind of cream, whipped cream, lemon curd, ice-cream... 

For choux pastry dough we need:
WATER

BUTTER

PINCH OF SALT

FLOUR

EGGS
The process is simple once you know all the steps and follow them.

First cook water, butter and a pinch of salt until boiling, then add flour at once, stir with a wooden spoon until a dough forms. Transfer the dough into a heatproof bowl and cool slightly.


Whisk eggs in one bowl. This way you can control how much of them you add - as this is the crucial part of the making perfect dough. If you add too many eggs, the dough will be too liquid and you'll have trouble piping it, and the pastries will have trouble puffing in the oven.


First add half of the amount and mix with electric mixer, then add the rest but add only as much eggs which are enough to get a smooth and shiny dough.
We suggest you to read our guide for making choux pastry with detailed description, photos and many useful tip. By following it you will every time get a perfect choux pastry puffs.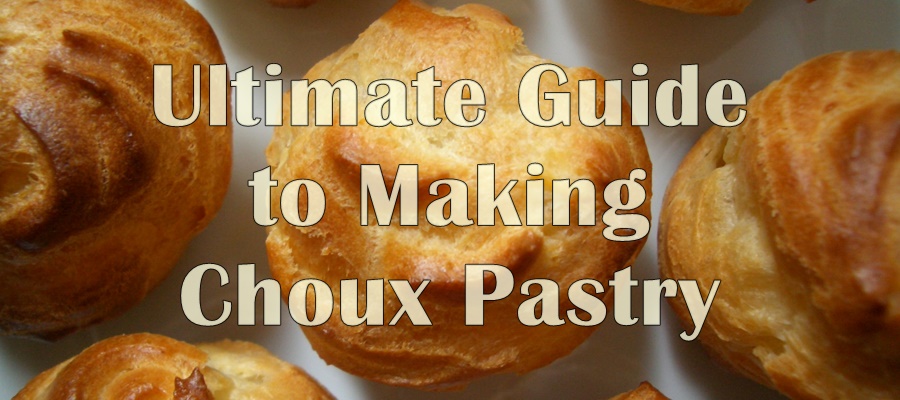 Shaping & Baking puffs
Once your dough is whipped up, it's time for baking the puffs. For shaping puffs, the best is to use piping bag fitted with star tip or in the case you don't have one, use zip-top bag with corner cut-off.

We got 24 small puffs from this dough but pipe as many puffs as you like - if you prefer larger one, pipe large mounds.

Puffs are baked first on on 200°C (392°F) for 15 minutes, which helps them to shape and rise. Then continue to bake them for another 10 minutes on 180°C (356°F) until they are golden brown and dry to the touch. Cool them on a wire rack.
Don't open the oven while pastries cooks, as cool air will prevent them from properly puffing up.
Once puffs are completely cool fill them using a piping bag with the coconut cream.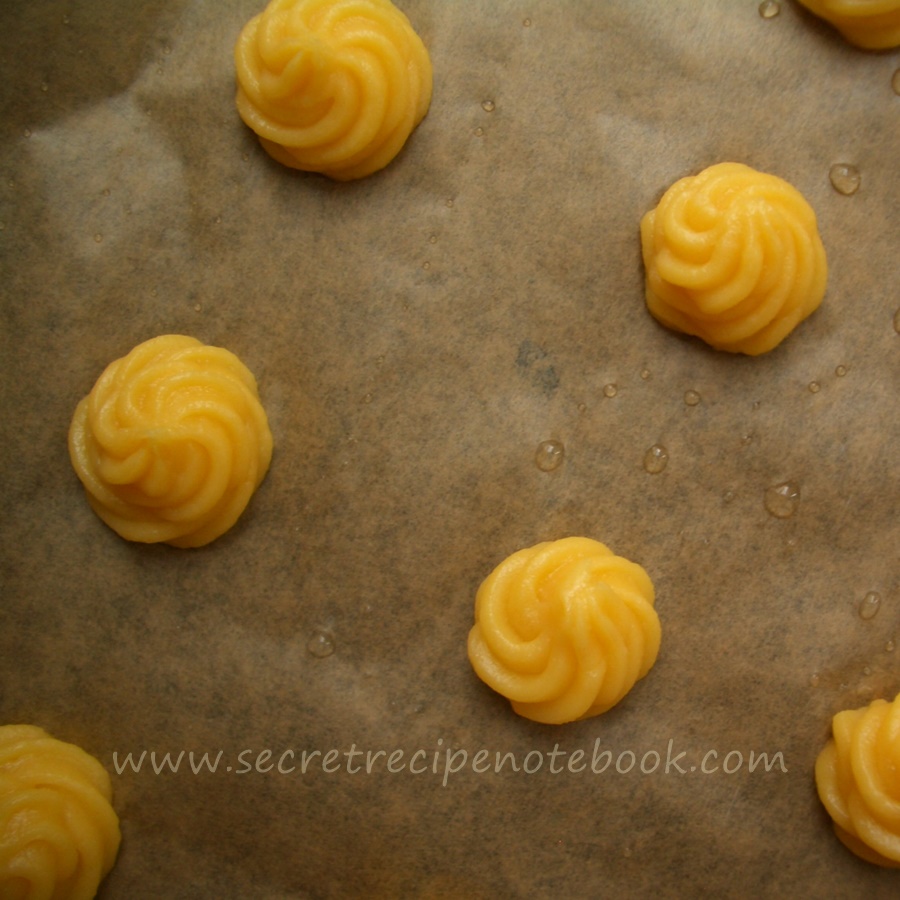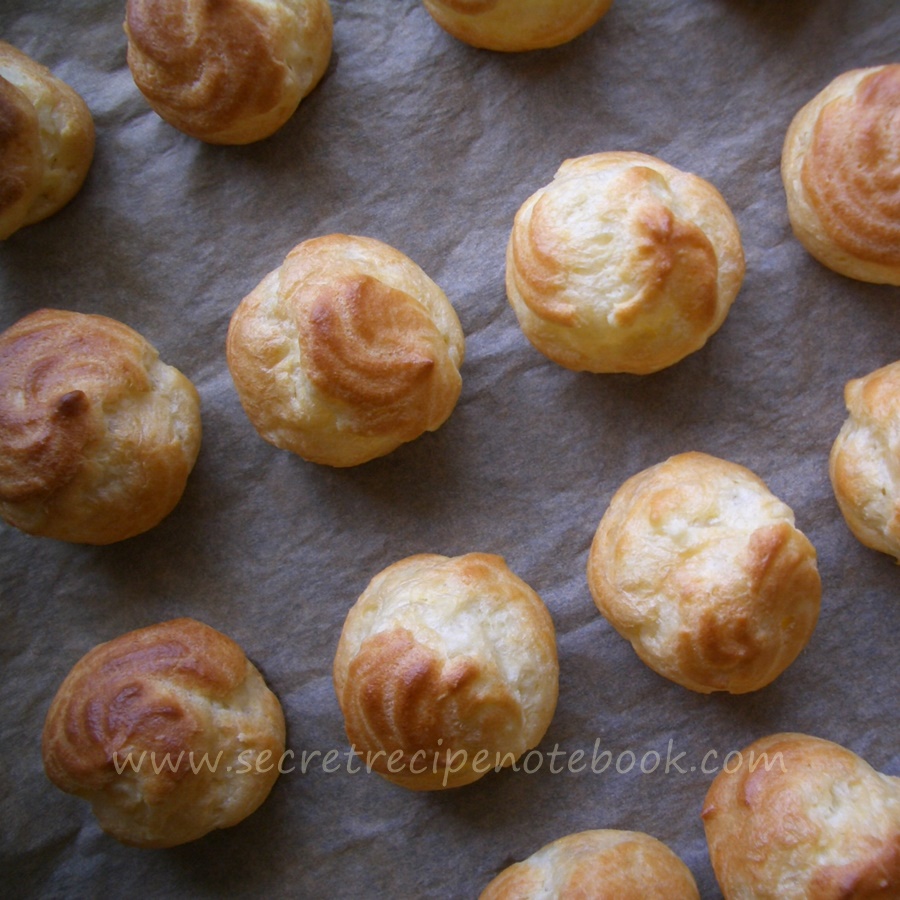 White chocolate glaze + coconut flakes
Once the puffs are filled with the cream, the glaze takes only a minutes to make. Just melt white chocolate (on bain marie), then dip the top of each puff into it and press into toasted coconut flakes. These two makes the puffs both extra delicious and attractive.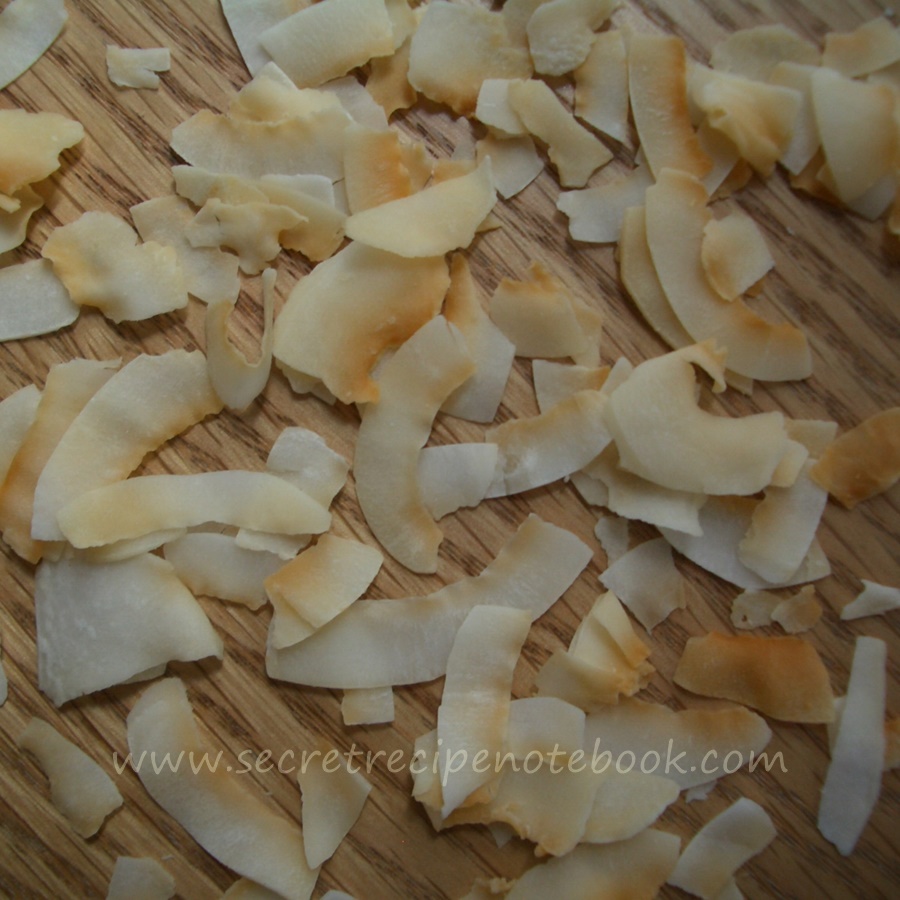 Making ahead coconut cream puffs
These creamy puffs are ideal for making ahead. You can make both the cream and choux pastry dough a day before and keep them in the fridge. Once you are ready to make them, quickly pipe and bake the puffs, fill them with coconut cream and decorate with white chocolate glaze and coconut flakes.


Storing coconut cream puffs
These cream puffs are the best on the day they are made. Still, you can keep them in the fridge in airtight container for a few days.


Looking for more dessert recipes? Take a look at these: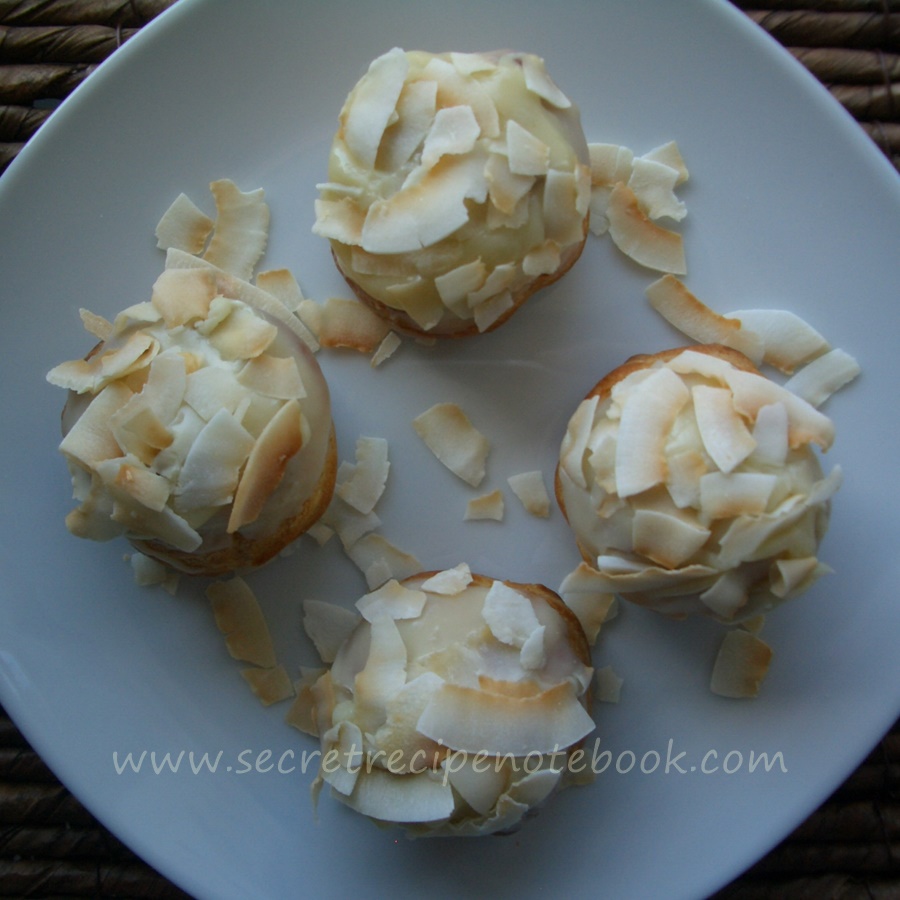 Like this recipe? Follow us on Pinterest for more recipes like this one! And don't forget to pin this recipe for later by clicking on one of the images above. 
coconut cream puffs

MAKES: 24 small cream puffs
COOKS IN: 1 hour 20 minutes
LEVEL: Moderate
KITCHEN ESSENTIALS FOR THIS RECIPE:
Quality Kitchen Products
-
Shop here!
INGREDIENTS
For the coconut cream
160ml (2/3 cup)

whole milk

160ml (2/3 cup) 

full-fat coconut milk

3

egg yolks

, from the fridge
25g (1/8 cup)

brown sugar

30g (1/4 cup) 

cornstarch
For the choux pastry
120ml (1/2 cup) 

water

56g (4 tbsp) 

butter

1 pinch of

salt

80g (2/3 cup) 

plain flour

2

eggs

, at room temperature
For the topping
100g white chocolate
15ml (1 tablespoon) coconut milk
12g (1/4 cup) coconut flakes
METHOD
FOR THE COCONUT CREAM, combine whole milk and coconut milk in a heavy-based saucepan and bring to a bare simmer over medium heat. Remove from the heat.


In a medium heatproof bowl, whisk together egg yolks, sugar and cornstarch until light and fluffy.


Gradually pour milk mixture into egg mixture, whisking constantly. 


Once everything is combined, return the mixture to same saucepan, cook over low heat, whisking constantly, until mixture thickens. this will happen quite quickly - in 3 - 4 minutes.


Strain the coconut cream through a strainer into a clean bowl, then press cling film to the surface and allow to cool at room temperature then place in the fridge.



FOR THE CHOUX PASTRY DOUGH, preheat the oven to 200°C (392°F) and line 2

baking sheets

with

baking paper. Lightly brush baking paper with water which will help puffs to rise.


Combine water, cubed butter and salt in a medium saucepan and heat until the butter has melted, then bring to a simmer.


Remove the saucepan from the heat and add the flour all at once. Return to the low heat and cook stirring constantly until the smooth balls forms - around 2 - 3 minutes.


Transfer the mixture to the heatproof bowl and leave to cool for a few minutes. Meanwhile, whisk eggs lightly in a small bowl.


Add half whisked eggs and using electric hand mixer beat for about 1 minutes. Slowly, add in the rest of the eggs, a little at a time, until you get a smooth and glossy dough. The dough should be thick and not runny. 


Spoon the choux pastry dough into the piping bag fitted with large star tip and pipe 24 mounds (about 2 cm wide) on a baking tray, leaving some space between each one. You can also use zip-top bag with one corner cut-off. Smooth the peaks on the mounds with your finger.


Bake in the preheated oven for 15 minutes, then reduce the temperature to 180°C (356°F) and continue to bake for another 8 - 10 minutes. Puffs should be golden brown, puffed and dry. Don't open the oven while puffs are baking, as cool air will deflate them. 


Once they are baked remove them to the cooling rack and make a whole in each one on the side so the steam comes out.


While puffs are cooling, spread coconut flakes on a baking tray and bake at 150°C (302°F) for 2 - 3 minutes, until just starting to turn golden. Remove from the oven and set aside to cool before assembly. Once cooled, place in a small bowl.


Spoon the coconut cream into the piping bag fitted with a small tip. Make a small hole on the bottom of the each puff and fill with the cream until it begins to come out of the hole.



Place white chocolate in a heatproof bowl set over a pan of simmering water. Stir until completely melted. 


Holding the base of the puff with your fingers, dip top into melted white chocolate then press into coconut flakes. Repeat with the remaining puffs. Once all puffs are coated, arrange them on the small tray and place in the fridge until serving.