HOME > DESSERTS > PASTRIES & TARTS
Cranberry Orange Hot Cross Buns
These hot cross buns are the ultimate Easter treat but can be eaten all year round. Classic recipe includes various dried fruits such as currants, raisins and candied citruses.  We packed our hot cross buns with dried cranberries and flavoured with freshly grated orange zest.

Those who are not fans of dried fruits should try our hot cross buns packed with white chocolate and hazelnuts which are so yummy. Or for lemony pastries, give it a try to our lemony sweet rolls with marzipan.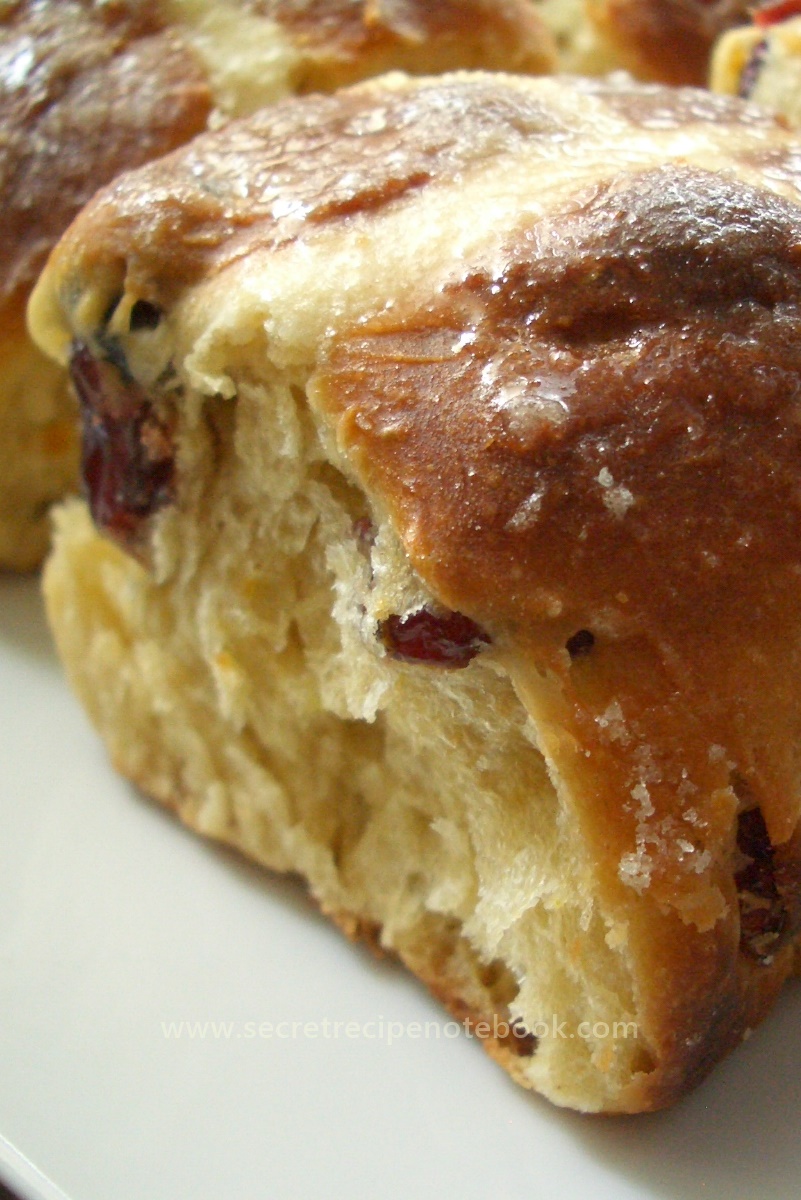 This webpage contains affiliate links. Please read our disclosure policy.

3 EASY STEPS FOR MAKING THE DOUGH:
First, combine flour, instant yeast, ground cardamom and salt in a large bowl. 


Heat together milk and butter (until butter is melted), then add buttermilk and stir. Make a well in the middle of flour, break two eggs the pour liquids and stir for a while until you get a rough dough. 


Tip the dough onto the work surface and knead gently for about 5-6 minutes. The dough should be soft and slightly sticky. From time to time add some flour so the dough doesn't stick to the surface, but be sure not to add too much. Now it's time for dough to rise. Leave it on the warm place for 1 hour until it's double in size.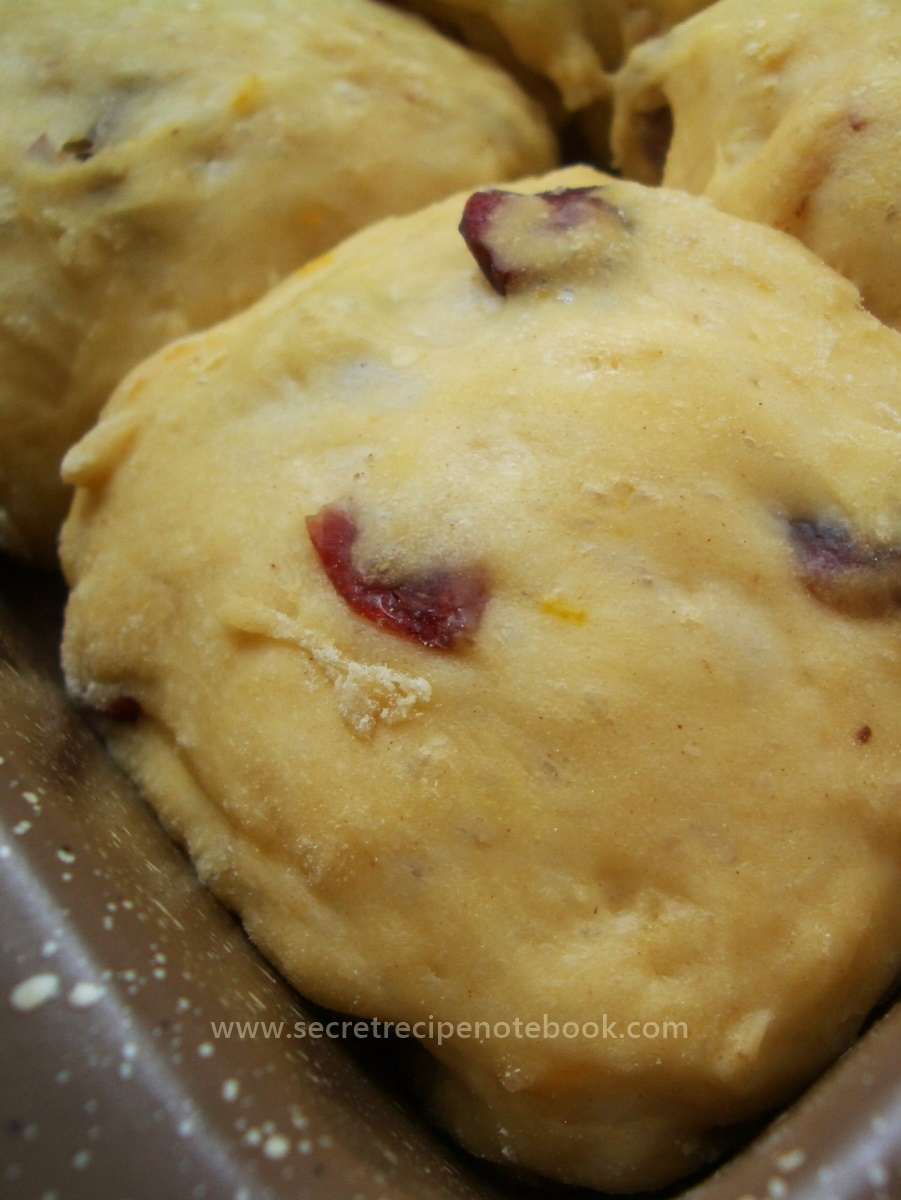 More Easter recipes
you'll want to try:
Shaping the hot cross buns
Now, it's time to shape the buns. Turn out the dough onto the work surface, punch it and add dried cranberries to the dough. Using pastry cutter or a knife, cut the dough into 12 equal pieces.


Roll each into a ball using your fingers, then place them on buttered baking sheet or square pan - depending what you are using for the baking. Leave some space between each bun as they need to rise again for about 30 minutes in a warm place. We usually do this in the slightly warm oven, turned off. 


Making crosses on the top of the buns
The symbolic cross pattern is usually made by piping a paste of flour and water onto the buns just before baking, though some recipes opt for a simple icing cross instead to add sweetness to the finished buns.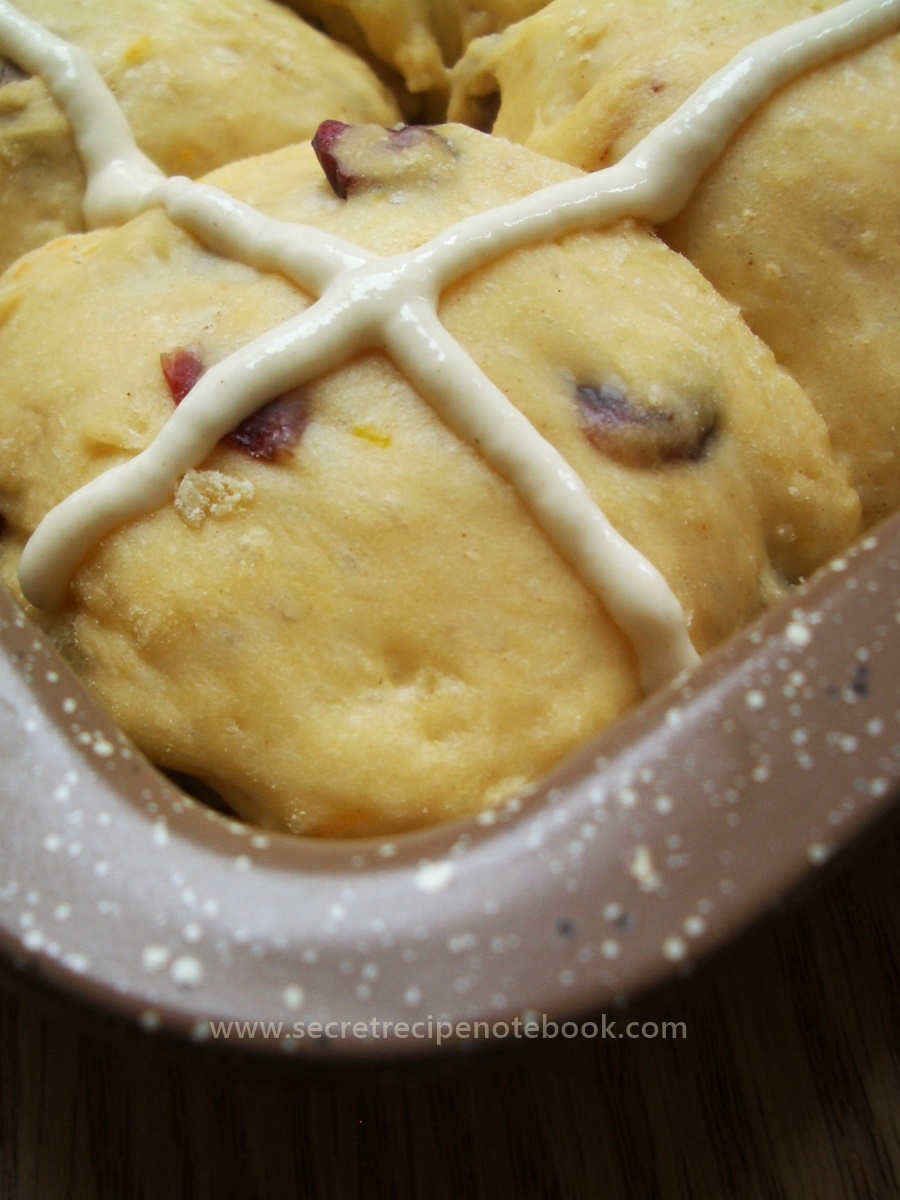 Icing sugar + orange juice = delicious glaze
Once baked, we brush buns straight from the oven with simple orange glaze, made with ICING SUGAR and a few tablespoons of ORANGE JUICE. This zesty glaze accent the orange aroma of the buns.

The glaze is sweet and zesty at the same time and also sticky making these little buns so tempting. Go for freshly squeezed orange juice when preparing the glaze, as bottled orange juice won't provide the same bright, fresh flavour.


Looking for more dessert recipes? Check these out:
Cranberry Orange Hot Cross Buns
MAKES: 12 hot cross buns
COOKS IN: 50 minutes plus rising time
LEVEL: Moderate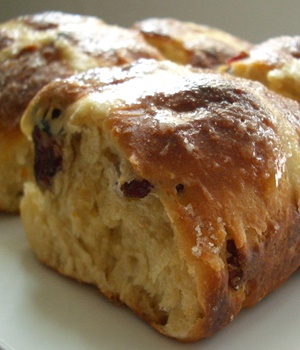 INGREDIENTS
For the dough
400g (3 1/3 cups)

plain flour



7g (2 teaspoons) instant dried yeast (fast-action yeast)

1/2 teaspoon

ground cardamom

1/4 teaspoon salt
80ml (1/3 cup)

whole milk

, lukewarm
42g (3 tbsp) butter, softened
80ml (1 /3 cup) buttermilk, at room temperature
50g (1/4 cup)

brown sugar

30ml (2 tbsp)

fresh orange juice

2

eggs

, at room temperature
1 tablespoon

grated orange zest

90g (3/4 cup)

dried cranberries
For the crosses
30g (1/4 cup) plain flour
3-4 tablespoons water
For the glaze
80g (2/3 cup) icing sugar
45ml (3 tbsp) orange juice

METHOD
MAKING THE DOUGH: In a large bowl, combine together plain flour, instant yeast, salt and cardamom.


Place milk in a small saucepan together with butter, then heat and swirl the saucepan until most of the butter is melted. Add buttermilk to this and stir to combine.


Make a well in the centre of dry ingredients, add eggs and stir roughly with a fork. Pour gradually milk/butter mixture, stirring continuously until the flour start to incorporates and you have a rough dough.


Tip out onto floured work surface and knead until the dough is smooth and elastic, for about 4-5 minutes.


Return the dough into dusted bowl, cover with clean kitchen towel and leave to prove in a warm place for about 1 hour or until doubled in size.


SHAPING THE BUNS: Transfer the dough to a clean flour dusted work surface. Knock the air out by bashing it with your fist, then sprinkle over the dried cranberries and knead into the dough for 1 to 2 minutes.


Preheat the oven to 190°C (374°F) and line the baking sheet with baking paper. You can also use baking pan - in this case grease it with melted butter on the sides and bottom.


Divide the dough into 12 even pieces (each of 50g) and roll each into ball. Form into buns, tucking the edges of the dough underneath. Place buns in the baking pan or sheet, leaving a little space in between each roll. Leave the pan in a warm place for 30 minutes, or until doubles in size.


MAKING THE BATTER FOR CROSSES: Place flour and water in a small bowl, then stir to combine. You need to get thick paste. Transfer it into a piping bag fitted with a plain small tip or use a small plastic ziplock bag (make a small cut in the corner). Pipe the crosses over the tops of the buns.


Bake the buns in the preheated oven for about 15 to 20 minutes or until they become golden. Remove them from the oven then leave to cool slightly.


MAKING THE GLAZE: For the glaze, stir together icing sugar and orange juice until smooth. Brush the glaze over the buns and leave to cool.


CATEGORIES: Pastries & Tarts, Easter, Breakfast & Brunch,
Orange, Buttermilk
We are a participant in the Amazon Services LLC Associates Program, an affiliate advertising program designed to provide a means for us to earn fees by linking to Amazon.com and affiliated sites.