Crunchy Polenta Crackers
Crunchy and snappy, these crackers are fantastic with a wedge of cheese or prosciutto, they pair perfectly with pâté, and can even be used with dips for dunking. They're fun to make, and you can lace them with different toppings, if you wish.
Making your own snacks is an extra-special touch - top these flax seeded crackers with paté, cheese and chutney.


This webpage contains affiliate links. Please read our disclosure policy.

Making these crunchy crackers is super easy
The dough is just a simple mix of plain flour and polenta, water and oil (both sunflower or olive oil will work here) and salt, with addition of coarsely ground flax seeds.

So, first stir dry ingredients in one bowl: plain flour, polenta, a half of teaspoon salt and a few tablespoons of coarsely ground flax seeds. Another component are liquids: water and oil. Use either sunflower or olive oil for this recipe. Mixing these two in a jug or glass.


Make a well in the centre of flour/polenta mixture, then pour liquids stirring with a wooden spoon or sturdy spatula until you get a rough dough. Continue to knead with your hands until the dough comes together. Our dough is now ready for turning into crunchy crackers!


More tasty snacks
you'll love:
Shaping the crackers
It's time for shaping out crackers. Cut the dough into halves for easier handling. For rolling out the dough, you'll need a proper rolling pin, as the dough is quite tough. Do this on a piece of baking paper or a pastry mat, whatever you have on hand.

Roll out the dough into a rough rectangle, about 2mm thick. Cut out the ends to form proper rectangles. We love small bite-size crackers, so we cut the dough into 4x4cm squares. The dough scraper with marked measurements come really handy here, but a sharp knife will also work well.


Transfer crackers to baking sheets (lined with baking paper), brush with some olive oil and bake each batch for 8-9 minutes. Stay close to the oven, as these crackers burn easily. Once the edges of crackers are slightly brown, take them from the oven (don't overbake them). Note that they will crisp more once cooled.


Storing crunchy polenta cookies
They're exceptional on the day you make them, but I enjoy them for a few days afterwards, too – keep them in an airtight tin, ready to tuck into.

These bite-sized crackers will look great in these pretty porcelain bowls.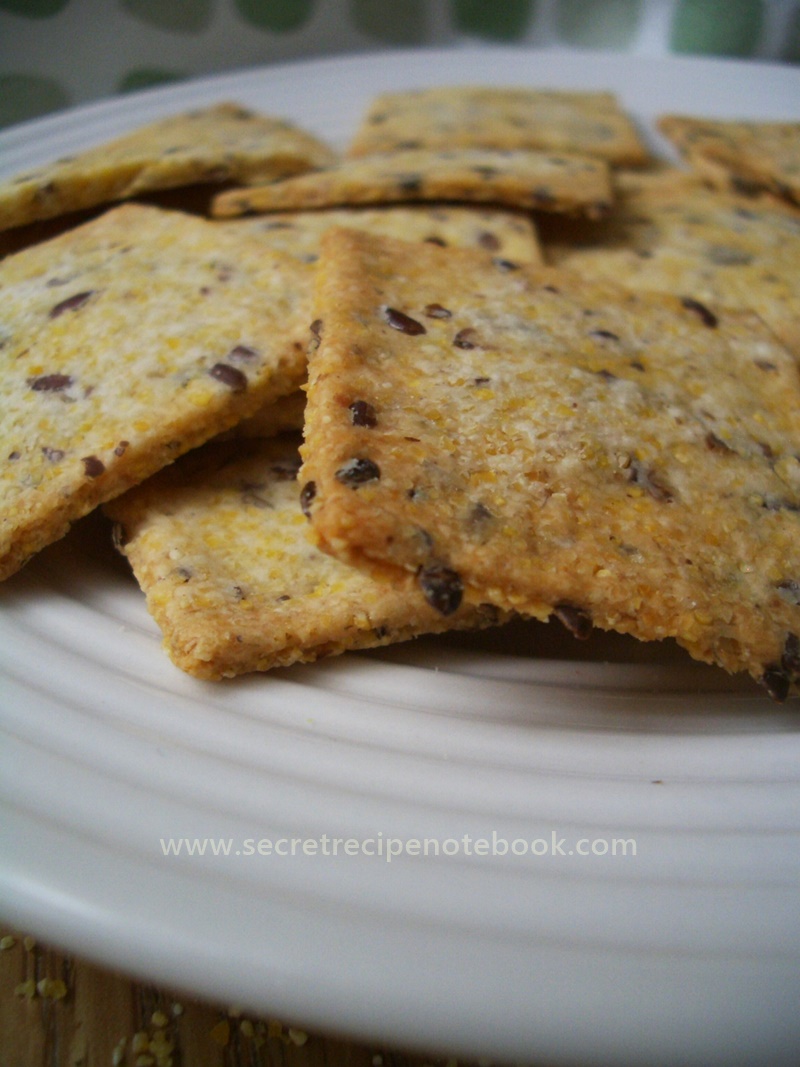 More cracker recipes you'll love:
Crunchy Polenta Crackers
MAKES: 62 crackers
COOKS IN: 30 minutes
LEVEL: Easy
HANDY KITCHEN EQUIPMENT:
INGREDIENTS
180g plain flour (1 1/2 cup)
120g instant polenta (3/4 cup)
40g flax seeds (1/4 cup), coarsely ground
1/2 teaspoon fine salt
60ml olive or sunflower oil (4 tbsp)
150ml water, lukewarm (1 1/8 cup)
METHOD
Preheat the oven to 180°C/356°F and line 2 baking sheets with baking paper.


Mix plain flour, instant polenta and salt in a large bowl.


Combine the water and the olive oil in a jug. Pour the liquid into the dry ingredients and stir with a wooden spoon until you get a rough dough. Continue to knead until you get a compact dough.


Split the dough into half. Using a rolling pin, roll out the dough 2mm thick, then using a dough scraper or a sharp knife cut into 4cm squares.


Transfer squares to the baking sheet, brush lightly with olive oil and bake for about 8-9 minutes or until the crackers are golden on the edges. Transfer to a cooling rack to cool. Store in a sealed container for up to 2 weeks.


CATEGORIES: Snacks & Nibbles, Quick & Easy,
Polenta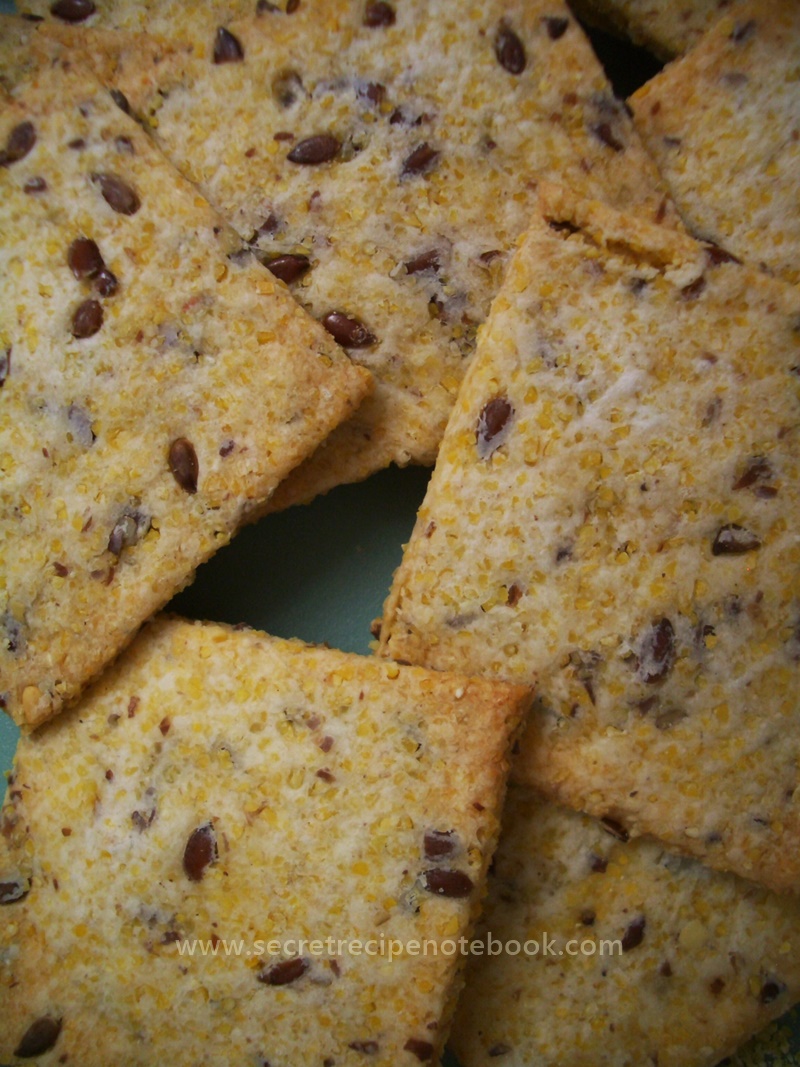 We are a participant in the Amazon Services LLC Associates Program, an affiliate advertising program designed to provide a means for us to earn fees by linking to Amazon.com and affiliated sites.