Crispy Sunflower Seed Crackers
This recipe makes a bunch of small thin crispy crackers packed with sunflower seeds. The dough comes together easily and shaping is also quick. You'll love to nibble these tasty snacks throughout the day.
If you love these, you'll also adore our crunchy polenta crackers and oregano polenta crackers.


This webpage contains affiliate links. Please read our disclosure policy.

How to make crispy sunflower seed crackers
For making these crispy crackers you will need only two mixing bowls (you'll love these ceramic bowls with high sides), a good rolling pin and small cookie cutter (we used flower shaped cutter).

First take CREAM CHEESE and BUTTER from the fridge and leave to room temperature for half and hour. Then stir with a fork in one bowl to combine.

Combine PLAIN FLOUR and CORN FLOUR, BAKING POWDER and SALT in one bowl and knead together with cream cheese/butter mixture. Stir in the sunflower seeds (finely chopped) and knead until incorporated. Rest in the fridge for 30 minutes.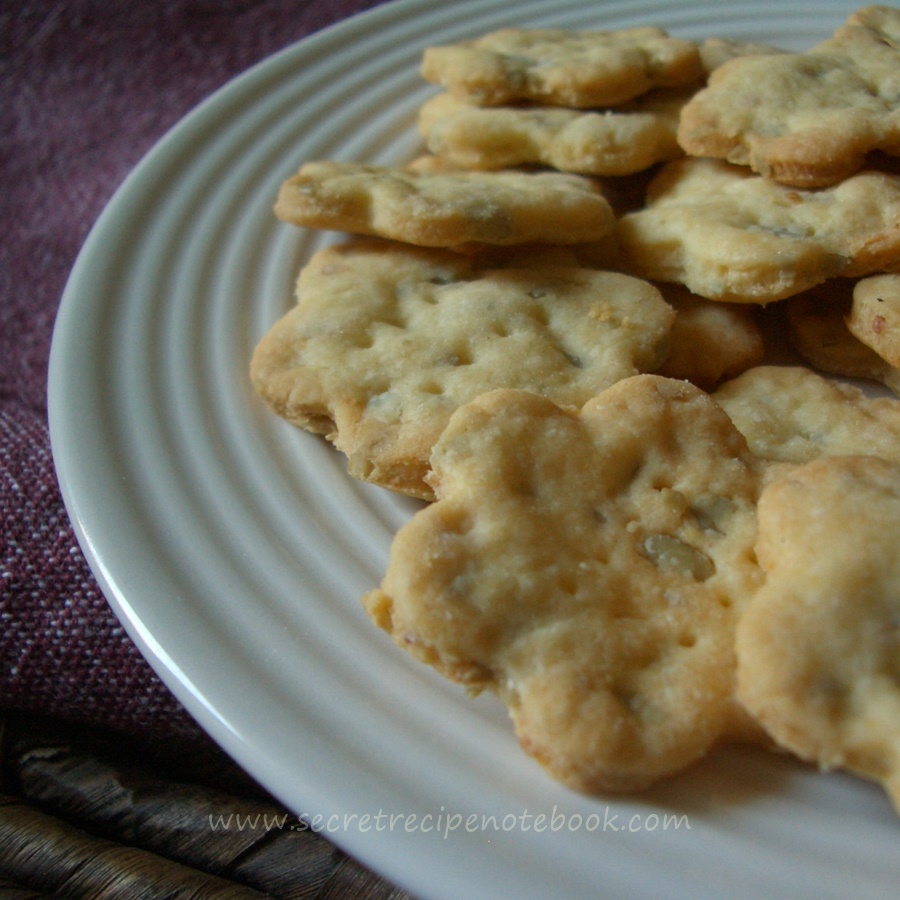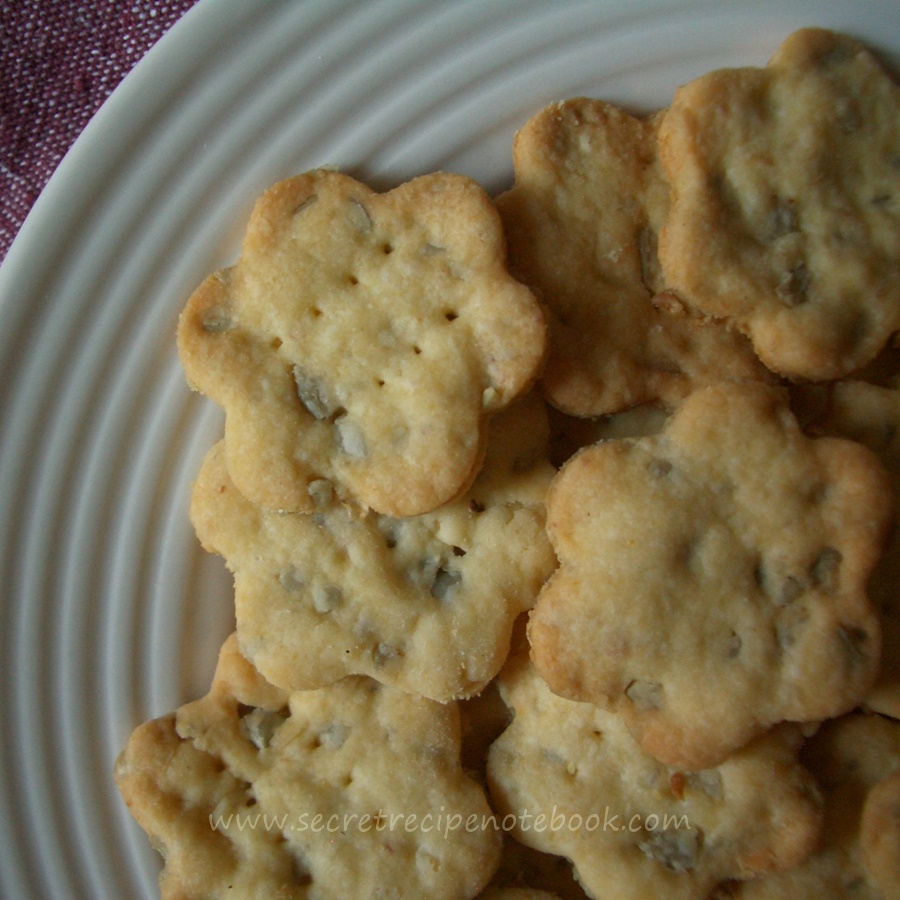 More tasty recipes
you'll love:
Rolling the dough tips
Roll out the dough thin and as even as possible. This ensures even baking. If they are not thin enough, they will be rather chewy than crispy.

The best way to do this is to roll out the dough on a floured work surface or a pastry mat. A proper rolling pin helps a lot with rolling the dough evenly.


Once the dough is rolled out, cut desired shapes (we used small flower-shaped cookie cutter but feel free to use any other such as round or square). Bake in the oven for only 6-7 minutes, until the crackers becomes lightly brown. Remove them from the tray with thin metal spatula to the bowl to cool.


Storing crispy sunflower seed crackers
If you happen to have any leftover of crackers and need to store them, allow them to cool fully. Place inside an airtight container and they will stay crispy up to 5-6 days.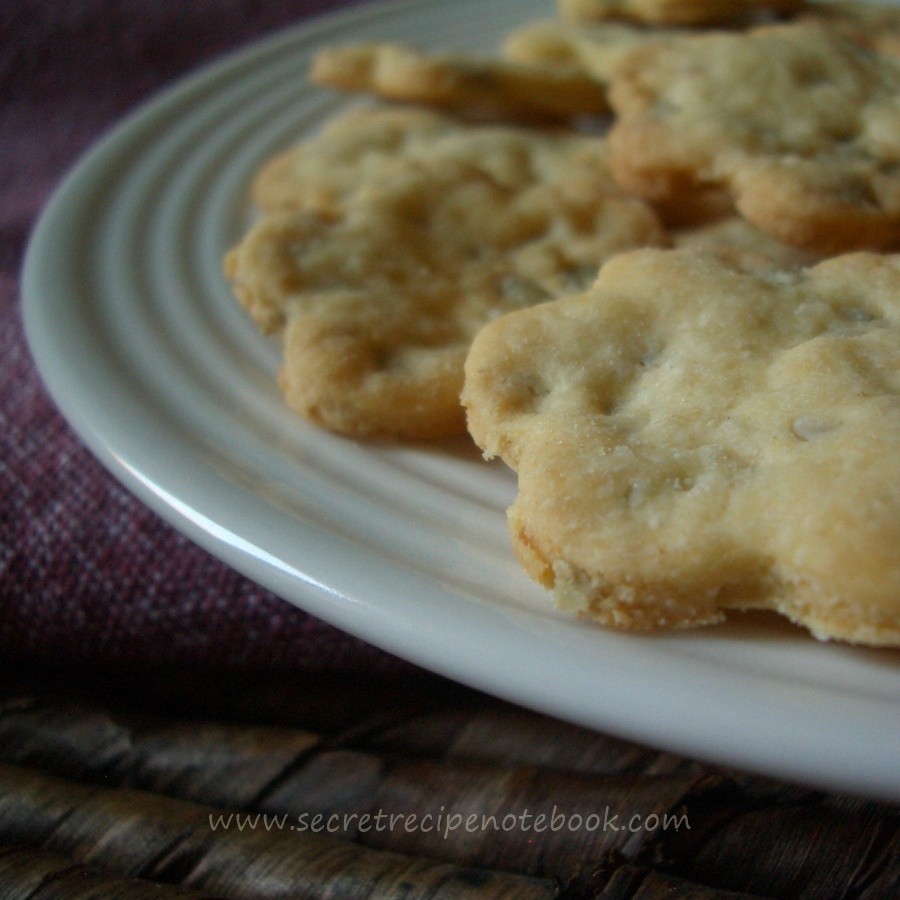 A few of our popular snack recipes:
Crispy Sunflower Seed Crackers

MAKES: 60 small crackers
COOKS IN: 30 minutes
LEVEL: Easy
HANDY KITCHEN TOOLS:
INGREDIENTS
56g butter (4 tbsp), at room temperature
60g cream cheese (1/4 cup)
80g plain flour (2/3 cup)
40g corn flour (milled from dried corn kernels) (1/3 cup)
1/4 teaspoon baking powder
1/8 teaspoon salt
70g sunflower seeds (1/2 cup), finely chopped
METHOD
Preheat the oven to 180°C/356°F and line the baking sheet with baking paper. You will bake these crackers in two batches.



Place butter and cream cheese in a small bowl

 and stir using a fork until well combined. 


Combine plain flour, cornflour, baking powder and salt in a medium bowl.


Add butter/cream cheese mixture into flours and knead until a compact dough forms. Form a flatten disc from the dough, wrap in a cling film and place in the fridge for 10 minutes.


Take the dough from the fridge and roll out on floured work surface as thinly as possible (1mm). Cut shapes using small cookie cutter or a small glass. Transfer crackers onto baking sheet and prick each a few times with a fork. Bake until golden and crisp, 7-8 minutes. Rotate the sheet halfway. Transfer crackers using a thin metal spatula to a serving plate.


CATEGORIES: Snacks & Nibbles, Quick & Easy,
Sunflower Seeds, Cream Cheese
We are a participant in the Amazon Services LLC Associates Program, an affiliate advertising program designed to provide a means for us to earn fees by linking to Amazon.com and affiliated sites.