These simple polenta crackers, enriched with a handful of dried oregano, are both delicious and easy to make. Made in just 1 bowl they are perfect quick snack for every occasion. 
Forget the box of crackers at the store, have a fun making your own with this simple recipe. These crackers are made with a combination of plain flour and polenta, which gives these crackers a golden glow and a nice crunch. Dried oregano, gives extra aroma once crackers are baked.

These crackers are so versatile, you can put some cream cheese or tuna pâté on them, dip them in hummus or just nibble them alone. They are so addictive and yummy!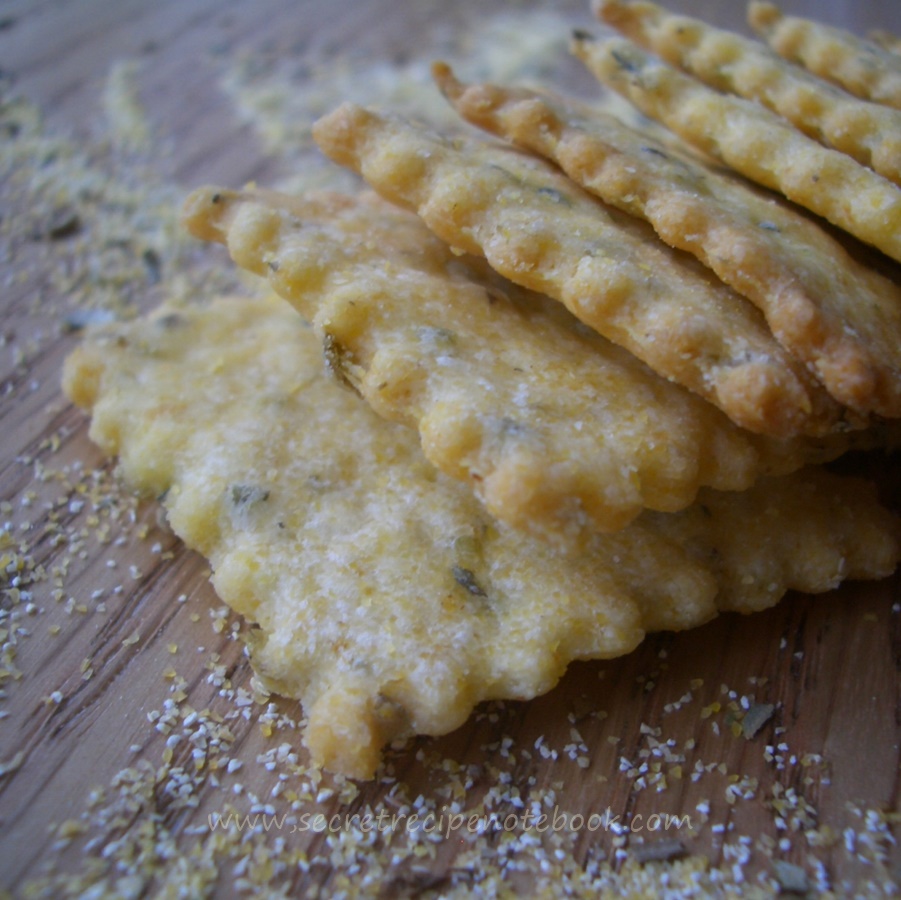 try also these tasty recipes:
By following our recipe you can mix a dough in only 5 minutes. Add on rolling, cutting and baking, making an entire batch will still only take you about 30 minutes. And when you can make your own crackers with this little effort that has way more taste and with whole food real ingredients, you'll never go back to buying them again.


how to make oregano polenta crackers
These cornmeal crackers are so quick and easy and you can experiment to find the exact combination of cracker thickness and baking time.

We made it with a mix of plain flour and polenta which gives great crunchy texture and delicious flavour. Combine these two in a medium bowl, add a pinch of salt and cubed butter which should be rubbed into dry ingredients.

After adding dried oregano, pour the water and work with your hands to make a dough. Roll out the dough on a lightly floured surface as thinly as possible and cut into desired shapes. Prick each cracker with fork a few times so prevent from puffing and bake them in the oven for about 5 - 6 minutes or until they start to brown. Obviously, baking time will depend on the thickness of crackers.


Best Selling Kitchen Tools & Gadgets
how to store oregano polenta crackers
Let the crackers cool completely before storing them in an airtight container. Store them in an air-tight container at room temperature for up to 1 week. You can make the crackers well in advance as they can be stored like this.


Looking for more snack recipes?
For more snack inspiration, take a look at our collection of snack recipes. Also check out our selection of other tempting bread & pizza recipes, too.

shop kitchen essentials for this recipe
Digital Kitchen Scale | Mixing Bowl | Measuring Spoons | Pastry Mat | Pastry Wheel | Baking Tray | Baking Paper Sheet | Metal Spatula
oregano polenta crackers
MAKES: 56 crackers
COOKS IN: 30 minutes plus cooling time
LEVEL: Easy
INGREDIENTS
120g (1 cup) 

plain flour

100g (1/2 cup + 2 tbsp) cornmeal (polenta)
1/2 teaspoon

baking powder

1/4 teaspoon

salt

70g (5 tbsp) 

butter

110ml (1/3 cup + 2 tbsp) 

water

2 tablespoons dried oregano
METHOD
Preheat the oven to 175°C (347°F). Line the baking tray with baking paper.


Combine flour, cornmeal, baking powder and salt in a medium bowl.


Add cubed butter and rub into the flours until it resembles coarse crumbs. You can do this with your fingertips or use a pastry cutter.


Add dried oregano then pour the water and work with your hands until you get a compact dough. Leave the dough to rest in the fridge for about 30 minutes.


Lightly flour work surface and roll out the dough thinly (0.5 - 1 mm). Cut into squares (4x4 cm) using a pastry wheel or a sharp knife. Feel free to cut into any other shape you like.
 
Transfer crackers one by one onto a baking tray and prick each cracker with fork a few times to prevent them from puffing up while baking. Bake for about 7 - 8 minutes or until crackers start to become lightly brown. Baking time will depend on how thin your crackers are. Transfer the crackers to a wire rack to cool completely.