This webpage contains affiliate links. Please view our disclosure policy for more details.

SNACKS & NIBBLES | BREAKFAST & BRUNCH
Crispy Pesto Twists
You are going to love these simple snacks made of simple yeasted dough (made of plain and spelt flours) and basil pesto. These snacks have herby and nutty flavour from pesto.

These easy to make snacks are an ideal choice as a nibble, snack or appetizer, these. So, let's check how to make these pesto twist easily in only 20 minutes (plus rising time).

Why not to try our recipe for cheesy garlic breadsticks, also a great snack.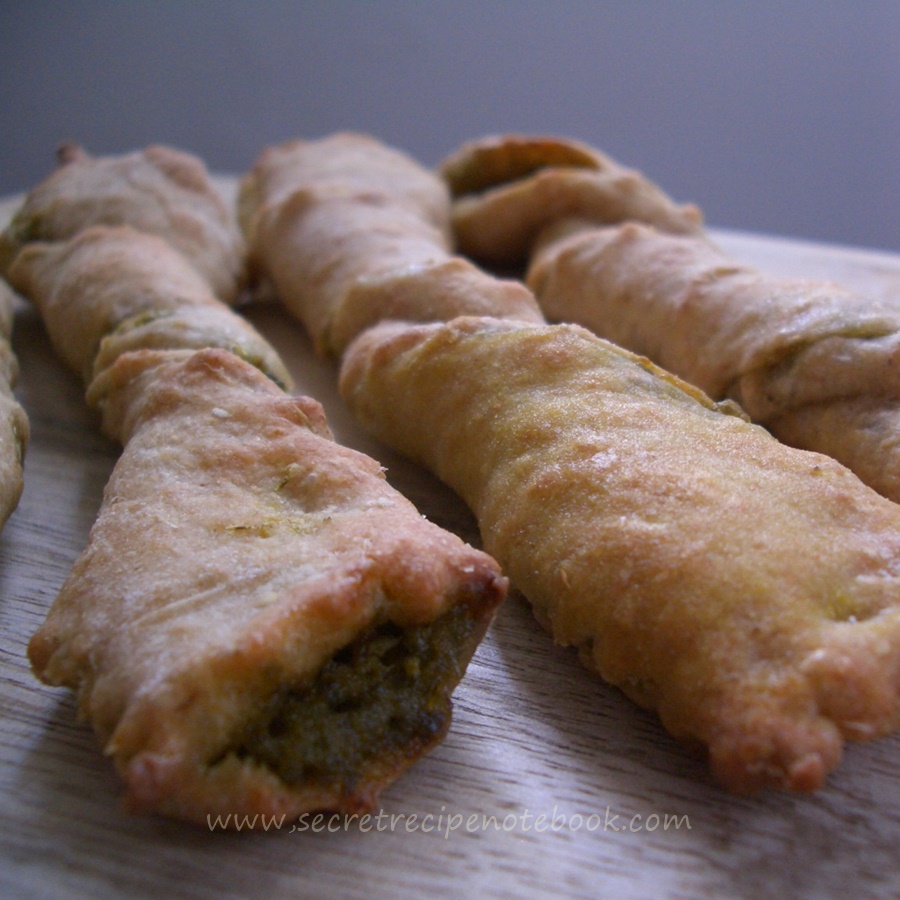 More tasty recipes you'll love:
How to make crispy pesto twists
Making these simple snacks is so easy and quick. The dough is pretty simple to make. Just combine flours, instant dry yeast and some salt, pour water and milk and knead a soft dough similar to those for pizza. This recipe features a mix of PLAIN and WHOLE GRAIN SPELT flours, making these twists extra delicious. However, you can use only plain or only spelt flour, depending on what you have on hand.


Once the dough is risen, roll it gently on a floured work surface and cut into half. Spread basil pesto in a thin layer on one half, place another half on top. Cut into strips 1.5x10cm with a sharp knife, twist each several times then place on baking sheet. Bake in the oven for 5-6 minutes - the twists will become golden and crisp.
For these twist you can use homemade pesto, by following our recipe or if you don't have all ingredients use the quality store-bought pesto.

EXTRA TIP: These pesto twists are best on the day they are baked, but if you have some left for tomorrow, just re-crisp them with a few minutes in the oven at 175 C.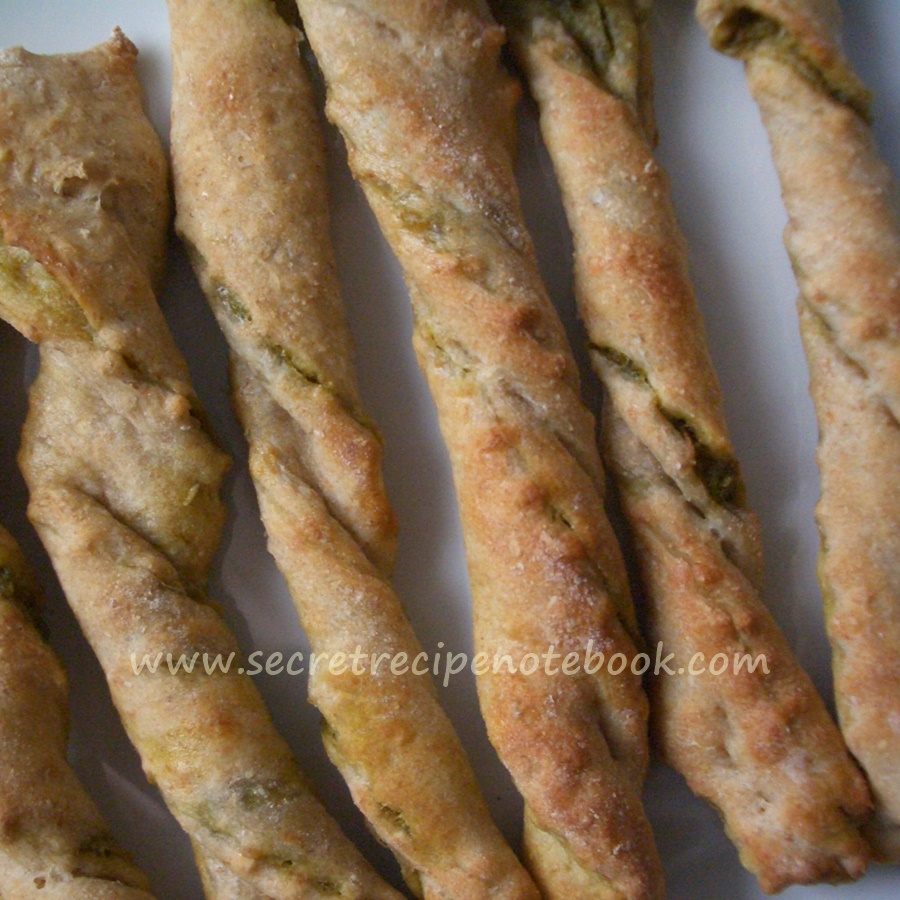 Looking for more snack recipes? Check these out: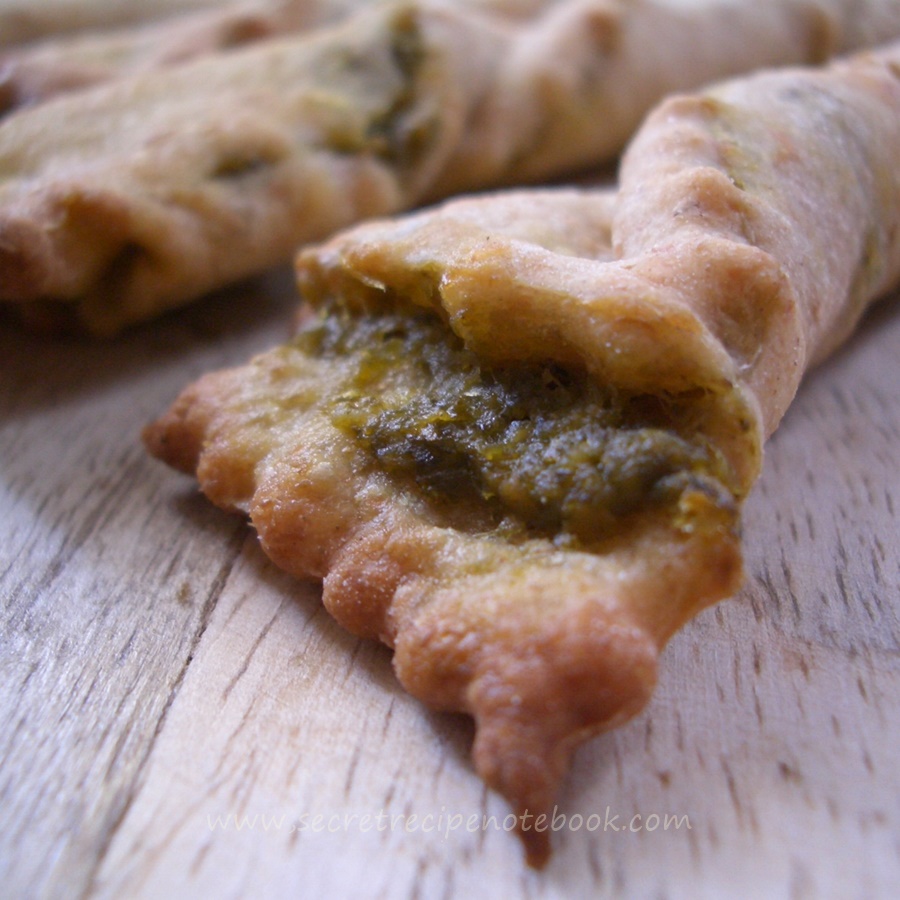 Crispy Pesto Twists
MAKES: 16 twists
COOKS IN: 20 minutes plus rising time
LEVEL: Easy
INGREDIENTS
For the pastry
METHOD
Combine plain and spelt flour with instant dry yeast and salt in a medium bowl.


Pour lukewarm water and milk and stir until flour is incorporated. Now using your hands form a soft dough. Turn in onto floured work surface and knead for about 4-5 minutes. Place it in a warm place to rise, until doubled, around 30 minutes.


Preheat the oven to 160°C (392°F) an

d line 2

baking sheets

with bak

ing paper.


Flour the work surface again, then tip out the risen dough. Flatten it and roll it out to a rectangle about 30x20cm and about 3-4mm thick. Cut the dough into half. 


Spread evenly with pesto one half and top with another half. Use a sharp knife or pastry wheel to cut the dough into 1.5x10cm strips. Now, gently twist each strip 2-3 times and place on the baking sheet, leaving some space between each one.


Bake for 5-6 minutes or until pastry is puffed and golden. Serve while still warm.