Homemade Baked Potato Chips
homemade Baked potato chips
You will adore these homemade baked potato chips. Make at home these healthy snack ideal for nibbling throughout the day.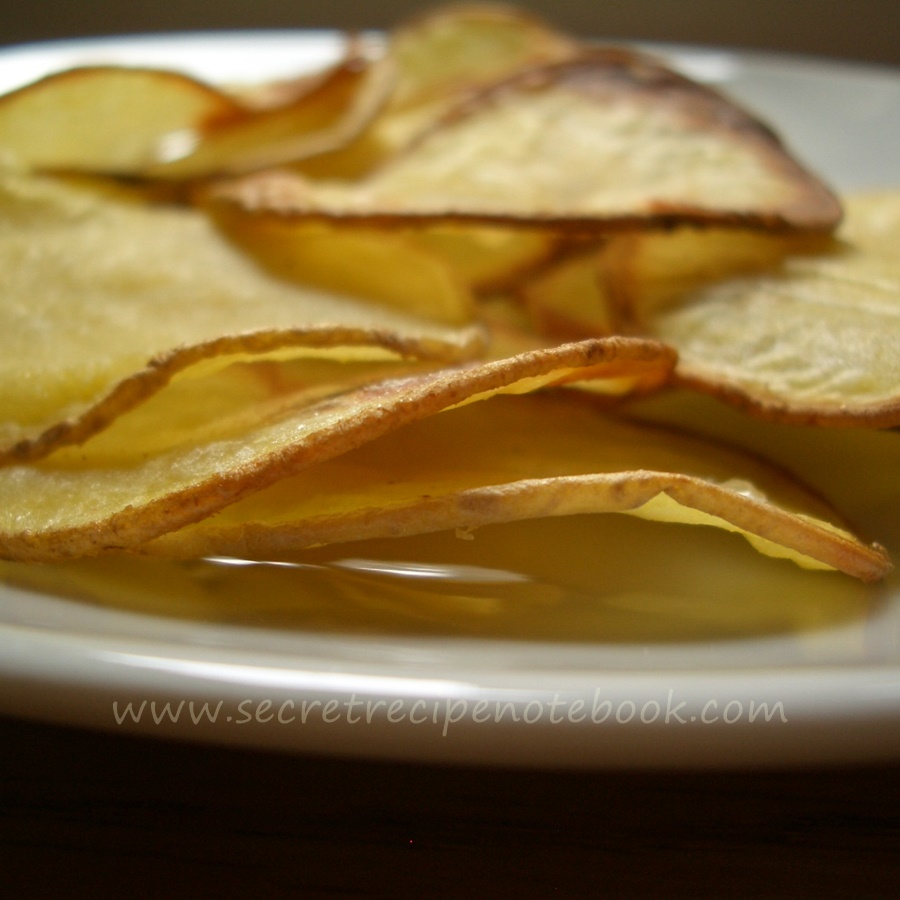 Everybody loves potato chips, especially when it's freshly homemade! They are so perfectly crisp and delicious not to mention they are so much healthier than store-bought chips. When making your own chips, you can control the amount of oil and seasoning and you can also play with spices and choose the one you love the most.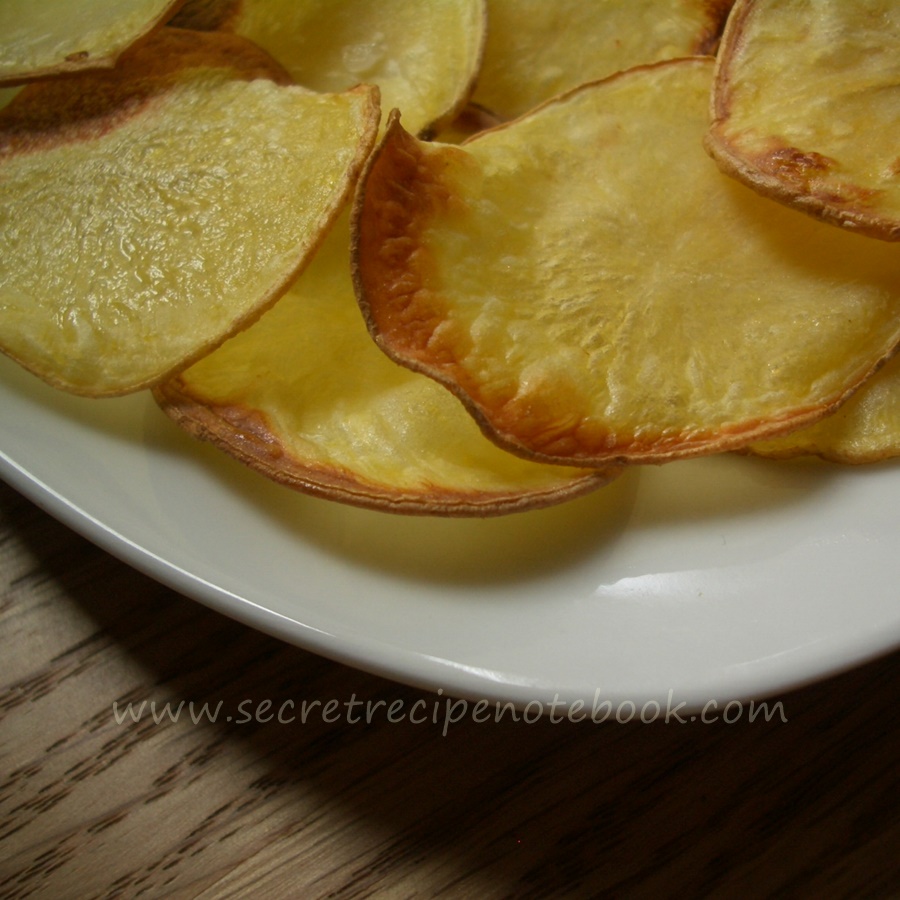 One of the best things is that you can make a bunch of chips, whenever you want. You just need a few potatoes, some olive oil and your favourite seasoning.

Once baked, these chips are ideal healthy nibble at home or picnic or a great side-dish served along juicy burger, steak or hot dogs. Follow out instructions below to make ideal homemade potato chips.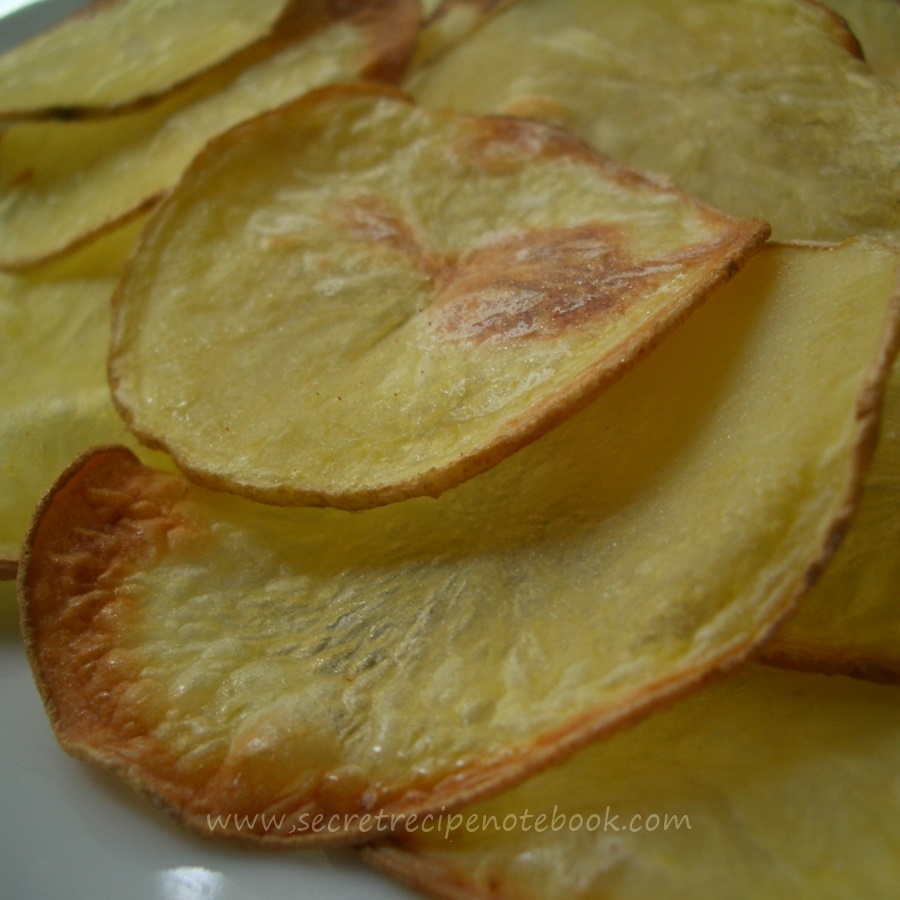 How to make homemade baked potato chips
It's so easy to make baked potato chips. First scrub potatoes, dry them then slice thinly to make crisp chips. This is the best done using mandolin slicer as this way you will get even slices. You can also do this with sharp knife on a cutting board - the result will be the same but you will need more time.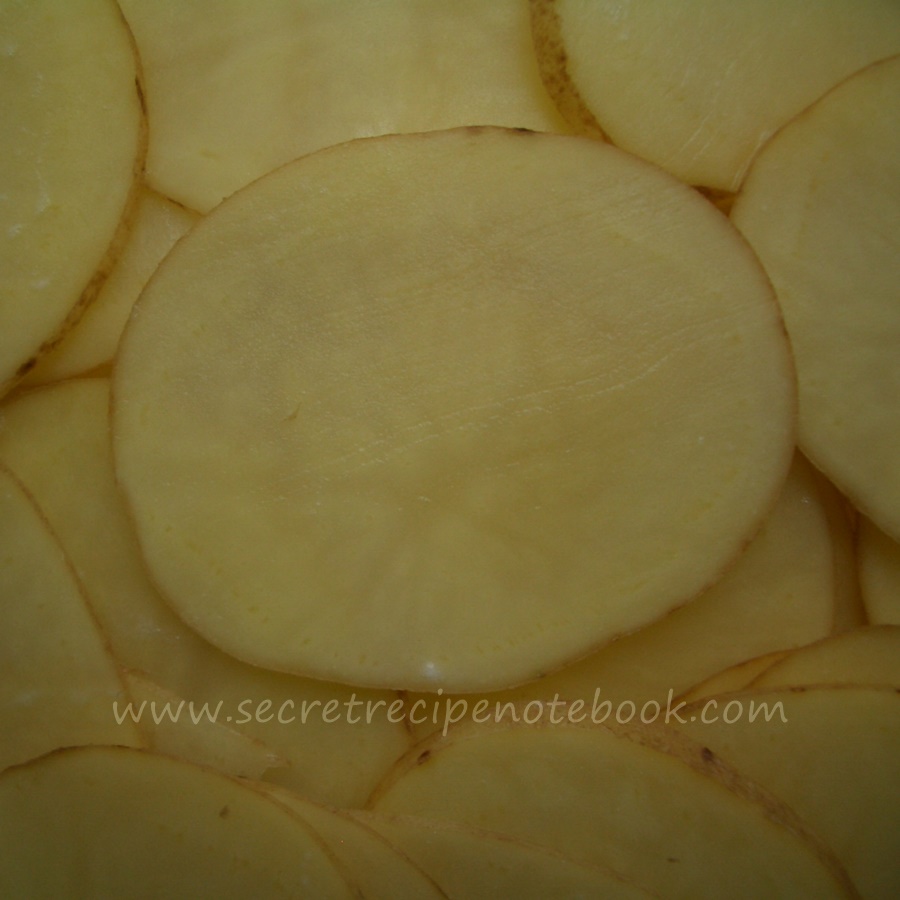 Once sliced, dry each slice with a kitchen paper to soak any moist from the surface. Arrange sliced in a single layer on a baking tray lined with baking paper. Leave space between each slice - this way they will bake better. Brush each slice just slightly with some olive oil and season with some coarse salt.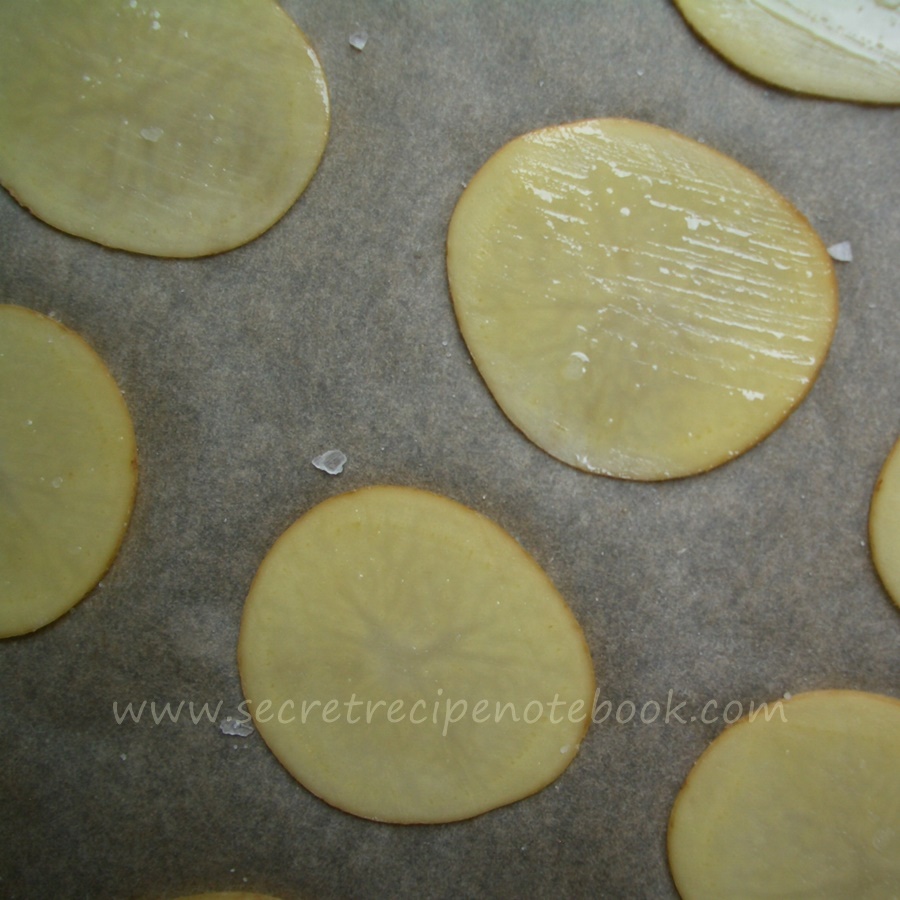 The best temperature for baking chips is around 190°C (374°F) - 200°C (392°F) depending on the oven. Try with these temperatures and check what works best for you. 
Bake for 10 minutes, then carefully remove from the oven and using tongs flip each one to other side and bake for another 5 - 6 minutes.

Keep an eye on the chips while baking as they bake fast towards the end. Watch them carefully as they tend to burn at the end. Remove any that are ready and leave the rest. Once baked, remove from the oven and let cook on the tray for 2 - 3 minutes.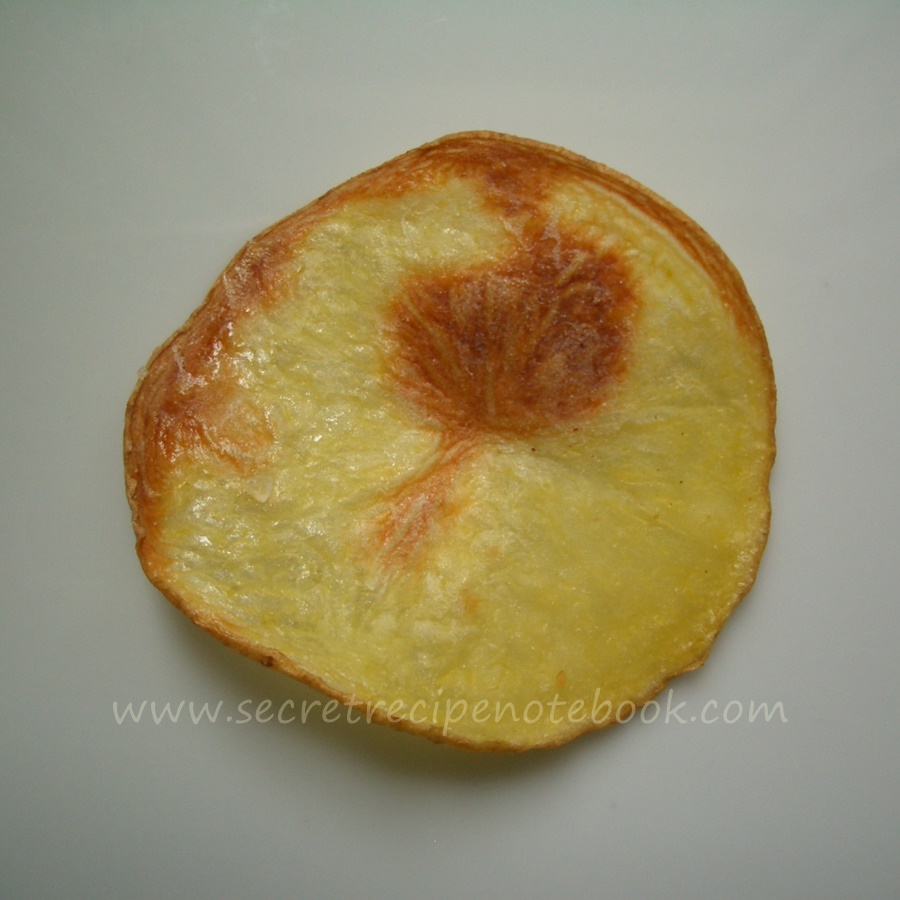 how to season baked potato chips
Spice the chips with any spice you fancy. Here are a few ideas:
Salt & pepper
Sweet or smoked paprika
Cayenne powder
Garlic powder or onion powder
Any other blend you like.
storing homemade baked potato chips
Baked potato chips are best eaten right away, but you can store it in a container for 1 - 2 weeks.


Looking for more snacks to try?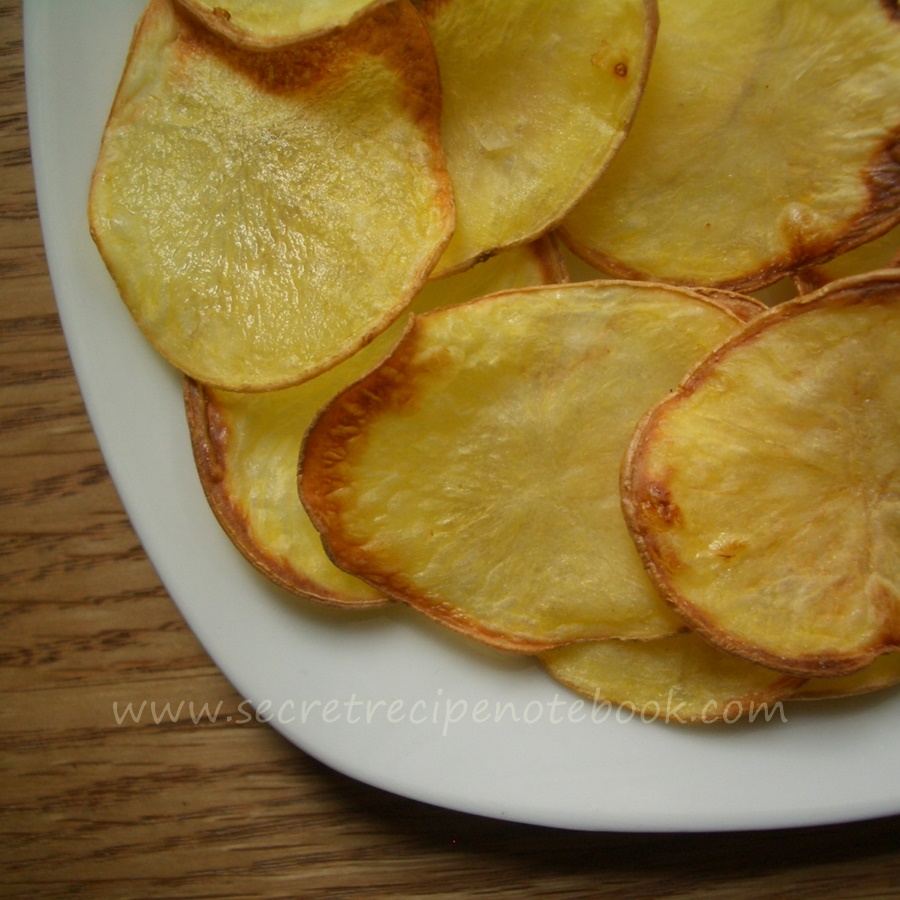 shop kitchen essentials for this recipe
Mandolin Slicer | Baking Tray | Baking Paper Sheets | Tongs | Serving Bowl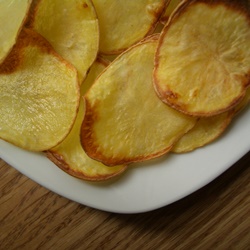 homemade Baked potato chips recipe
MAKES: 2 servings
COOKS IN: 30 Minutes
LEVEL: Easy
INGREDIENTS
400g potatoes (2 medium potatoes)
1 tablespoon olive oil
coarse salt or other spices for seasoning
METHOD
Preheat the oven to 200°C (392°F). Line a baking tray with baking paper.


Using a sharp knife or mandolin slicer, thinly slice the potatoes to about 1mm. Dry potatoes with paper towels to remove excess moisture.


Place potatoes on a baking tray and brush lightly slices on each side with olive oil. Potatoes should be placed in a single layer on the baking tray leaving some spaces between the slices. Sprinkle with some salt.


Bake in the oven for about 10 minutes. Turn each chips using a tongs and bake for another 6 - 8 minutes, keeping an eye on them so they don't overbake. Remove any that seems ready or about to burn. Once baked, remove from the oven and let cool for 2 - 3 minutes on the baking tray.