Homemade Sweet Potato Chips
homemade Sweet Potato chips
If you are looking for a healthy snacks these homemade sweet potato chips is an ideal choice. These veggie chips is oven-baked and so delicious!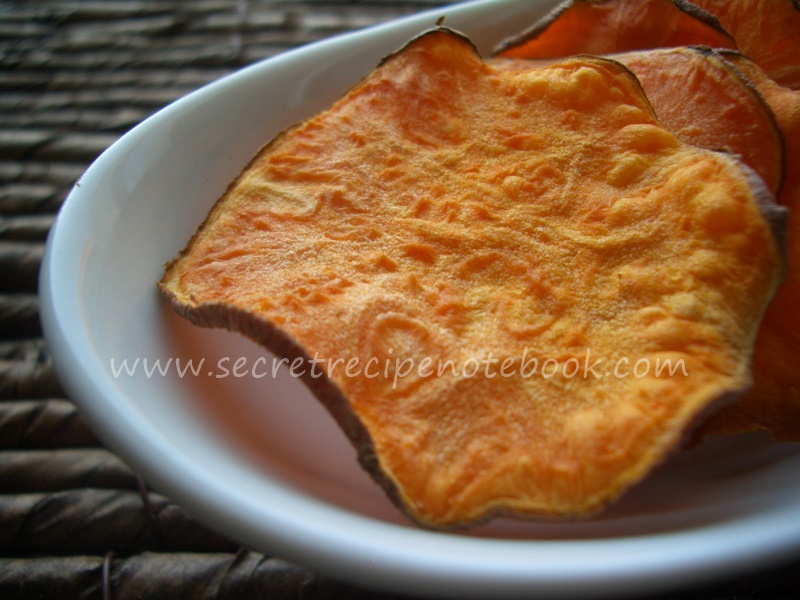 This is our most favorable vegetable chips ever. Baked sweet potato chips is super simple to make, requires only 3 ingredients and tastes better than store bought chips, because they're fresh.

Plus, making sweet potato chips at home allows you full control of chip thickness, fat content and seasoning. These chips are perfect alongside sandwiches, burgers or just on their own.
For more delicious flavours, bake your own potato chips you can nibble throughout the day. Don't skip also homemade carrot chips, sweet, colourful and adorable.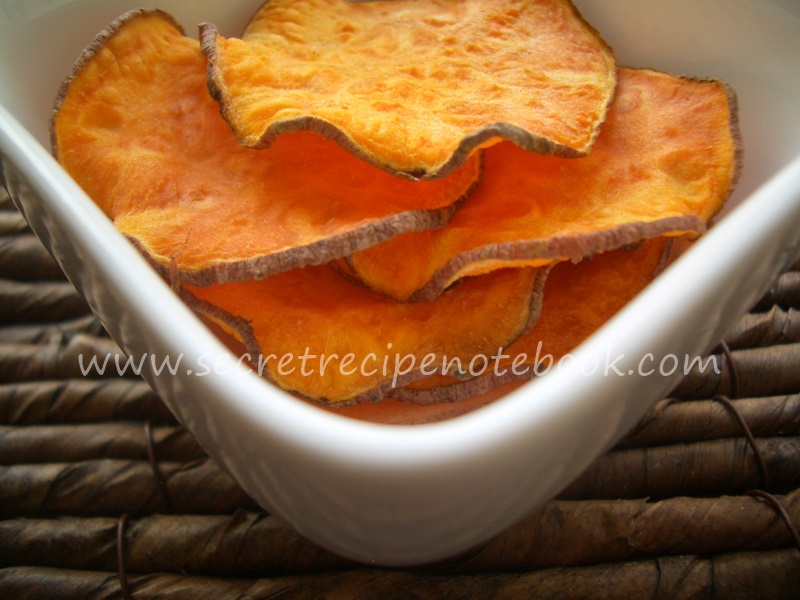 making these homemade sweet potato chips is so easy
Making these delicious chips is so easy, just follow our recipe and get a bunch of light and crispy snack ideal for nibbling throughout the day. Once baked you can enjoy these chips as a snack or serve along with your favourite dipping sauce. We are sure that your young once will be amazed with these healthy snack.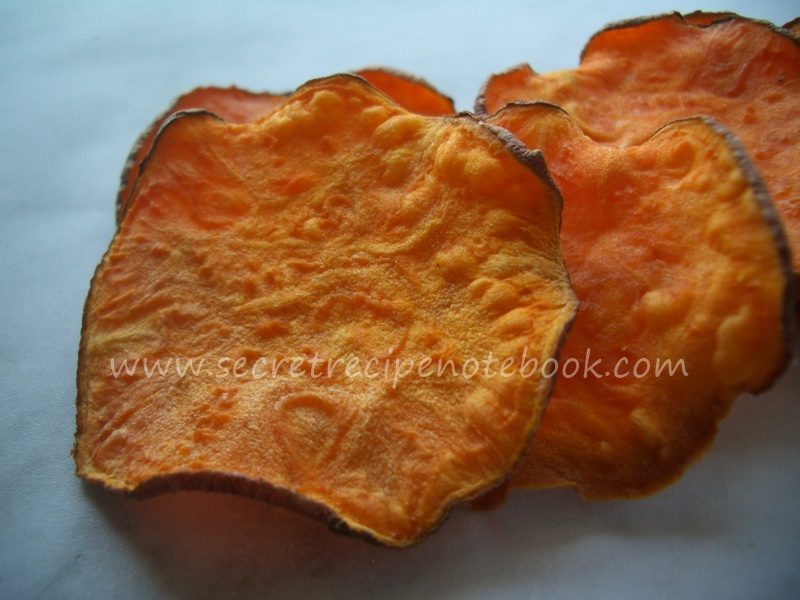 How to make homemade sweet potato chips
For this chips use organic sweet potatoes as you will leave the skin on. If you don't use organic one, be sure to peel off the skin. First rinse and dry sweet potatoes the slice it to 1mm using mandolin slicer into rounds. You can also use sharp knife but be sure to cut evenly the slices.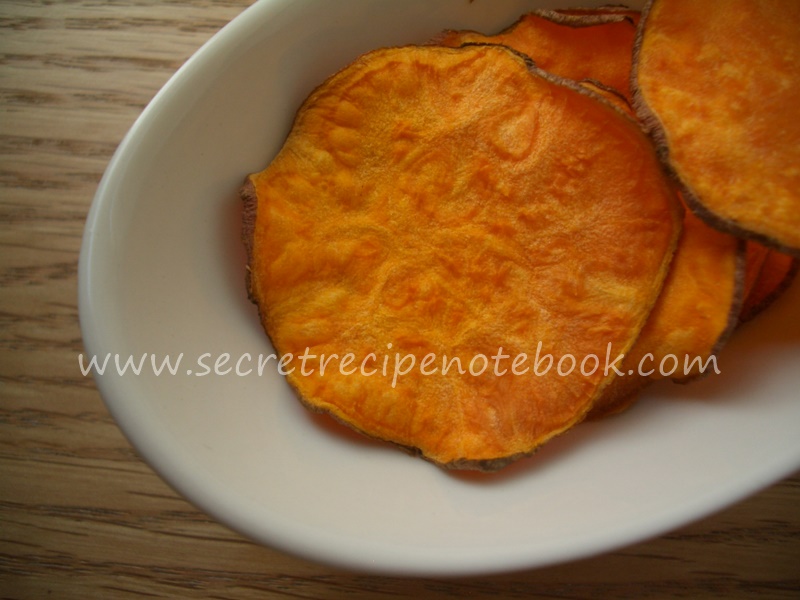 Spread the sweet potato slices on prepared baking tray in a single layer, leaving some space around each slice. When there are too many slices on the baking tray, the heat from the tray creates steam and chips will be tender instead of crisp. Brush gently each slice with olive oil and sprinkle with some salt.

The time of baking depends on thickness of the slices and the strength of your oven so you may need to bake them a couple of minutes more or less. In any case sweet potato chips go from perfect to burnt very quickly so watch them carefully while baking. Leave the chips on the tray for about 10 minutes - they will crisp up a little more as they cool.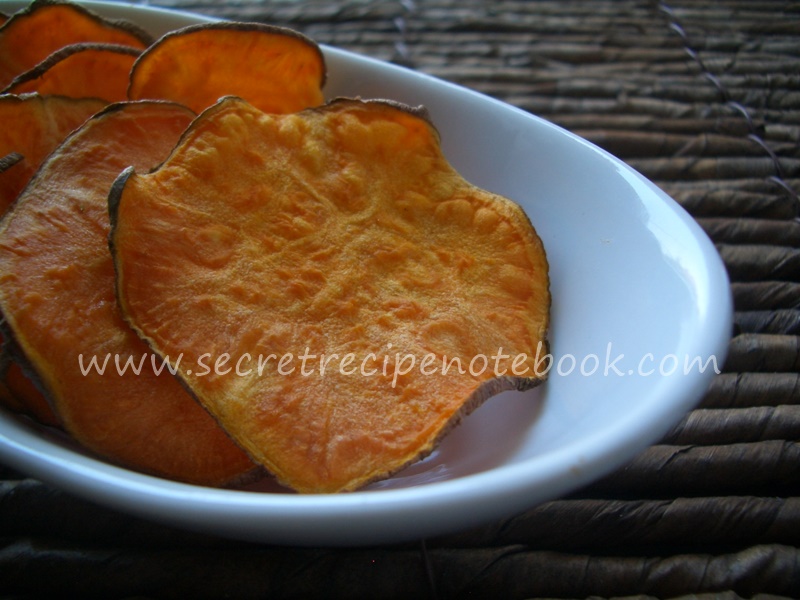 Storing homemade sweet potato chips
Sweet potato chips can last about 1 - 2 weeks in an airtight container.


More Delicious Snacks To Try: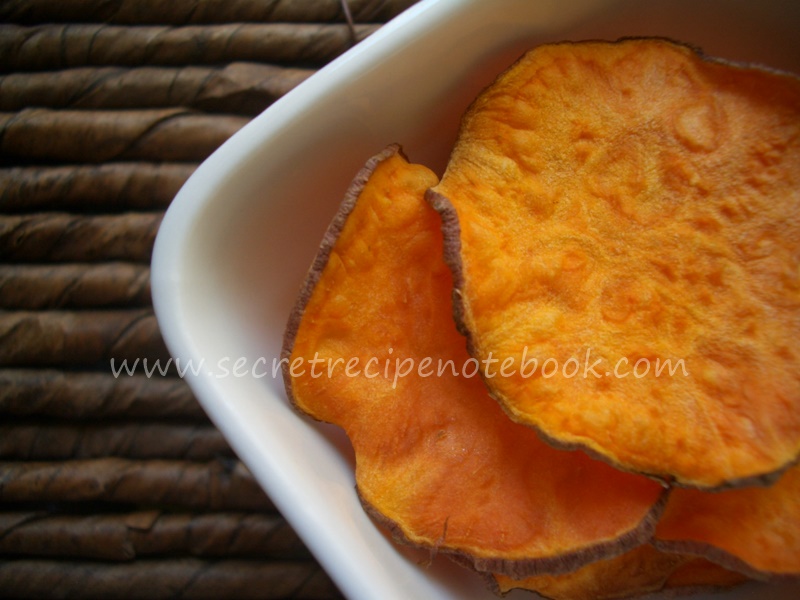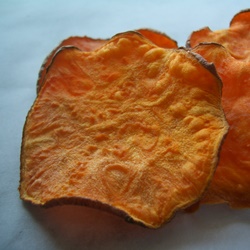 Homemade Sweet Potato Chips
Recipe
MAKES: 2 servings
COOKS IN: 40 Minutes
LEVEL: Easy
INGREDIENTS
300g organic sweet potato (1 medium-size sweet potato)
3 tablespoons olive oil
salt for seasoning (optional)
METHOD
Preheat the oven to 150°C. Line baking tray with baking paper and lightly brush with the olive oil.


Rinse and dry sweet potatoe and slice it thinly (around 1mm) using a mandolin slicer into rounds. You can also use a sharp knife, but it takes longer.


Lay the sweet potato slices on a prepared baking tray in a single layer. Brush gently each slice with olive oil. Sprinkle with salt if you wish.


Bake in the oven for 15 minutes then flip slices and rotate baking tray and continue to bake for another 5 - 7 minutes. Chips are ready when they are crisp and brown around the edges. Remove from the oven and cool for 10 minutes on the baking tray. If you find a few chips with soft centers, place them back in the oven for about 5 minutes. Then move the chips to a bowl or plastic bag to store. 


© Secret Recipe Notebook owns the copyright on all images and text and does not allow for its original recipes and pictures to be reproduced anywhere other than at this site unless authorization is given.