Homemade Sweet Potato Chips
These orange coloured veggie chips are among our favourite healthy snacks. Super simple to make, requires only 3 ingredients and tastes better than store bought snacks, because they're fresh.

Serve them alongside your favourite sandwich, juicy burger or just nibble on their own. Both kids and adults adore these crunchy bright orange snack.

Why not to try our crispy baked carrot chips, another healthy snack.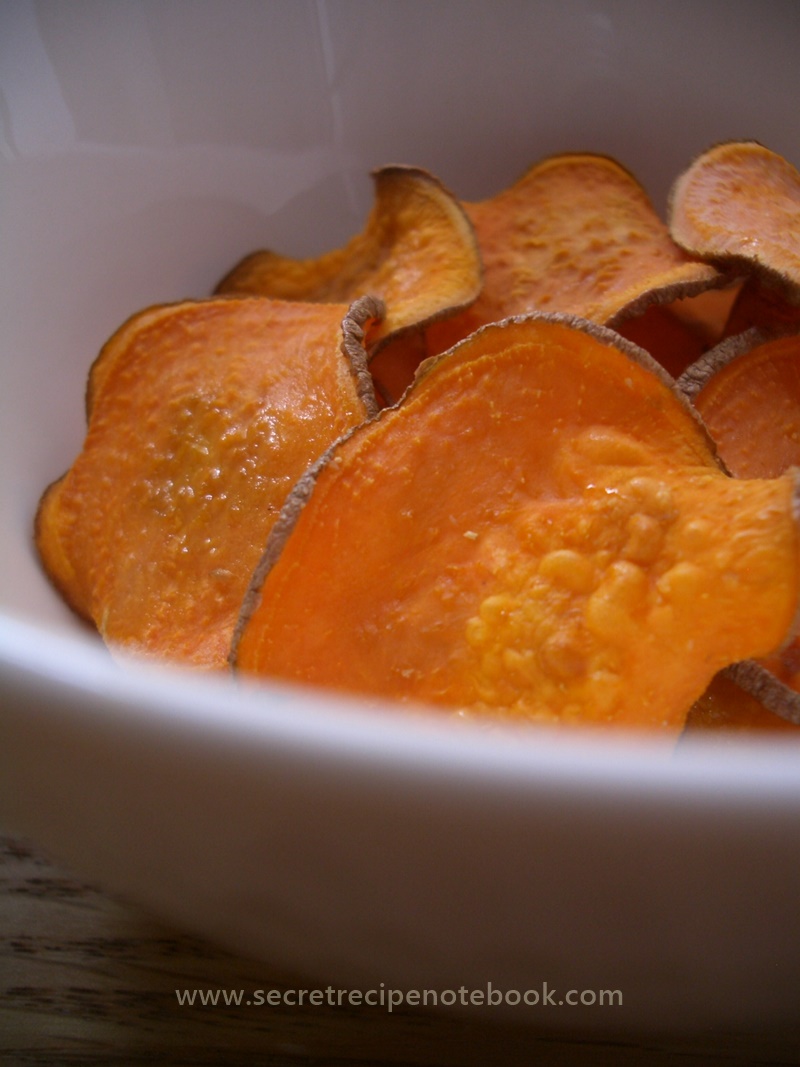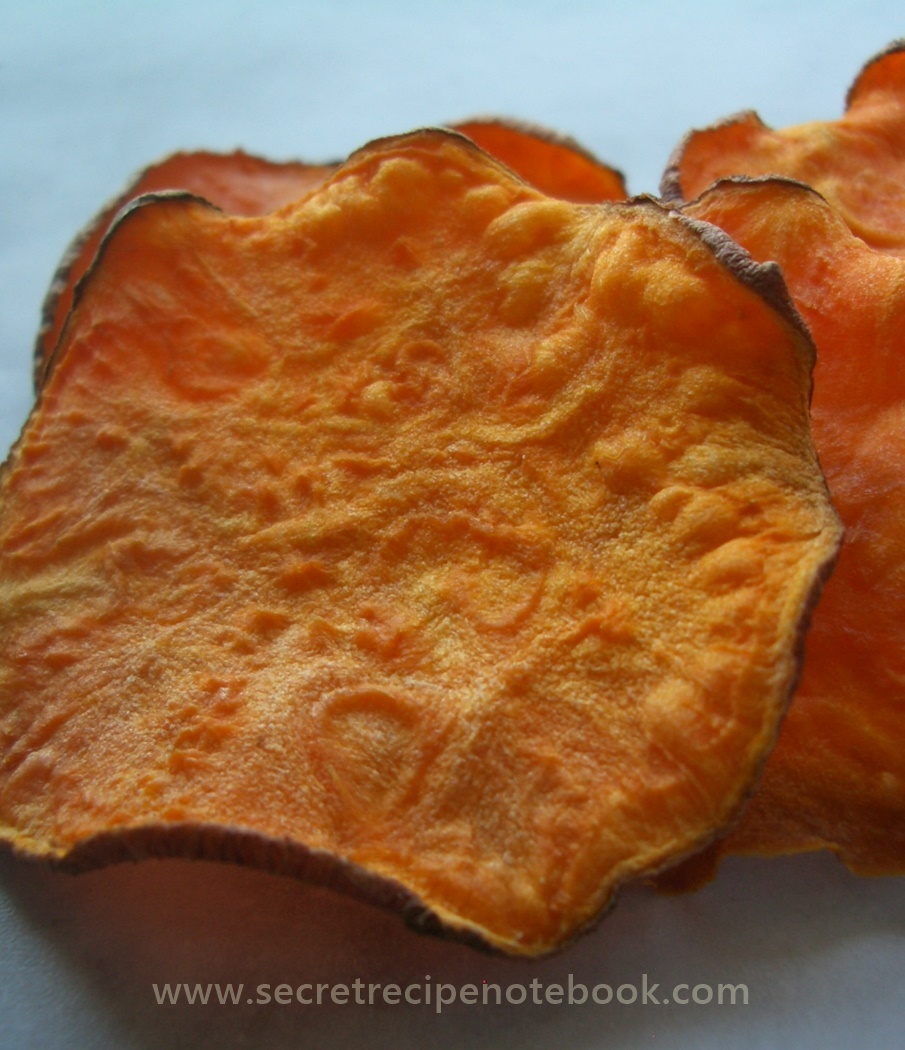 This webpage contains affiliate links. Please read our disclosure policy.

Ingredients you'll need
SWEET POTATOES: Use ORGANIC SWEET POTATOES as you will leave the skin on. If you don't use organic one, be sure to peel off the skin.

OLIVE OIL: We use the oil for lightly brushing the slices.

FINE SALT: To balance the sweet flavour of sweet potatoes.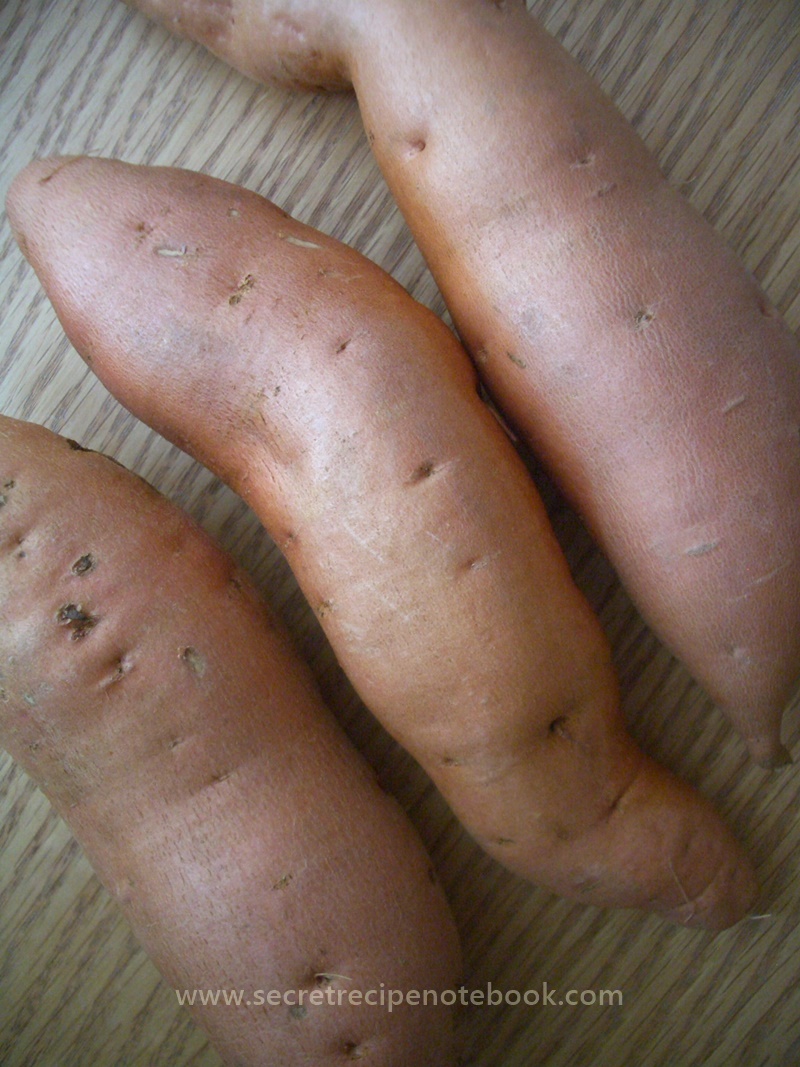 More tasty recipes
you'll love:
How to make sweet potato chips
Making the chips is easy. For slicing it's the best to use a mandolin slicer. It does the job quickly and you get even slices, which is important while baking (they don't burn on the edges).
So, start with slicing the sweet potatoes on 1mm thick slices. 


Arrange slices on the baking sheet (lined with baking paper) in a single layer, leaving some space around each slice. Don't overcrowd the sheet as the heat creates steam and chips will be tender instead of crisp.


Brush gently each slice with some olive oil and sprinkle with a touch of salt.


Bake in the preheated oven for 15 minutes, then flip each slice (using kitchen tongs or two small spoons) and bake for another 6-7 minutes. The time of baking depends on thickness of the slices and the strength of your oven so you may need to bake them a couple of minutes more or less. In any case sweet potato chips go from perfect to burnt very quickly so watch them carefully while baking.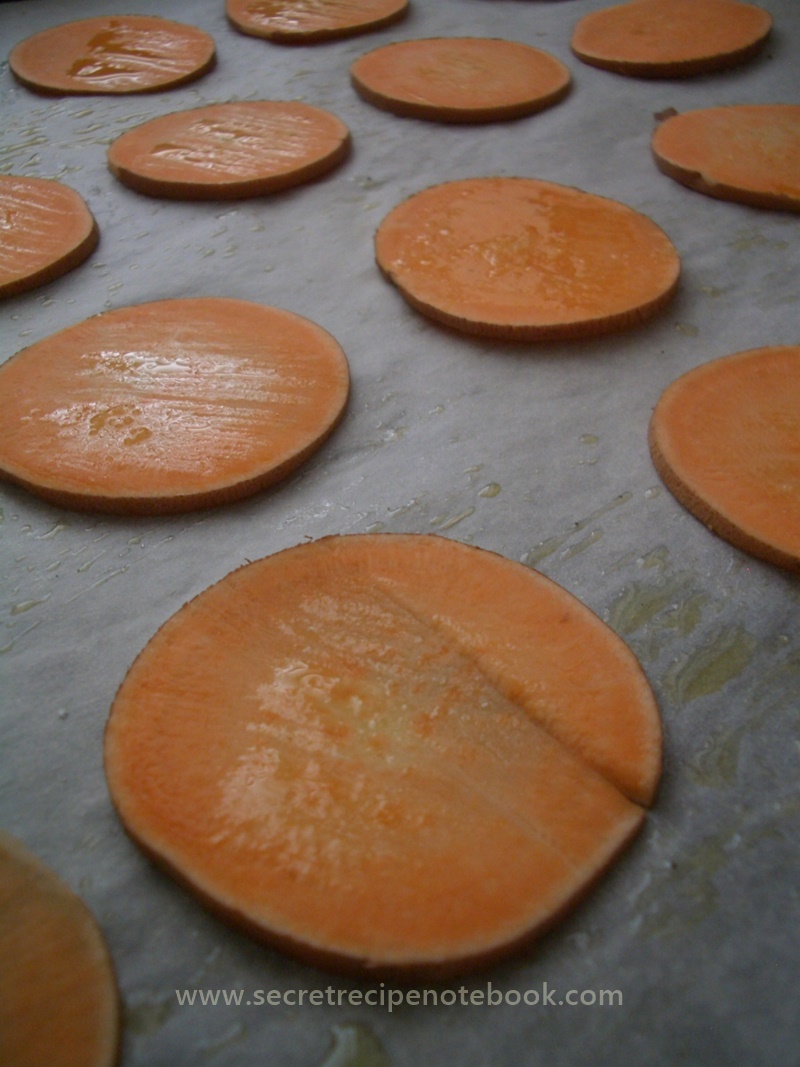 Once baked, leave the chips on the sheet for about 10 minutes, they'll crisp up a little more as they cool. At this stage, you can season the chips with your favourite spice or herb. We love to sprinkle with some dried oregano or with garlic granules!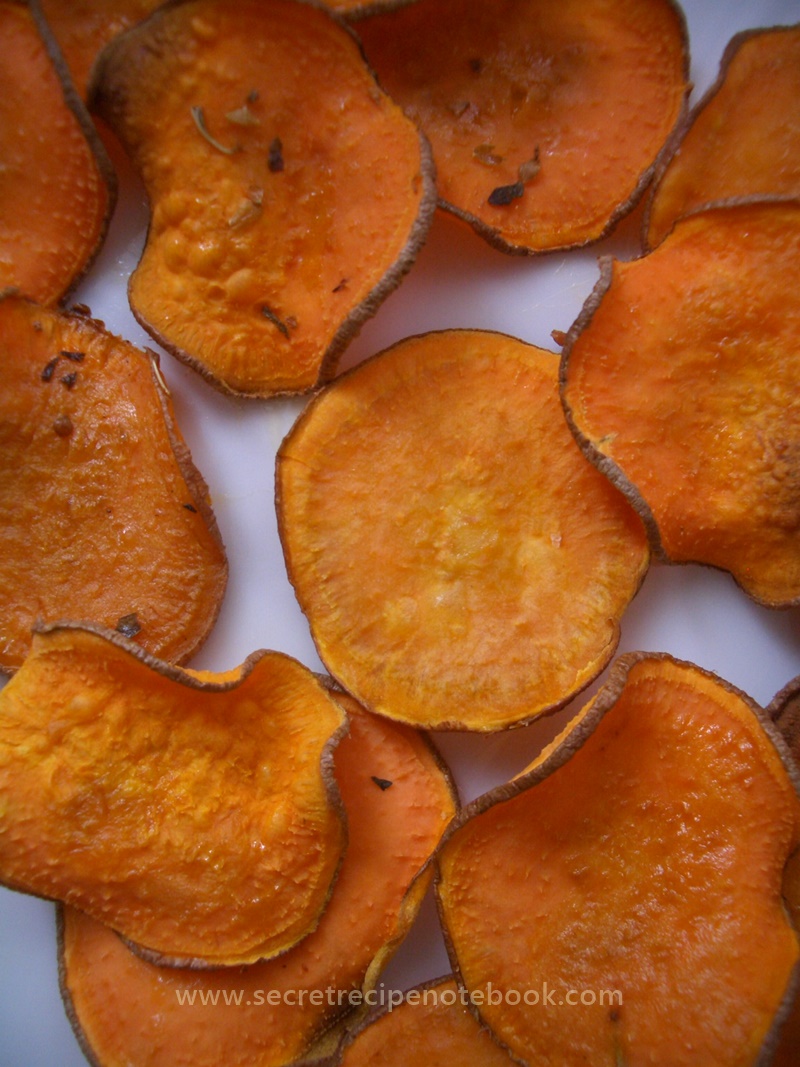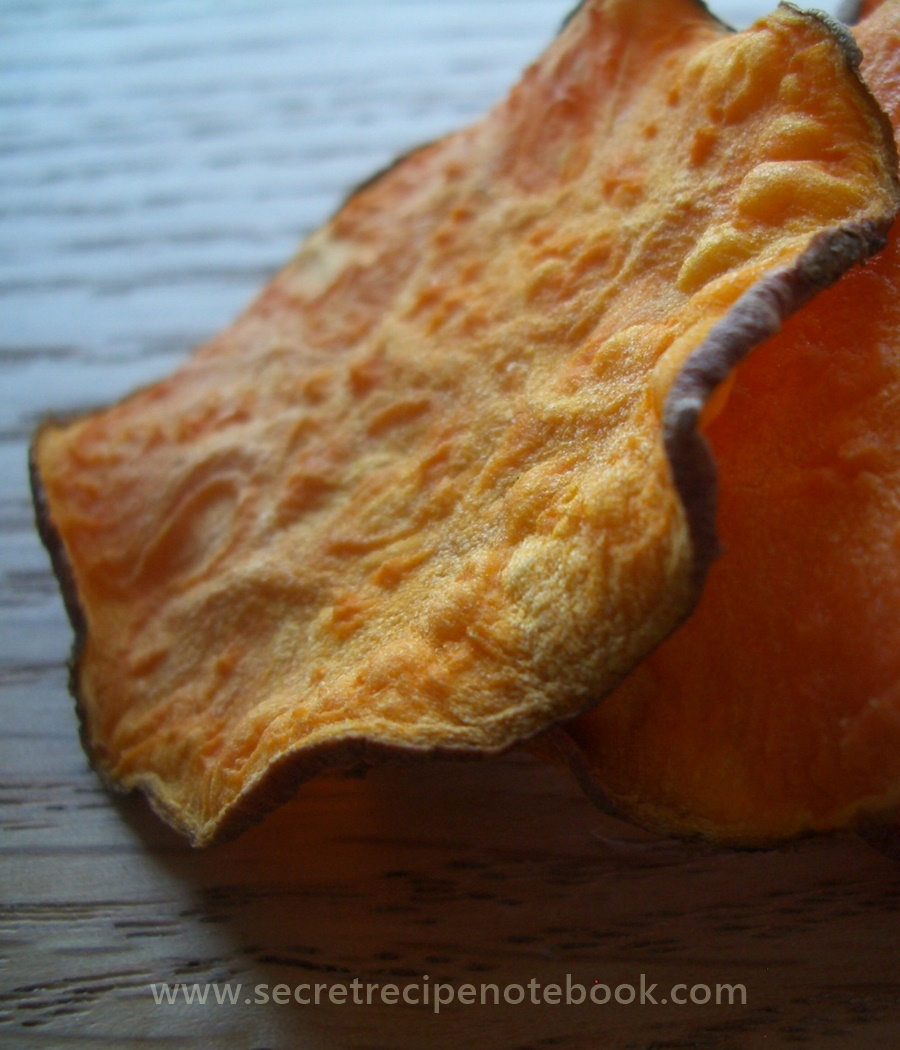 Storing homemade sweet potato chips
Sweet potato chips can last for about 1 week in an airtight container or a tightly seeled plastic bag. Your homemade potato chips will look great served in these pretty white bowls made of durable porcelain.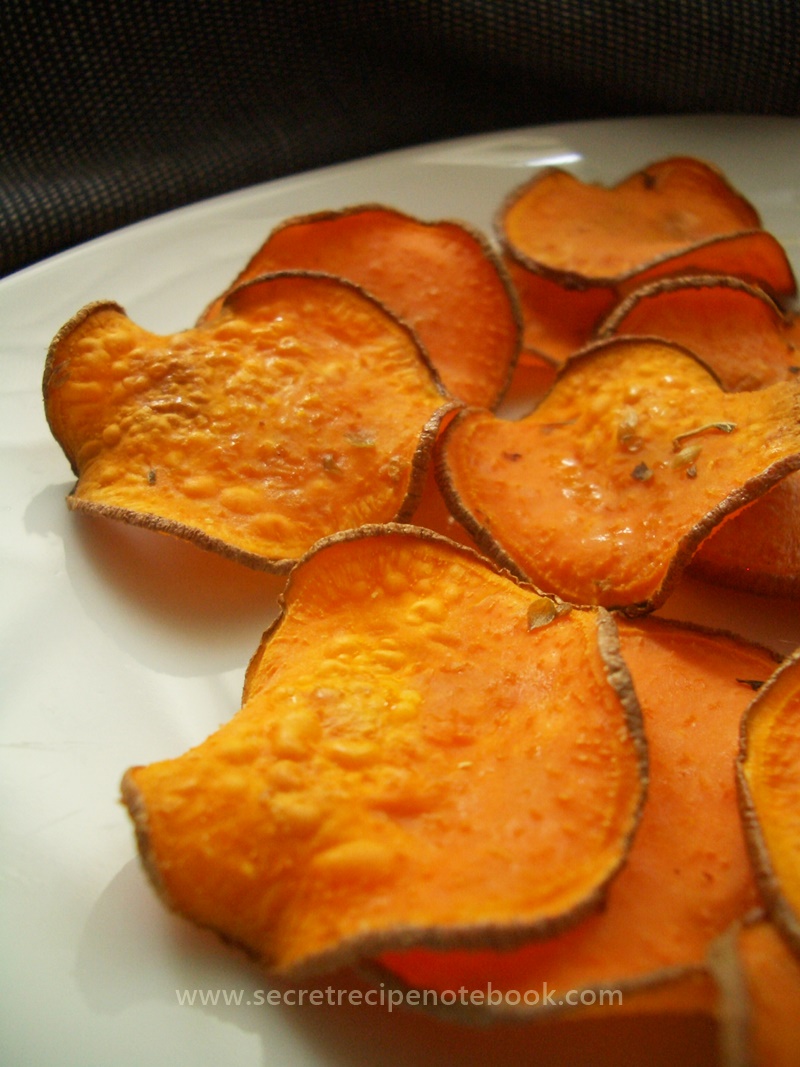 A few of our favourite snack recipes:
Homemade Sweet Potato Chips

MAKES: 4 servings
COOKS IN: 1 hour 20 minutes
LEVEL: Easy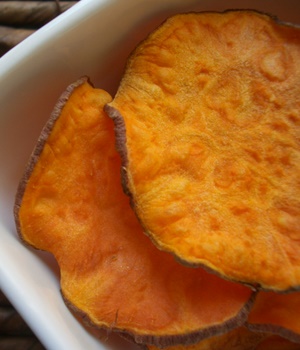 HANDY KITCHEN TOOLS:
INGREDIENTS
METHOD
Preheat the oven to 160°C/320°F and line

2 

baking sheets with baking paper.


Rinse and dry sweet potatoes, then using a mandolin slicer slice them into very thin slices (around 1mm).


Lay the sweet potato slices on a prepared baking sheet in a single layer. Brush gently each slice with olive oil and sprinkle with salt.


Bake in the oven for 15 minutes then flip slices and continue to bake for another 6-7 minutes. Remove from the oven and cool for 10 minutes on the baking sheet. If you find a few chips with soft centers, place them back in the oven for about 5 minutes. Then transfer the chips to a serving bowl.


CATEGORIES: Snacks & Nibbles, Sweet Potato
We are a participant in the Amazon Services LLC Associates Program, an affiliate advertising program designed to provide a means for us to earn fees by linking to Amazon.com and affiliated sites.