This webpage contains affiliate links. Please view our disclosure policy for more details.

SIDE DISHES | SWEET POTATOES | ROSEMARY
Rosemary Paprika Sweet Potato Wedges
These baked sweet potato wedges spiced with sweet paprika and fresh rosemary leaves are a great snack or side-dish.

With only a few ingredients you will get simple and healthy meal you can nibble on its own or serve along juicy burger or your favourite homemade sandwich (the same as our baked garlic potato wedges).
And the most important, they are so easy and quick to make. The assembly takes only 10 minutes. Let's check how to easily make these simple nibbles.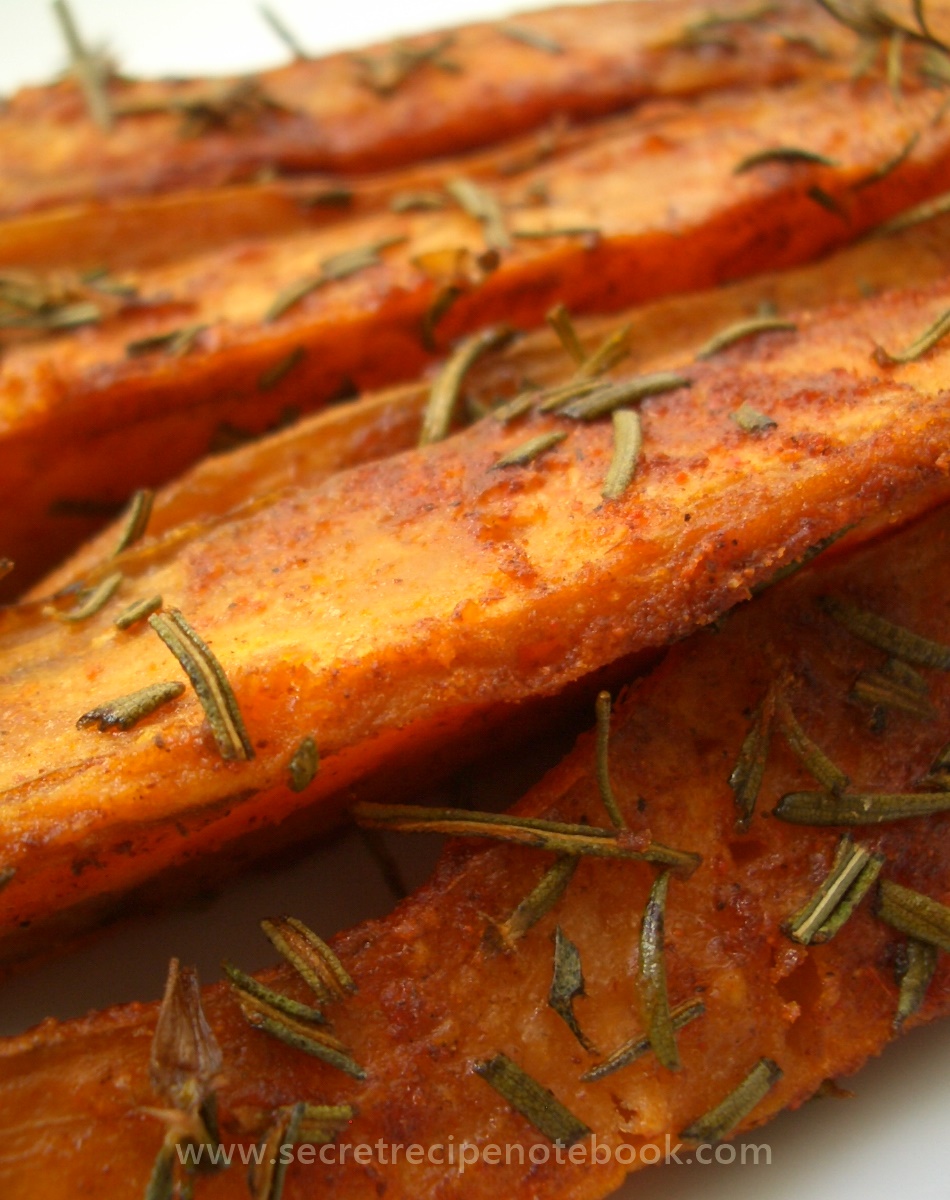 More snack recipes you'll want to try:
How to make rosemary paprika sweet potato wedges
Making these delicious snack is so easy and quick. Just prepare one bowl, cutting board, sharp knife and baking sheet. That's all you need!
First wash sweet potatoes (and peel off the skin if using non-organic sweet potatoes). Cut them into wedges of the same size - around 1-1.5cm thick.


Place wedges into a bowl then add olive oil and sprinkle with cornstarch and ground sweet paprika, rosemary leaves and bake in the oven for about 15-20 minutes until they are crisp from outside. Your healthy and delicious snack is ready!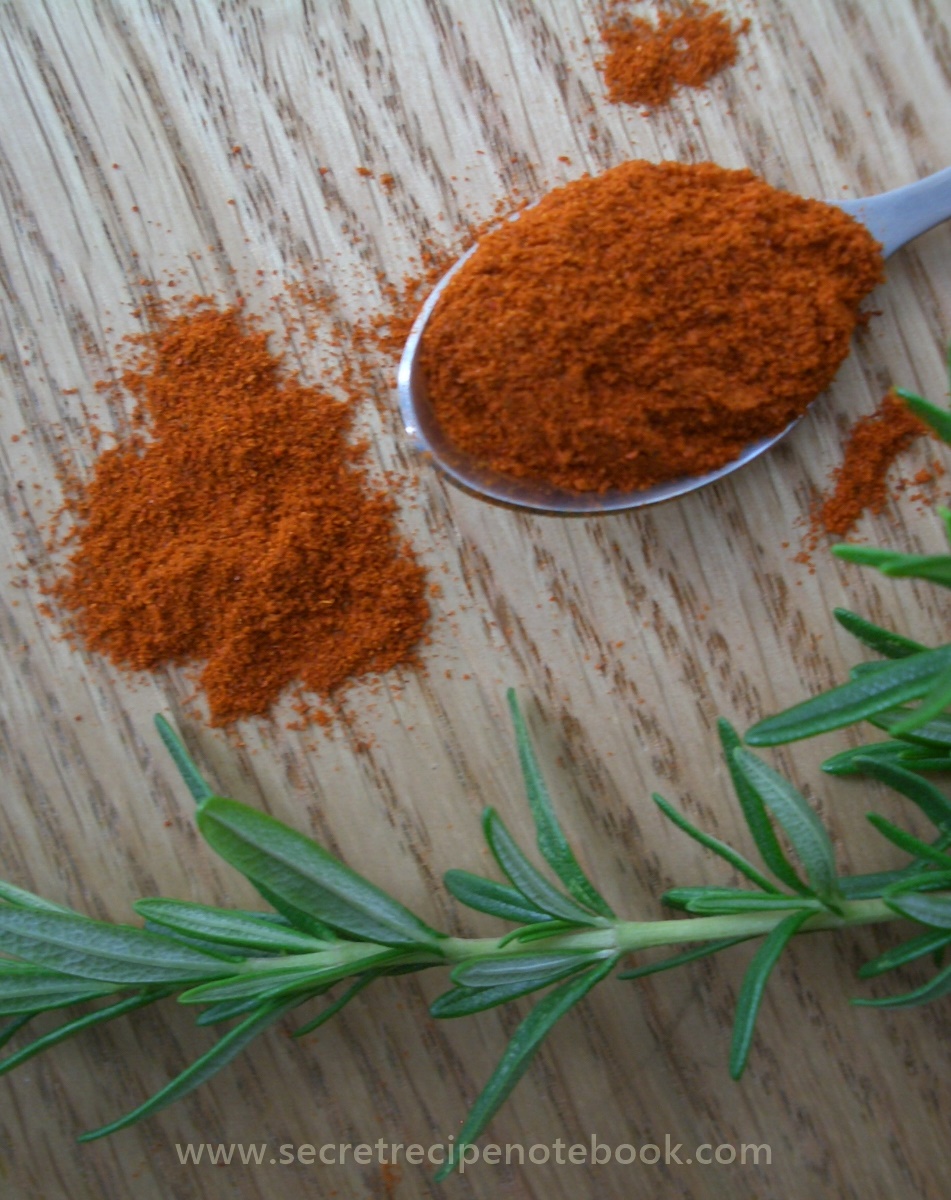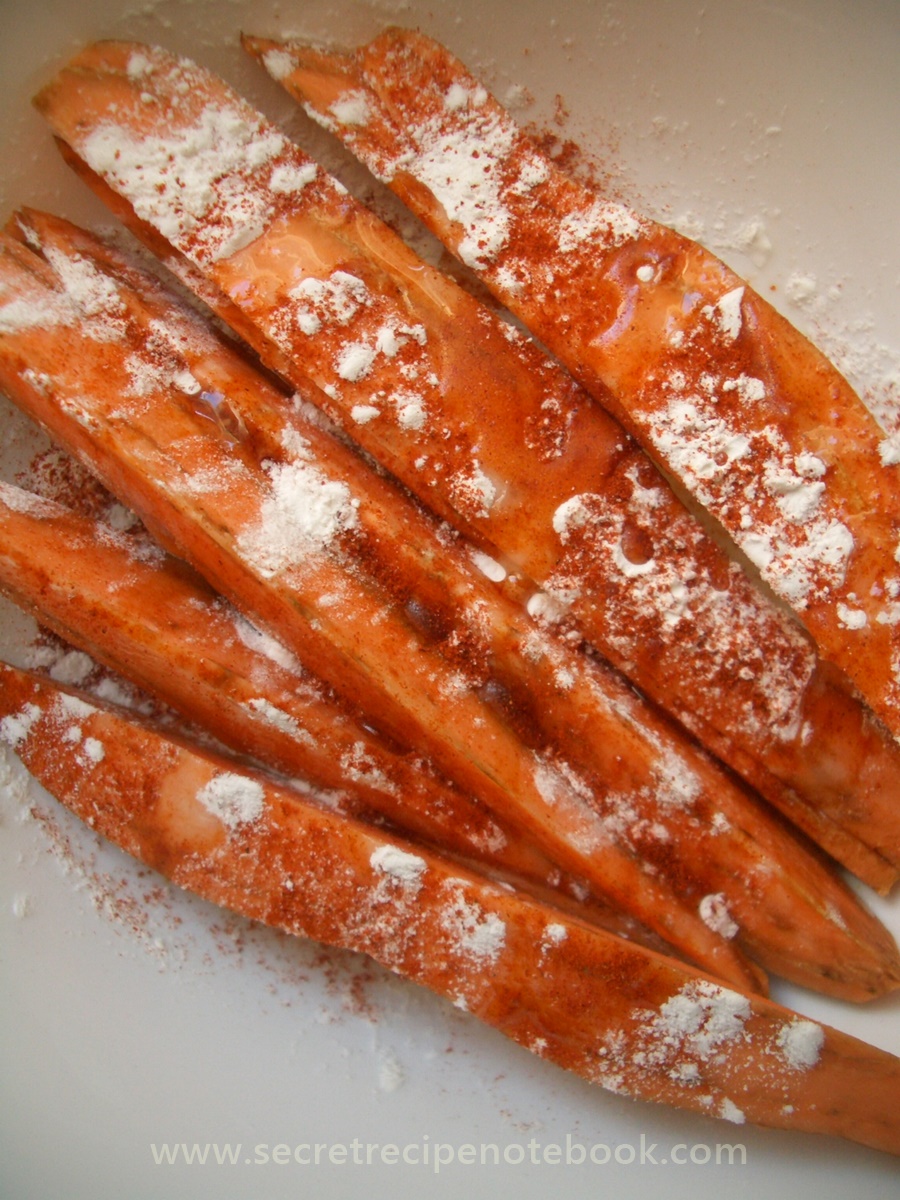 Useful tips
For this recipe choose organic sweet potatoes so you don't have to peel off the skin. Also, look for sweet potatoes with minimal curves which make them easier to cut into wedges.


To make sweet potato wedges, cut the potato into half lengthways and then cut each half again and finally cut each piece in half again (you will get 8 wedges from 1 sweet potato). If they are large, cut them in half in the middle to make them smaller.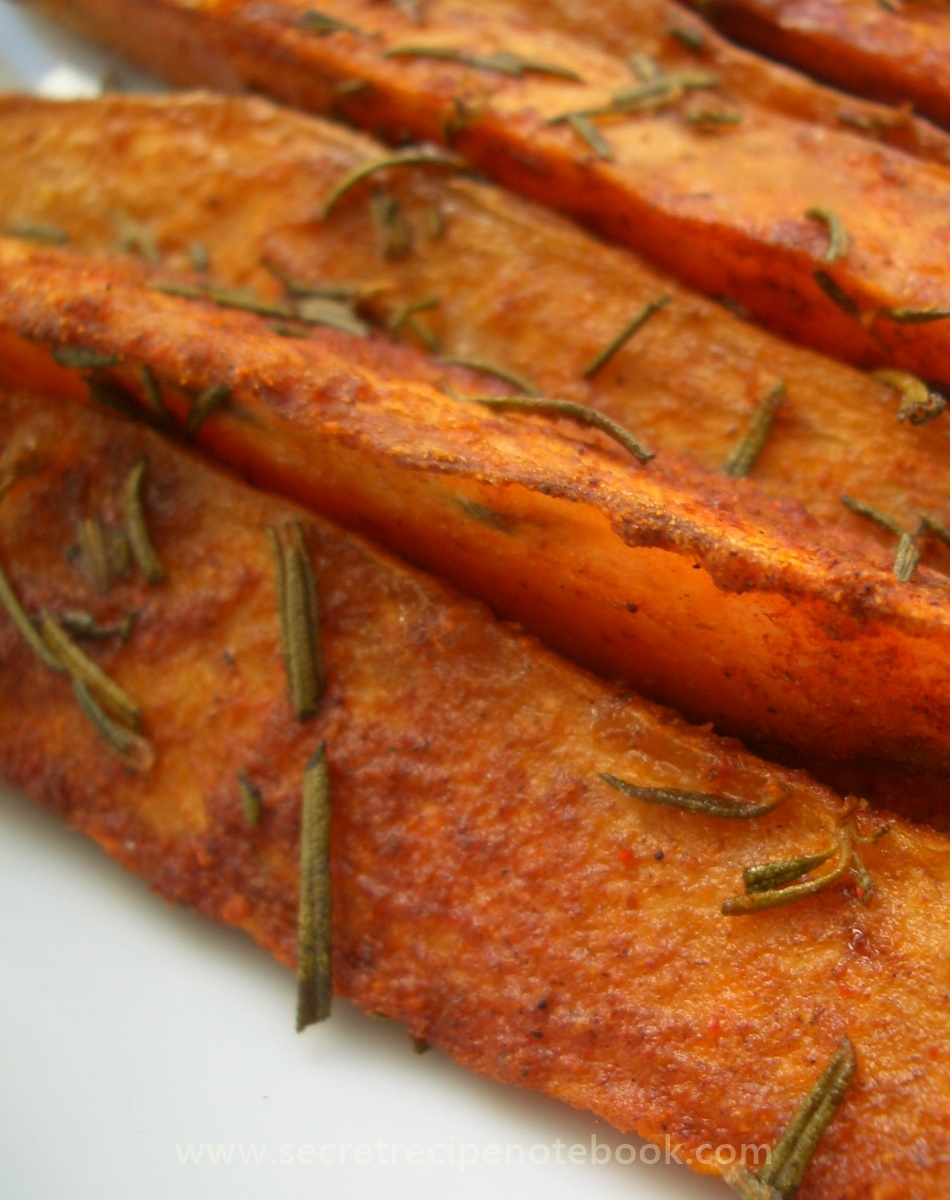 Seasoning options for sweet potato wedges
These combination of sweet paprika and fresh rosemary leaves are just great but you can play with the flavours. Swap sweet paprika with smoked or hot paprika or make a twist and use ground garlic, ginger or cayenne pepper.

Instead of fresh rosemary, use other fresh or dried herbs like thyme, basil, oregano and others. The combination are endless here!


Looking for more snacks? Check these out: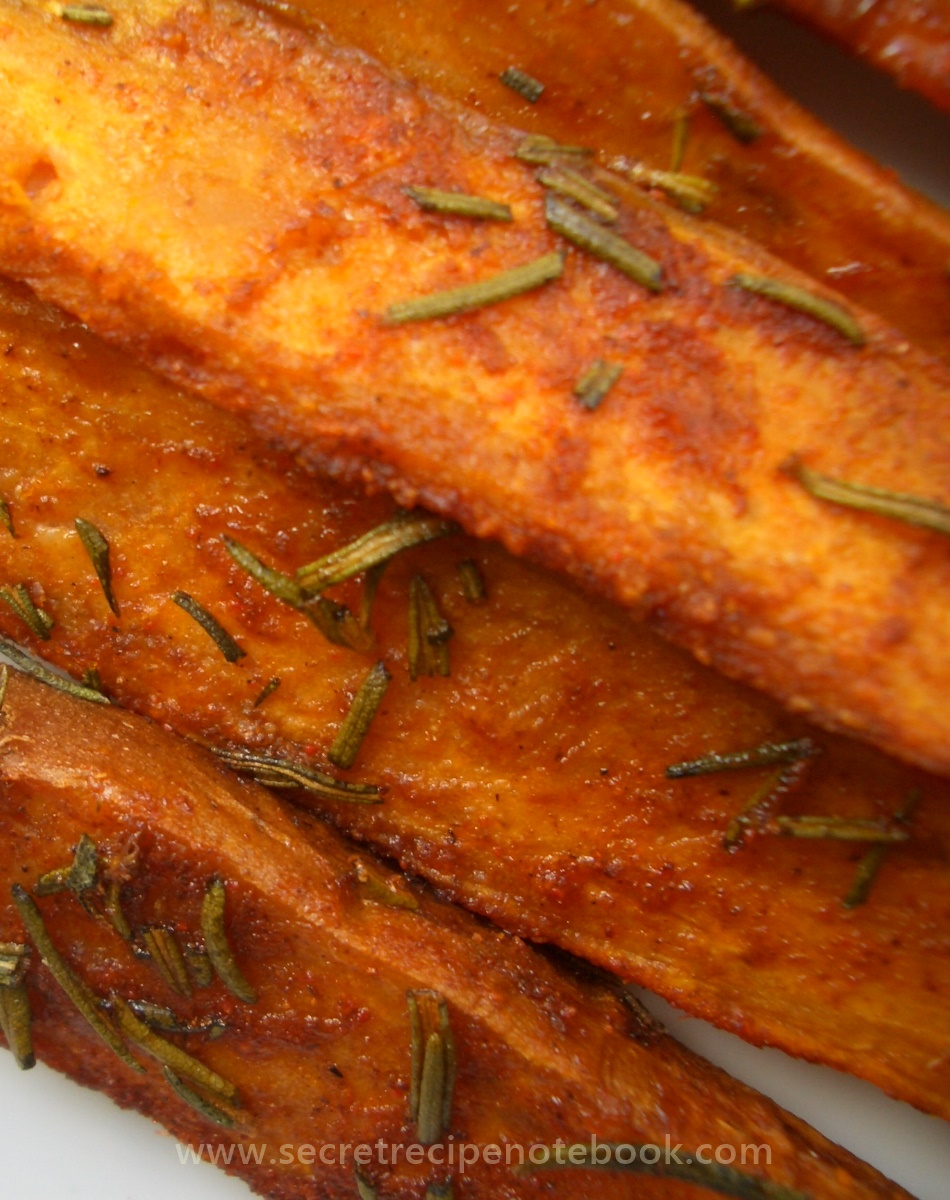 Rosemary Paprika Sweet Potato Wedges

MAKES: 4 servings
COOKS IN: 40 minutes
LEVEL: Easy
INGREDIENTS
Kitchen essentials for this recipe:
Wooden Cutting Board | Kitchen Knife | Large Bowl | Measuring Spoons | Baking Sheet | Baking Paper
METHOD
Preheat the oven to 220°C/

428°F and cover the

baking sheet

with baking paper.





Wash sweet potatoes under running water and peel off the skin if you are using non-organic sweet potatoes. Cut each sweet potato into wedges on a 

cutting board

. First

 cut into half, then each half again into half and continue until your wedges are evenly sized, about 1-1.5 cm thick.





Place the sweet potato wedges in a

large bowl

, then pour olive oil over and sprinkle with cornstarch and sweet paprika. Mix well making sure each wedge is covered into oil and spices.





Arrange the sweet potato wedges in a single layer on

baking sheet

leaving some space between each. Sprinkle over with finely chopped rosemary leave and season with some salt

.



Bake for 15-20 minutes or until crisp from outside and soft in the centre. Turn off the oven and leave the door open allowing the wedges to dry out slightly for about 5 minutes.




We recommend using the measurement in grams & ml (instead of cups & spoons) for more accuracy and better results.
Rosemary Paprika Sweet Potato Wedges