Herb Roasted Sweet Potato Wedges
These baked sweet potato wedges are so soft and super delicious, you'll won't be able to stop eating them. Seasoned with aromatic Italian herb seasoning and spiced with warm allspice, they bring amazing flavour. Plus, these are super quick - done in only 20 minutes.

They are sure to be a hit with the whole family. Eat them on their own with your favourite dip, or serve with a juice burger or homemade ham&cheese sandwich. We love to eat them with our orange maple glazed chicken drumsticks.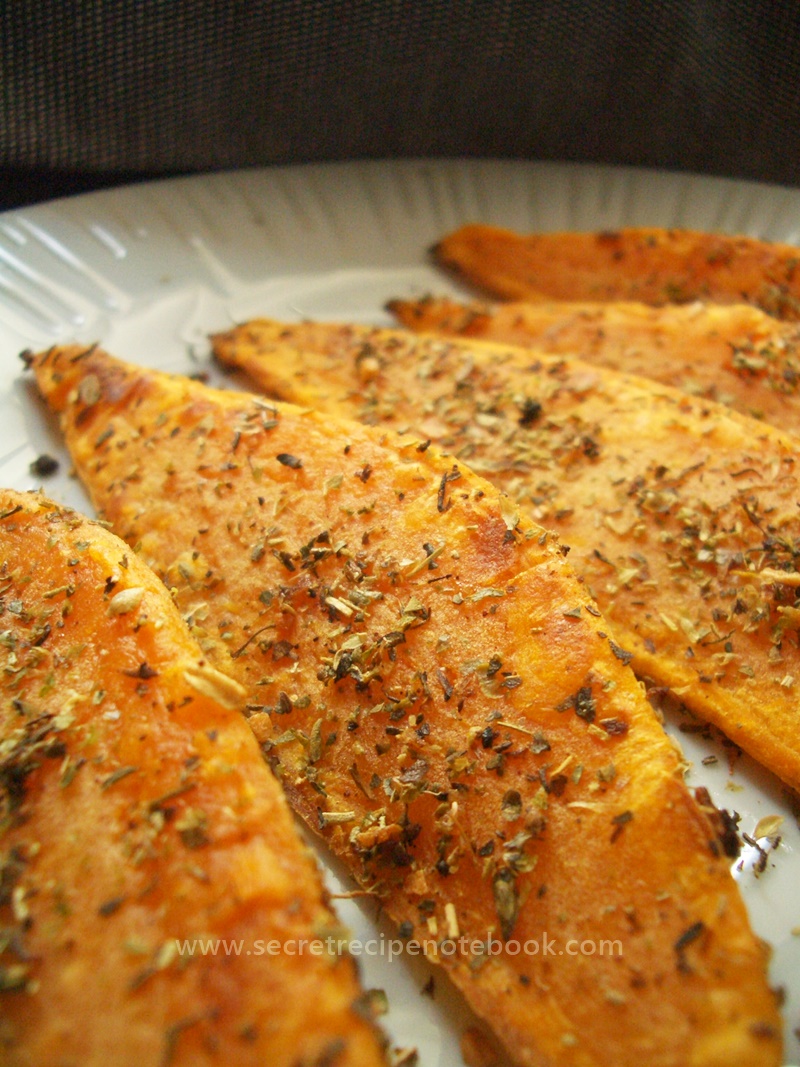 This webpage contains affiliate links. Please read our disclosure policy.

Slicing the sweet potatoes
First, pick up your sweet potatoes. You'll need 3 medium sweet potatoes (250-300g each). Look for sweet potatoes with a reddish skin that's smooth and firm. Start with rinsing them and peeling off the skin. If using organic one, you can leave the skin. 

Prepare the wooden cutting board and a really sharp knife. Cut each sweet potato in half lengthwise. Then, cut each half into half. Finally, cut each quater into thin wedges (about 1cm thick) to ensure that each one is well seasoned with herbs and spice.


More tasty recipes
you'll love:
Seasoning the wedges
These easy sweet potato wedges are so delicious thanks to the seasoning. We'll be using Italian seasoning here, which is a mix of dried herbs (usually containing basil, oregano, thyme and rosemary).

This mix can be purchased in a regular store these days. If you don't have Italian seasoning, you can use any combination of herbs you have on hand.

Plus, we added a dash of ground allspice, another mix, this time mix of spices with warm winter notes. A sprinkle of fine sea salt, once wedges are baked will round the flavour.

Once you have ready the wedges, place them into a large bowl. Sprinkle allspice and Italian herbs mix over them, then pour the olive oil over. Stir using your hands until wedges are evenly coated. Our wedges are ready to be baked!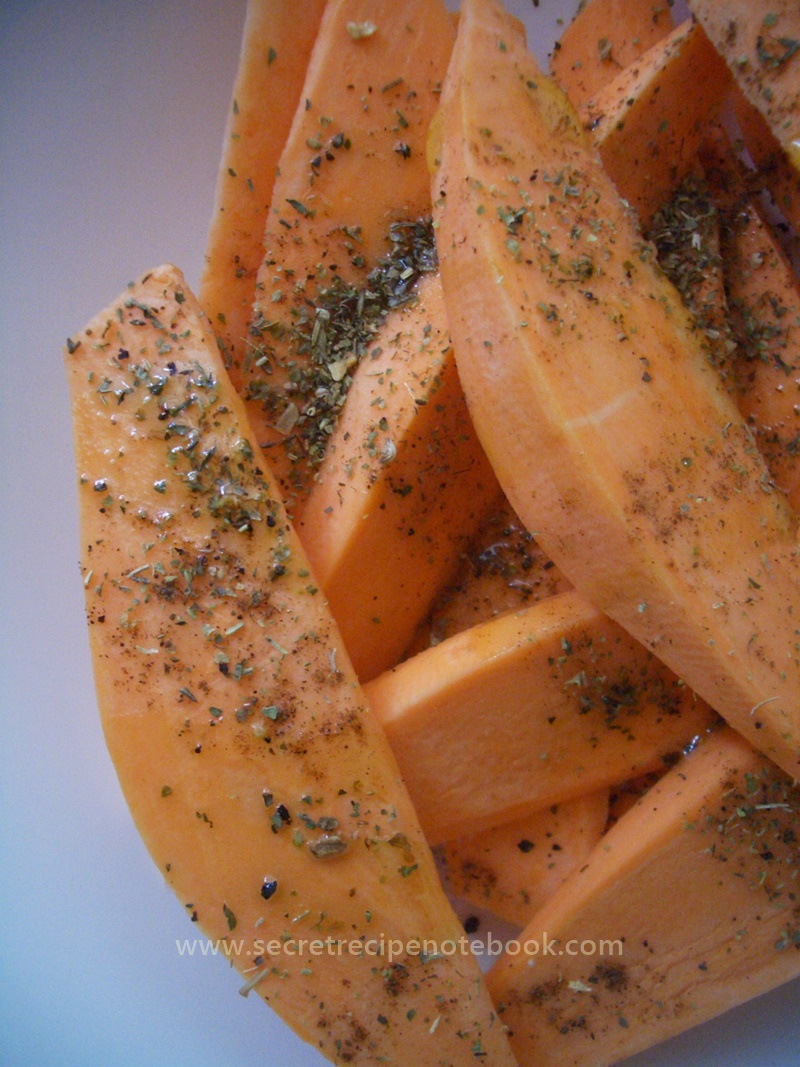 Baking the wedges
These wedges are baked in only 15 minutes. Arrange them on the baking sheet (lined with baking paper) in one layer. Bake for 10 minutes, then flip over each wedge and continue to bake for another 5 minutes. The aromatic scent will fill your kitchen while these simple snack is baked!
Once they are golden and soft, remove them from the oven, transfer to a plate.
And to balance out the sweet, we love to sprinkle them with a little bit of sea salt all over them! Enjoy!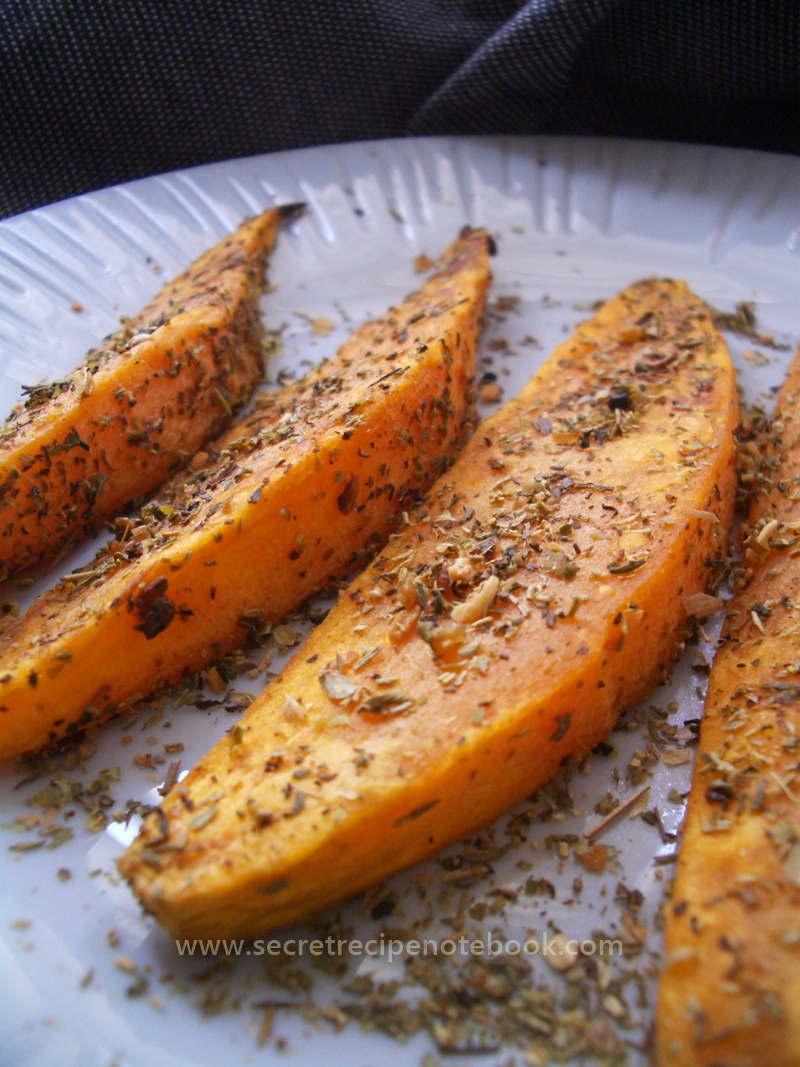 A few of our favourite side-dish recipes:
Herb Roasted Sweet Potato Wedges
MAKES: 4 servings
COOKS IN: 35 minutes
LEVEL: Easy
INGREDIENTS
3 medium sweet potatoes (800g, 1.8 pounds)
30ml olive oil (2 tablespoons)
3 teaspoons Italian herb seasoning
1/2 teaspoon ground allspice
fine salt, for seasoning
METHOD:
Preheat the oven to 220°C (428°F) and cover the baking sheet with baking paper.


Wash sweet potatoes under running water and peel off the skin if you are using non-organic sweet potatoes. Cut each sweet potato into wedges on a cutting board. First cut into half, then each half again into half and continue until your wedges are evenly sized, about 1-1.5 cm thick.


Place the sweet potato wedges in a large bowl, then sprinkle with allspice and Italian herbs. Pour over the olive oil then toss everything making sure each wedge is cover into the oil, herbs and spice.


Arrange the sweet potato wedges in a single layer on baking sheet leaving some space between each. You will need to do this in 2 batches.


Bake for 10 minutes, then flip each wedge and bake for another 4-5 minutes. They should be brown and soft in the centre. Remove them to a serving platter and sprinkle with some fine salt.


CATEGORIES: Snack & Nibbles, Side-Dishes, Sweet Potato

We are a participant in the Amazon Services LLC Associates Program, an affiliate advertising program designed to provide a means for us to earn fees by linking to Amazon.com and affiliated sites.