Spice Maple Glazed
Chicken Drumsticks
These roasted drumsticks are coated in a maple and orange glaze. Easy to make and budget-friendly! These make a great midweek lunch or even weekend dinner. We love these with cooked millet! So delicious and incredibly filling.
Or you can serve this with steamed rice or boiled potatoes, both delicious.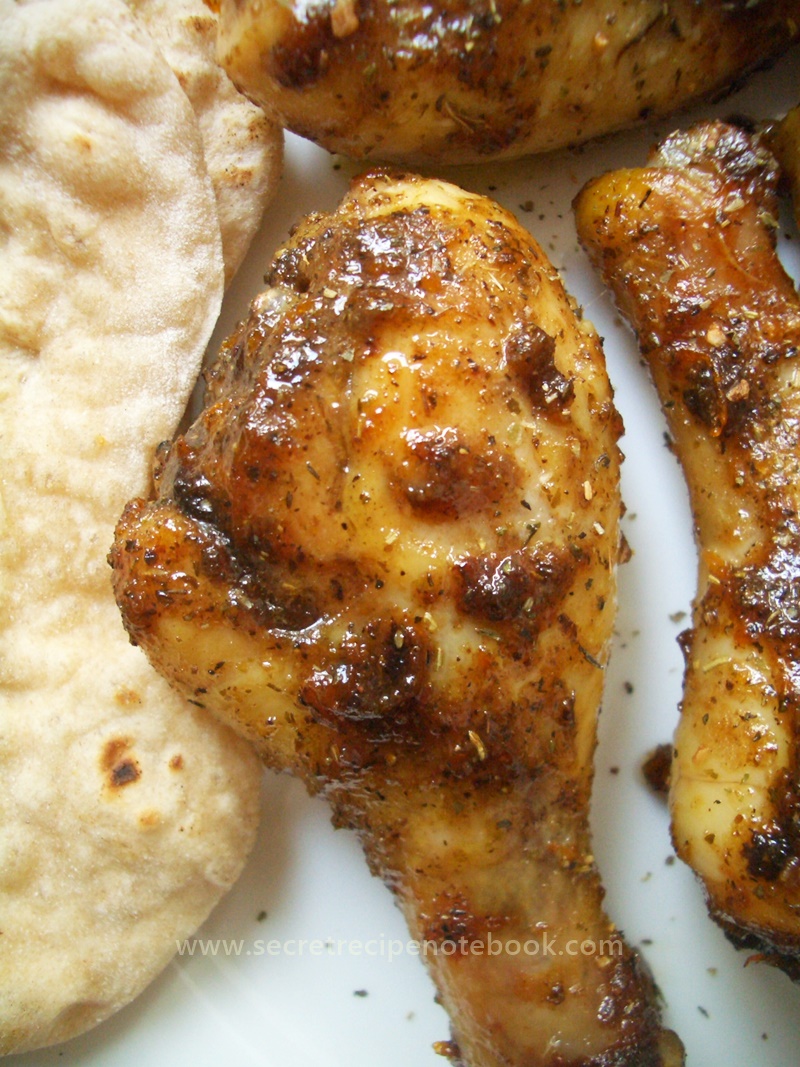 This recipe uses maple syrup, butter and orange juice (plus dried herbs, mix of spices and orange zest) - to make the most perfectly glazed, sweet, sticky, and spiced baked chicken drumsticks you will ever have.

This maple baked drumsticks recipe has a sweet and sticky glaze that's sure to be a total crowd pleaser! Prep is quick and easy.

The seasoning glaze is a great mix of sweet, smokey, and garlicky. The cayenne just gives it an extra kick.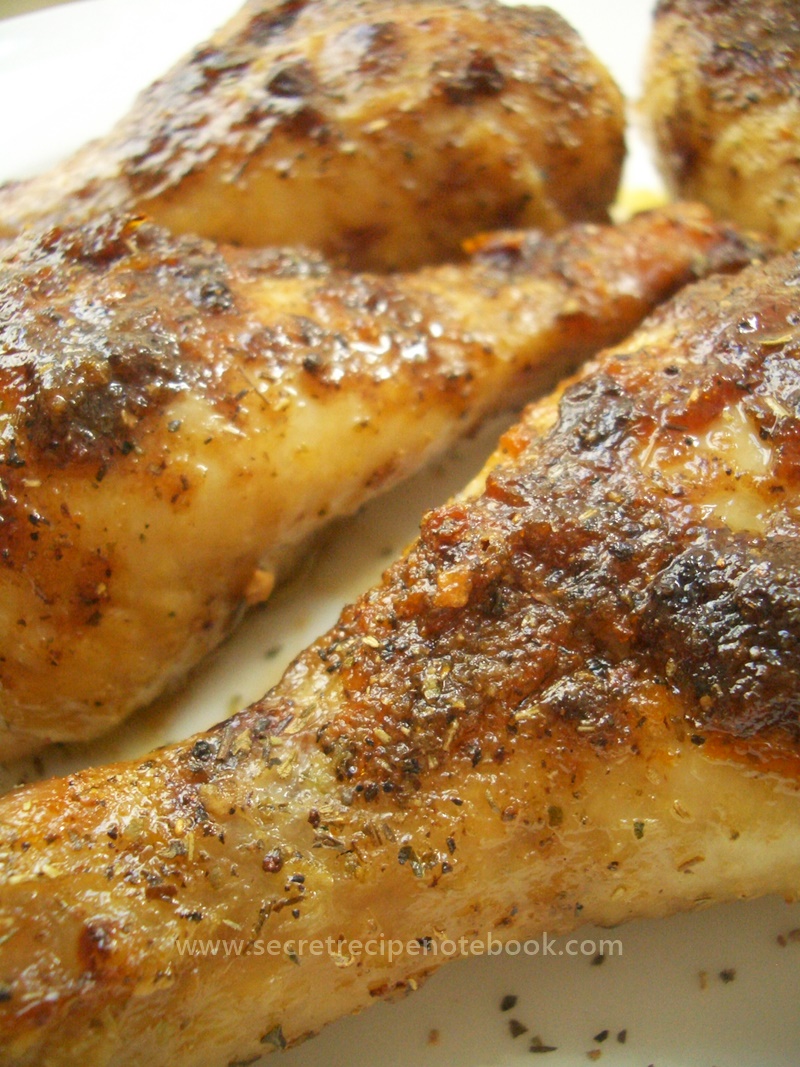 What you'll need
For this recipe you will need a pack of chicken drumsticks and a few ingredients for the glaze.

The glaze is rich, orange scented made with maple syrup, melted butter, orange juice, Italian herb seasoning, ground spices (coriander, allspice, garlic) and freshly grated orange zest.

The allspice adds a warm spicy clove type flavor that makes this dish so special. These are great as you don't need to marinade the drumsticks for hours. You just put glazed during the roasting.

We love to serve these with cooked millet which is a great addition. Or serve them with our garlic flavoured potato wedges or sweet potato wedges.


More recipes
you'll love:
Preparing the chicken drumsticks
Preparing the chicken drumstick is always easy thanks to the fact that they are bought ready. Just tap them with kitchen paper to soak up any moistureness from them. Be sure to keep them in the fridge until ready to prepare.

Season them with fine sea salt and ground pepper, drizzle with some olive oil and bake in the oven.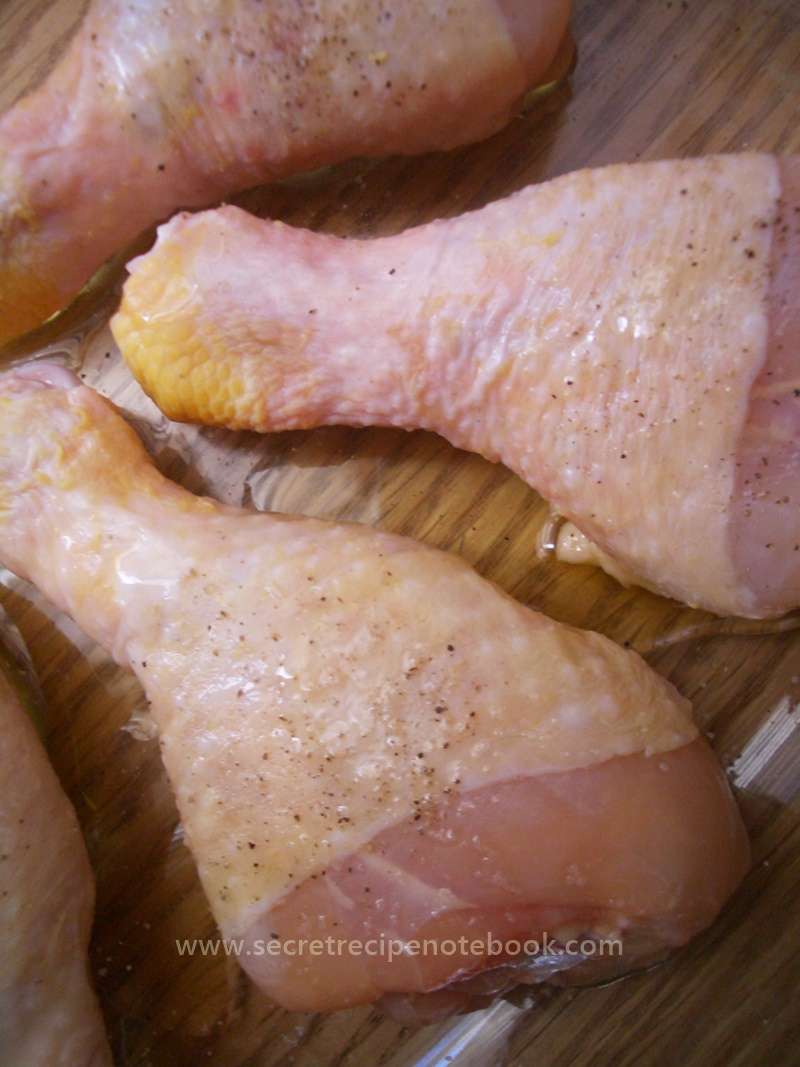 FOR THE GLAZE YOU'LL NEED:
MAPLE SYRUP: You'll need only a few tablespoons of it for sweetness.
MELTED BUTTER: Brings softness to the chicken meat.
ORANGE JUICE: Use freshly squeezed orange juice for the best flavour.
ITALIAN SEASONING: Swap it to any dried herbs you have on hand. Choose from oregano, rosemary, thyme...
GROUND CORIANDER: Brings freshness to the glaze. Swap it for ground ginger or other similar spice (or just skip it).
GROUND ALLSPICE: Adds warm aromatic winter flavour that makes this dish so special.
MINCED GARLIC or GARLIC GRANULES: Use anything you have on hand. We prefer garlic granules, which easier stick to the chicken meat.
ORANGE ZEST: Finely grated orange zest gives a nice kick to the glaze.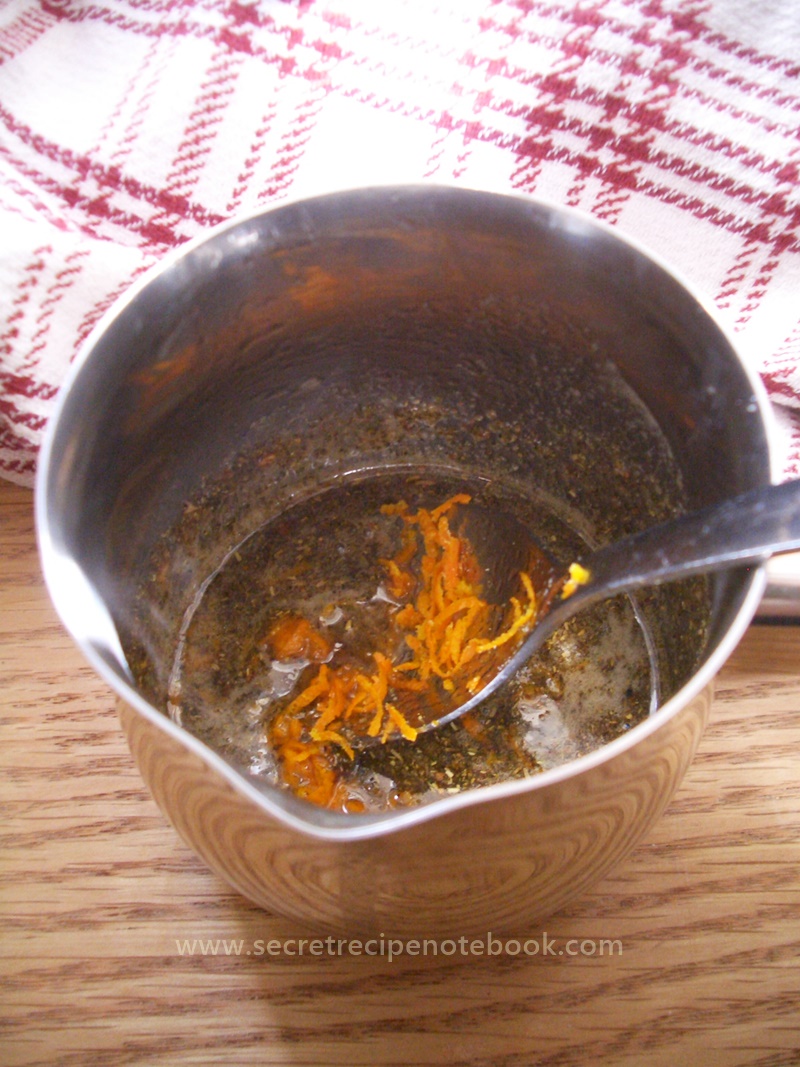 Place everything in a small saucepan then boil for 2-3 minutes until slightly thickens. Once the chicken drumsticks are half-baked, pour the glaze over them. The glazed will thicken more during the baking and become amazingly sticky.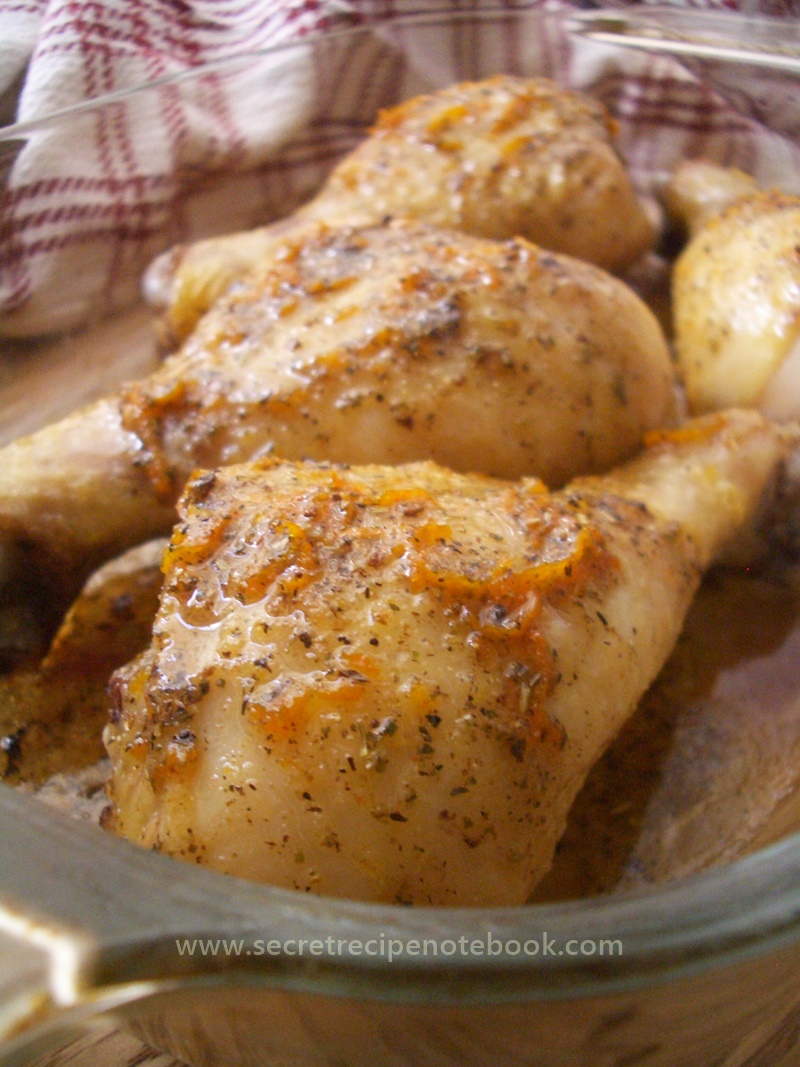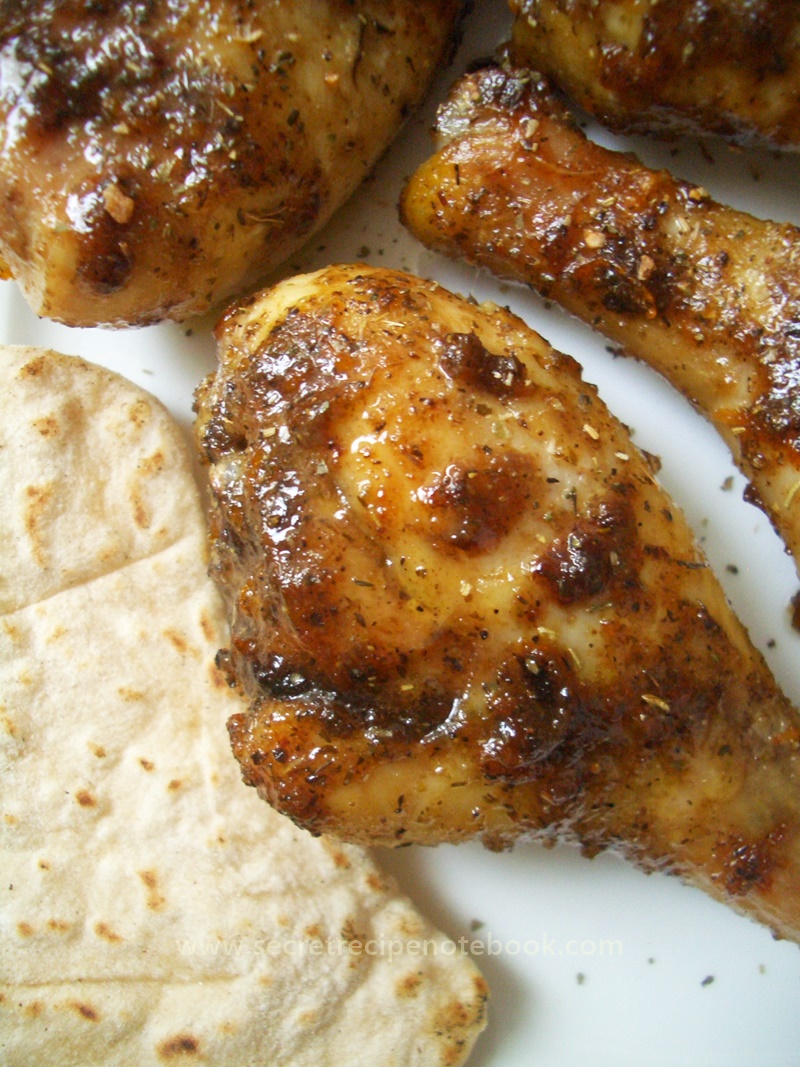 A few more of our popular recipes:
Spiced Maple Glazed
Chicken Drumsticks
INGREDIENTS
8 chicken drumsticks (about 4 lbs)
salt & ground black pepper, to taste
2 tablespoons olive oil, for drizzling
For the glaze
4 tablespoons maple syrup
30g butter, melted (2 tbsp)
30ml orange juice (2 tbsp)
2 teaspoons Italian seasoning
1/2 teaspoon ground coriander
1/2 teaspoon ground allspice
1 teaspoon garlic granules or 2 garlic cloves, minced
2 tablespoon grated orange zest
METHOD:
Preheat the oven to 200°C/392°F.


Tap dry chicken drumsticks, then season with salt and ground pepper.


Arrange drumsticks in the pan in a single layer. Drizzle over a little olive oil.


Roast in the preheated oven for about 20 minutes, turning the drumsticks halfway.


In the meantime, put maple syrup, butter, orange juice and zest, butter, Italian seasoning, all spices in a small pot and simmer over the medium heat for 2 minutes or until slightly thickens.


After drumsticks are roasted for 20 minutes, take them from the oven, and pour over half of the glaze to coat each drumstick. Return to the oven and roast for another 10 minutes.


Take the drumsticks from the oven, flip over them and pour the rest of the glaze over the drumsticks. Roast for another 5-10 minutes. The roasting time should be from 35-40 minutes, depending on how large are drumsticks. The chicken skin should be brown and the meat tender. Be sure the chicken is cooked throughout the bone.


Let the chicken rest for a few minutes before serving.


We are a participant in the Amazon Services LLC Associates Program, an affiliate advertising program designed to provide a means for us to earn fees by linking to Amazon.com and affiliated sites.