Creamy Vegetable Soup
Everyone loves this super healthy soup, perfect for an easy supper. This creamy vegetable soup is the perfect way to warm yourself up on a cold winter day. It can be put together in about 40 minutes, yet would be a great first course for a dinner party. It can be also done in advance and reheated once ready to serve.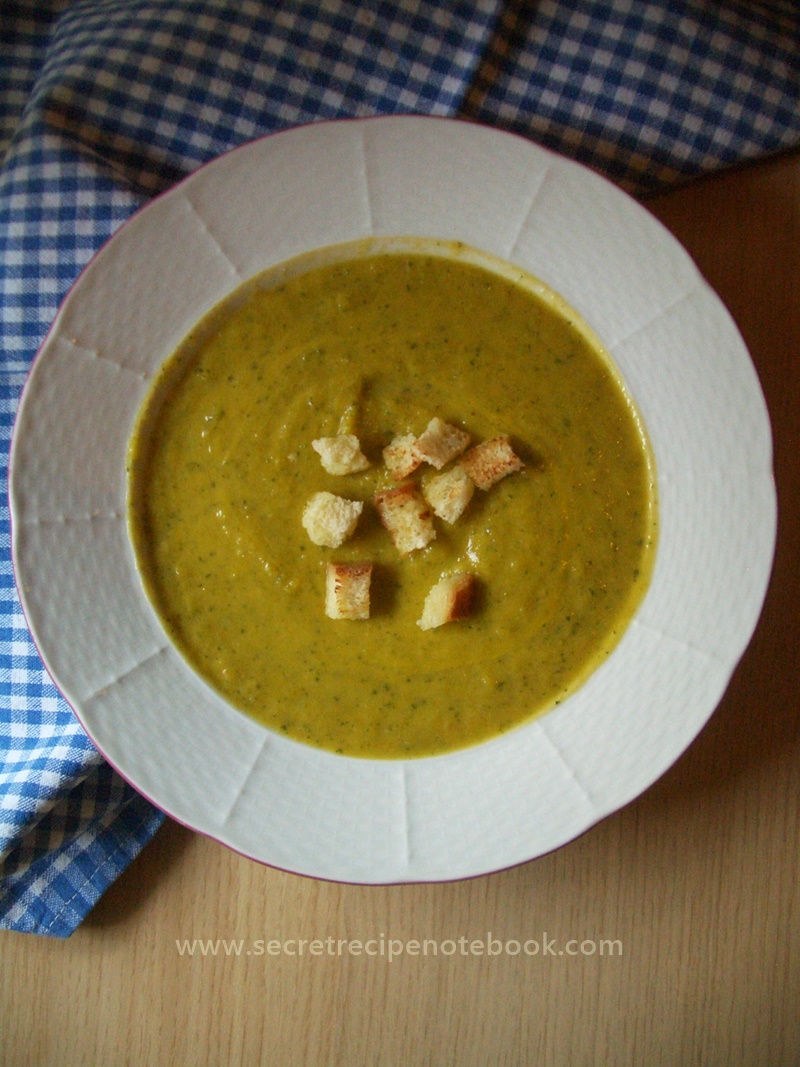 This webpage contains affiliate links. Please read our disclosure policy.

What you'll need
One of the best thing about this soup is that you can use any veggies you have in the fridge. We used ZUCCHINI, CARROTS, PUMPKIN, LEEK, BROCCOLI and FRESH PARSLEY, all cut into smaller pieces or slices. But you can also use any other vegetable, such as sweet potatoes, potatoes, califlower, celery leaves or root, parsley root, peppers... Instead of leek use yellow onion, also chopped...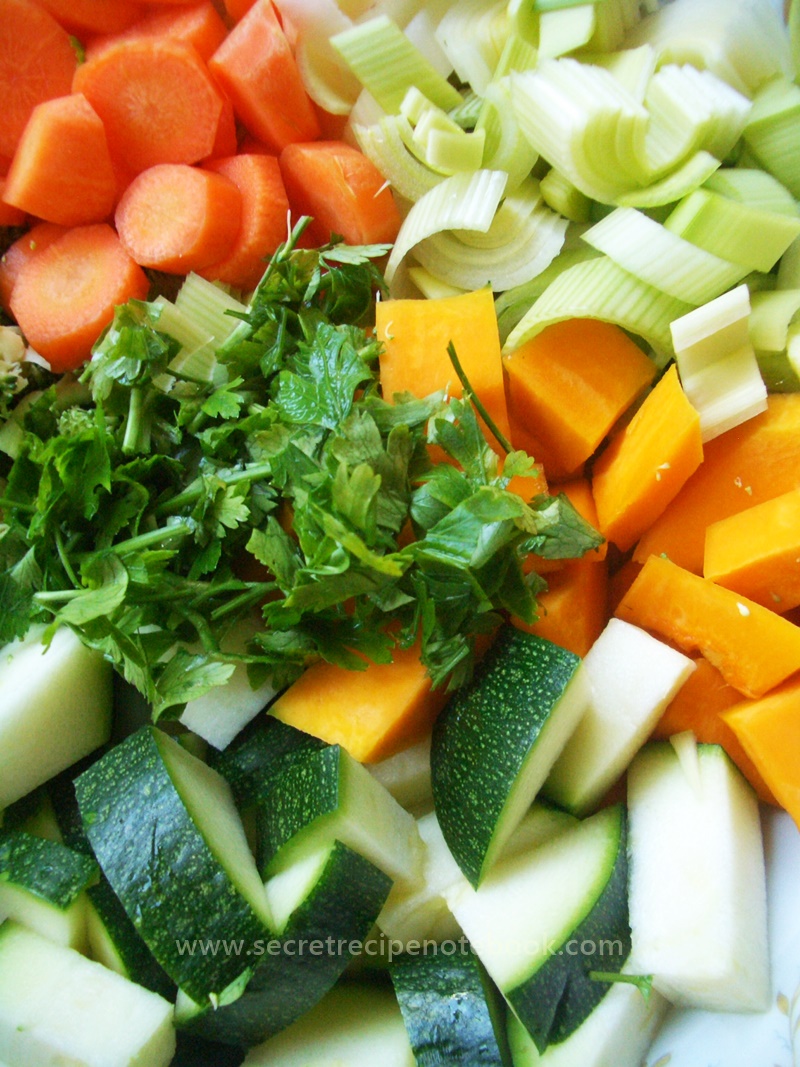 More tasty recipes
you'll love:
4 easy steps for making this creamy soup:
PREPARING THE VEGGIES: Rinse in the water and peel veggies that's need peeling (such as carrots or potatoes). Also remove the green leaves from the leek, cut it into half lengthwise and wash layers from inside (sometimes dirt can hide here). For chopping veggies, prepare large cutting board and knife. One by one, cut the veggies into smaller pieces (about 1cm), placing into a bowl once cut.


COOKING VEGGIES IN A PAN: First cook leek and parsley for a few minutes, then add the rest of vegetables and cook for 9-10 minutes, stirring continuously. The vegetables will soften slightly.


COOKING: Add water and cook for about 20-25 minutes.


BLENDING THE VEGGIES: Blend the veggies using stick blender until creamy, season with salt and pepper. Add some water if the soup is too thick.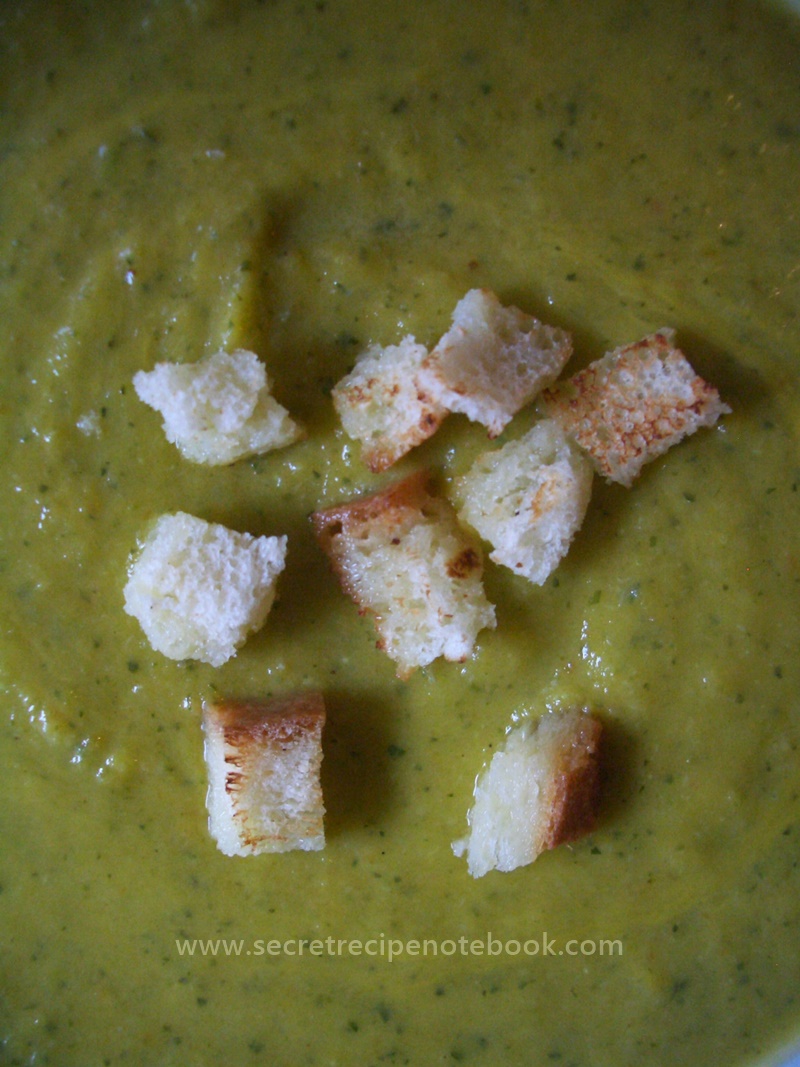 More veggie recipes you'll love:
Creamy Vegetable Soup
SERVES: 4 Servings
COOKS IN: 1 hour
LEVEL: Easy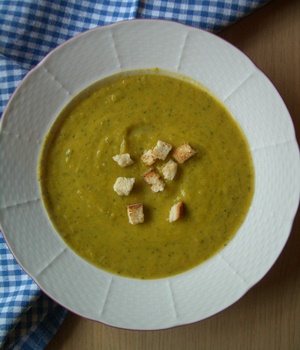 INGREDIENTS
1 medium leek, chopped (only white part)
1 medium zucchini (300g)
2 medium carrots (200g)
1/2 small pumpkin
1 small broccoli (200g)
2 tablespoons parsley, finely chopped
750ml water
salt & ground black pepper
METHOD
Heat 2 tablespoons of olive oil in a large pot, then add chopped leek and parsley and fry for 2-3 minutes, stirring continuously.


Add the rest of vegetables and cook, stirring frequently, for 9-10 minutes, until the vegetables are slightly soft.


Pour the water,  bring to the boil, then cover and cook over a medium-low heat for about 20-25 minutes. If needed add some more water.


Transfer the soup into a taller dish and blitz using stick blender until smooth. You can use also a standard blender (then you'll need to do this in two batches). Return to the pan, season with salt and ground pepper. Add more water if the soup is too thick for your liking. Serve the soup with some croutons on the top.


CATEGORIES: Soups
We are a participant in the Amazon Services LLC Associates Program, an affiliate advertising program designed to provide a means for us to earn fees by linking to Amazon.com and affiliated sites.