Snacks & Nibbles | Breads & Pizza
Crunchy Rosemary Grissini
These crunchy grissini can be served with prosciutto and cheese, a soup or with your favourite dip - possibilities are endless. They are rustic and crunchy and flavoured with fresh rosemary.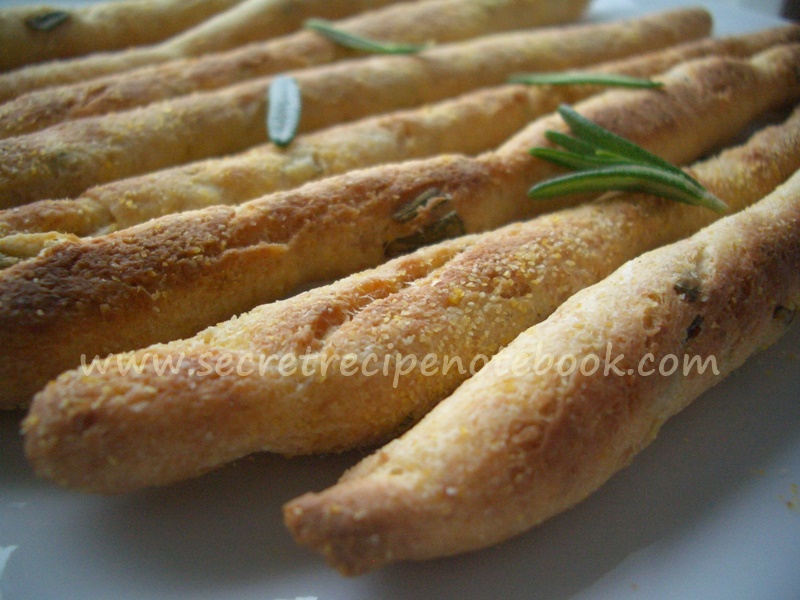 Grissini are ideal snack food everyone loves and these are so many flavours you can choose from. These grissini are made with a mix of flours, including cornmeal which gives them crunchy twist. Enriched with fresh rosemary leaves, these grissini are so delicious. These crunchy grissini make a delicious appetizer or you can serve them with your favourite soup or just nibble throughout the day.

The best things about grissini is that they have uneven, rustic look you you don't have to worry about making them look perfect. If you love these grissini, you might also like our multigrain rosemary crackers, enchanced with fresh rosemary.


Try also these tasty recipes:
How to make crunchy rosemary grissini
Making these crunchy rosemary grissini is so easy. For this recipe you will need only one bowl in which you combine all dry ingredients. Then make a well in the centre and pour warm milk and olive oil. Make a soft dough and leave to rise until doubled. 

Now, it's time to shape the grissini. We do it in the way that we shape the dough into rectangle using a rolling pin - about 3mm thick. Then we cut stripes with a pastry wheel or a sharp knife then roll each stripe into the log and twist several times.

Place grissini onto baking sheet lined with baking paper and bake until brown and crunchy.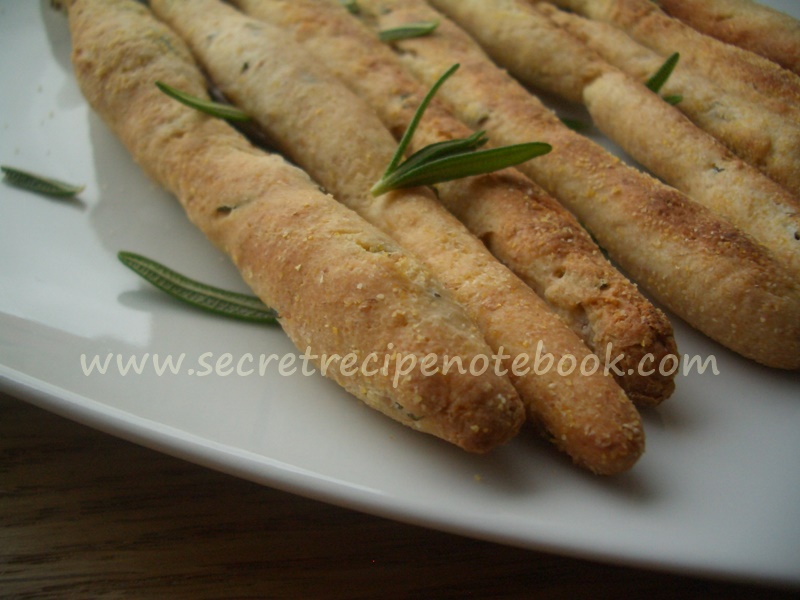 Useful tip
When shaping the grissini, their size and how long or thick they are is totally up to you. In this recipe we make them thin you once baked they will be crunchy. If you like them thicker just cut wider strips. Just make sure the stripes of dough are as equal as possible so that they bake evenly.

How to store crunchy rosemary grissini
Once they are cool store them in an airtight container.


Looking for more snack recipes? Take a look at these:
FOR OUR COMPLETE SNACK RECIPE COLLECTION
CLICK HERE!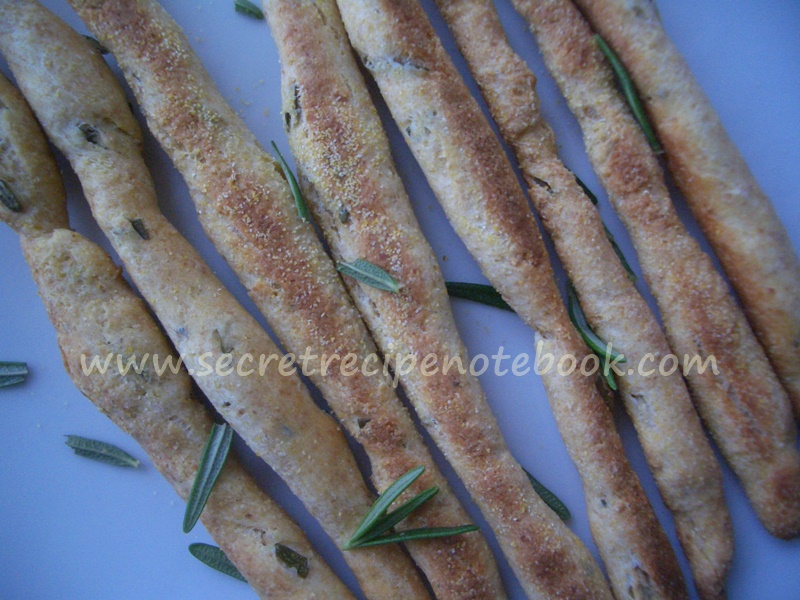 Like this recipe? Follow us on Pinterest for more recipes like this one! And don't forget to pin this recipe for later by clicking on one of the images above. 
Crunchy Rosemary Grissini
MAKES: 28 grissini
COOKS IN: 30 minutes plus rising time
LEVEL: Easy
TOOLS YOU'LL NEED
Quality Kitchen Products
-
Shop here!
INGREDIENTS
120g (1 cup) 

plain flour

40g (1/3 cup) 

spelt flour

40g (1/4 cup) 

polenta (cornmeal)

1 teaspoon

instant dry yeast

1/2 teaspoon

salt

1/2 teaspoon

sugar

160ml (2/3 cup) 

milk

, lukewarm
30ml (2 tablespoons) 

olive oil

2 tablespoons

fresh rosemary

leaves, finely chopped
METHOD
Combine flours and polenta with instant dry yeast, salt and sugar in a large bowl. Add finely chopped fresh rosemary leaves and stir until combined.


Make a well in the middle and pour olive oil and milk. Stir using a fork until all flour is incorporated. Now, turn out the dough onto floured work surface and continue to knead the dough for about 4-5 minutes. The dough should be shiny, elastic and soft. Put the dough into oiled bowl and keep in the warm place for about 30 minutes.



Now, prepare the

baking sheet

 by lining it with baking paper and preheat the oven to 180°C (356°F).


Shape the dough into a rough flat square and using a knife cut 0.5 cm wide stripes. Roll each stripe on the work surface and twist several times. Place on the baking tray and continue with the rest of the dough. If the dough is sticky, sprinkle a small amount of flour on your work surface before rolling.


For adding herbs, take 1 teaspoon of finely chopped fresh herbs and knead into the dough and roll into snakes, as above. To add seeds, make snakes as above. Measure out a couple of tablespoons of seeds and arrange them in a long line. Lay your snake over the seeds and press gently then take snakes and place on baking tray. Twits each snake several times to create a swirl.


Brush grissini with some olive oil and let them rest for about 10 minutes on the tray. Bake in the oven for about 6-7 minutes or until grissini are brown and crispy. The grissini will burn easily so keep an eye on them and take them out when they ar

e golden brown. Transfer the grissini t

o a

cooling rack

to cool. 


Crunchy Rosemary Grissini