Soups | Pumpkin & Winter Squash
Creamy Pumpkin Soup
If you are looking for a comfort winter soup, this creamy pumpkin soup topped with toasted pumpkin seeds is an ideal choice. The recipe is simple and easy, starting with frying leek and garlic then adding pumpkin, stock and seasonings.

Pumpkin is ideal for cooking up into a hearty soup, ideal meal when the cold weather arrives. It's ideal served with crusty bread slices!

For another healthy soup, try our creamy vegetable soup, also delicious.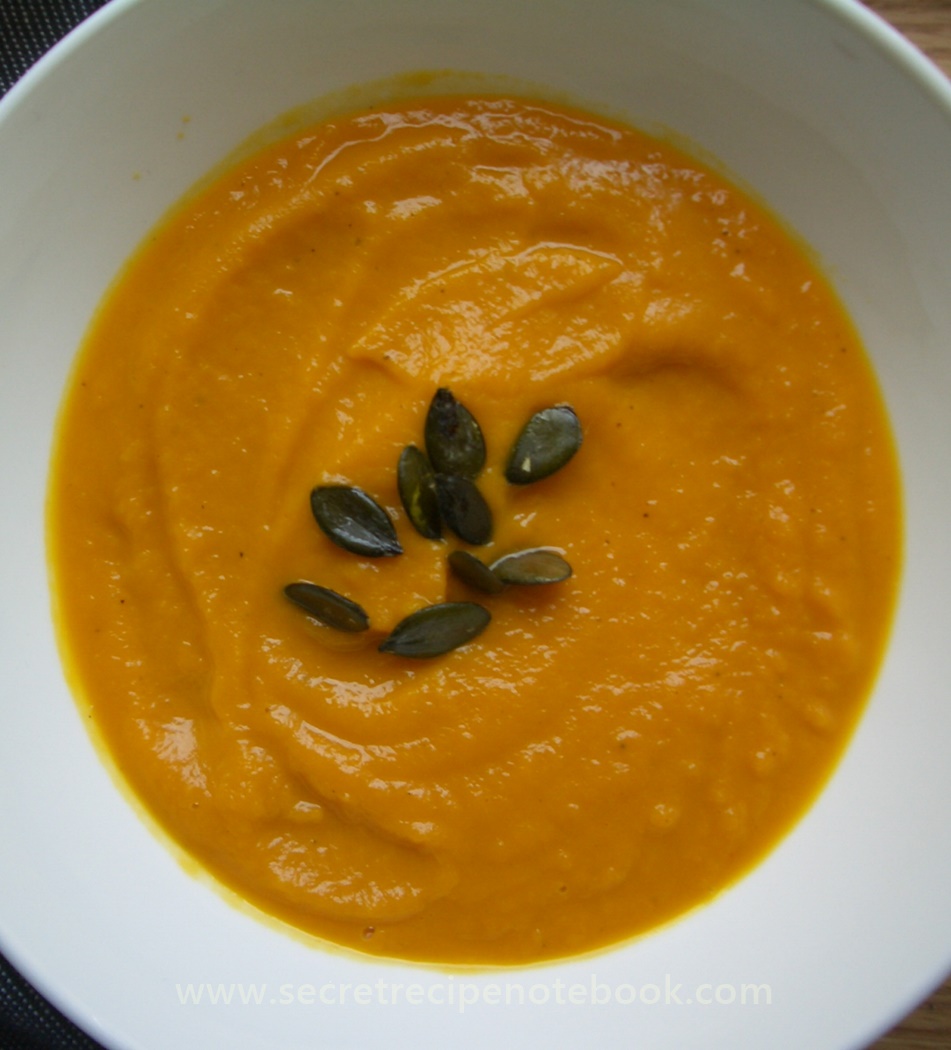 This webpage contains affiliate links. Please read our disclosure policy.

Which pumpkin to use for this creamy soup
Use any pumpkin you have on hand - sugar pumpkin, kabocha squash, hokkaido squash, butternut squash or any other. We prefer either kabocha or hokkaido squashes, both giving amazingly sweet and nutty flavour to the soup.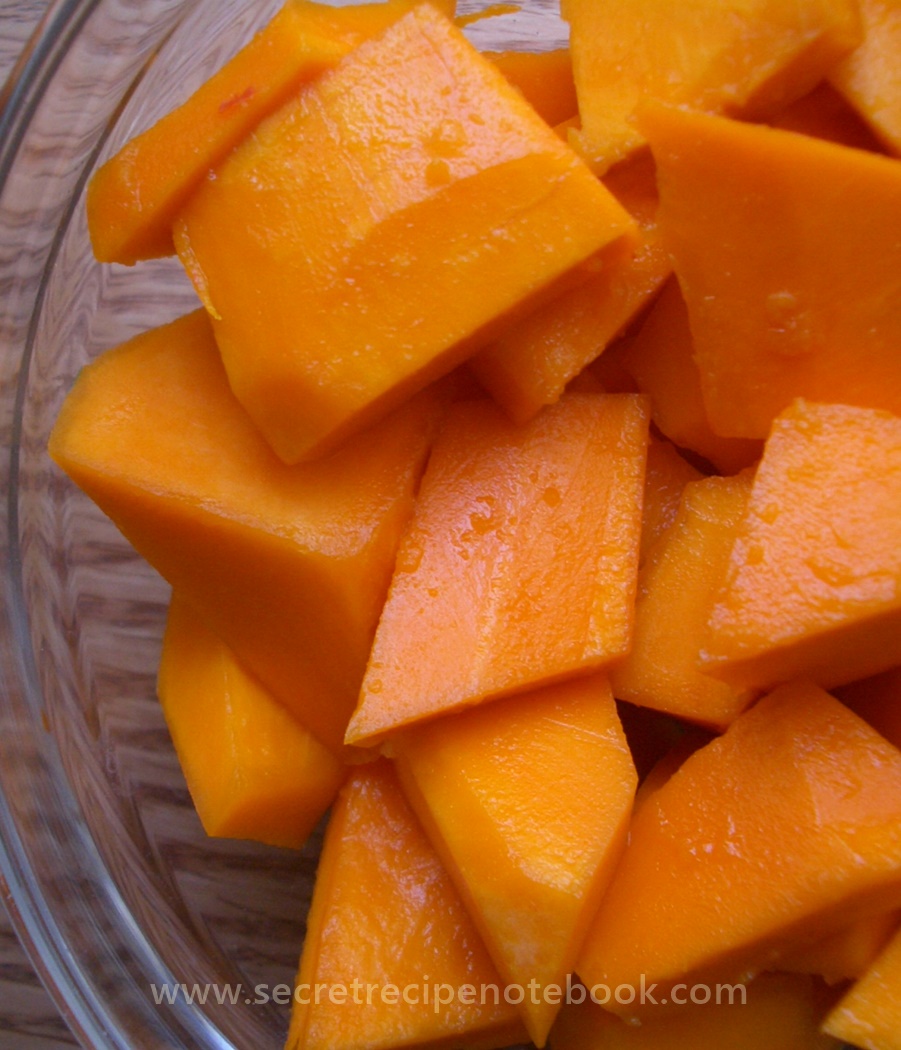 Making creamy pumpkin soup
Making this creamy soup is super easy. For the soup your will need the PUMPKIN (2cm cubes), LEEK (chopped), GARLIC CLOVES (finely chopped), SALT, PEPPER and CROUTONS for serving. 
Let's check steps for making this soup:
Sauté chopped leek on olive oil until soft for a few minutes then add garlic and stir for another minute. Add pumpkin, season with salt and pepper and cook stirring all the time until it start to become brown. Add vegetable broth (or water) and cook for 20-22 minutes. 


Whizz the soup using the stick blender or put the soup into a stand blender and blitz in batches (just be careful as always when blending hot liquids - don't fill the blender full)


Once the soup is completely blended and smooth, taste it and season as needed. 


How to serve creamy pumpkin soup
This amazing soup can be served as a starter, side-dish or main dish. Serve it with a crusty bread, a couple of grissini or soft homemade focaccia. For finishing touch, sprinkle with roasted pumpkin seeds, croutons or pine nuts.

Serve the soup in these pretty porcelain bowls are ideal for serving creamy pumpkin soup!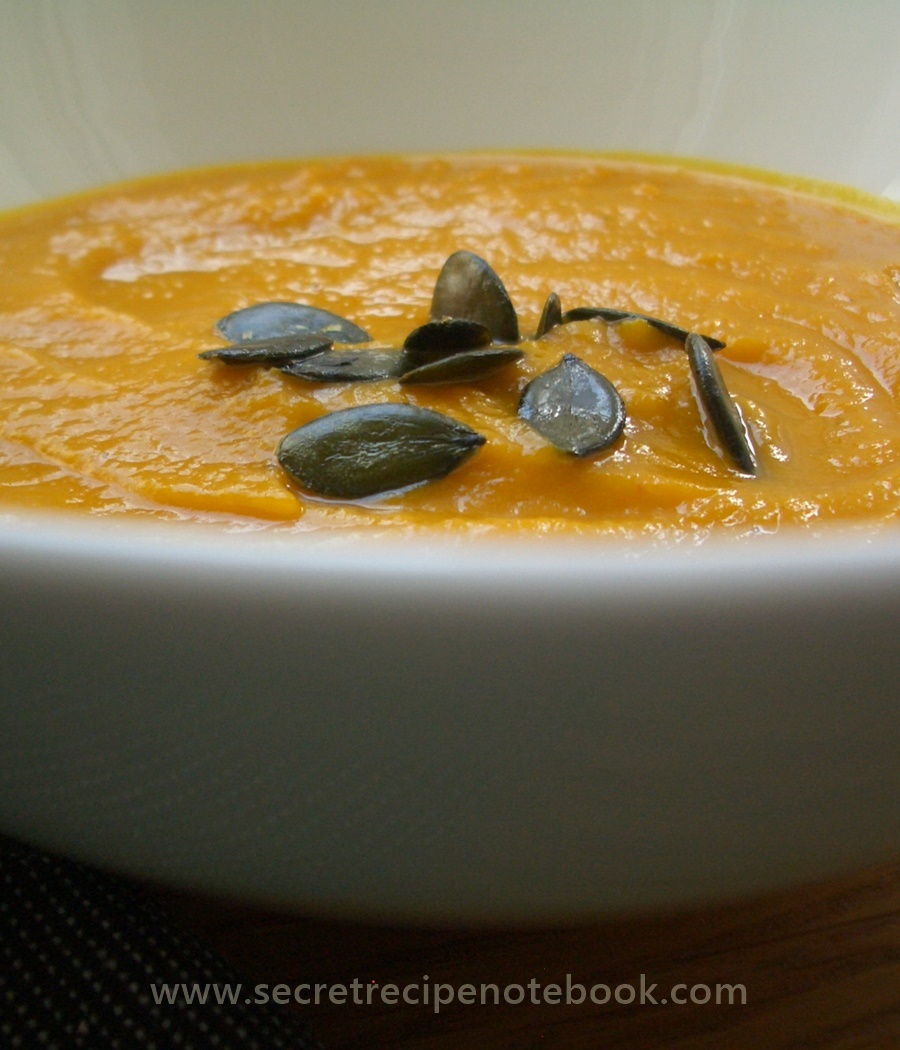 Can you make ahead this soup
This soup is ideal for making ahead. Just make the soup, cool completely and transfer to a storage container. It lasts in the fridge for up to 5 days or in the freezer for up to 3 months.


A few of our favourite pumpkin recipes:
Creamy Pumpkin Soup
SERVES: 2 Servings
COOKS IN: 1 Hour
LEVEL: Easy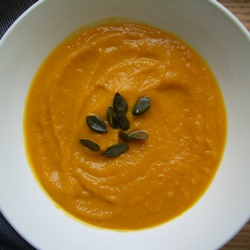 INGREDIENTS
1 small pumpkin (800g / 2 pounds)
2-3 tablespoons olive oil
1 medium leek (200g), chopped
3 garlic cloves, finely chopped
800ml vegetable broth (or water)
sea salt & freshly ground black pepper
20g pumpkin seeds, for sprinkling
METHOD
Rinse the pumpkin, then cut into quarters, peel the skin off and chop into small cubes (1.5cm).


Heat the olive oil in a medium saucepan, add leek and cook for for 3-4 minutes stirring all the time. Add the garlic and cook for 1-2 minutes more.


Add the pumpkin to the pan, season with salt and pepper and then carry on cooking for 8-10 mins, stirring occasionally until it starts to soften and turn golden.


Pour vegetable stock or water, bring to the boil, then reduce the heat and simmer for 13-15 mins until the squash is very soft.


While the soup is cooking, toast the pumpkin seeds in a medium skillet over medium-low heat, stirring frequently, until fragrant and golden. Transfer pumpkin seeds to a bowl to cool.


Cool slightly the soup then whizz with hand stick blender until smooth. If the soup is too thick add some more vegetable stock. Season with salt and pepper as needed. Serve with crusty bread.


We are a participant in the Amazon Services LLC Associates Program, an affiliate advertising program designed to provide a means for us to earn fees by linking to Amazon.com and affiliated sites.