Sweet Corn Flatbread Pizza
When you're in the mood for cheesy and corny snack, prepare these easy snacks. Sweetcorn, melty mozzarella and fresh rosemary is a winning combination.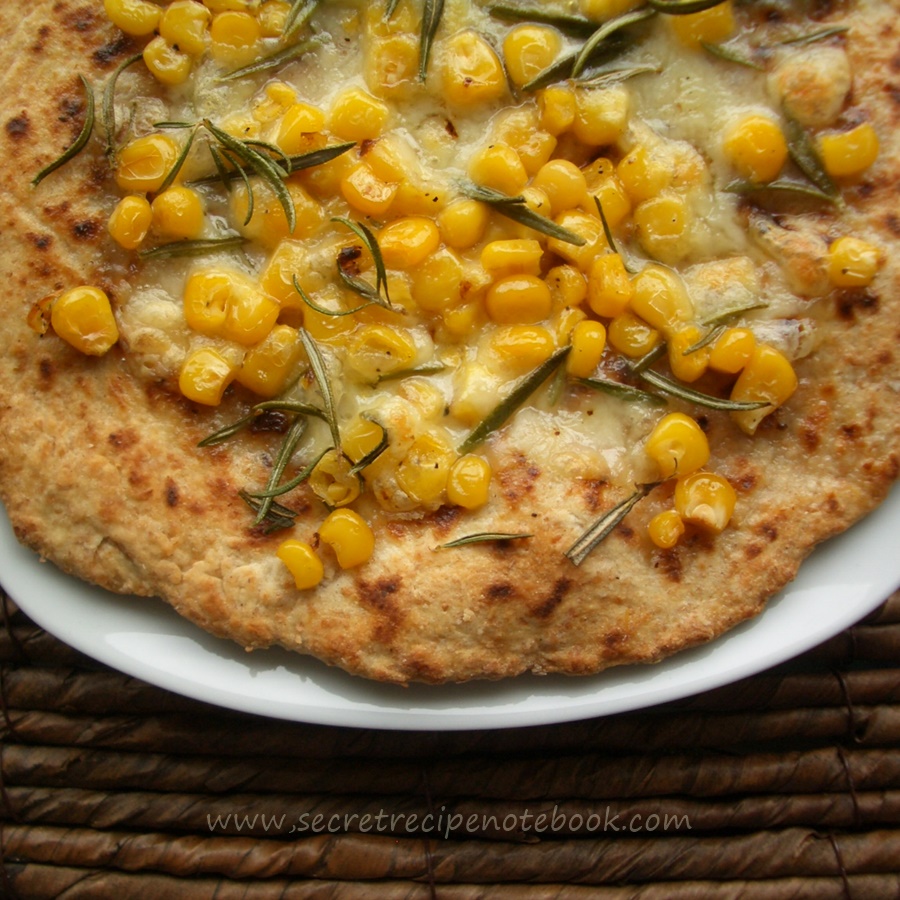 This webpage contains affiliate links. Please read our disclosure policy.

How to make sweet corn flatbread pizza
These simple sweet corn flatbread pizza are made with just a handful of everyday ingredients and can be ready in less than 30 minutes. 
The base of these individual pizzas are simple yogurt flatbreads made with a mix of plain and spelt flours. No yeast needed in this recipe, just some baking powder to help flatbreads to puff up. You can skip spelt flour and use only plain flour.

Why not to try our recipe for flatbread pizza with summer veggies -  zucchini, sweet corn and cherry tomatoes or zucchini pancetta flatbread pizza.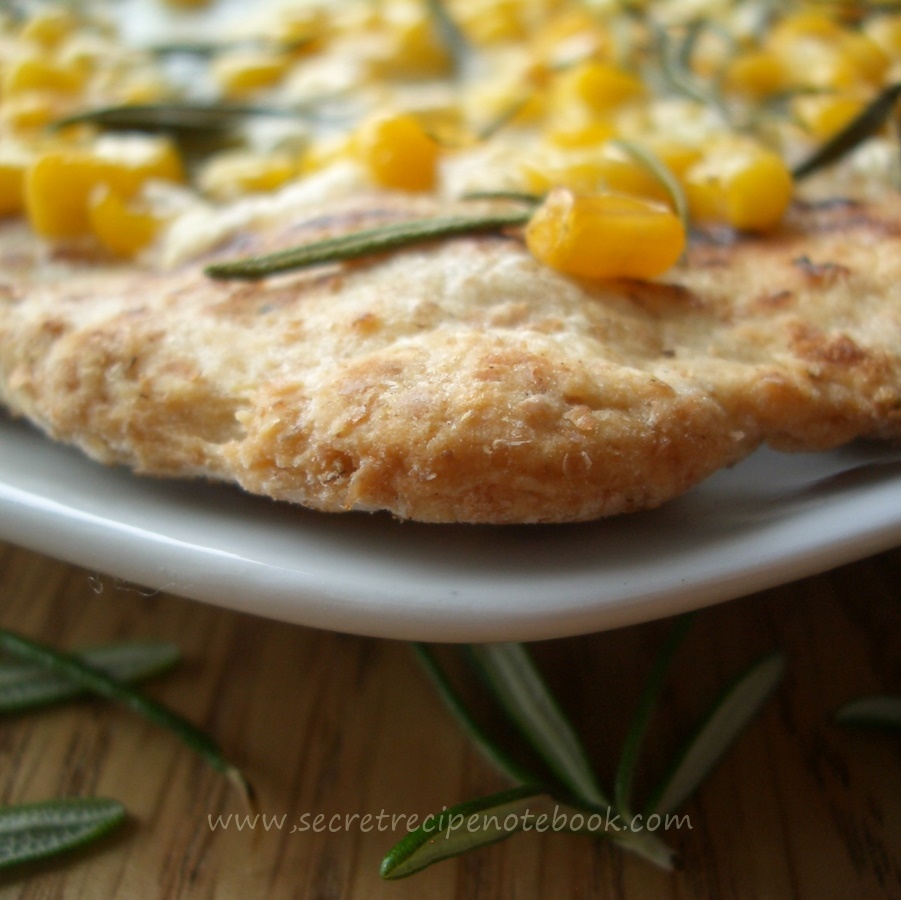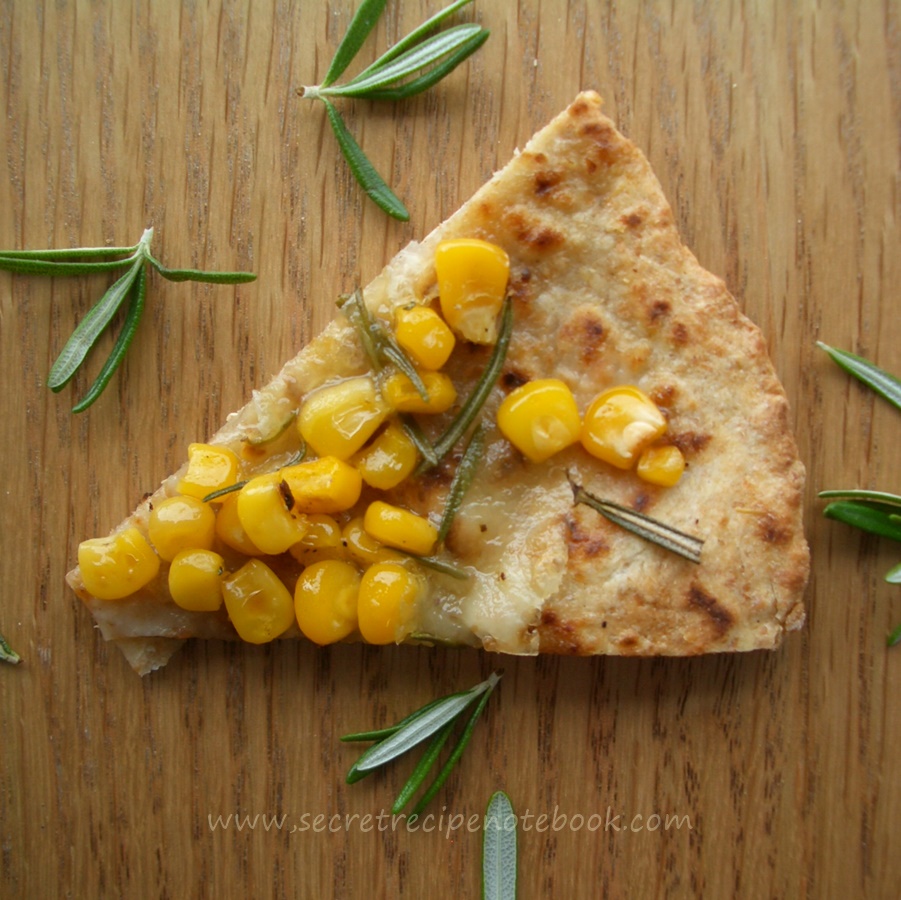 Making the base for sweet corn flatbread pizza
The dough comes together easily, just combine all ingredients in one bowl and knead a soft dough. Then roll out flatbreads, cook them on the stove - for this you need only 5-6 minutes. The trick is to cook them on a high heat to help them puff up and get nice crust.

We brush flatbreads with olive oil and prebake for 2-3 minutes before adding the topping. This way flatbreads will be crispy and nice golden and not soggy.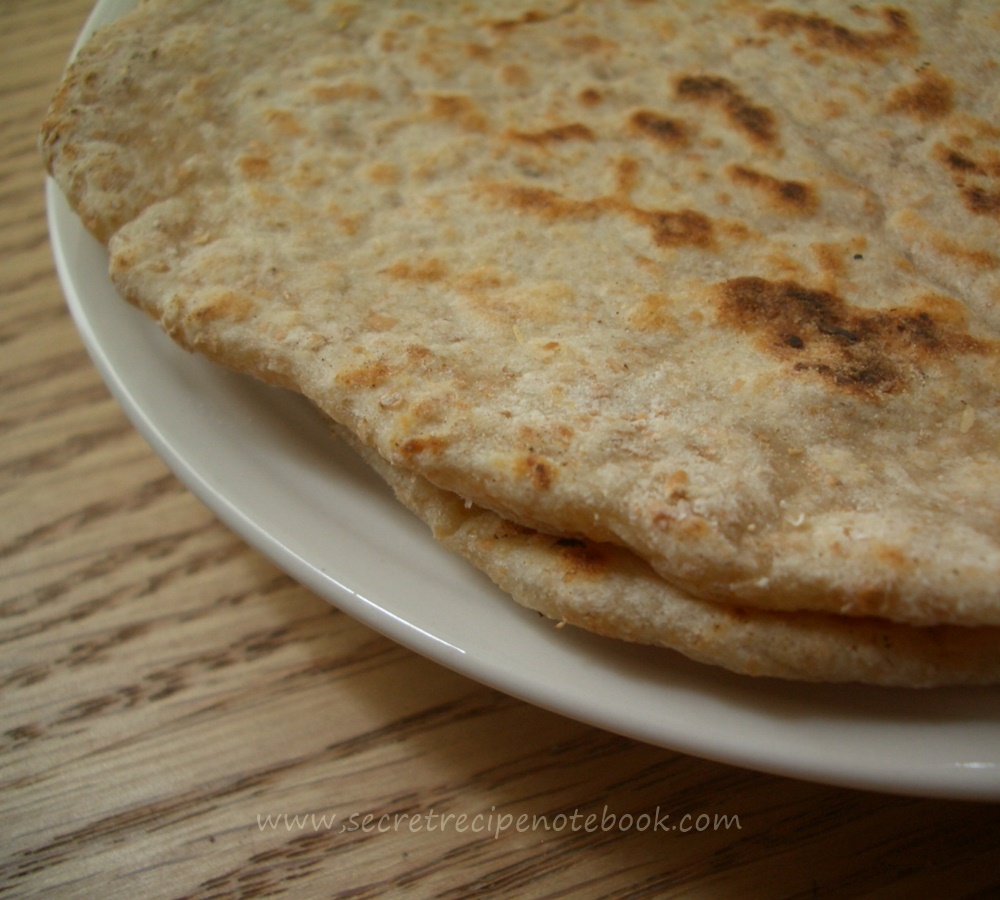 More tasty recipes
you'll want to try:
What you'll need for pizza topping
Topping for this pizza is quite simple, you will need only FRESH MOZZARELLA, SWEET CORN and FRESH ROSEMARY LEAVES.

Be sure to drain mozzarella before cutting into smaller pieces, to avoid soggy pizzas. You can use fresh, canned or frozen corn for this recipe, but you will have to drain the corn very well and dry before placing on the pan.

We sautéd sweetcorn for a few minutes in a pan to intensify the flavour. All is topped with aromatic fresh rosemary leaves. Any other fresh or dried herb will also work fine here (oregano, thyme, basil...).
Bake flatbreads for about 10 minutes or until they become crisp and gold.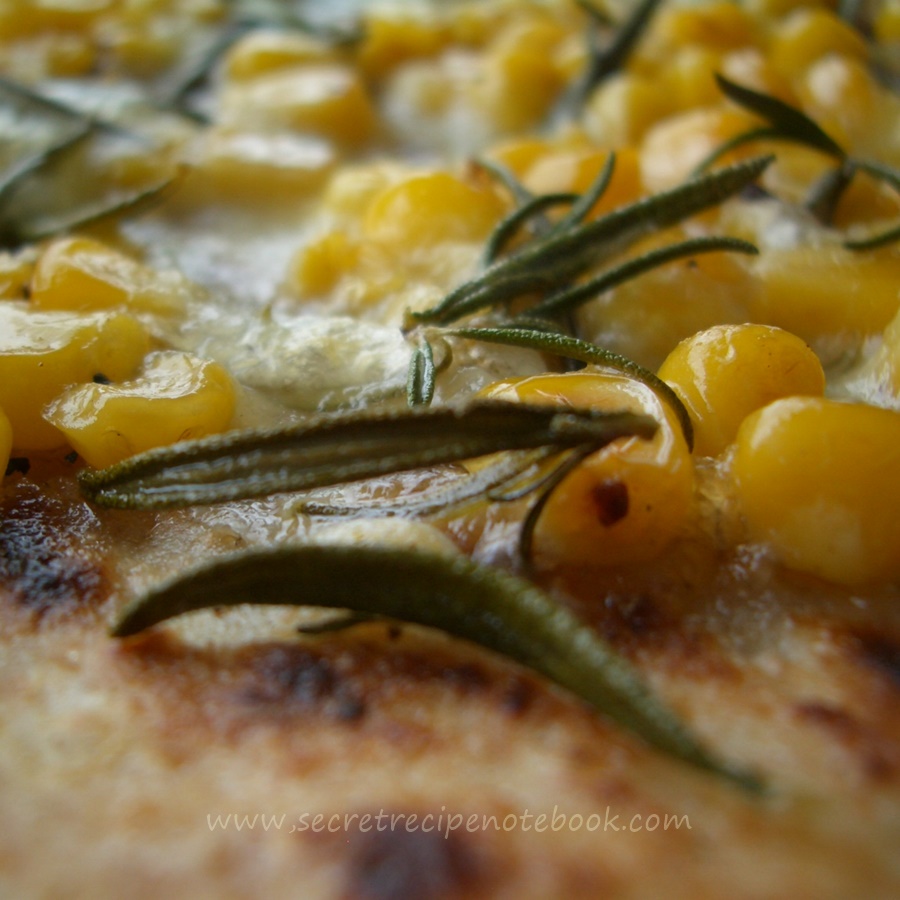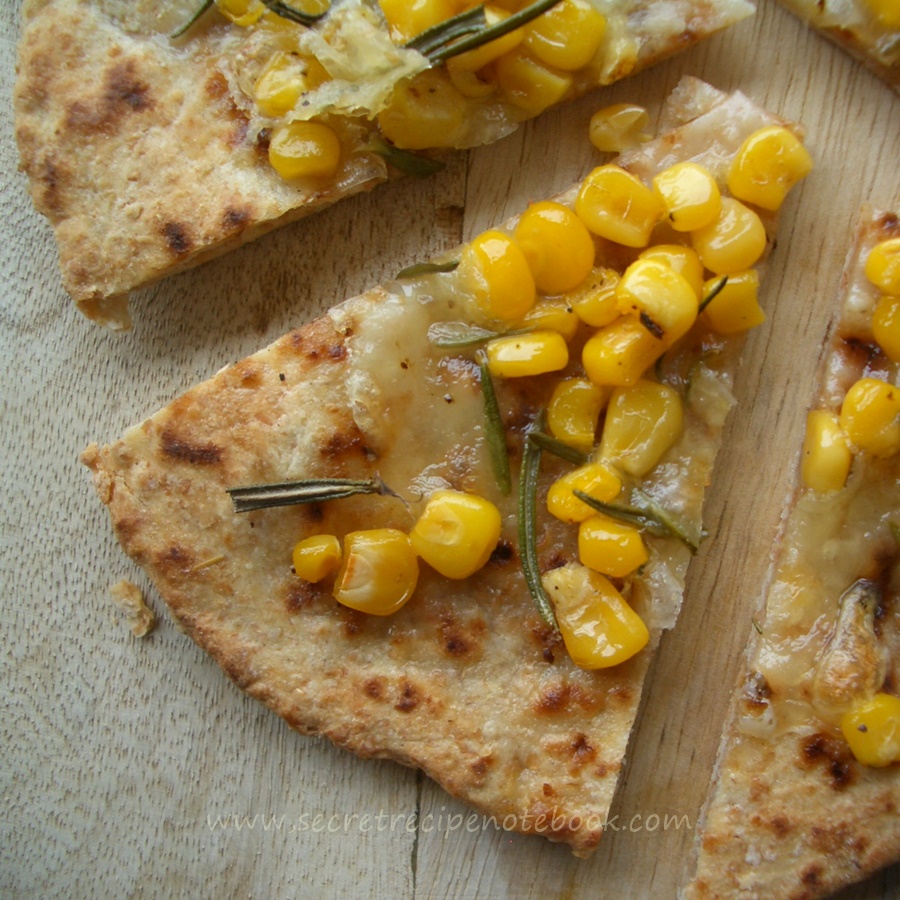 Making ahead sweet corn flatbread pizza
Making these corny pizzas is a breeze once you have ready flatbreads. Make a bunch of flatbreads, wrap them into aluminium foil, put in plastic freezer bag and freeze. This way you can make these pizzas in only 15 minutes at any time.

Once you want to prepare pizza, take flatbreads from the freezer, place on the baking sheet to thaw for a few minutes, then toast in the oven on 200°C/392°F for 3-4 minutes. Take them from the oven and continue to top with topping as described in the recipe.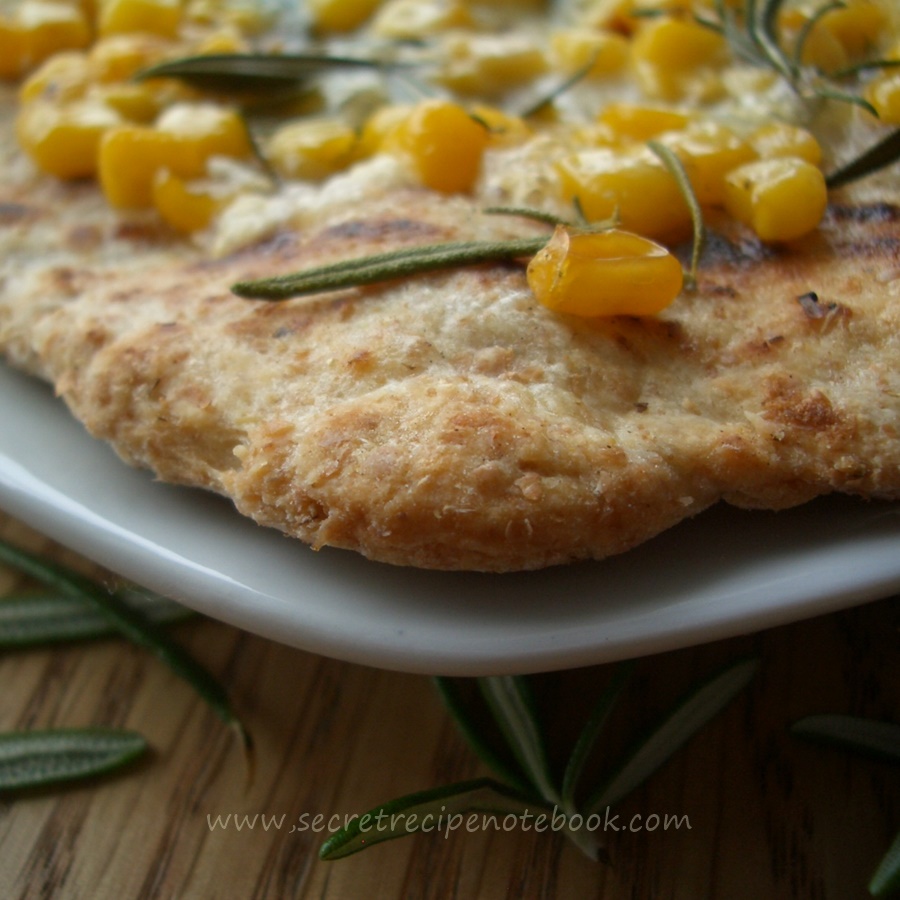 A few of our favourite snack recipes:
Sweet Corn Flatbread Pizza
SERVES: 3 medium-sized flatbread pizza
COOKS IN: 25 minutes
LEVEL: Easy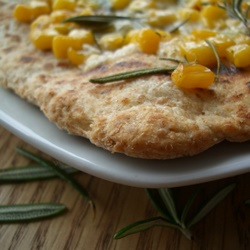 HANDY KITCHEN PRODUCTS:
INGREDIENTS
For the flatbreads
For the topping
200g zucchini (1 medium-sized zucchini)
1 fresh mozzarella ball (around 125g)
150g sweet corn, fresh,

tinned or frozen

salt

& freshly ground black pepper
3 tablespoons

rosemary leaves

2 tablespoons olive oil
METHOD
TO MAKE FLATBREADS, combine together plain and whole grain spelt flours, baking powder and salt in a large bowl. 


Make a well in the centre and add olive oil and Greek yogurt and using your hands bring everything together.


Lightly flour a clean work surface, then transfer the dough to the surface and knead until smooth, 3-4 minutes, adding more flour if the dough is sticky. Place the dough into a bowl, cover and leave aside for 10 minutes.


Cut mozzarella into smaller pieces or grate on a box grater.


Heat a small skillet over medium heat. Add few drops of olive oil and sweet corn and cook, stirring occasionally until the corn is light golden, about 3-4 minutes. Season with the salt and pepper; taste and adjust seasoning.


Preheat the oven to 200°C/392°F. Line the baking sheet with baking paper.


Divide the flatbread dough into 3 pieces. Dust a work surface and rolling pin with flour. Working one at a time, roll out each piece of dough into a round about 2 mm thick.


Lightly oil a non-stick frying pan or cast iron pan and place on a medium-high heat. Cook rounds of dough for 1-2 minutes on each side or until puffed up slightly. There should be a small golden brown spots on both sides.


Place cooked flatbreads on the baking sheet, brush the surface of the flatbreads lightly with olive oil and bake in the oven for 2-3 minutes.


TO MAKE THE TOPPING,

h

eat a small non-stick skillet over medium heat. Add 1 teaspoon of olive oil and cook sweet corn for about 2-3 minutes or until it becomes slightly brown.


Take the flatbreads and top each with mozzarella and sweet corn. Sprinkle with fresh rosemary leaves.


Bake in the preheated oven for 10 minutes of until the crust is golden and crisp and mozzarella is melted. Transfer to warmed serving plates and serve immediately.


CATEGORIES: BREAD & PIZZA, SNACK & NIBBLES
We are a participant in the Amazon Services LLC Associates Program, an affiliate advertising program designed to provide a means for us to earn fees by linking to Amazon.com and affiliated sites.