Soft Homemade Flatbreads
We love these homemade flatbreads, as they are so easy and quick to make. The dough comes together in a minutes. The recipe calls for baking powder (not yeast), so these are ideal when you are short on time.

You can enjoy then with anything spreadable or topped with your favourite pizza toppings in the form of individual pizzas.

Try our recipes for flatbreads topped with summer vegetables or the one with zucchini and pancetta.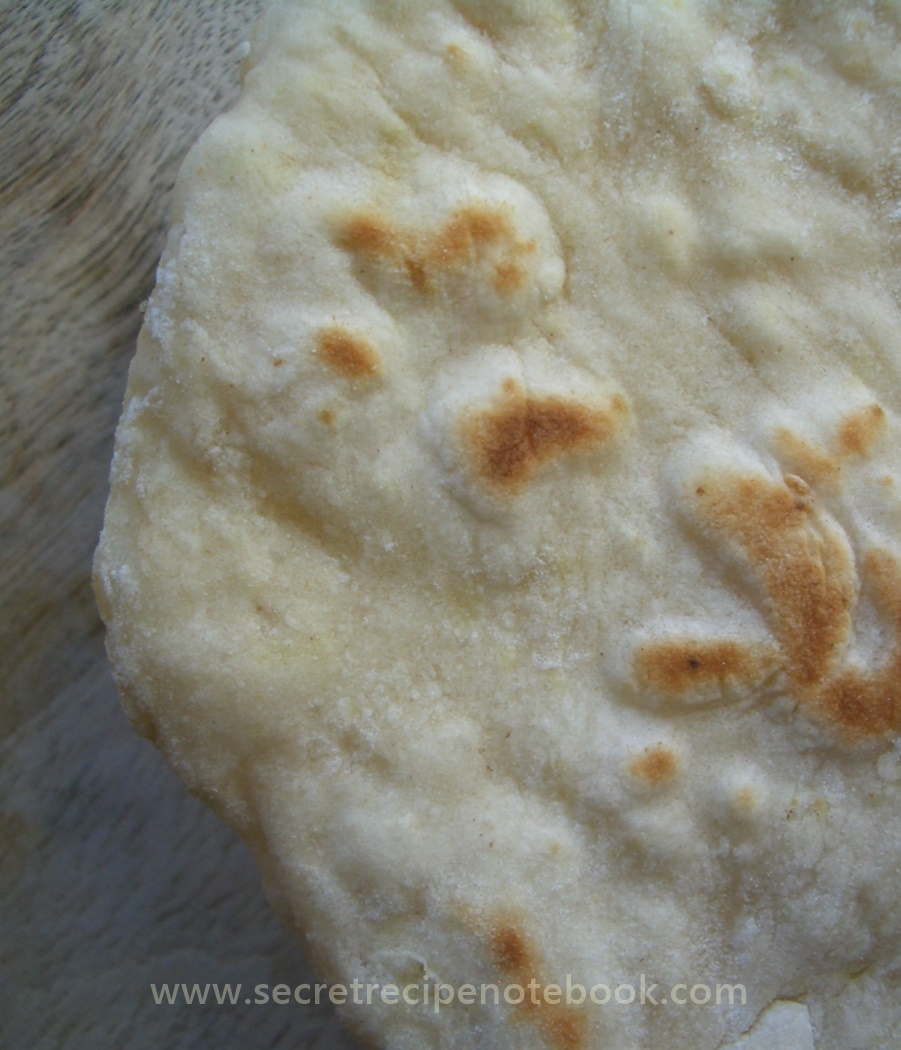 This webpage contains affiliate links. Please read our disclosure policy.

More tasty recipes
you'll want to try:
Making the dough for these flatbreads
Making these sesame flatbreads is so simple. You need one large bowl in which you combine plain flour, baking powder and salt. In one jug stir water and olive oil, then pour this into the flour.

Stir slowly with a spoon until liquid and flours make a soft dough. Turn the dough onto work surface and knead for a few minutes then leave the dough to rest for 20 minutes.


Cooking soft flatbreads
Now, divide the dough into 10 pieces then roll each piece to a circle of 10cm in diameter. These flatbreads are cooked on lightly oiled frying pan or cast iron pan.

First heat the frying pan, fry each flatbread for about 1-2 minutes, then flip on the other side and fry until they puffed slightly.
Keep them on the plate covered to keep warm. You can also keep them in the preheated oven.


Extra tip
For this recipe we used plain flour, but feel to use any other flour, such as whole grain or spelt flour or a mix of flours. Everything should work only the texture of the flatbreads will be slightly different.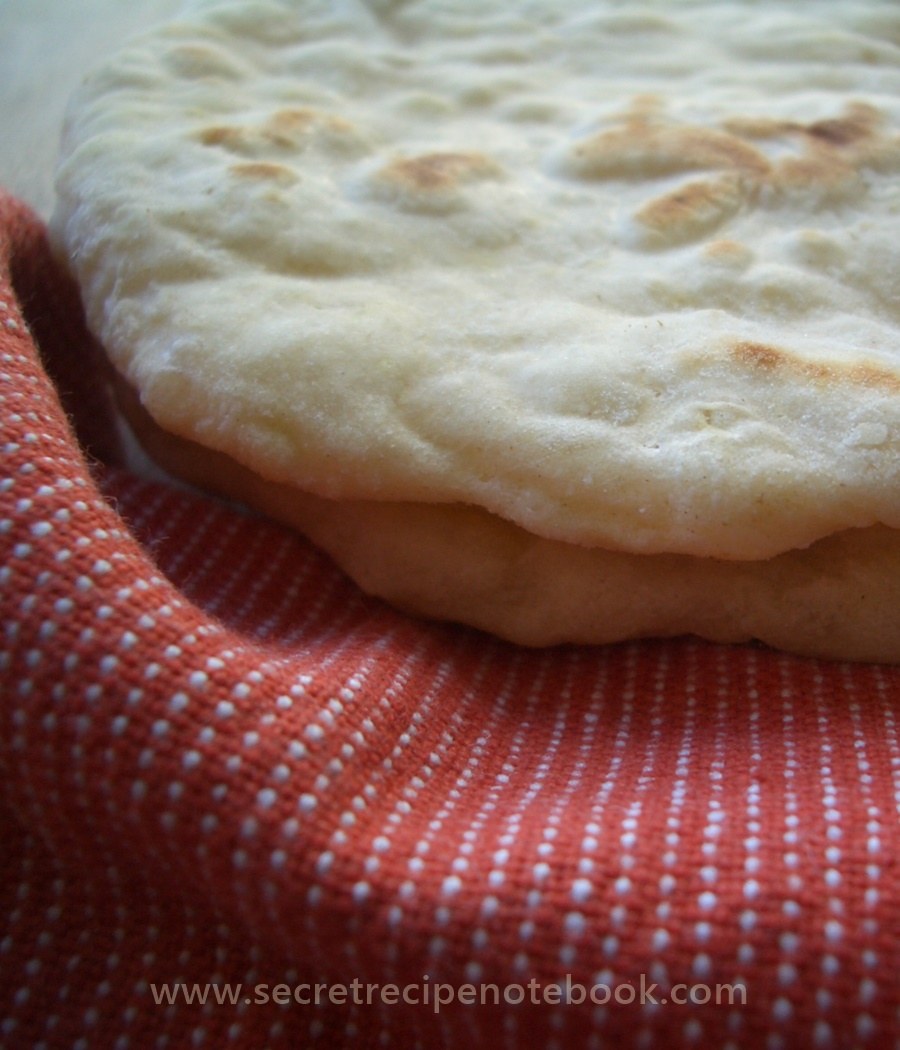 How to store soft homemade flatbreads
Once cooked place them on the plate and cover with another plate or aluminium foil to keep warm. These recipe is also ideal for make ahead. You can keep the dough in the fridge for about 3 days.

Also you can roll the flatbreads, separate with baking paper and freeze for a month and then fry once you need them. Frozen flatbreads are cooked frozen - they will take a few minutes more on a hot frying pan.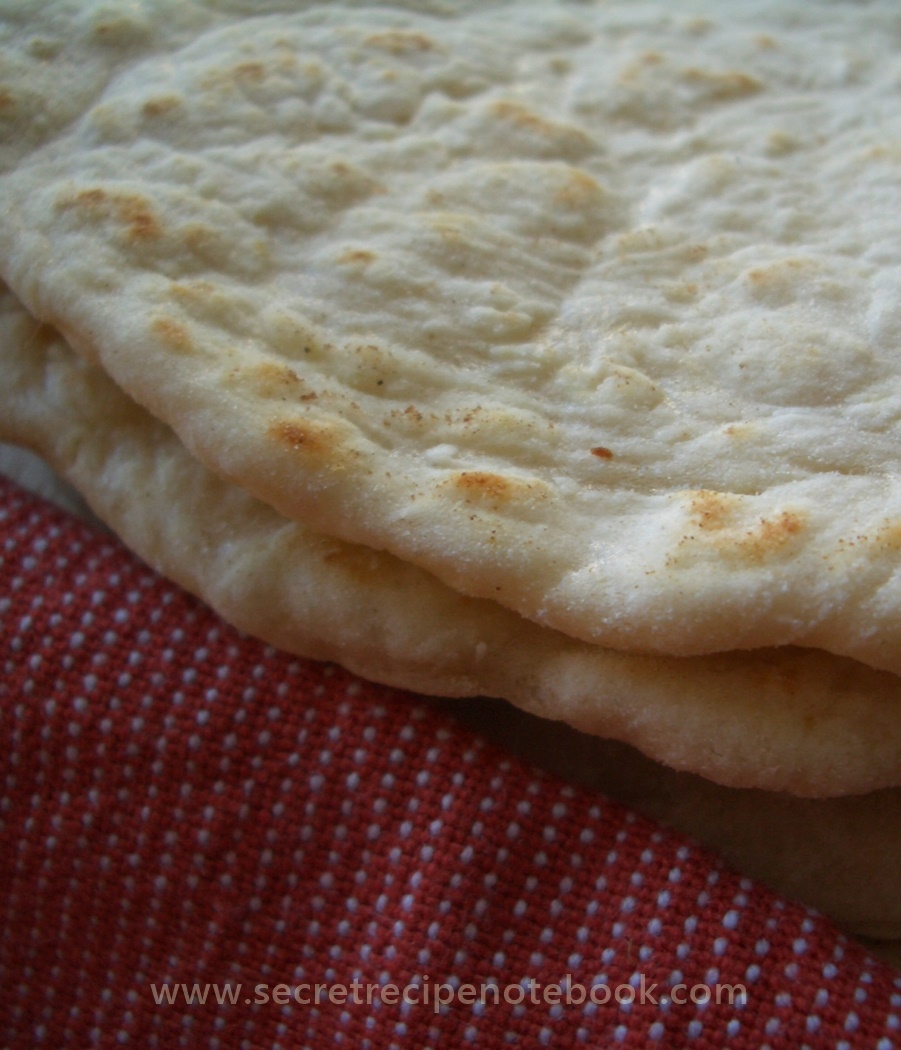 A few of our favourite bread & pizza recipes:
Soft Homemade Flatbreads

MAKES: 10 flatbreads
COOKS IN: 30 minutes
LEVEL: Easy
Handy equipment:
INGREDIENTS
255g

plain flour 

(2 1/8 cups)
1 1/2 teaspoon

baking powder

1/2 teaspoon

salt

2 tablespoons olive oil
180ml

water 

(3/4 cup), cold
METHOD
Combine flour, baking powder and salt in a medium bowl.


Make a well in the middle, then add olive oil and pour slowly water.


Stir with spoon or spatula until the wet ingredients are incorporated into the flours. If the dough seem dry add some more water, and if it is too soft add more flour.


When the dough comes together, transfer to floured work surface and knead for about 5-6 minutes. You will get soft dough. You can cook flatbreads straight away or leave the dough to stand for about 30 minutes. This is a good time to make filling such as salad or dip.


Divide the dough into 10 balls. Dust each piece in flour and roll into a disc around 2-3 mm

thick. You may need to sprinkle some flour on the surface and also dust the

rolling pin

as the dough is soft and sticky. 





Heat the cast iron griddle on medium heat. Cook each 

flatbread for about 2 minutes on one side then flip over using tongs to

other side and cook for another 1-2 minutes. The flatbreads should puff up a little and may have a few spots of brown. Keep the cooked flatbreads warm, wrapped in the aluminium foil or a clean towel, until others are cooked.


CATEGORIES: Bread & Pizza, Side Dishes, Quick & Easy
We are a participant in the Amazon Services LLC Associates Program, an affiliate advertising program designed to provide a means for us to earn fees by linking to Amazon.com and affiliated sites.