Gnocchi with Zucchini and Smoked Pancetta
This simple pasta made of only a few ingredients is a real comfort food you can make at any time. It can be your weekday meal or even served for a special events. The result is a fresh delicate taste perfect for seasoning gnocchi.

Why not to try also our gnocchi with sausage and lemon, quick and simple to prepare.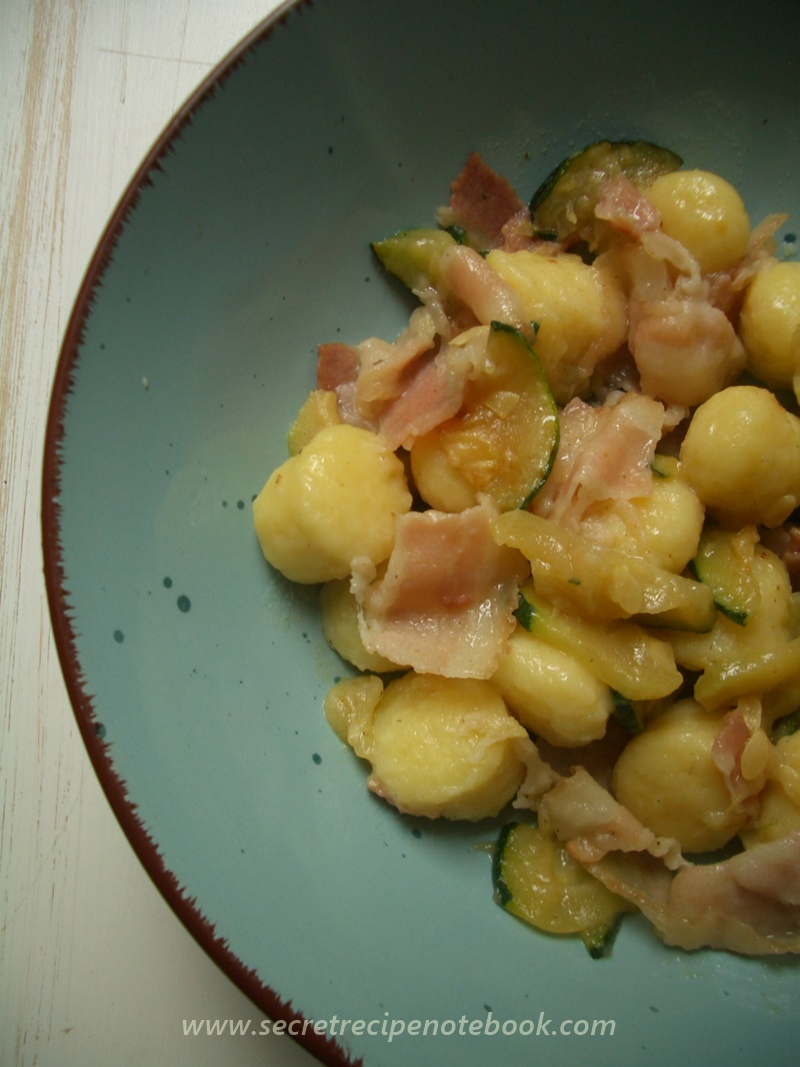 This webpage contains affiliate links. Please read our disclosure policy.

More recipes
you'll love:
Take advantage of zucchini being in season with this classic dish. The crunchy pancetta brings its wonderful saltiness, creating a balanced and refreshing dish perfect for the warmer months ahead.

Smoked pancetta with its saltiness complement great with sweetness of zucchini.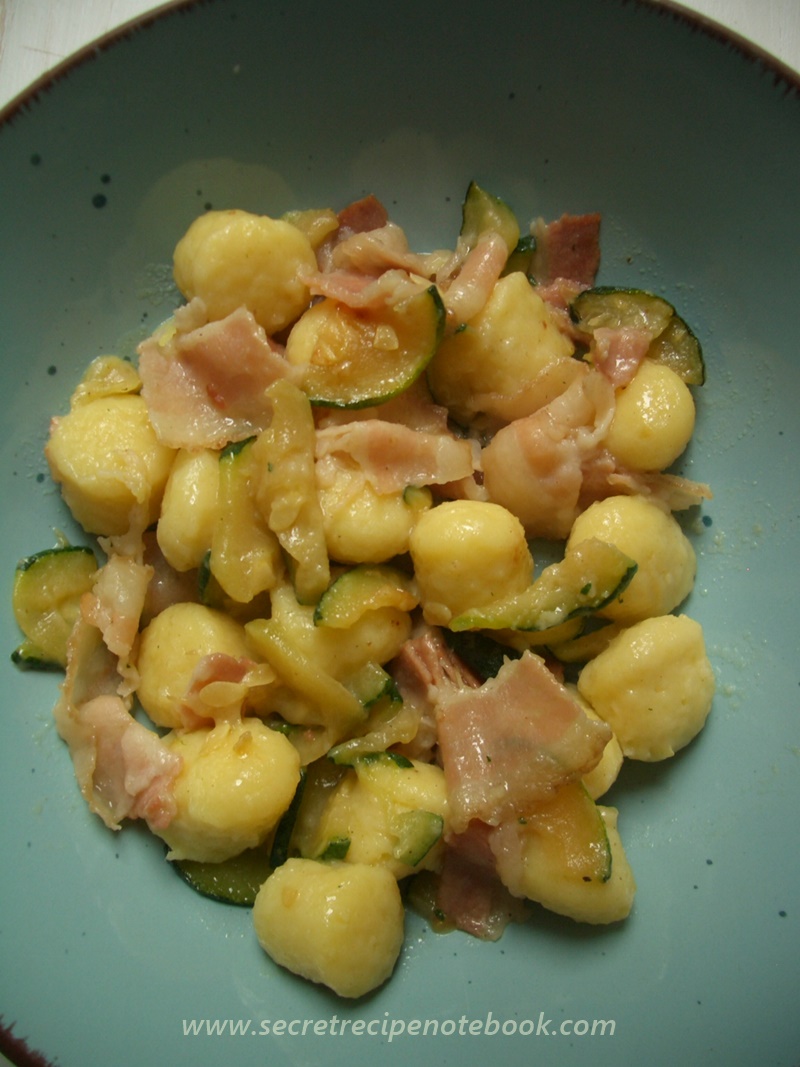 Ingredients for this simple gnocchi dish
The list of ingredients for this pasta dish is short. For this kind of dishes we love to use fresh gnocchi (from your local food store or even the better, real Italian pasta store if you happen to have one near you) as this brings the dish to higher level.

Besides fresh gnocchi you will need ZUCCHINI, SMOKED PANCETTA (sliced), OLIVE OIL and SALT & PEPPER, for seasoning.


Steps for making this gnocchi dish
Once you prepared zucchini (cut into smaller pieces) as well as slices of pancetta (cut into smaller pieces) you are all set to prepare this pasta dish.
FRYING PANCETTA: Fry smoked pancetta in a frying pan for 3-4 minutes on a drizzle of olive oil. Transfer to a bowl.


PREPARING / COOKING ZUCCHINI: Now, it's time for prepare zucchini. Cut each zucchini into quarters lenghtwise then slice into smaller pieces. Drizzle the olive oil into a frying pan the add cutted zucchini. Season with salt and pepper and cook for 8-10 minutes, until it's slightly caramelised. Leave aside.


COOKING GNOCCHI: Prepare a large pot of water and once boiling add gnocchi. Cook them until they start to float, 2-3 minutes.


STIRRING EVERYTHING: Now, using a slotted spoon, transfer gnocchi to the pan with zucchini and pancetta and stir to combine. Serve immediately.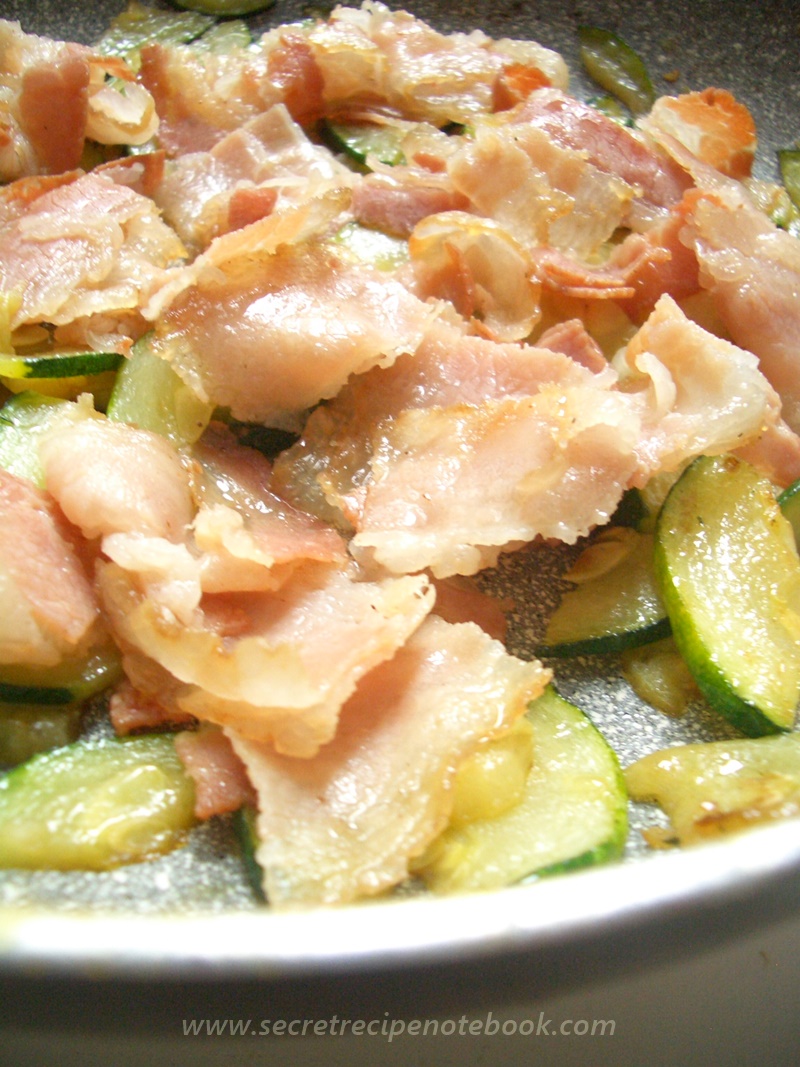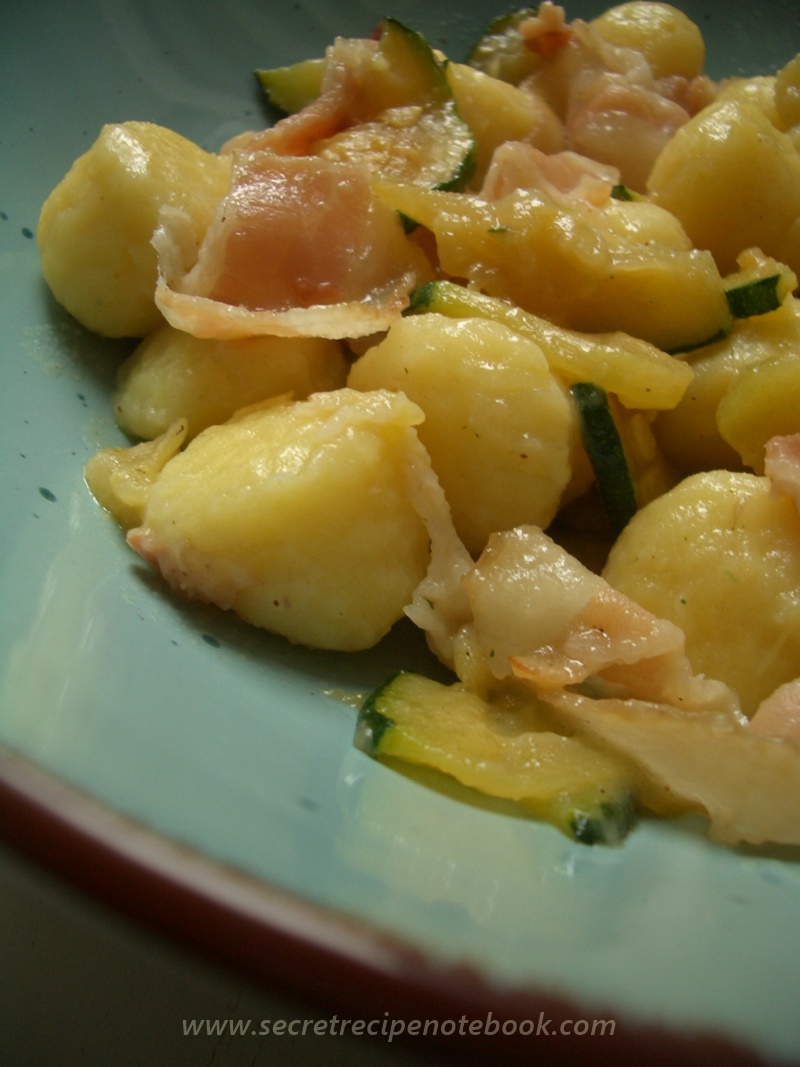 A few of our favourite Italian recipes:
Gnocchi with Zucchini and
Smoked Pancetta
SERVES: 4 servings
COOKS IN: 25 minutes
LEVEL: Easy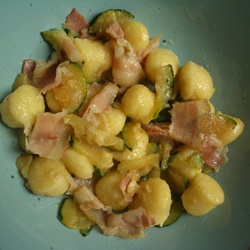 INGREDIENTS
600g fresh gnocchi (21 oz)
230g zucchini (1/2 lb)
100g stripes of smoked pancetta (3 1/2 oz)
3 tablespoons olive oil
salt & black pepper to taste
METHOD
Place a large pot of salted water to the boil for cooking the gnocchi.


In the meantime, wash the zucchini, trim them, cut in half lengthwise, then in half again, then slice them.


Cut the strips of pancetta into smaller pieces.


Heat a drizzle of olive oil in a frying pan, add pancetta and fry for 3-4 minutes.


Drizzle more olive oil to the same frying pan, add zucchini, season with salt and pepper and cook over medium-high heat for 8-10 minutes, stirring occasionally. Add pancetta to this and stir.


Cook gnocchi until they float to the water surface, 2-3 minutes.


Once gnocchi are cooked, using a slotted spoon transfer them to the pan with zucchini and pancetta and stir thoroughly. Serve immediately.


CATEGORIES: Pasta & Gnocchi, Italian Inspired, Quick & Easy
Zucchini, Pancetta
We are a participant in the Amazon Services LLC Associates Program, an affiliate advertising program designed to provide a means for us to earn fees by linking to Amazon.com and affiliated sites.