spelt gnocchi
These rustic gnocchi made of spelt flour are so fluffy and delicious. They pair great with any sauce! You will be surprised how easy they can be made!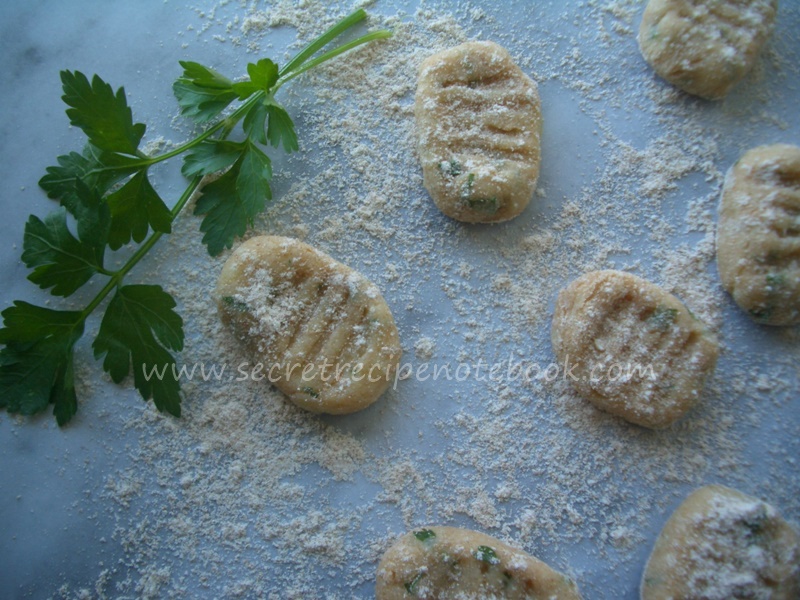 Italian gnocchi are among the most popular dishes in the world. These little dumplings made from the combinatio of potatoes, flour and egg are ideal quick meal. Once made, gnocchi only take a few minutes to cook and you can serve them in a variety of ways. 
This recipe brings you a twist on regular gnocchi, as this recipe use whole grain spelt flour which makes these gnocchi super delicious and healthy. Spelt flour with its dark flecks gives gnocchi rustic appearance and slightly nutty taste.

One of the best ways to server these gnocchi is just to toss them in a butter on a frying pan until golden or pair with a simple tomato sauce.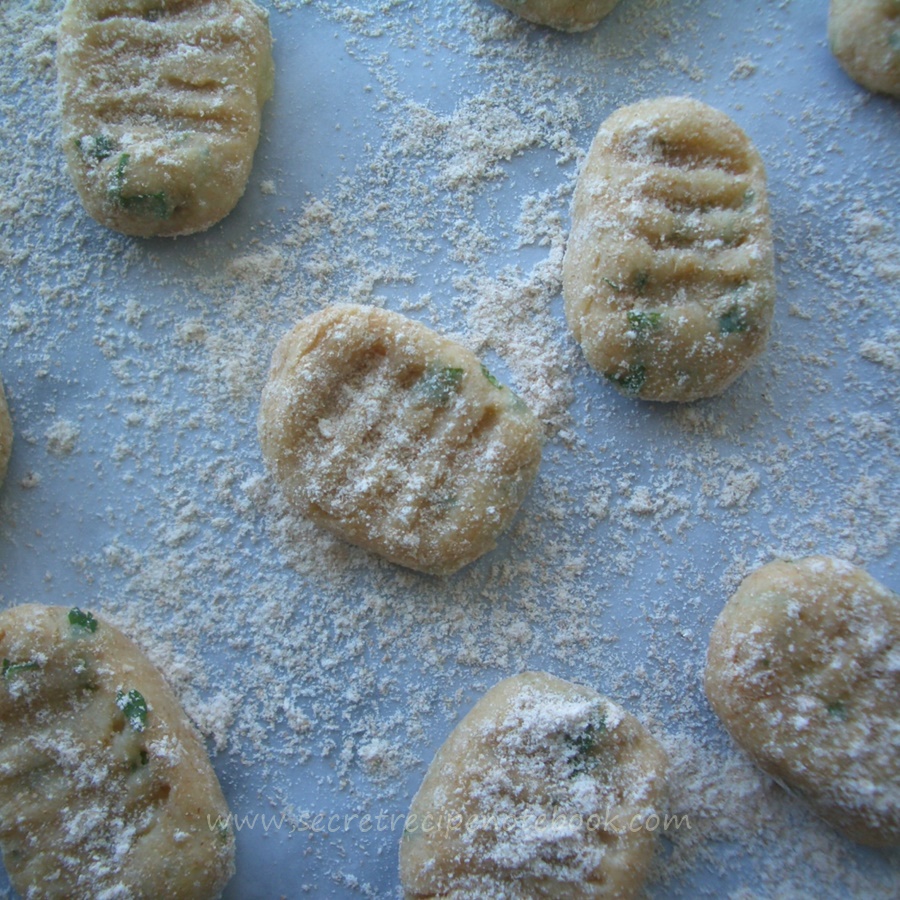 how to make spelt gnocchi
The base of gnocchi are potatoes which should be cooked whole in a large pot of water. Take medium-sized potatoes, so they cook evenly and quickly. Once you can insert the fork in potatoes, they are cooked. Take them from the water and leave to cool for a few minutes, then peel of the skin using a small knife.

To make the dough, mash the potatoes then place on dusted work surface. Sprinkle with flour and salt then add an egg and knead gently a soft dough. Don't add too much flour to the dough, otherwise the dough will be too heavy and gnocchi will be tough.


how to shape gnocchi
Cut small amounts of dough, form a long rope and cut into 2cm pieces then slice each piece on a fork. Place gnocchi on the tray lines with baking paper and floured, so they don't stick.


how to cook gnocchi
Gnocchi are cooked in a large pot of salted water. Once the water start to boils, using a slotted spoon drop 5 - 6 gnocchi in the water. When they are cooked they will come to the surface. Drain them and place in one bowl. Serve with desired sauce immediately.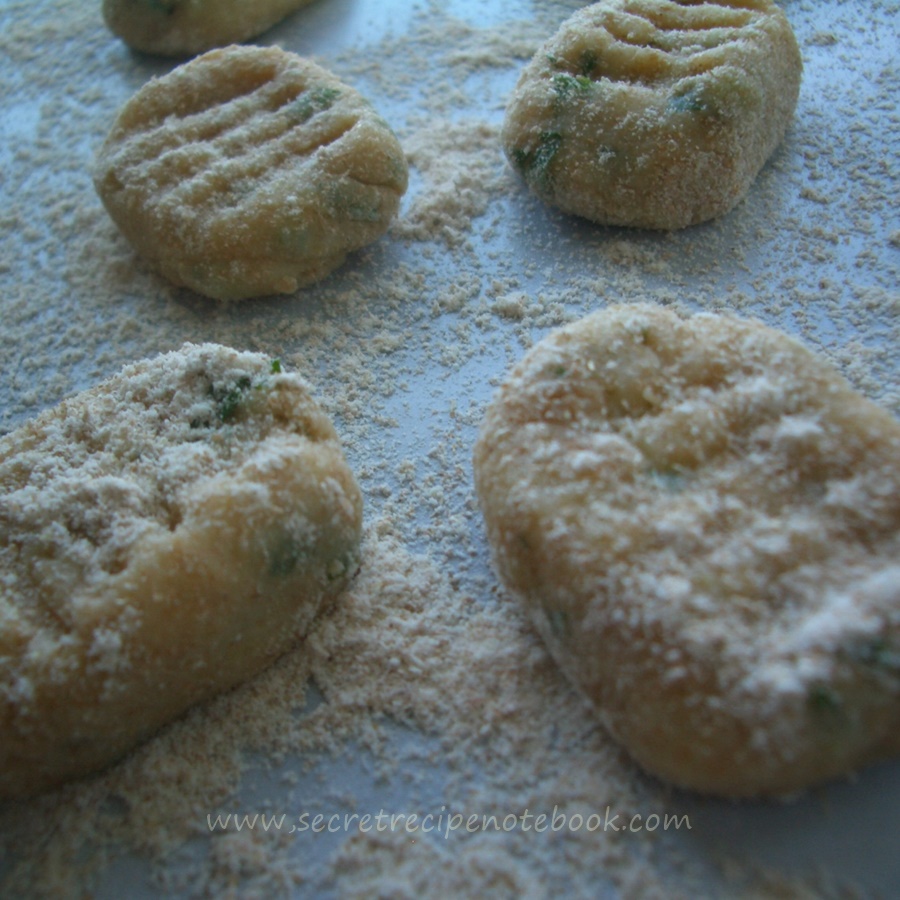 useful tips for making spelt gnocchi
Use floury potatoes which are the best for gnocchi as they contain more starch and gnocchi will be light and fluffy. Also be careful not to add too much flour which makes gnocchi too heavy.


When kneading the dough test it by rolling a small piece into a gnocchi. It it sticks too much add some more flour. You should ideally stop when the dough is just slightly sticky.


To enrich the flavour of these gnocchi we added finely chopped fresh parsley leaves.

best selling kitchen tools & Gadgets
Looking for more pasta & Gnocchi Recipes?
Spelt Gnocchi
Recipe
MAKES: 4 servings
COOKS IN: 1 hour
LEVEL: Moderate
INGREDIENTS
500g floury potatoes
1 medium egg
fresh parsley leaves
1 teaspoon salt
freshly ground black pepper
METHOD
Place the unpeeled potatoes in a large saucepan and cover with cold water. Bring to the boil, lower the heat and cook for about 20 - 25 minutes or until a fork can be inserted.


Remove from the heat and rinse the potatoes under the cold water to cool them, then drain well. Remove the skin from the potatoes using a peeler or your fingers. Mash the potatoes using potato ricer or potato masher. 


Place on a work surface and sprinkle over the spelt flour and season with salt and pepper. Make a well in the centre and break an egg. Add finely chopped fresh parsley. Very quickly mix everything and form a soft dough.



Divide the dough into 4 pieces and roll out each into a log about 2 cm in diameter. Using the knife cut each log into 2 cm pieces. Roll each piece with the edge of a fork to create ridges. Place gnocchi on a lightly floured surface and leave for about 10 - 15 minutes.


Cook gnocchi in a large amount of salted water for about 1 - 2 minutes or until they start to float on the top of the water. Take them out gently with slotted spoon and serve with desired sauce.


© Secret Recipe Notebook owns the copyright on all images and text and does not allow for its original recipes and pictures to be reproduced anywhere other than at this site unless authorization is given.