These light and flaky twists spread with hazelnut and marzipan paste can be ideal breakfast or dessert. Ready in only 30 minutes! Best served while still warm and dusted with some icing sugar!
If you are looking for a simple quick sweets ideal for brunch buffet or a little afternoon snack, these hazelnut twists are an ideal choice. They are made in about 30 minutes, and for them you need several ingredients.
Making these little pastries is super simple as the recipe features ready-made puff pastry and simple filling made of toasted hazelnuts, marzipan, egg, Amaretto, pinch of salt and some citrus zest. 

These puff pastry pretzels are so easy to make with pre-made puff pastry. The filling is made in only 5 minutes.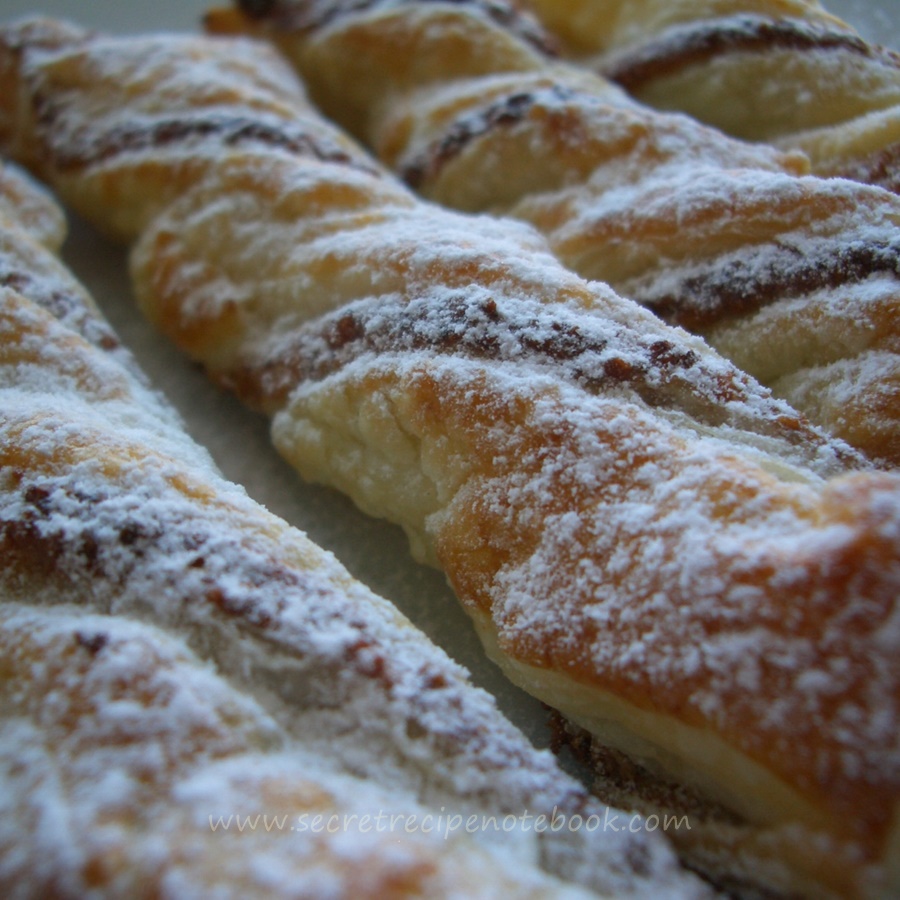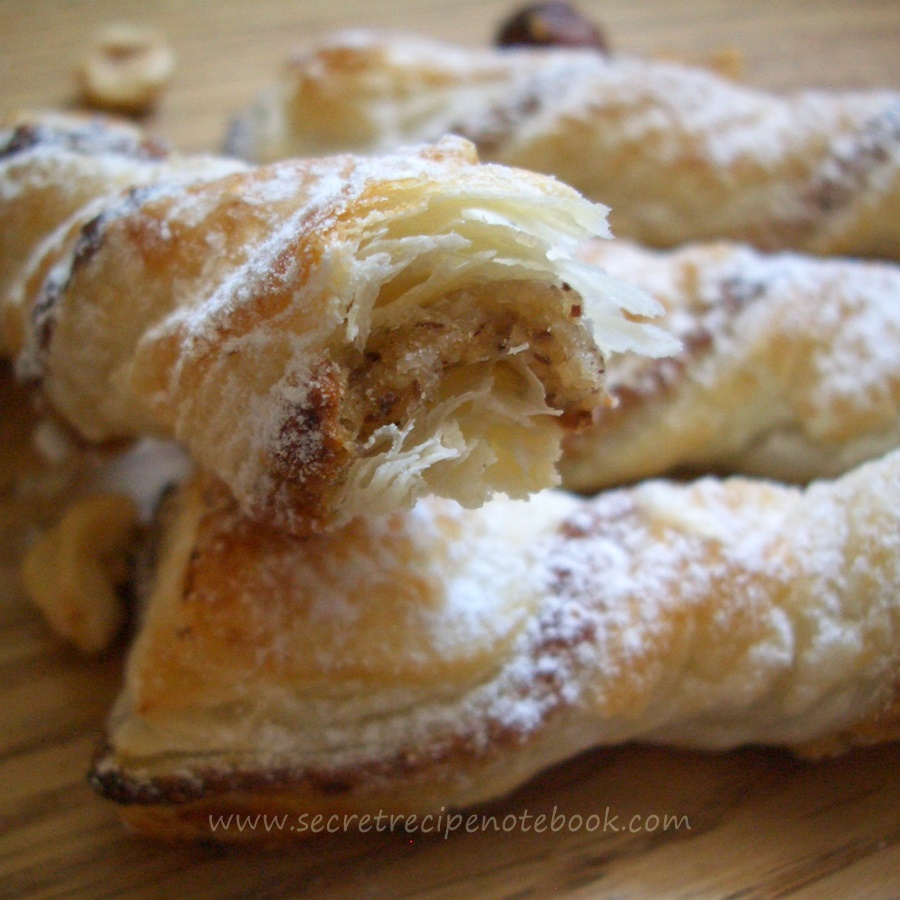 try also these tasty recipes:
what is the filling made of
What makes these easy twists delicious is filling made of GROUND TOASTED HAZELNUTS, MARZIPAN, BROWN SUGAR and EGG - scented with refreshing citrus zest and a dash of Amaretto.
The flavour of toasted hazelnuts pairs great with almondy notes of marzipan and Amaretto liqueur. You can blitz the hazelnuts in a mini food-processor or grind them in nut grinder - it's up to you. Important thing is to grind them so finely.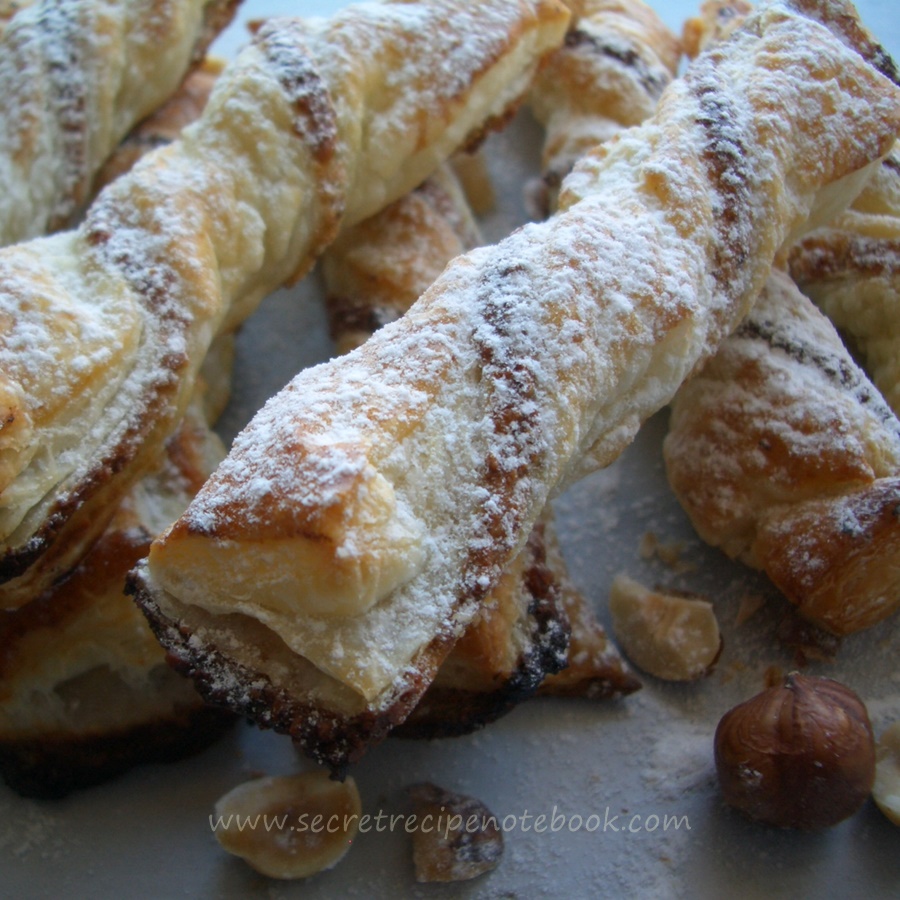 spreading the filling
We used rolled puff pastry but feel free to use frozen one if you like. The dimensions of our puff pastry was 26x40cm. Roll out the pastry then cut into two. Brush one piece and spread the filling evenly using a spoon. Top with another piece of pastry, then using a sharp knife cut into 1-1.5cm long strips. Half each strip and twist to expose the filling and place on the tray. Brush with beaten egg and bake for about 10 minutes. 


baking hazelnut twists
These hazelnut twists only take 10 minutes to bake. Preheat the oven temperature to 200 C and bake until they are puffed and brown. Don't open the oven during the baking time. Take them from the oven dust with some icing sugar and enjoy immediately. They are best while still warm and crispy.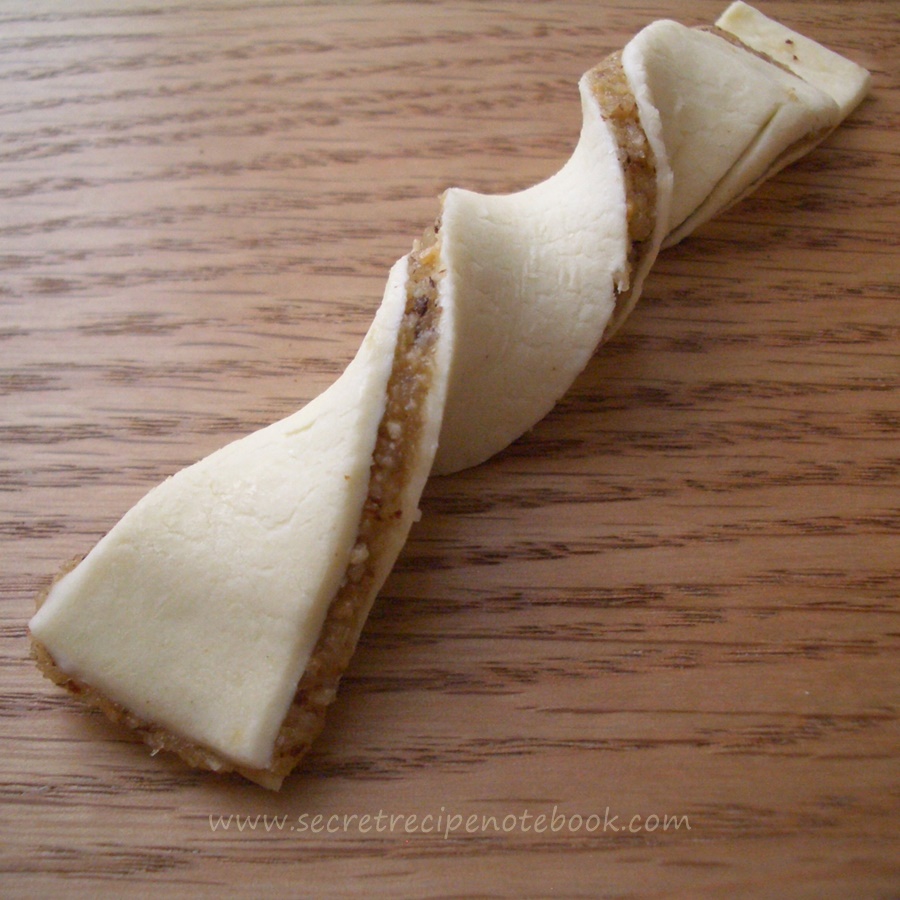 Shop kitchen essentials for this recipe
Digital Kitchen Scale | Mini Food Processor | Mixing Bowl | Baking Tray | Baking Paper Sheets Kitchen Knife | Mini Sieve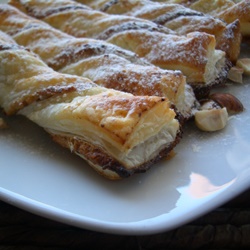 Hazelnut puff pastry twists
MAKES: 22 twists
COOKS IN: 35minutes
LEVEL: Easy
INGREDIENTS
1 fresh rolled puff pastry (300g)
100g (3/4 cup) hazelnuts
100g marzipan, cutted into smaller pieces
1 egg
30g (1/8 cup) brown or caster sugar
2 tablespoons Amaretto or rum
1 pinch of salt
1/2 teaspoon ground cardamom
1 tablespoon grated orange or lemon zest
icing sugar for dusting
1 egg for brushing the pastries
METHOD
Preheat the oven to 160°C (320°F). Arrange the hazelnuts in a single layer on baking tray and toast for about 8 - 10 minutes, stirring them every 2 - 3 minutes. They are done when they are fragrant and their skin cracked. Remove from the oven and rub them in kitchen towel until the skin comes off. Cool nuts completely and blitz in the food processor until finely ground. Set aside. 


Rise the oven temperature to 200°C (392°F). Line the baking tray with baking paper.


Place ground hazelnuts in a medium bowl then add marzipan, egg, brown sugar, Amaretto, cardamom and citrus zest and stir with a spoon or a fork until smooth mixture forms.


Unroll your puff pastry and cut into two vertically. Take the one half, brush with the water then spread evenly the hazelnut mixture. Cover with another half and press gently. Place in the fridge for about 10 minutes.


Using a sharp knife cut the pastry into stripes 20cm x 1.5cm. Twist each stripe several times then arrange twists on baking tray. You will need to bake these in two batches.


Bake for 10 minutes or until the twists are puffed and golden brown. Take them from the oven, leave to cool for a few minutes then dust with some icing sugar.