HOME > Baked Italian Polpette
Baked Italian Polpette
This webpage contains affiliate links. Please read our disclosure policy.

Polpette are Italian home-cooking dish and are usually made with a mixture of different meats. A mixture of ground beef, pork and veal is the ideal combination in terms of flavour and texture.

This recipe uses the turkey meat but you can substitute it with any other minced meat. The vegetables gives lighter texture and add the flavour to polpette.
Polpette can be served with a simple tomato sauce, in a sandwich or on their own! They make a great appetizer or cocktail party finger food! Serve them in small buns as meatball sliders.


Useful tips for making baked Italian polpette
Here are our proven tips you should follow for the perfect baked Italian polpette:

Make all the polpette uniformly so they cook evenly.


Instead of parsley you can use any other fresh or dried herb: oregano, thyme, basil, coriander etc. 


Polpette can be made and stored raw in the fridge for up to 24 hours before baking. Make sure they are well wrapped. You could also freeze them raw to bake later. Freeze them on the baking pan separated from each other so they don't stick together. Once they're frozen, you could put them into a zip top bag. They should last up to 3 months in the freezer.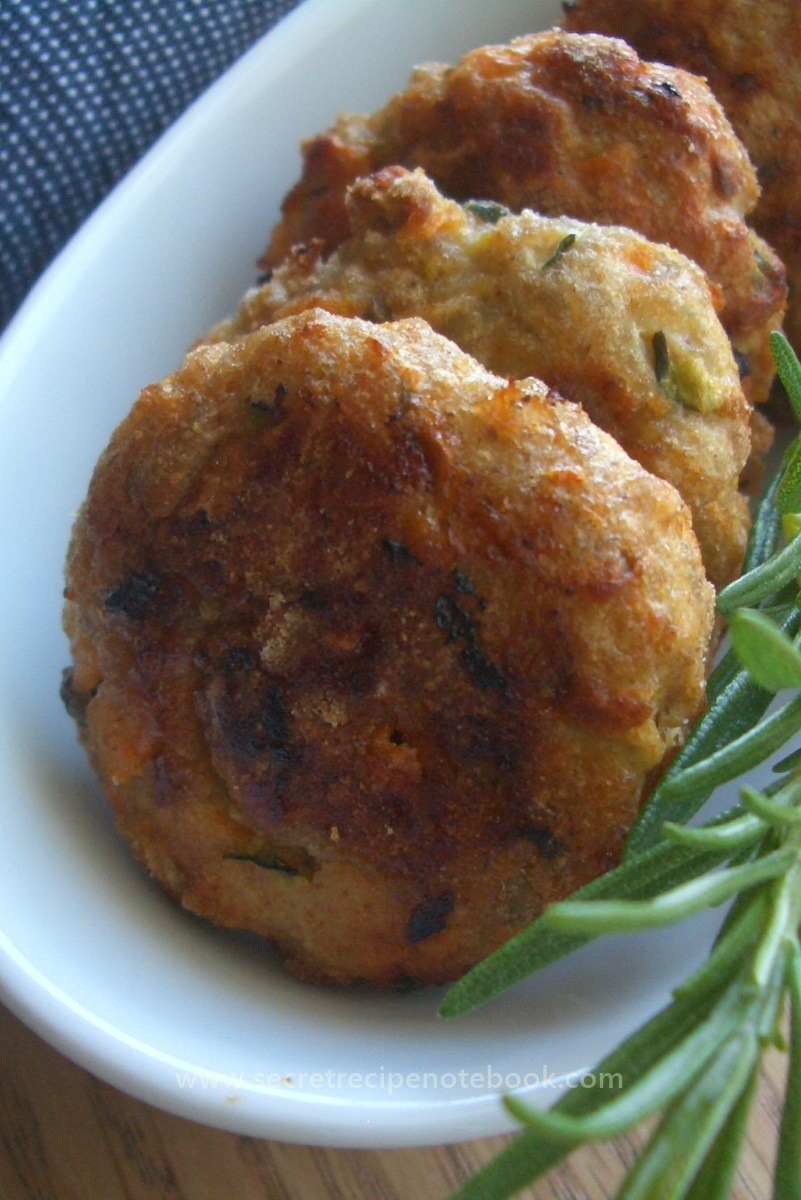 Baked Italian Polpette

MAKES: 20 polpette
COOKS IN: 1 hour
LEVEL: moderate
INGREDIENTS
500g minced turkey
200g zucchini
200g sweet potatoes
2 garlic cloves
1 medium egg
2 tablespoons plain flour
1 medium bunch of fresh parsley
salt & freshly ground black pepper
olive oil for brushing
METHOD
Preheat the oven to 180°C (356°F). Line a baking sheet with baking paper.


Grate both zucchini and sweet potatoes using a largest holes on the box grater. Put a few tablespoons of olive oil on a frying pan and fry vegetables for 4 - 5 minutes.


Mince garlic finely and fry lightly on a frying pan. Finely chop the parsley leaves.


In a large bowl, combine minced turkey, zucchini, sweet potatoes, flour, parsley and garlic. Season with salt and pepper. Add an egg and mix until everything incorporated.


Using a tablespoon scoop a mixture and shape small meat balls and then flatten them. Place meatballs onto a baking tray and brush them with olive oil. Bake in the oven for about 30 minutes turning them halfway. Serve them with your favourite sauce!


We are a participant in the Amazon Services LLC Associates Program, an affiliate advertising program designed to provide a means for us to earn fees by linking to Amazon.com and affiliated sites.