Baked Mussels with Herbs
You are going to love these simple baked mussels flavoured with fresh herbs, garlic. These mussels make ideal appetizer for your friend and family.

These baked mussels are so quick to prepare once you have them ready, but be sure to prepare them properly, as they are sensitive ingredients if not handled properly. Clean them well and discard any "dead mussels" which are not good for eating.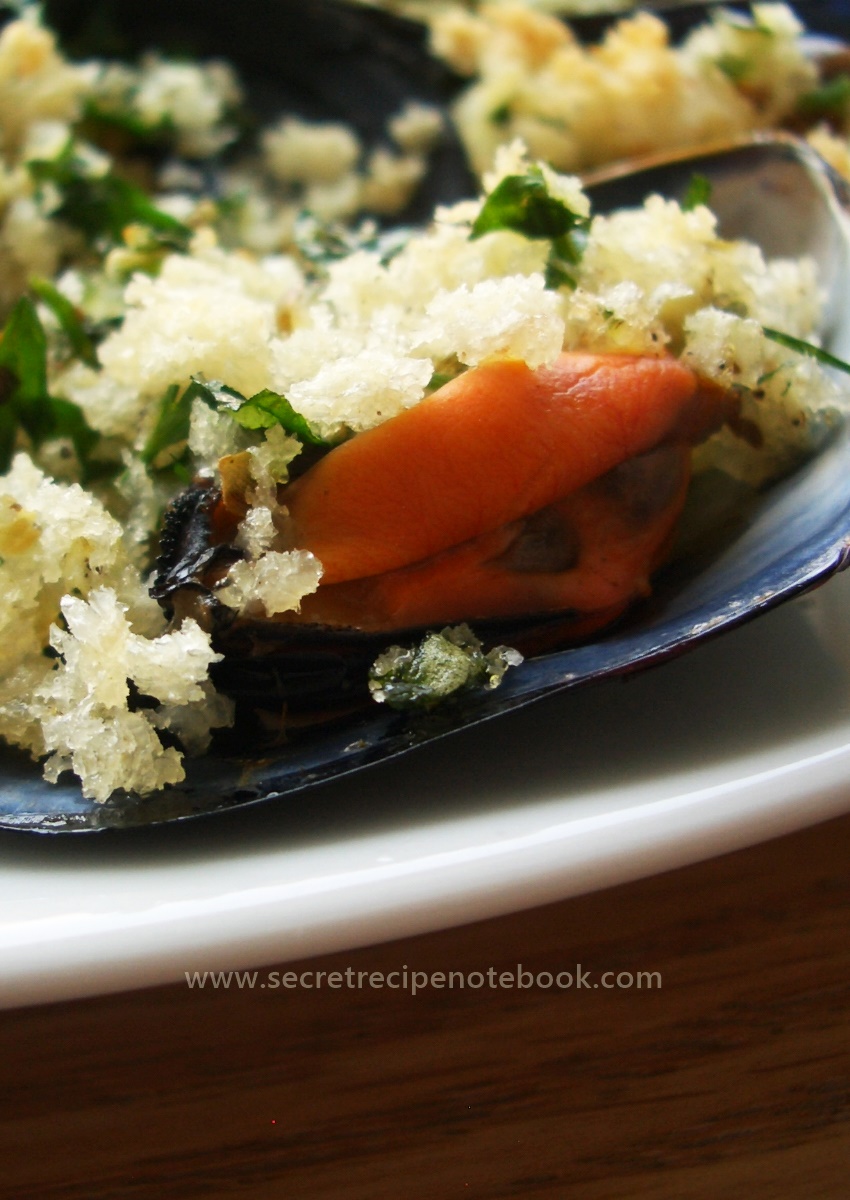 This webpage contains affiliate links. Please read our disclosure policy.

Preparing mussels for cooking
Once you buy the mussels, you can keep them on ice in the fridge for a day or two. It's the best to buy them on the same day you are planning to cook them.
First you need to remove the "beard" - a tiny piece that sticks out of the side of each mussel - it's how they attach to rocks. Just pull this off with a knife or fingers.


Once you have removed the beards, rinse all the mussels with cold water, then scrub them gently to remove anything from them and rinse once again. Discard any mussels that are open - they are dead. Now, they are ready to cook!


More summer recipes
you will love:
How to make baked mussels with herbs
Once you have prepared mussels as explained above making this simple appetizer is so easy.

For opening mussels you will need a large saucepan and some water, as the steam is what makes them open. Place them with water in a saucepan and heat on a medium heat.

As soon as the water star to simmer, reduce the heat to low - the mussels will start to open. Once they are open, take them with a slotted spoon to one bowl. Discard the empty shell of the mussels and lay them on a baking dish.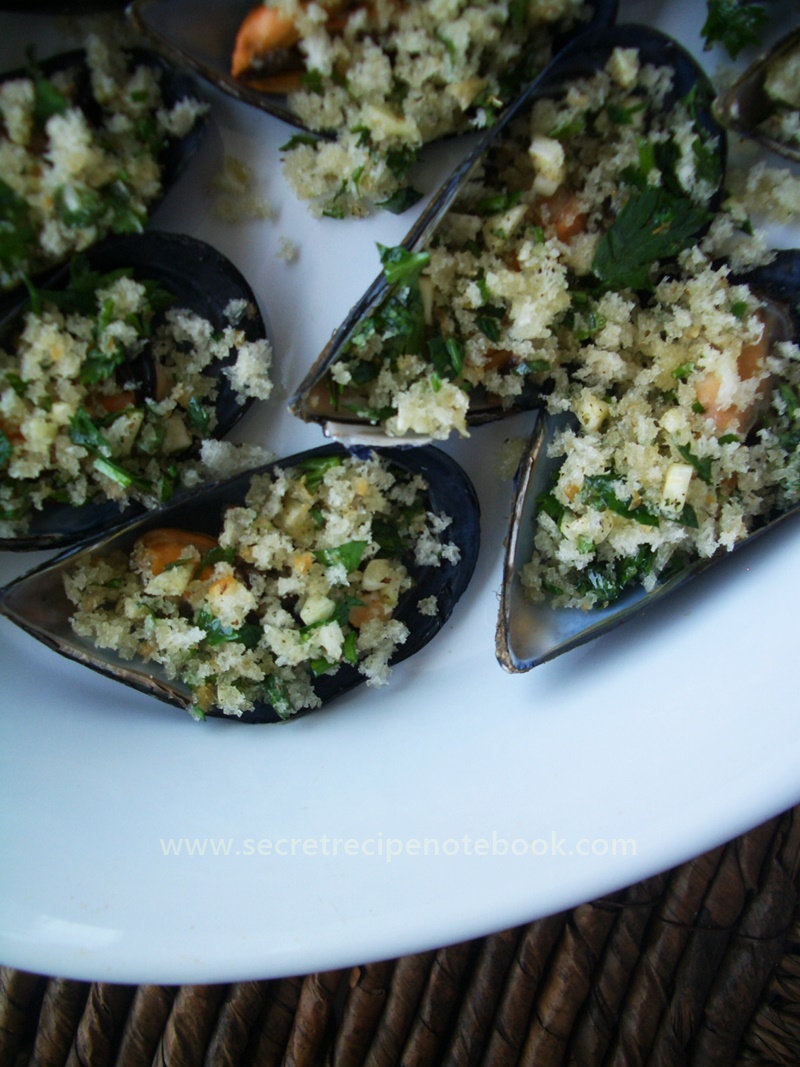 What you'll need for the filling
Filling for the mussels is aromatic and for making it you will need: BREADCRUMBS (white or panko), GARLIC, FRESH PARSLEY, FRESH BASIL, DRIED OREGANO, OLIVE OIL and GROUND PEPPER.
Place breadcrumbs in one bowl then add all herbs and stir to combine. Add olive oil and stir so it's evenly distributed, season with some pepper.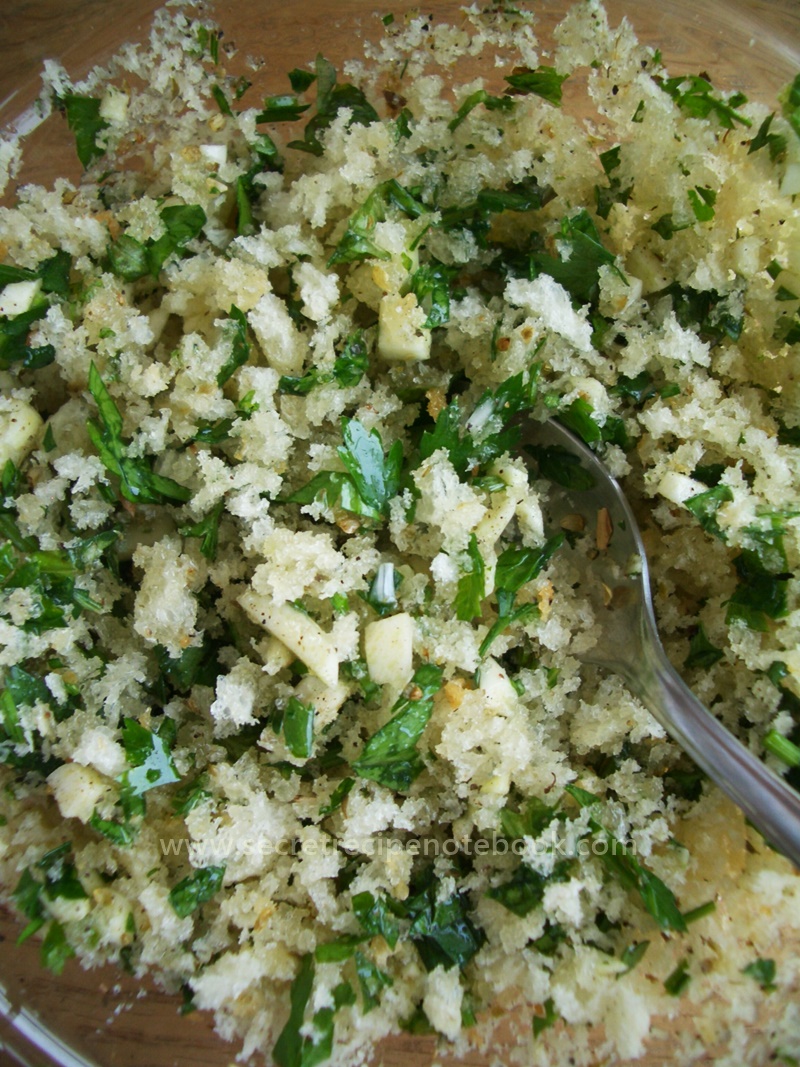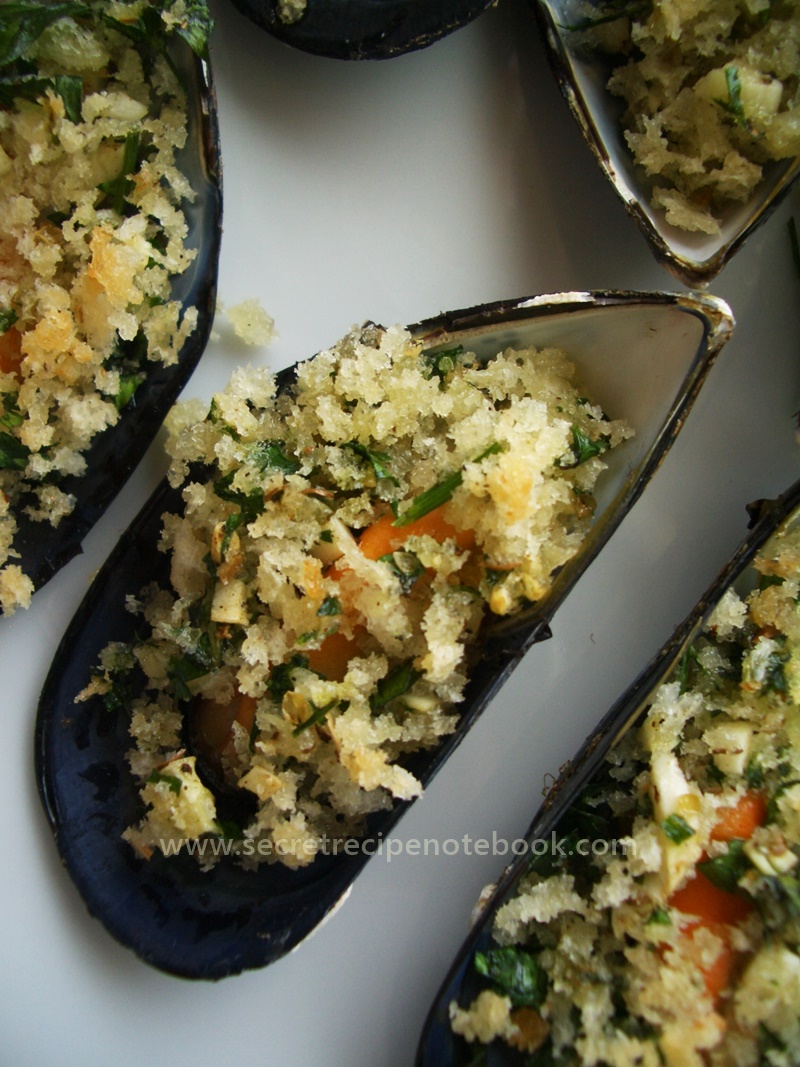 A few of our favourite snack recipes:
Baked Mussels with Herbs

SERVES: 4 servings
COOKS IN: 30 minutes
LEVEL: Easy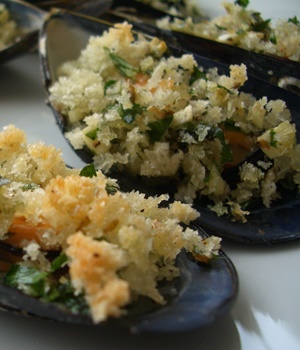 INGREDIENTS
1 kg fresh mussels (around 40 mussels)
40g (1 cup) white or panko breadcrumbs
2-3 garlic cloves
3-4 tablespoons finely chopped fresh parsley
3-4 tablespoons finely chopped fresh basil
1 tablespoon dried oregano
3-4 tablespoons olive oil
freshly ground black pepper
METHOD
Pull off the beards from the mussels, scrub them and rinse well in several changes of water. Discard any mussels that are open. Put the mussels in a large pan with 1 dl of water, cover the pan and simmer over a medium heat for 2-3 minutes until the mussels opened.


Remove the pan from the heat, lift out the mussels with a perforated spoon and set aside to one bowl. Discard any mussels that have not opened.
 
Discard the empty half of the shell and lay the mussels on the baking sheet or baking dish. Preheat the oven to 200°C/392°F.


Combine bread crumbs with garlic, parsley, basil, dried oregano, grated lemon zest in a small bowl. Add olive oil and stir to combine. Season with pepper and stir again.


Top each mussel with bread crumbs filling. Bake in the oven for about 5-6 minutes or until the breadcrumbs becomes lightly golden. Take the tray from the oven and using tongs transfer mussels to the serving platter or plates. Serve while still warm with wedges of lemon!


We are a participant in the Amazon Services LLC Associates Program, an affiliate advertising program designed to provide a means for us to earn fees by linking to Amazon.com and affiliated sites.