HOME > DESSERTS > TRUFFLES & CANDY
No-Bake Strawberry and Almond Chocolate Bites
Made of a handful of ingredients, these no-bake chocolate bites are super delicious, crunchy and so addictive. Ideal for summer time when you don't want to use the oven. You'll also love our dark chocolate truffles, another quickly made sweets!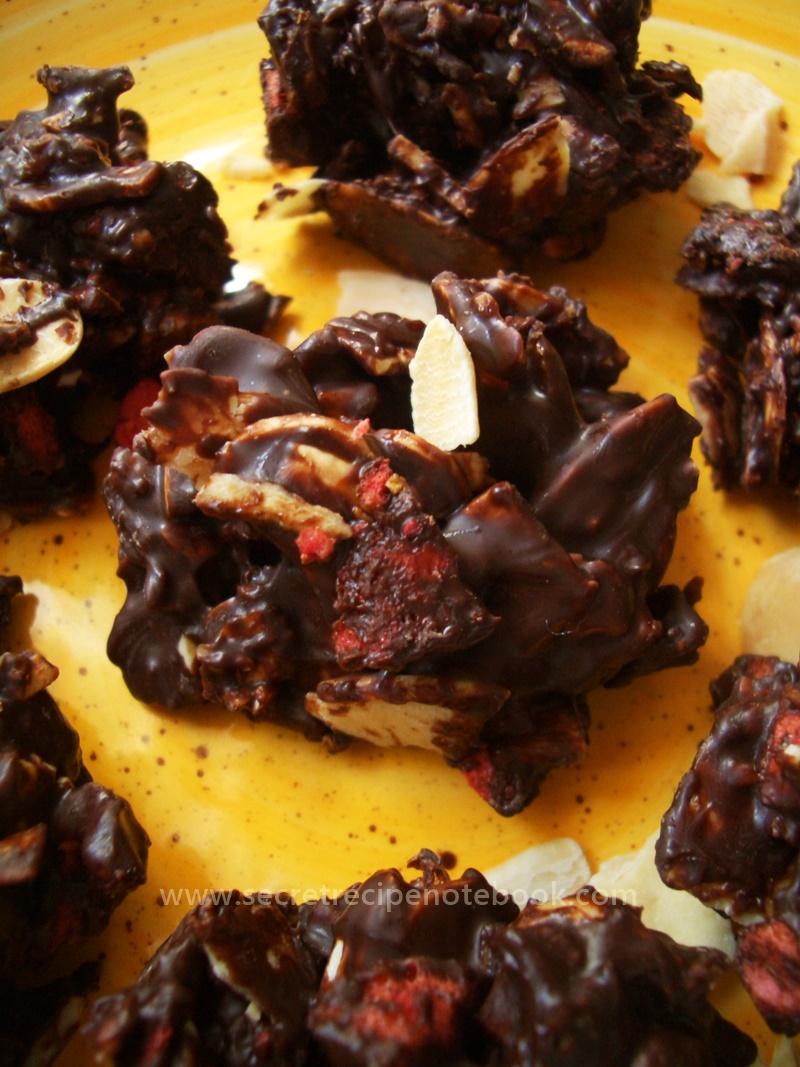 This webpage contains affiliate links. Please read our disclosure policy.

Use only high-quality ingredient in this recipe
This recipe requires only a few ingredients, so be sure they're of a high quality. You'll need:
More recipes
you'll love:
Why you'll love freeze-dried strawberries
What makes these bites super special are freeze-dried strawberries which adds sourness and complement great with chocolate and toasted almonds. 
Freeze-dried strawberries are dehydrated strawberries, which has the same flavour as the fresh one. But these are crisp and ideal for adding to desserts as well as decorating them.

These strawberries are available any time of the year and have an intense strawberry flavour. Get freeze-dried strawberries from your local health food store (they are sold into 25g or 35g sachets). Once the package is open, keep it tightly sealed as they easily become soft. These are great for adding to your pudding or yogurt!


3 steps for making these delicious choco bites
MELTING CHOCOLATE: The easiest way to melt the chocolate is to place broken bar to the heatproof bowl, then place it on a saucepan filled with some water, then heat and stir until it's completely melted.


ADDING THE REST OF INGREDIENTS: Stir in dried raspberries, toasted almond flakes and vanilla bean paste.


SHAPING BITES: Using a teaspoon scoop the mixture and drop on a plate lined with aluminium foil. Leave to set.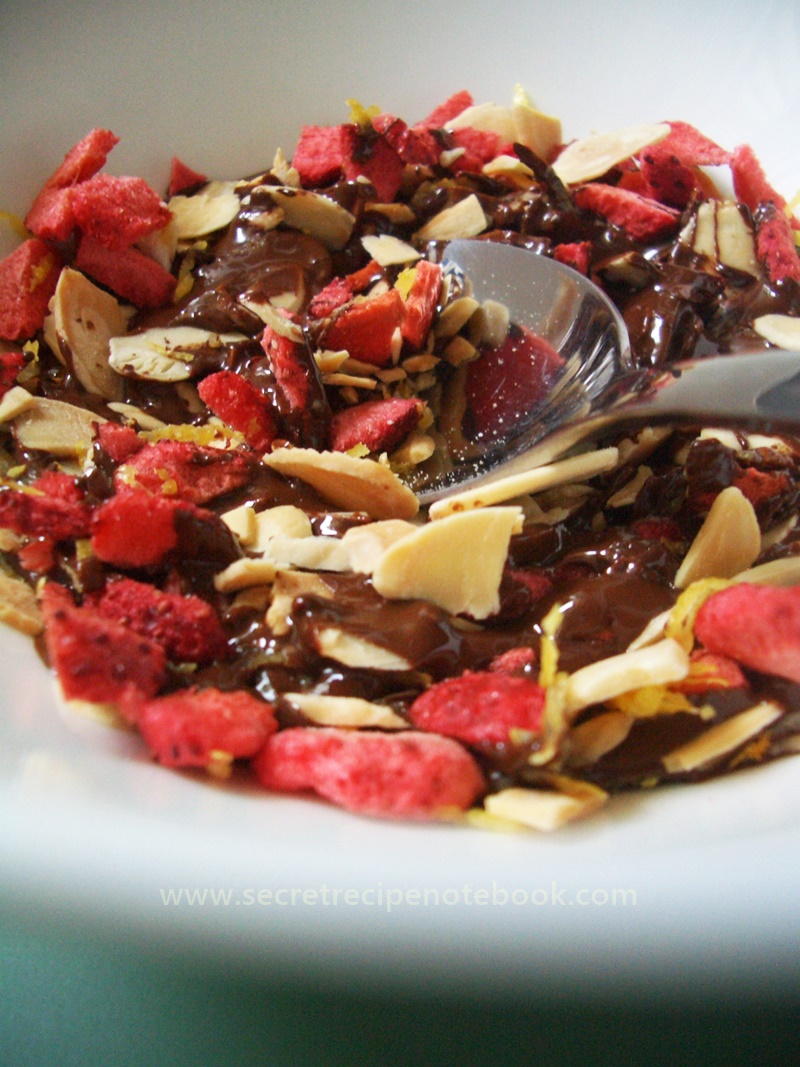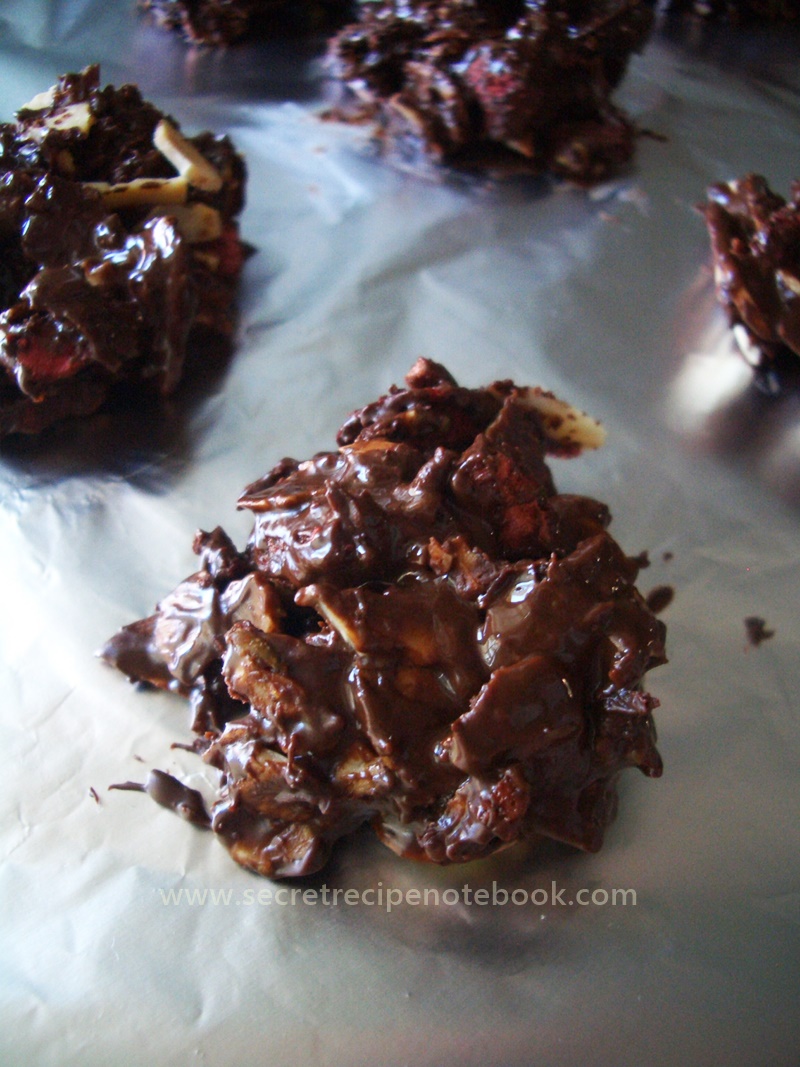 A few of our popular truffle recipes:
No-Bake Strawberry and Almond Chocolate Bites
SERVES: 16 choco bites
COOKS IN: 15 minutes
LEVEL: Super easy
INGREDIENTS
METHOD
Preheat the oven to 160°C/320°F and line with baking paper. Spread flaked almonds in a single layer on a baking sheet. Bake for 4-5 minutes, stirring a few time. The almonds should be golden brown. Remove from the sheet into a glass bowl to cool.


Place broken chocolate into a heatproof bowl and place over a saucepan of gently simmering water. Stir using a silicon spatula until the chocolate is completely melted.


Add vanilla bean paste, toasted flaked almonds and stir through. Add freeze-dried strawberries and stir until incorporated.


Scoop the mixture and place mounds on a large plate or tray lined with aluminium foil. Leave to set.


CATEGORIES: Truffles & Candy, No-Bake Desserts
Chocolate, Almond
We are a participant in the Amazon Services LLC Associates Program, an affiliate advertising program designed to provide a means for us to earn fees by linking to Amazon.com and affiliated sites.