Sweet Potato Bacon
Stuffed Mushrooms
Our mushrooms are filled with a filling of sweet potatoes and smoked bacon. These makes a great appetizer, side-dish or even a whole meal if served with a bowl of green salad.

Mushrooms are so versatille - you can turn then into a creamy soup, delicious risotto or toss pasta with them. We adore to bake them in the oven after we coated into breadcrumbs and herbs.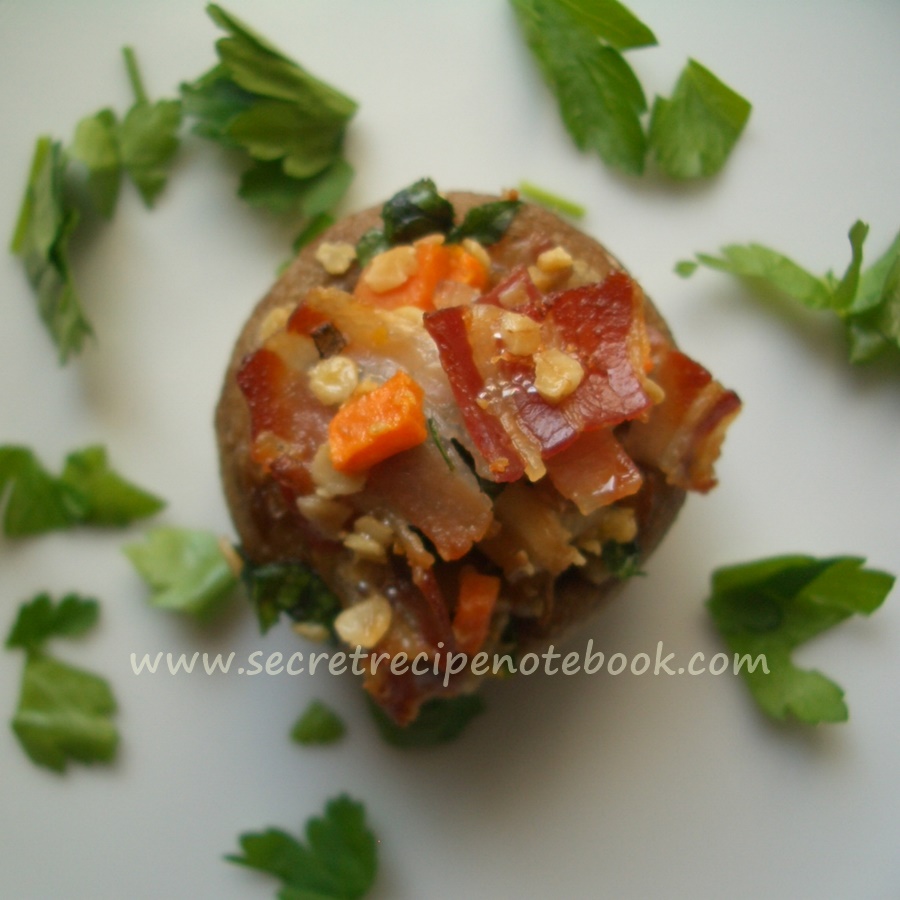 This webpage contains affiliate links. Please read our disclosure policy.

Tip for cleaning the mushrooms
Mushrooms grow low to the ground and often get pretty dirty. The best way to clean the mushrooms is to use a damp kitchen paper towel and rub lightly.


Do not rinse them in the water - they will absorb liquid and will lose texture and flavour. Once they are cleaned, cut carefully the stem off and chop using a sharp knife on a cutting board.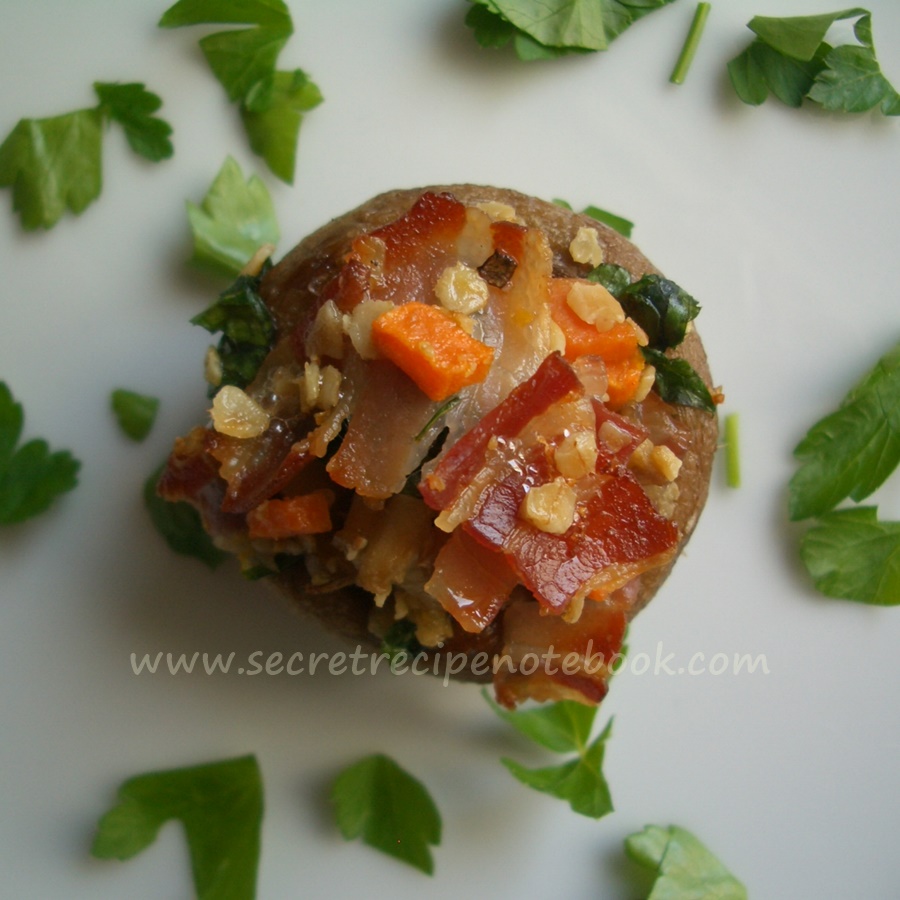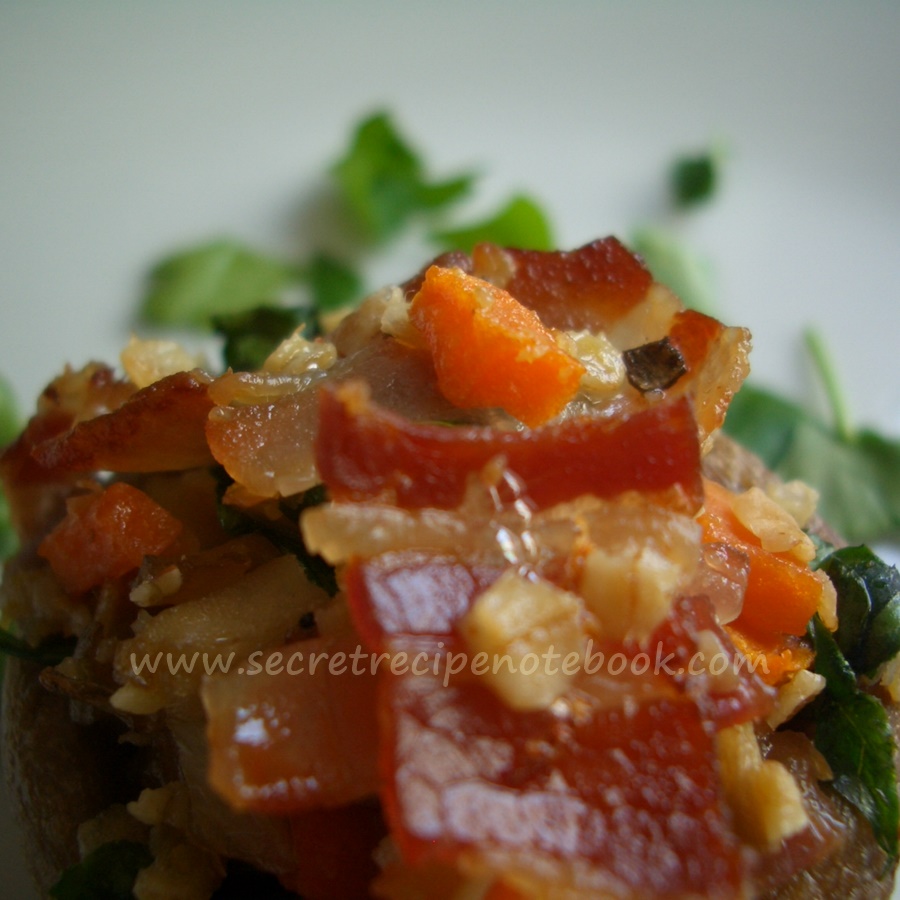 More snacks
you'll want to try:
How to make stuffed mushrooms
Making these dish is simple and easy once you have ready mushrooms.

Chop the stems and sweet potatoes into really small pieces. Heat the oil in the frying pan, add garlic and fry for one minute. Add mushroom stems and sweet potatoes, then fry stirring all the time. Add bacon cutted into smaller pieces. Season with salt and pepper. Sprinkle with some parsley. Bake in the oven for about 13-15 minutes.


Looking for more side-dish recipes? Take a look at these:
Sweet Potato Bacon Stuffed Mushrooms

SERVES: 12 medium mushrooms
COOKS IN: 35 minutes
LEVEL: Easy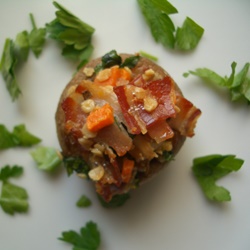 Kitchen essentials for this recipe:
INGREDIENTS
300g white button mushrooms or cremini (around 12 medium mushrooms) (0.7 pounds)
2+3 tablespoons olive oil
2 garlic cloves
60g sweet potatoes
60g sliced smoked bacon
30g instant oat flakes or panko breadcrumbs
2 tablespoons finely chopped parsley
grated zest of 1/2 lemon
salt and pepper to taste
METHOD
Preheat the oven to 175°C/347

°F. Line the

baking sheet

with baking paper.




Gently wipe mushrooms with a kitchen paper or clean kitchen towel to remove any dirt.


Remove the stems from the mushrooms then brush mushroom caps with olive oil and season with salt and pepper. Arrange them stem-side up on a baking sheet.


Chop mushroom stems finely on the cutting board as well as sweet potatoes. Cut sliced smoked bacon into small tiny pieces.


Heat 2 tablespoons of olive oil in a non-stick frying pan over a medium heat. Add chopped garlic, fry for 30-40 seconds. Add chopped mushroom stems and sweet potatoes and stir until softened and browned.


Remove from the heat, add bacon, instant oat flakes and season with salt and pepper. Add finely chopped parsley and stir everything until combined.


Bake empty mushroom caps for about 5 minutes then take them from the oven and fill generously with filling using a teaspoon.


Bake for another 15 minutes or until the mushrooms are tender and the filling is golden on the top. Serve immediately.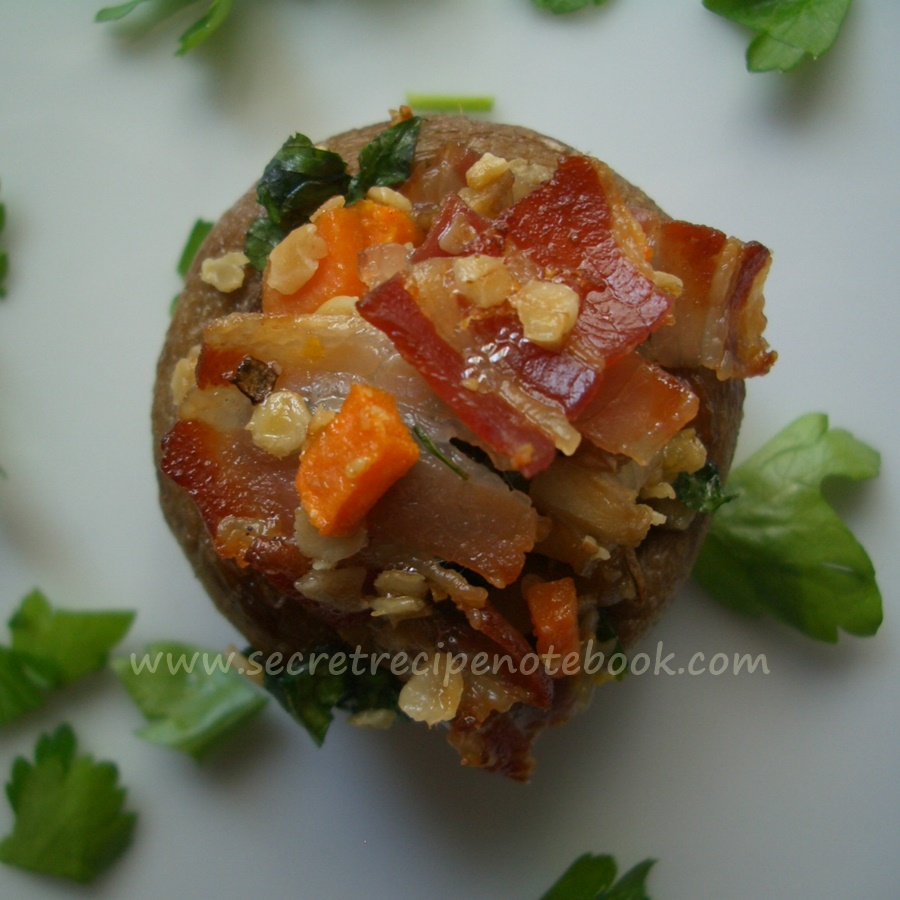 We are a participant in the Amazon Services LLC Associates Program, an affiliate advertising program designed to provide a means for us to earn fees by linking to Amazon.com and affiliated sites.