Baked Zucchini Corn Fritters
You will love these baked zucchini corn fritters packed with healthy ingredients. They combine two favourite summer vegetables - zucchini and sweetcorn.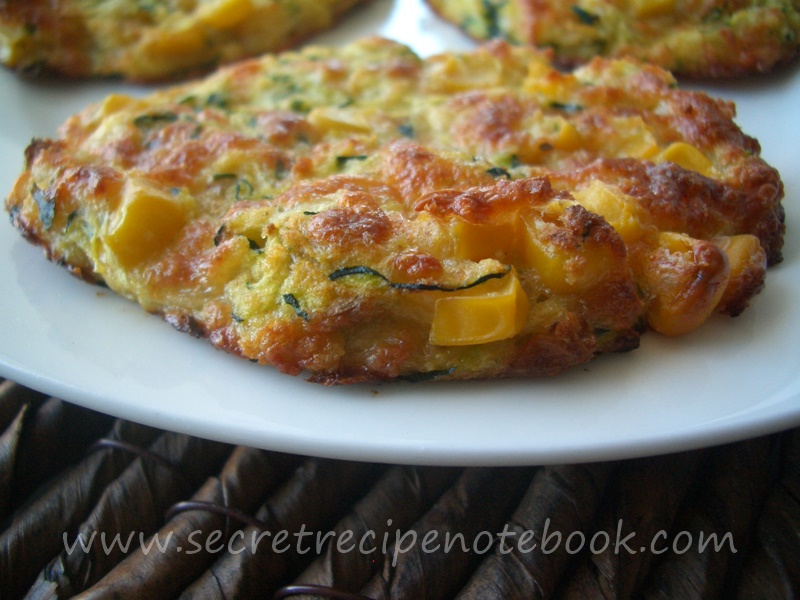 This webpage contains affiliate links. Please read our disclosure policy.

Who can resist a crisp tasty fritters loaded with zucchini, mozzarella and sweetcorn? We have a simple recipe for oven-baked zucchini fritters which are so easy to make and are also a great way to sneak vegetables into the tasty bite.

For more interesting ideas check out our easy zucchini fritters and zucchini fritters with pancetta. Zucchini are a great ingredient for a variety of dishes such as quick fried zucchini balls or zucchini bacon pizza.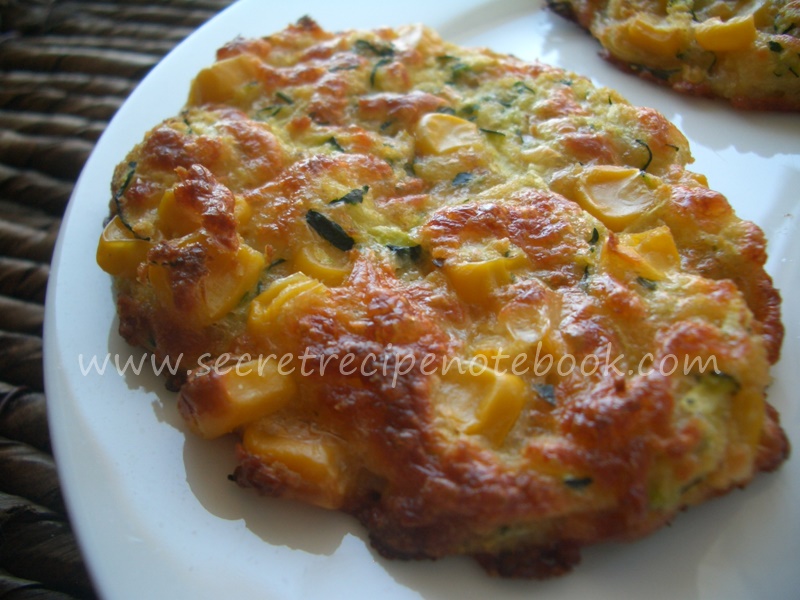 Why you'll love these baked zucchini corn fritters
These zucchini fritters combine two summer favourites - zucchini and sweet corn, into an easy meal. Crisp on the outside, soft and delicious inside, these fritters are ideal light meal. 

This recipe calls for mozzarella, to give flavour and texture but feel free to experiment with cheeses of your choice. We added some fresh parsley to these fritters, but you can choose your favourite fresh or dried herb such as thyme, oregano, basil etc.
Serves on their own or with a dip of your choice, these fritters will become your favourite healthy snack.


More zucchini recipes
you'll want to try:
How to make baked zucchini corn fritters
How to grate zucchini
Grating zucchini is the first step of this recipe. Grate zucchini using a large holes on box grater rather than the small one - it will give better texture to the fritters.

To excess the liquid from the zucchini, sprinkle them with some salt and leave for 10-15 minutes, then squeeze with your hands. If you leave liquid in zucchini, fritters will be soft and won't crisp up.


Making the batter & Frying fritters
Batter is prepared by whisking an egg and adding baking powder, salt and freshly ground black pepper. In a medium bowl combine grated zucchini, sweetcorn, shredded mozzarella, chopped parsley and breadcrumbs. Now pour egg mixture over zucchini to make stiff batter.
Using a spoon, scoop batter onto baking sheet lined with baking paper and press slightly to form a fritter. Fritters should be baked in the oven until golden and crispy. Once baked, remove them from the sheet and place on serving plate. Serve while still warm!


Looking for more snack recipes? Take a look at these:
Baked Zucchini Corn Fritters

MAKES: 8
COOKS IN: 30 minutes
LEVEL: Easy
Kitchen essentials for this recipe:
Kitchen Scale | Mixing Bowl | Balloon Whisk | Box Grater | Colander | Baking Sheet | Baking Paper | Thin Metal Spatula
INGREDIENTS
1 medium or 2 small zucchini (around 300g)
80g sweetcorn, tinned or frozen
80g

mozzarella

, shredded
2 tablespoons chopped

fresh parsley

2 tablespoons

breadcrumbs

1

egg

1/2 teaspoon

baking powder

salt

& freshly ground

black pepper
METHOD
Preheat the oven to 200°C/392°F. Prepare the baking sheet by lining with baking paper and brushing with olive oil.


Grate zucchini using the large holes on a

box grater

, sprinkle over some salt and leave aside for 10-15 minutes. Squeeze as much as liquid as you can from the zucchini. Combine them in a mixing bowl with the sweetcorn, shredded mozzarella, chopped fresh parsley and breadcrumbs.



Whisk the egg together with the baking p

owder, salt and some freshly ground black pepper, then stir into the vegetable mixture to make a fairly stiff batter.


Place heaped tablespoons of the mixture onto the prepared baking sheet, leaving some space between. Using your hands form rounds and press each mound with spatula. Bake in the oven for 13-15 minutes or until golden brown and crispy. Remove with metal spatula from the sheet and place on the serving plate. Serve while still warm with a little sour cream on top or just as they are.


Baked Zucchini Corn Fritters
We are a participant in the Amazon Services LLC Associates Program, an affiliate advertising program designed to provide a means for us to earn fees by linking to Amazon.com and affiliated sites.