Coconut Carrot Cookies
These little cookies packed with shredded coconut and carrots are so soft and have cake texture. They hide carrots, coconuts, dark muscovado sugar, oat flour, coconut oil - all good things.

These are wholesome enough for breakfast but can be a great afternoon snack or dessert. Making them is so easy and you don't have some fancy tools to make them.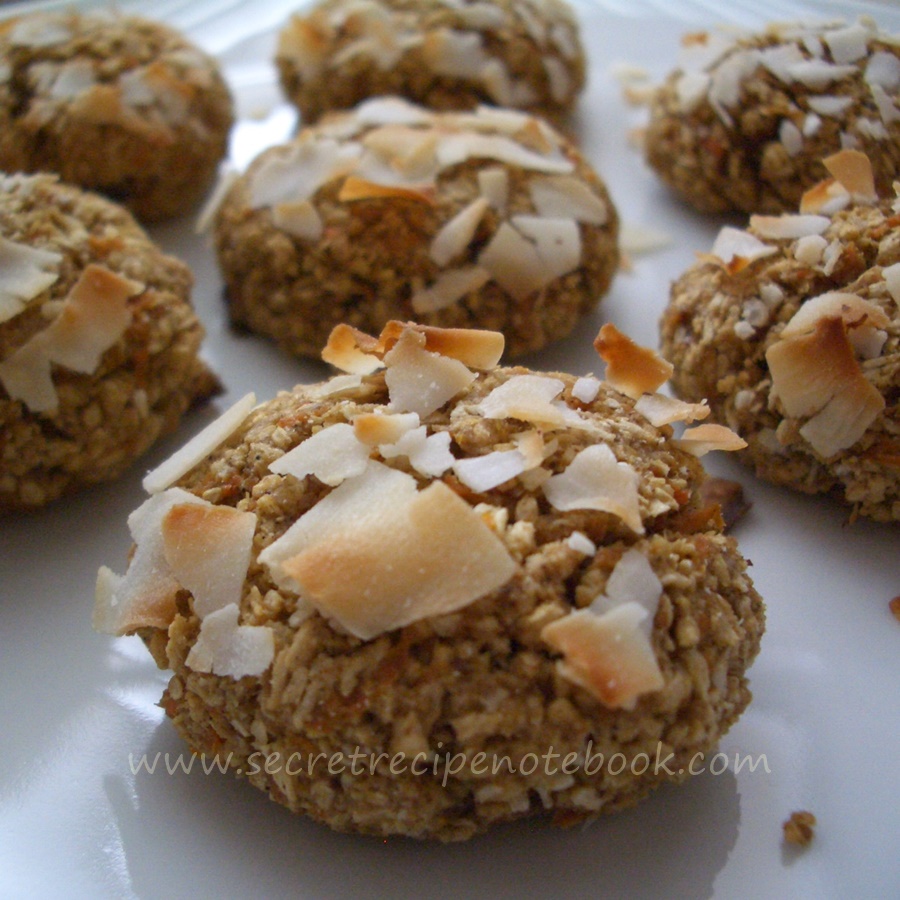 This webpage contains affiliate links. Please read our disclosure policy.

What you need to make coconut carrot cookies
These cookies are packed with quality ingredients making them wholesome and healthy.

The recipe uses oat which is a great alternative to plain flour and it's gluten-free. You don't have to buy oat flour, you can make your own. Just place oats in a food processor and blitz until you have a flour texture.
Muscovado sugar, gives slightly chewy texture as well as caramel taste. To spice up the thing, we use cinnamon and cloves but you can swap this for any other spice you like - ginger, nutmeg or even cardamom. 


How to grate the carrots
Wash the carrots well and using a vegetable peeler peel off their skins. Place a box grater on a cutting board. Hold a box grater with left hand and peeled carrot in right hand. Place the carrot against the side of grater with smaller holes. Grate the carrots using a downward motion.
Be careful to keep your hands and fingers out of the way.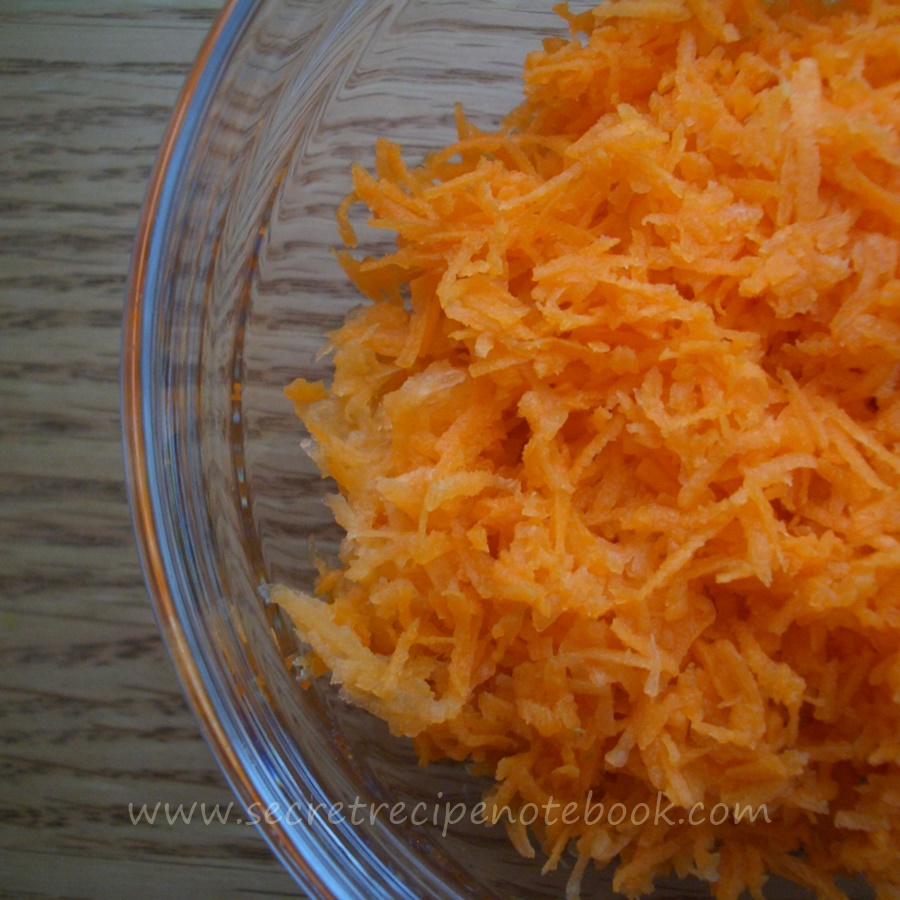 More cookie recipes
you'll love:
How to make coconut carrot cookies
For this recipe you need only two bowls, spatula and baking sheet. Recipe starts with stirring all dry ingredients in one bowl and whisking wet in another. Then, pour wet ingredients into the dry ingredients along with grated carrots and fold until just combined.

Once you have the dough ready, scoop with a tablespoon mixture, roll into ball, flatten slightly and press tops into coconut flakes. Arrange on the baking tray and bake for only 8-10 minutes until they star to turn golden.

Don't overbake them as they will become to dry. Your little carrot cookies are ready to enjoy!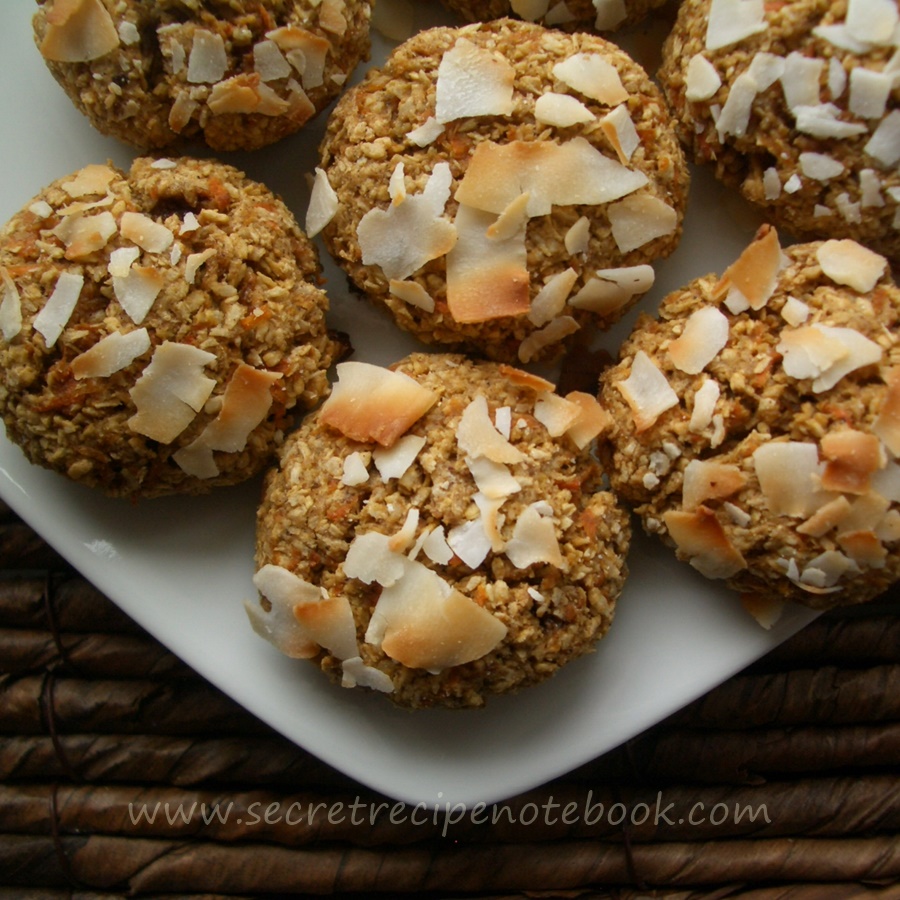 Storing coconut carrot cookies
Cookies need to be completely cool before store them. If you have some leftover cookies, store them in an airtight container for up to 4-5 days. To prevent sticking when you store cookies, arrange them in a single layer with piece of baking paper between layers.


Looking for more cookie recipes? Take a look at these:
UP TO 40% OFF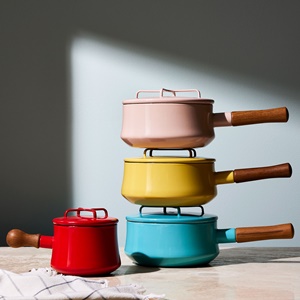 Coconut Carrot Cookies
MAKES: 32 small cookies
COOKS IN: 40 minutes
LEVEL: Easy
INGREDIENTS
METHOD
Preheat the oven to 175°C/347°F 

and line 2

baking sheets

with baking paper.


In a large mixing bowl, combine together oat flour, shredded coconut, ground cinnamon and cloves, baking soda and salt.


In a medium bowl, whisk an egg, melted coconut oil and dark muscovado sugar. 


Pour the wet ingredients into dry one and fold using silicon spatula just until combined. Fold in grated carrots.


Scoop the mixture using a tablespoon and roll into balls. Flatten slightly each ball and press tops into coconut flakes then arrange on the baking sheet.


Bake in the preheated oven for 7-8 minutes or until cookies become brown around the edges. Leave them to cool for  2-3 minutes on the sheet, then transfer to cooling rack.


CATEGORIES: Cookies, Gluten-Free, Carrot
Looking for more recipes?

We are a participant in the Amazon Services LLC Associates Program, an affiliate advertising program designed to provide a means for us to earn fees by linking to Amazon.com and affiliated sites.